Philippe Bien-Aime will remain North Miami mayor for two more years, and Mary Estimé-Irvin will stay on as District 3 councilwoman until 2025.
Political newcomer Kassandra Timothe, No. 1 vote-getter in District 2 with 34% of the vote, will square off in the June 1 runoff against former North Miami Mayor Kevin Burns, who came in second with just under 24%.
All that was true on election night, May 11, and remains so after two fraught recounts on May 14 and 15; protests from three candidates for District 2 barely shifted the results and thus have not changed the outcome so far. Those protests included charges of conflicts of interest, fake addresses, even a dead voter or two. At press deadline, third-place District 2 candidate Dr. Hector Medina is still considering further options to object to the count.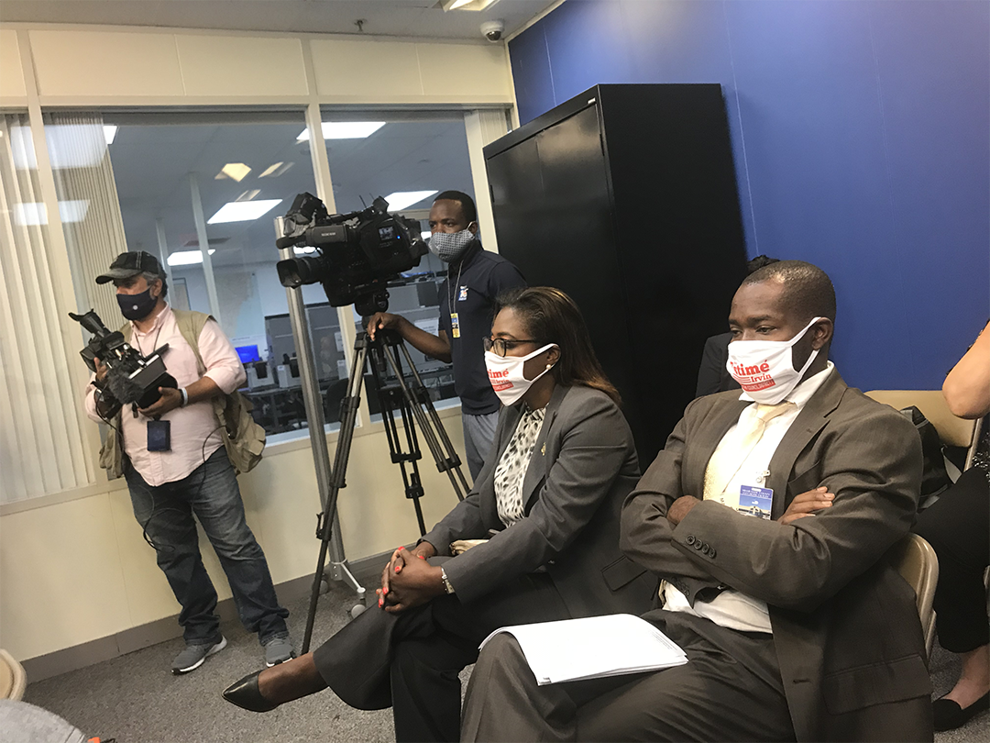 Even once results of this election are settled, a long and disagreeable aftertaste is likely to remain and nothing in sight will strengthen the frayed bonds of trust. The election offered no letup in the fraught divisions along neighborhood, ethnic, and class lines that have long marked politics in North Miami and, more recently, North Miami Beach.
District 2 early voting will take place from 11 a.m. – 7 p.m. May 24-30 at the North Miami Public Library at 835 NE 132 St., with voting at the election precincts June 1. Vote-by-mail requests must be received by May 22.
Bien-Aime beat his challenger, attorney and former City Clerk Michael Etienne, by a margin of 64-36%. Etienne ran a fiery campaign, promising a purge of all those who brought the city into its recent deficits. Bien-Aime, on the council since 2013, positioned himself as a champion of affordable housing and downtown development.
Yet despite the decisive citywide result, Etienne actually managed solid majorities in some of the eastern, more affluent precincts of Keystone Point and Sans Souci, where many voters have soured on city mayoral incumbents over the last decade. Bien-Aime campaigned mostly elsewhere in the city.
Citywide turnout was 16% of its 34,084 voters, or 5,457 casting ballots. Turnout was 22% in District 2, a diverse area that includes Sans Souci, the southern part of Keystone and most of the city south of 131st Street all the way to NE Sixth Avenue. In District 3, which includes the central city, just under 18% of the electorate voted.
Big money went into the campaign. In the end, Bien-Aime raised $140,340, with a cross-section of developers, law offices and prominent figures in the Haitian American community such as Marleine Bastien and Gepsie Metellus. Roughly $50,000 of that came from developer Jimmy Tate and related entities. Etienne's largely self-funded campaign raised $55,720 and spent just under $35,000.
Timothe had raised nearly $69,000 by election time to Burns' $22,000. Among Timothe's $500 contributors: former City Manager Larry Spring, now a parking consultant who is assisting Timothe's election effort. The city's Community Redevelopment Agency is pressing to build a multistory, mixed-use parking garage across from City Hall at NE Eighth Avenue and 125th Street, in an area still with free parking.
District 3 two-year incumbent Estimé-Irvin ended the campaign raising $86,775 and spending $74,403.18. Voters and contributors overlooked her personal financial problems, including a $1.4 million tax lien, unpaid campaign violation bills and her tenancy at sufferance in a house owned by landlord Etienne.
Estimé-Irvin's pattern of contributors roughly mirrored Bien-Aime's. Last-minute donors included recent Miami Shores Mayor Crystal Wagar and the Police Benevolent Association. She received 897 votes, or 50.11% of the 1,790 total in District 3, thereby clearing the 50% hurdle by two votes to avoid a runoff.