Derrick Holmes has lived in West Perrine his whole life. And he has spent a large chunk of the 25 years he's been alive waiting for buses that come by every 60 minutes.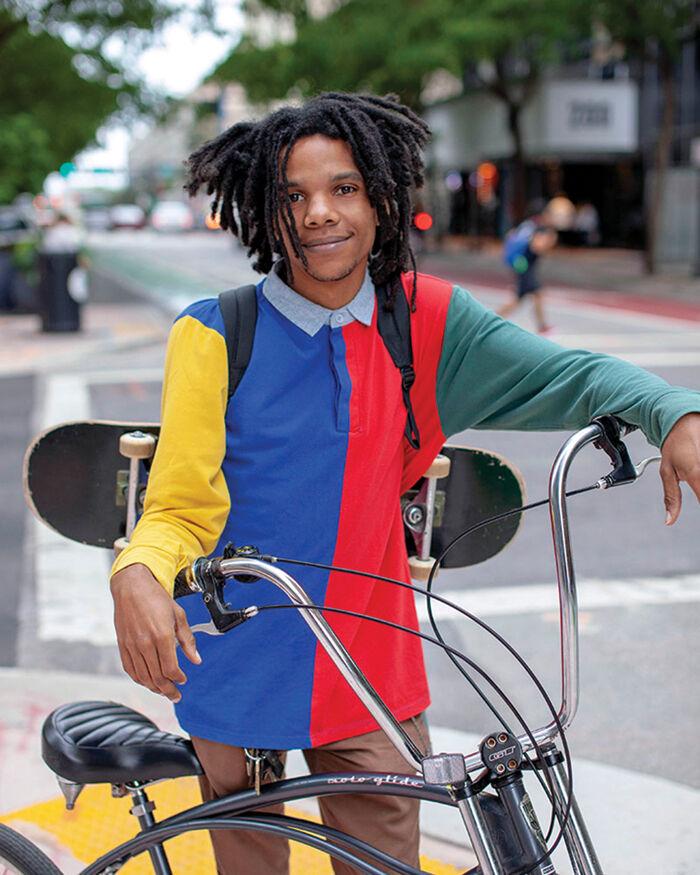 "It's a hassle to plan my life around that," Holmes said.
But now he has a job that aims to fix that. A former air conditioner repairman, Holmes is currently a campaign coordinator for Transit Alliance Miami, a nonprofit organization that advocates for improvements in Miami-Dade's transit system. His group worked alongside Portland-based consulting company Jarrett Walker + Associates and Miami-Dade's Department of Transportation and Public Works to craft a new bus route system that will serve a much broader swath of county residents.
Called the Better Bus Network, most of the 94-page report was approved by the Miami-Dade County Commission on Oct. 22. Following a series of public hearings, at least part of the BBN's recommendations should be implemented sometime in 2021 said Luis Espinoza, a transportation and public works department spokesman.
Holmes said the BBN was at least partly informed by collected comments from frequent bus riders, including those who live in West Perrine, an unincorporated area 17 miles south of downtown Miami that is 55.7% Black, and where the per capita annual income is $16,210. In that sector of the county, people without cars are completely dependent on buses or jitneys.
Azhar Chougle, executive director of Transit Alliance Miami, said the BBN project will be the most extensive revamp of the county's bus system since 1986.
"This is a clean redesign from the ground up," he said.
And that redesign, Chougle insists, will create more connections between the county's suburban sectors and more densely developed regions like Miami's downtown area and the beaches, where the majority of Miami-Dade's jobs are located.
Toward that end, the BBN plan increases the number of high-frequency bus routes. Under the current system, only five routes have wait times of just 15 minutes or less on weekdays, four of which are located in downtown Miami and the greater Miami Beach area. The BBN will create 17 routes with buses passing by a stop every 15 minutes or less, particularly on weekdays.
These routes will pass by Opa-locka, western North Miami, Liberty City, Little Haiti and Overtown. Route 38, which spans between Homestead and Coral Gables and passes through West Perrine, Goulds and Naranja, is also envisioned to have buses passing by every 15 minutes. Currently, buses on Route 38 arrive between 16 and 24 minutes.
Once the BBN plan is implemented, Chougle claims that 31% of Miami-Dade's Black residents will live within a quarter-mile of a stop where a bus arrives every 15 minutes or less. Under the current system, only 9% of Black residents live within walking distance of a high-frequency route, he said.
Reducing overall bus wait time is essential for residents without cars who rely on public transportation to commute to work, shop or reach appointments.
"Imagine if your car only turned on every 60 minutes," said Chougle.
But not everyone was pleased with the proposed route revamp. County Commissioner Barbara Jordan, whose North Miami-Dade district includes Miami Gardens, was the lone dissenting vote against approving the BBN. Jordan said it will actually reduce the total number of service miles from 181.5 to 159.3, and that most of those service miles will be lost in "suburban outlying areas" not located near downtown Miami or Miami Beach.
"[This] is going to hurt my community even more, with longer wait times and less frequency," she said during the Oct. 22 meeting.
But Alice Bravo, Miami-Dade's transit director, said the BBN's high-frequency bus routes tend to go through high-density areas with higher populations and places of employment. At the same time, less frequent bus routes are connected to high-frequency routes. "The idea is to feed people into those high-frequency routes," Bravo said at the meeting, later adding: "Overall, it is an improvement for all the bus riders."
Naranja resident Cameo Parrish used to do contracting work for Transit Alliance Miami. In her opinion there is "some good" in the overall BBN, but when it comes to South Miami-Dade, the plan falls short.
"It is looking like [the designers of the BBN] want us to feel like this is glitter, but they're not really giving us anything," she said.
Parrish believes the new plan does little to return bus routes that were taken away in South Dade by the county in March 2018, particularly in Black communities like Naranja, Goulds and West Perrine. She said those discontinued routes that used to serve 3,000 people a day are now being utilized by small, subpar, non ADA-compliant private jitneys.
Some of Parrish's concerns reached County Commissioner Dennis Moss, whose South Dade district includes West Perrine and Naranja. Moss demanded that Route 107 continue to travel through SW 104th Ave., which he contended was the "heart of the West Perrine African American community." Moss also insisted that routes 35 and 35A have stops at Community Health of South Florida, which he described as "one of our most active clinics."
Chougle contended that Moss' "last minute" amendments were not based on accurate information, and worried that they might throw the BBN's efficiency out of whack.
"They made changes to routes at the south that are at odds of what the community wanted," he said.
Chougle also admitted that in some less dense regions, bus service will be curtailed under the BBN system in favor of places with larger residential densities and employment centers.
"We can never design a bus route for the few. We have to design a bus route for the many," he said.
Holmes insisted that the BBN will bring buses to the South Dade area more frequently than the current bus network, allowing riders to travel between Florida City and Dadeland South without waiting for a bus every hour. And it takes something else into account: the willingness of many riders to walk a few blocks to a high-frequency bus stop.
"The people who depend on buses, we know for a fact that we would rather walk a little bit for a bus that comes every 10 or 15 minutes than wait an hour for a bus that's outside our doorstep," he said.