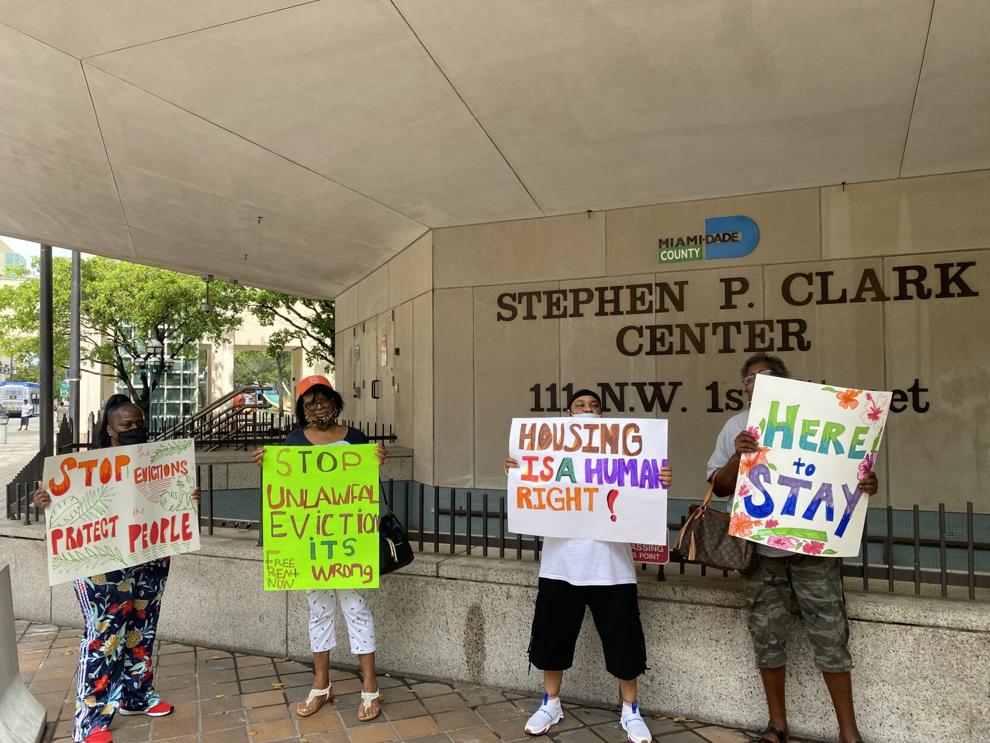 Dozens of tenants from across Miami gathered outside Government Center Tuesday, demanding increased protections from hazardous conditions and evictions, under the banner of a Tenant Bill of Rights.
They chanted "Housing is a human right," while a County Commission meeting was being held inside to officially launch a campaign led by the Miami Workers Center, demanding a Tenant Bill of Rights, a policy package to reinforce and expand protections for tenants and their families in Miami-Dade County to reduce displacement and the widespread abuses they face.
Tenants like James Watley, a 74-year-old U.S. Army veteran who lives at New Arena Apartments in Overtown, explained he'd been living with flooding in his apartment for years that his landlord has refused to address – costing him hundreds of dollars out of his own pocket trying to fix the issue.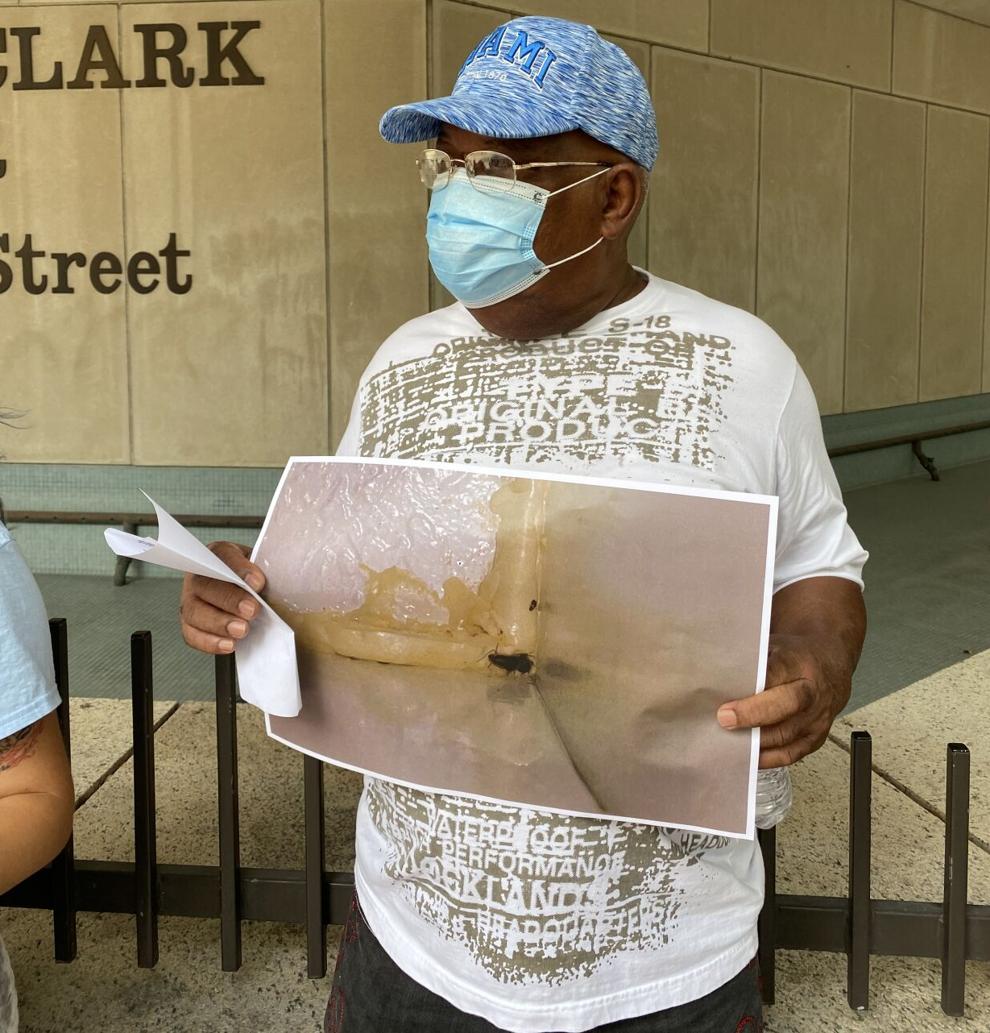 When he then received a water bill for $520, the landlord expected him to cover that payment on top of his rent. When Watley deducted a portion of the cost of the exorbitant bill from his rental payment, the landlord served him with a three-day notice, a precursor to an official eviction notice.
"I want the people of Miami and our Miami-Dade County commissioners to know this is not right ... by the time I finish paying my rent, light bill and water bill, I have so little left ... I'm 74 years old, I have health issues, and I am paying my rent ... I deserve to be treated with respect, I deserve to be able to live comfortably," said Watley. "Just as the landlords have rights, we the tenants also have rights.
"I know I am not the only one who has these same complaints. They are taking our money while we have to suffer, and I no longer want to do that. Today, I am speaking on behalf of older tenants, veterans just like me, in support of this Tenant Bill of Rights campaign. If we do not make a change, these landlords will continue to take advantage of us for the rest of our lives."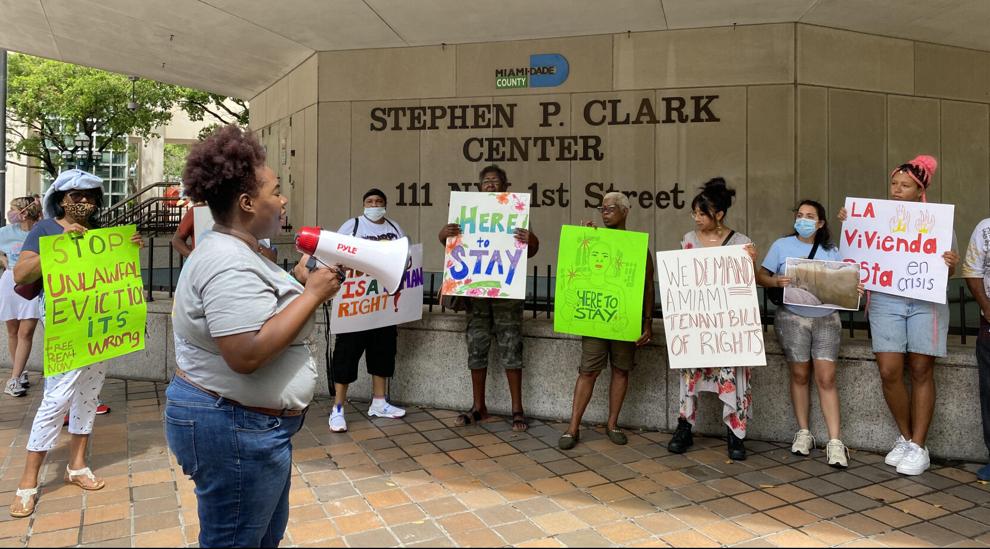 Santra Denis, executive director of the Miami Workers Center – a membership organization led by a multiracial, multigenerational base that seeks to build power among poor and working class tenants, particularly underpaid women of color – explained the process that led up to the organization launching the campaign.
"After knocking on nearly 2,000 doors throughout the course of the COVID-19 pandemic to connect with tenants most vulnerable to eviction, abuse and displacement, we have decided to run this campaign," she said "Every single policy demand is informed from the direct experience of tenants living in Miami, from Black women who have been discriminated against and prevented from accessing an apartment, to tenants who have had to flee their buildings because of mold and infestations ... to the tenants who tell us an eviction filed against them six years ago has prevented them from being able to secure a decent apartment because this kind of discrimination remains legal and widespread."
According to the Miami Workers Center, 1 in every 20 renters in Black neighborhoods in the county have faced an eviction during the pandemic. Meanwhile, the same communities most at risk of eviction are also experiencing severe hazardous living conditions, in both private and public housing.
Tenant leaders and organizers underscored that, especially in light of the enormous tragedy at Surfside, the time for increased accountability and protections for tenants across Miami is now. They want to see the Tenant Bill of Rights policy package passed this year by county commissioners.