Miami Gardens Mayor Oliver G. Gilbert III and State Senator Oscar Braynon II unveiled pedestrian safety bridges Friday in front of Hard Rock Stadium.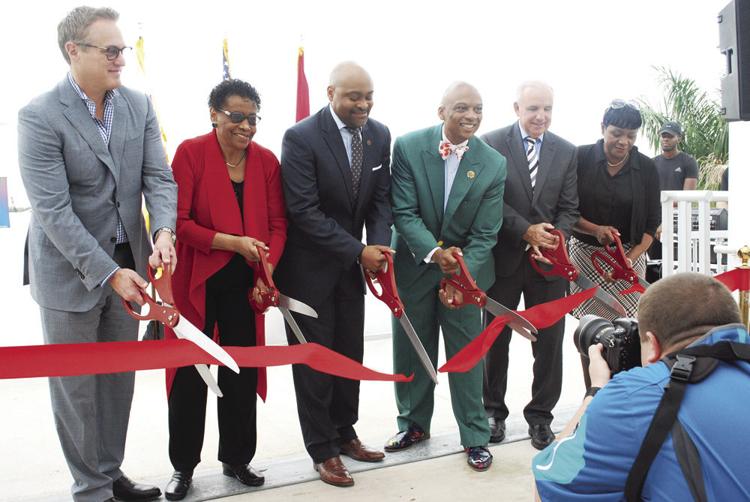 The bridges are named after the two elected officials who each have been reelected because of their service for Northwest Dade, bringing back money, protecting their communities and expanding opportunities. Pedestrians will be able to use the Gilbert and Braynon bridges to cross the thoroughfares to reach the stadium. State records also show the bridges were built to protect pedestrians, clear traffic congestion and create better crossings.
Gilbert's bridge crosses Northwest 199 Street south to north from Lot 18 to stadium property. Braynon's bridge crosses Turnpik
Access east to west from Lot 14.
Gilbert and Braynon spoke quickly from the lectern because of rain, thanking the gathered public officials including agency reps who had a hand in completing the bridges.
"How do we have these events and get people off the streets quickly?" Gilbert said regarding the bridges being a part of a conversation between stadium and elected officials about fun and safety. "We don't want people walking across the streets like that."
Braynon said U.S. Sen. Rick Scott (R-FL) also wanted the bridges.
"He and I don't agree on many things but we did agree on this."
After the ribbon-cutting, Braynon said people have been killed crossing Northwest 199 Street at the location of Gilbert's bridge.
"We had extra cops and people still shot across," Braynon said. "We put these where it's heavy traffic."
The project also includes two tunnels for pedestrians at the north and south entrances of Hard Rock Stadium.
As state taxpayers, city residents paid for the nearly $18 million project through FDOT. A Dolphins spokesperson said they are covering maintenance.
City Manager Cameron Benson said elected officials were approached about the project and approved of the bridge locations through a series of resolutions.
State records show an appropriation of $11,857,125 to the city of Miami Gardens from the Senate.
City records show that Miami Gardens elected officials accepted a grant from FDOT in the amount of $17,857,125 in Jan. 2017.
Benson said none of the money for the construction came from Miami Gardens.
The agreement with FDOT required the city to complete the project either on or before Sept. 30, 2019 after agreeing sometime in 2017.
From June to August 2018 city officials went through the bid process: sent out a request to entertain pitches from five engineering companies and received approval from FDOT to award Calvin, Giordano & Associates Inc. after selecting them as the best of the five.
In 2016, the city unanimously adopted a resolution which urged FDOT and the Florida Turnpike Enterprise to expedite the funding and permitting for pedestrian bridges and tunnels around the stadium. The city's role was to issue contracts and eventually take control of bridges and tunnels under easements.