Fresh off her victory as the first woman in Miami-Dade County to be elected mayor, Daniella Levine Cava has hit the ground running.
"It's like I'm drinking out of a fire hose," Levine Cava told The Miami Times. Not that she minds the pace. "I'm a hard worker. I love to get down to it," she said.
Still currently the county commissioner for South Miami-Dade's District 8, Levine Cava will be sworn in as mayor on Nov. 17. When that happens, she'll replace termed out Mayor Carlos Giménez, who is heading over to Washington, D.C., as a United States congressman.
Levine Cava will be Miami-Dade's third official "strong mayor," with the power to hire and fire department heads, veto legislation and oversee a $9 billion budget. She told The Miami Times she's eager to start.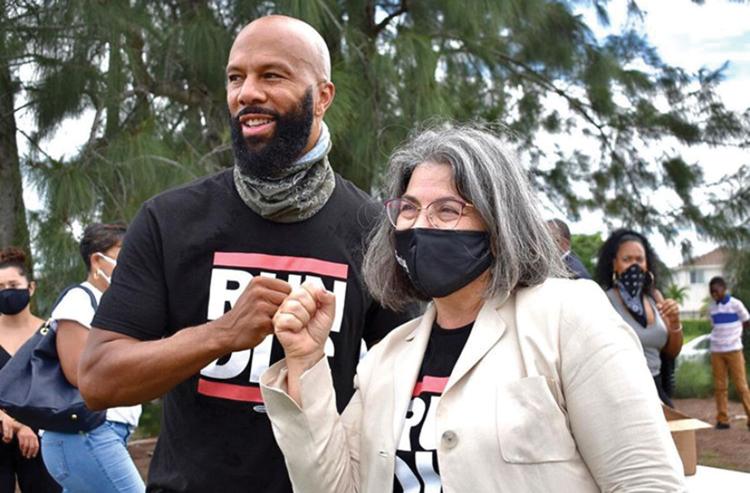 "I feel ready. I've spent a year and a half [running for mayor]," she said. "I'm chomping at the bit to get in there."
Her top priority is to get a handle on COVID-19. A vocal critic on how Giménez has handled the pandemic, Levine Cava said she wants to make sure that protecting the health of residents and visitors is Miami-Dade's top priority, and intends to appoint a chief medical officer who will ensure that "everything we do" to adapt to the COVID-19 pandemic "is guided by science and facts."
"We have to make sure we have a clear, unified message of what it takes to be safe," Levine Cava said. "We need to make sure we speak with one voice, and that we have our cities, our health care professionals and our business community all aligned."
Besides COVID-19, Levine Cava vowed to address affordable housing "like the crisis it really is," tackle criminal justice reform and create a countywide incubator to help new small businesses and nonprofits, especially those that are run by minorities and women.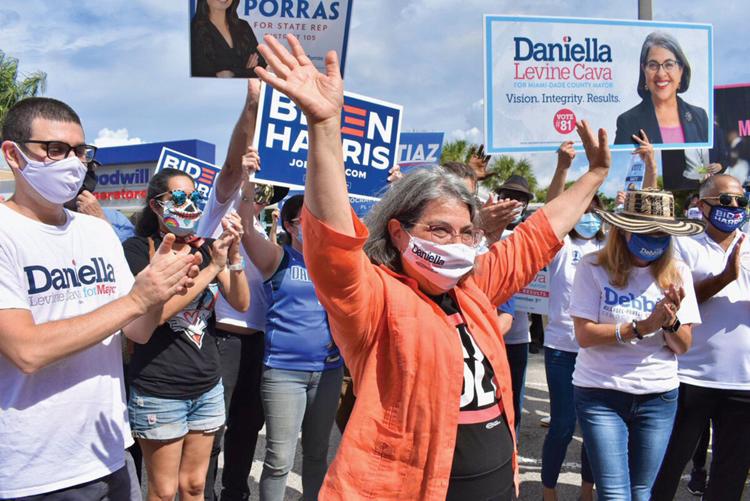 On top of all that, Levine Cava said she will create an "office of equality and inclusion" to address any racial disparities on how the county hands out contracts in the future. A 2014 county study revealed that only a small portion of county contracts were obtained by Black-owned businesses. Levine Cava explained that a big part of the county's economic recovery is making sure that "the Black community isn't left behind."
The Hispanic bloc
Earlier this year, seven people ran for Miami-Dade mayor, including former county Mayor Alex Penelas and District 7 County Commissioner Xavier Suarez. The Aug. 18 primary whittled the mayoral contenders to two: Levine Cava and District 13 County Commissioner Esteban "Steve" Bovo.
Although technically a nonpartisan race, the Nov. 3 mayoral runoff took on heavy partisan tones. Levine Cava, a progressive who founded Catalyst Miami, was backed by the Miami-Dade Democratic Party. Bovo, who tried to portray Levine Cava as a radical, was endorsed by the Republican Party of Miami-Dade.
Thanks to a mostly Spanish-language campaign comparing Democrats to Communists – targeting Cuban, Venezuelan, Nicaraguan and Colombian American voters – several Democrats lost races in Miami-Dade.
Maria Elvira Salazar, a former Spanish-language television reporter, recaptured Florida's 27th congressional district for the Republicans after defeating Democratic incumbent Donna Shalala. Mayor Giménez, a Republican, also emerged victorious over Democratic congresswoman Debbie Mucarsel-Powell in his run for Florida's 26th congressional district seat. Two state house seats in Miami-Dade flipped from Democrat to Republican. So, too, might State Senate Seat 37 if the 20-ballot lead by Republican challenger Ileana Garcia holds against Democratic incumbent José Javier Rodríguez. And while President-elect Joe Biden still managed to win more votes in Miami-Dade than President Donald Trump in the presidential race, Biden received far fewer votes than Democratic nominee Hillary Clinton in 2016.
Nevertheless, Levine Cava still captured 54% of the vote, raking in 576,921 ballots. In contrast, Bovo received just 492,032 votes.
Christian Ulvert, a Democratic political consultant who served as the mayor-elect's campaign manager, said Levine Cava won because she addressed voters' concerns.
"Daniella spoke directly to the voters," Ulvert said, adding that economic recovery was "at the top of her list" of priorities.
Ulvert also contended that while Levine Cava performed fairly well across Miami-Dade, including conservative parts of the county, Bovo barely registered in the northern and eastern parts of the county. This was especially true in areas with large numbers of Black voters, Ulvert added.
Indeed, Levine Cava won the most votes in all precincts where Black residents comprise the largest voting bloc except for one: tiny Precinct 122 in North Miami Beach's Allen Park neighborhood. Of the eight voters who cast ballots in the mayor's race, five went to Bovo and three to Levine Cava. Nine people are registered to vote in Precinct 122; five of them are Black.
The Black vote
In precincts where more than 50% of registered voters are Black, Levine Cava took a 77.7% share of the vote. Levine Cava won in precincts where Black voters are the majority in Miami Gardens (85.7%), Opa-locka (81.1%), North Miami Beach (81.4%), North Miami (81.2%), Florida City (83%), Homestead (74.1%) and South Miami (68.2%). In El Portal, where 40.5% of the electorate is Black, 82.9% went with Levine Cava.
Within the City of Miami, Levine Cava also won the most votes in Black-majority precincts located in Liberty City (86.6%), Overtown (82.6%), Coconut Grove (76.7%), Little Haiti-Little River (82.4%) and Buena Vista (86.5 percent).
Levine Cava also did very well with voters in Black-majority precincts in unincorporated Miami-Dade. North of 103rd St., Levine Cava captured 81.2% of the vote in unincorporated precincts where more than 50% of registered voters are Black. Just south of 103rd St., near Miami Shores and the City of Miami, Cava received 81.3% of the vote in Black-majority unincorporated precincts in neighborhoods south of Miami Shores and west of the City of Miami. Further south, between Coral Gables and Homestead, 81.1% of voters in unincorporated Black-majority sectors went with Levine Cava.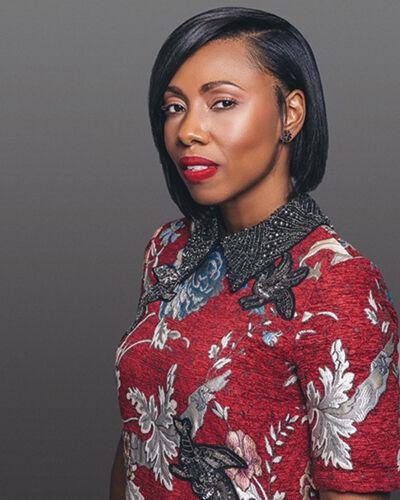 Cassandra Arnold, president of the Democratic Haitian American Caucus of Florida, said Levine Cava's appeal was that she was able to connect with voters, and convey the work she's done for Miami-Dade as the head of a nonprofit and a county commissioner. The same can't be said for Bovo, Arnold argued, especially when it comes to Black voters.
"We didn't know Bovo," said Arnold, a North Miami Beach resident. "He never made any effort to come and speak to us at a level where we see beyond … the image, the persona."
The persona Bovo often projected in the campaign was a Trump-supporting Hispanic elected official who was pro-law enforcement. But Hector Roos, a Republican political consultant, said Bovo should have touted his accomplishments as a county commissioner, including his efforts in obtaining funding for transportation projects.
"Bovo did not have a cogent game plan to go out there and identify what kind of mayor he would be. He never established who he was," Roos said.
Levine Cava, though, didn't have such obstacles.
"She was very clear in establishing who she was, and what she wanted to do as mayor," Roos said.
Another thing Levine Cava excelled at was "building coalitions" within the Hispanic, Black and non-Hispanic white community, especially among Democrats who, countywide at least, still outnumber Republicans. Bovo, on the other hand, only developed connections with center-right Hispanics.
"He had no inroads into certain parts of the county whatsoever," Roos said, "… and when it comes to the Black vote, it was not there for him. He did not engage and build an operation in Black voting precincts."
New faces
Levine Cava will need those coalition skills again when she's sworn in as mayor. She'll be dealing with a county commission that is, at least initially, half Democrat and half Republican. The commission has yet to decide if it will appoint someone to complete Levine Cava's term as District 8 commissioner or hold a special election.
Due in part to term limits, enacted in 2012, there will be five new members on the county commission.
Replacing Commissioner Dennis Moss, who has held the District 9 seat since 1993, is state Rep. Kionne McGhee. McGhee, who was endorsed by Moss, won 53.7% of the vote, defeating Hialeah Councilman Elvis Maldonado. Keon Hardemon, a Miami city commissioner, won the District 3 seat that has been held by Audrey Edmonson since 2004. Although Edmonson endorsed Hardemon's opponent, Gepsie Metellus, the city commissioner still obtained 66.7% of the vote.
Both McGhee and Hardemon, who were elected in the Nov. 3 runoff, did not return phone calls from The Miami Times by deadline.
Raquel Regalado, a former school board member and daughter of former City of Miami Mayor Tomas Regalado, will fill the District 7 seat vacated by Commissioner Xavier Suarez. During the Nov. 3 runoff, Regalado received 50.6% of the vote, defeating former Pinecrest Mayor Cindy Lerner.
Miami Gardens Mayor Oliver Gilbert defeated political newcomer Sybrina Fulton by 331 votes in the August primary to fill the District 1 seat. Gilbert will replace Barbara Jordan, who has held the District 1 seat since 2000.
As for Bovo, a county commissioner since 2011, he'll be replaced by Réne García, a former Republican state legislator who's considered to be a moderate. García received 77.3% of the vote in his race against Adrian Jimenez.
One face who won't change is Eileen Higgins. The incumbent District 5 commissioner managed to fend off a fierce challenge by former school board member Renier Diaz de la Portilla after receiving 52.3% of the vote during the Nov. 3 runoff.
Levine Cava said she's already familiar with the new arrivals.
"I know all the commissioners. I consider them all my friends," she said. "I look forward to working with them."