Fearful that their limited supply of COVID-19 vaccines will be snatched up by outsiders, City of Miami officials are launching a "Miami First" effort that will restrict vaccinations to Miami residents only, starting with its elderly population.
On Jan. 15, the city announced that it had secured 3,500 doses of the Moderna vaccine. It also announced that City of Miami Fire Rescue (MFR) paramedics would be "setting up mobile distribution pods outside of select senior residential buildings and facilities located throughout the city's five commission districts." Those vaccinations started Tuesday, when The Miami Times found Miami Fire Rescue personnel were vaccinating senior citizens at Residential Plaza for the Elderly at Blue Lagoon just south of Miami International Airport in District 1.
In a news conference last week, Mayor Francis Suarez declared that the primary aim of the program is to make sure that the city's share of the vaccine only reaches the arms of Miami residents, and not people from other parts of the county, state, nation or world.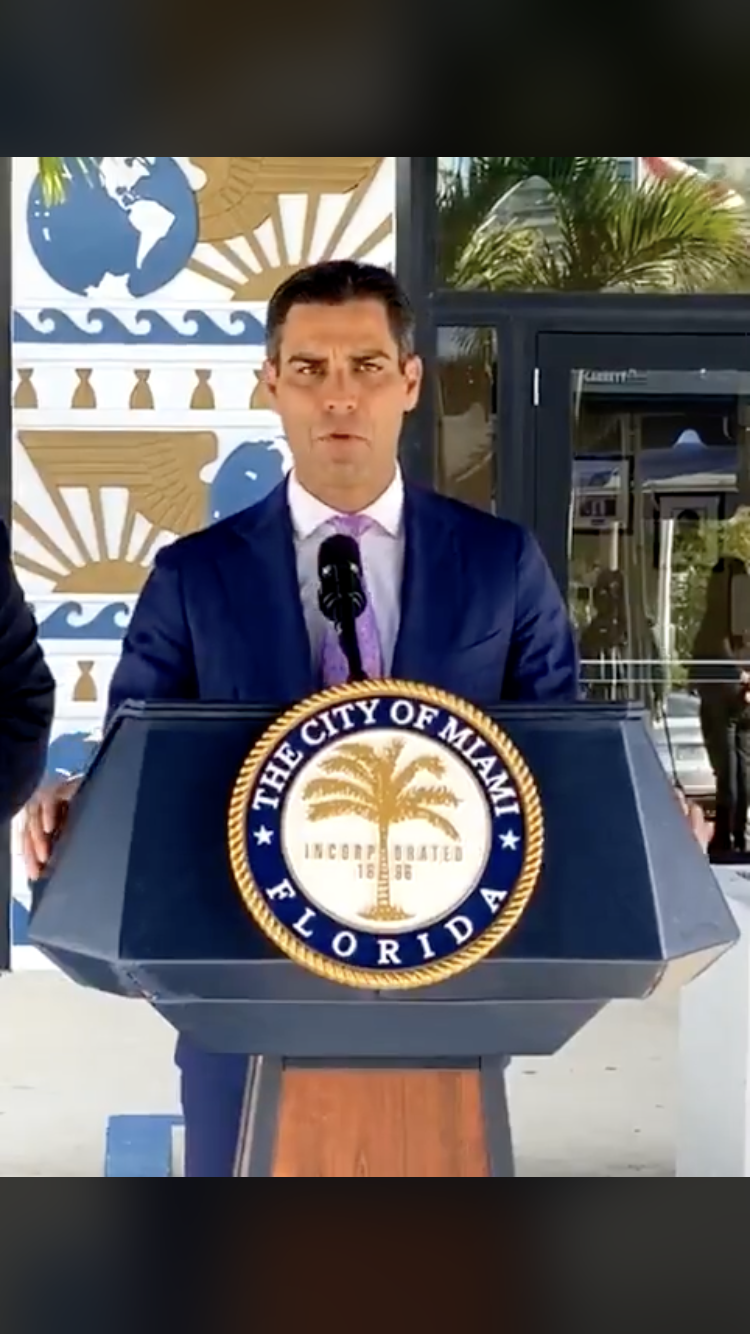 "I presented a resolution to the Miami City Commission requesting that the city manager and the city attorney make all legal steps necessary to prevent nonresidents of the City of Miami from receiving vaccines prior to the elderly and vulnerable population of our community, and the general population of this city," he proclaimed on Jan. 14.
Suarez spokeswoman Soledad Cedro told The Miami Times that the mayor would not be available for further comment. However, Miami City Commissioner Jeffrey Watson told us on Saturday that fire rescue had already begun distributing vaccines to homebound senior citizens over age 80 throughout the city, including District 5, an area represented by Watson that includes the Black-majority neighborhoods of Overtown, Liberty City and Little Haiti.
Watson said his office has recommended that "mobile-pods" for younger seniors be established at Tuscany Cove Apartments in Liberty Square, Carrie P. Meek Manor Apartments in Overtown and Wynwood Elderly Apartments in Wynwood.
"[They're] going to go and see if [these buildings] are accessible," Watson said. If approved by MFR, vaccinations could be distributed across these three sites in District 5 as early as Thursday, he added.
Watson also said the city's mobile vaccination units are capable of vaccinating between 10 and 30 people homebound seniors a day, while MFR's mobile-pods can service between 60 and 80 people per day.
Miami isn't the only local jurisdiction that has sent fire rescue personnel to vaccinate elderly residents. On Jan. 13, Miami-Dade County Fire Rescue personnel were mobilized to vaccinate people over age 65 living in county-run affordable housing projects.
But Miami is the only municipality that has declared its intent to give its share of vaccinations only to its residents, starting with the elderly. According to a recently released 34-page report by MFR, around 80,000 people, or 16.9% of Miami's population, is over age 65. Miami residents of all ages account for 25% of total coronavirus cases within the county, the report added. Additionally, 23.4% of Miami residents live below the poverty line while 23.2% of residents under age 65 (potential carriers of COVID-19) don't have health insurance.
It isn't clear if city officials can legally restrict vaccines to their own residents. Florida Gov. Ron DeSantis' executive order states that medical professionals and anyone over age 65 can receive the vaccine, no matter where they live. During a Jan. 14 Florida State House committee meeting, Jared Moskowitz, the state's emergency management director, declared that a resident-only vaccination plan is not only illegal, but also dangerous.
"People are going to have to cross county lines. We have transient populations here in the state," the Miami Herald quoted Moskowitz as saying. "We can't do that sort of stuff. It will have major implications down the road."
But during its Jan. 14 commission meeting, Miami commissioners expressed concern that the city's vulnerable elderly population was competing with foreign nationals and visitors for COVID-19 vaccines.
"As we all know, there's a lot of [reports] about people from Argentina, from Canada, medical tourists, taking our vaccines from our seniors, and having that very limited supply depleted by outsiders coming to our city," said Commissioner Alex de la Portilla.
He said the city can avoid this by transporting these vaccines directly to elderly housing using only municipal personnel.
"Nobody from Argentina is going to get a vaccine and post it on Instagram," de la Portilla declared. "It is for our people."
The city's Miami First policy won't affect how vaccines are distributed by the Florida Department of Health, Miami-Dade County, Jackson Memorial Hospital or other entities. Those vaccines are available by appointment to anyone who will be present in Florida for the second dose of the COVID-19 vaccine.
Two of the three FDOH clinics administering vaccines are within the City of Miami: the Little Haiti Health Center at 300 NE 80th Terrace and the Health District Center at 1350 NW 14th Street. West Perrine Health Center at 18255 Homestead Avenue, which is 27 miles south of Miami's downtown area, also gives the vaccine. The state is looking to identify additional sites within Miami-Dade to distribute the vaccine, stated Olga Connor, a spokeswoman for Miami-Dade's FDOH office.
As of Jan. 15, Jackson Health System has administered 35,500 Pfizer vaccines. Of those vaccinations, more than 24,000 were injected into senior citizens over age 65. The rest went to health care professionals. A large percentage of the vaccines dedicated to elders were administered at the Christine E. Lynn Rehabilitation Center in Miami's Health District. The remaining vaccines were distributed at North Dade Health Center in Miami Gardens and Jackson South Medical Center in Kendall.
Miami-Dade County, which has received at least 9,000 vaccines, also is looking to establish a footprint in the City of Miami. A new drive-through vaccination site opens at Marlins Park on Wednesday by appointment only. Other sites under consideration are Miami-Dade Auditorium in Little Havana, as well as Charles Hadley Park in Liberty City.
But even if there was an abundant supply, there are members of the Black community who are reluctant to take the vaccine, reported Watson.
"They'll say, 'I'll wait.' 'Let me talk to my doctor first.' These are 80-year-old people," he said.
Watson said he understands the reluctance given African Americans "shaky" history of vaccination drives in the past. Nevertheless, he insists that the COVID-19 vaccines have been vetted and are perfectly safe. They're also the best chance for elderly people to avoid getting fatally ill by the highly contagious novel coronavirus, he emphasized. He even quoted 73-year-old Overtown activist Irby McKnight: "With the vaccine McKnight said he could live 10 more years," Watson recollected, but if he catches COVID-19 McKnight doubted he'd last another 10 days.
But it isn't just Black American senior citizens who are wary of the vaccine. During the Jan. 14 meeting, Miami Fire Rescue Chief Joseph F. Zahralban confirmed that his department received 850 Pfizer vaccines from the state, restricted to only frontline personnel. However, so far, only 250 paramedics have opted to take the vaccine, leaving another 650 in storage.
"You see throughout the community that people will be willing to take the vaccine," Zahralban explained. "But they don't want to be first."