Supreme Court nominee Amy Coney Barrett pushed back against questions from Democrats on abortion, gun rights and election disputes among other issues in lively Senate confirmation testimony Tuesday. She insisted she would bring no personal agenda to the court but would decide cases as they come.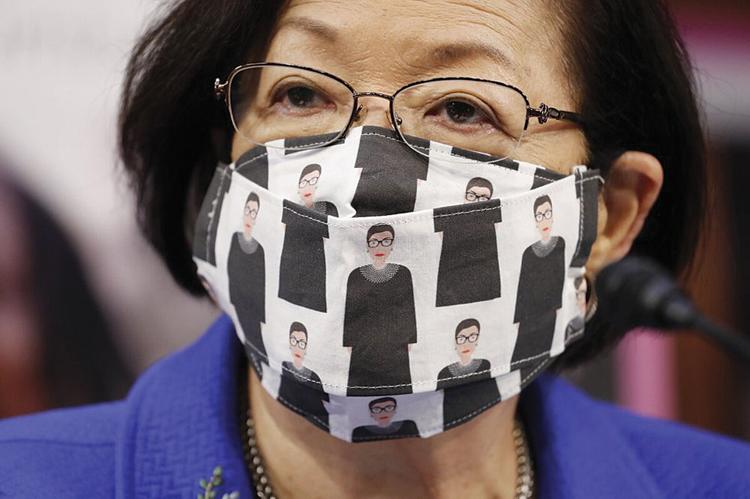 "Judges can't just wake up one day and say I have an agenda – I like guns, I hate guns, I like abortion, I hate abortion – and walk in like a royal queen and impose their will on the world," Coney Barrett told the Senate Judiciary Committee during the second day of hearings.
"It's not the law of Amy," she said later. "It's the law of the American people."
When senators probed her views on gun ownership and racial equity, it drew an emotional response from the mother of seven, whose children include two adopted from Haiti. Coney Barrett described watching the video of the death of George Floyd at the hands of police as very personal for her family.
"My 17-year-old daughter Vivian, who's adopted from Haiti, all of this was erupting, it was difficult for her," Coney Barrett said. "We wept together in my room."
Coney Barrett said Floyd's death was also difficult for her 10-year-old daughter Juliet.
"I had to try to explain some of this to them," Coney Barrett said of her children.
On the larger topic of racism, Coney Barrett said that while she is willing to discuss the reaction her family had to the incidents of police brutality towards Black people in America, "giving broader statements or making broader diagnoses about the problem of racism is beyond what I'm capable of doing as a judge," she said. But "racism persists in our country," Coney Barrett added.
Recusal from the court
In an exchange with Democratic Sen. Patrick Leahy on recusal in case an election dispute went to the Supreme Court, Coney Barrett said:
"I commit to you to fully and faithfully applying the law of recusal. And part of the law is to consider any appearance questions. And I will apply the factors that other justices have before me in determining whether the circumstances require my recusal or not. But I can't offer a legal conclusion right now about the outcome of the decision I would reach."
Leahy claimed that President Trump expects the Supreme Court nominee "to side with him in an election dispute."
To this, Coney Barrett said, "I agree with your earlier statement that the courts should not be politicized."
Affordable Care Act
Attempting to preempt Democratic criticism of Coney Barrett's nomination, Senate Judiciary Chair Lindsey Graham embarked on a sustained attack of former President Barack Obama's signature health care law. It failed to prevent an interrogation from senators.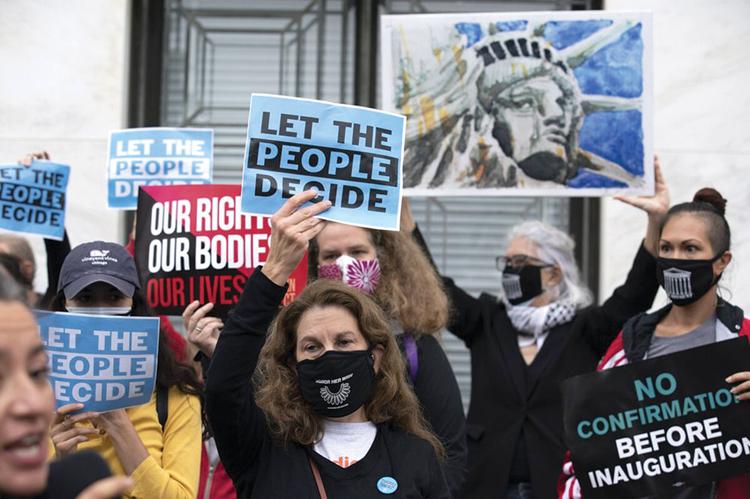 Coney Barrett responded "no" to a question about whether Trump asked her to commit to repealing the Affordable Care Act when he nominated her, adding that if he had, "that would have been a short conversation."
The Senate, led by Trump's Republican allies, is pushing Coney Barrett's nomination to a quick vote before Election Day, Nov. 3, and ahead of the latest challenge to the Affordable Care Act, which the Supreme Court is to hear a week after the election.
Roe v. Wade
Under questioning by the senior senators of each side of the aisle – Graham for the GOP and Democratic Sen. Dianne Feinstein – Coney Barrett repeatedly declined to give her views of Roe v. Wade and Supreme Court precedent that preserved that 1973 landmark.
"I have no agenda to try to overrule Casey," Coney Barrett told Feinstein, referring to the 1992 court ruling that said states may not put an 'undue burden' on a woman's constitutional right to end a pregnancy.
To questions from Feinstein, Coney Barrett said she did not want to comment on how she would rule: "I can't express views on cases. I can't pre-commit."
Ginsburg's legacy was felt throughout the hearings that began Monday, with some Democrats wearing lapel pins with her likeness. Coney Barrett also praised the liberal icon, saying she was "forever grateful" for Ginsburg's trailblazing path as a woman on the court.
Yet Sen. Kamala Harris of California, the Democratic vice presidential nominee, warned that Coney Barrett's nomination puts in jeopardy everything Ginsburg fought to protect.
Testifying from her office because of the pandemic, Harris said that the court is "often the last refuge for equal justice" and that not only health care but voting rights, workers' rights, abortion rights and the very idea of justice are at stake.