A devastating week marked with runaway COVID-19 infections in South Florida, a much more contagious variant of the virus from overseas identified in our state and a crippled first week of vaccination efforts ended with hope on Sunday morning at a Broward church.
That's when the Koinonia Worship Center & Village in Hollywood partnered with the Florida Division of Emergency Management to vaccinate 500 seniors. The effort was designed to start remedying the lack of vaccine access in the Black community. Instead of an anonymous online registration system crashing or filling up in minutes, recruitment efforts involving church staff helped seniors register for this opportunity.
The vaccination event was organized by state Sen. Shevrin Jones and his father, senior pastor Eric Jones, both of whom contracted the virus last year.
"As we've seen throughout this public health crisis, Black communities, and particularly adults over the age of 50, are disproportionately impacted by this deadly virus," said the senator. "It is important that we are all unified because we realized COVID-19 knows no political party."
The church's entrance and parking lot were transformed into a drive-through-style distribution event, with the line wrapped around the building. Members of the National Guard were present to direct traffic and ensure a smooth vaccination process.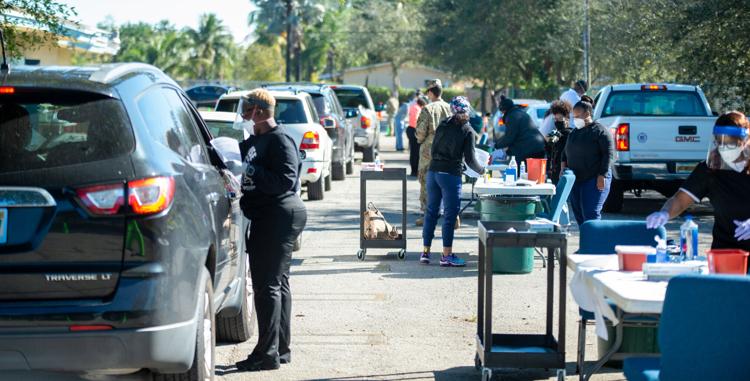 Though vaccination occurred outside, the vaccines were retrieved from a freezer in a nearby building as needed. Ambulance vehicles were parked close by in anticipation of medical emergencies or vaccine side-effects, but none were reported.
A news conference held at the site with other Broward County elected officials reassured the public that the effort was the first of many.
"District 35 is the largest Black district in the state of Florida and the third largest in the country," said the younger Jones. "That's why we are prioritizing this area to make sure people are vaccinated."
His office used social media outlets, email blasts and relational organizing to inform the immediate neighborhood of the opportunity.
"When the world has a cold, the Black community catches pneumonia," he said.
It is that same concern that drove many Black leaders to hold a delegation meeting to discuss ways to increase health care access to their communities. Sen. Perry Thurston and Reps. Marie Woodson and Felicia Robinson worked with Jones to make Sunday's event happen.
The collaboration came after Gov. Ron DeSantis announced plans to utilize places of worship as future vaccination sites. Working alongside the governor's office, the elected officials will open more sites in Broward tailored to prioritize seniors in minority communities.
Sen. Jones said he felt motivated to lead the effort after seeing how hospitals were overwhelmed with demands, and thought extending the responsibility to places of worship and municipalities would make the process more effective.
Rep. Debbie Wasserman Schultz, also present at the news conference, pointed out the many shortcomings of the decentralized approach for distribution.
"The vaccine distribution process for priority groups in our state has been extremely flawed," she said. "Forward-thinking, guidance, planning and coordination have been lacking from the top. Teams handled the process at a consistently incompetent and negligent level. Sen. Jones should not have had to fight to make sure this site was created."
Schultz mentioned only 26,000 people were scheduled to receive the vaccine last week through the Department of Health website.
"Yes, we were not ready for the pandemic, however, we have to deal with the effects and the aftermath," said Woodson, concerned about COVID-19's impact on Caribbean families. She too tested positive in 2020.
A statewide COVID-19 task force made up of Black leaders is in the works to maximize attempts to increase access and education of the vaccines. In both Miami-Dade and Broward counties, pastors are being pulled into the fold to locate more places of worship to transform into drive-through sites. Additionally, HBCUs have expressed interest in being a part of the task force.
"In our African American communities, we see multigenerational households and we need to make sure we can protect ourselves, so this is huge," noted Robinson. "We have to do something to get this out so that we can move on."
The Miami Gardens representative said pastor Wayne Lomax's The Fountain Church is a future site pending approval. Broward community centers and sites in Miramar will follow.
Sen. Jones urges the public to stay in contact with elected officials in their district to stay updated on opportunities for seniors to receive the vaccination. His constituents can contact him at garafola.jessica@flsenate.gov.
Yet despite these efforts to increase access to and educate Black communities about the vaccine, some still remain skeptical about it.
"I understand where the concern is and I don't want to downplay that, but I ask them to trust the science," said Sen. Jones. "Of the many people who received the vaccines, only 175 had adverse reactions and 17 had to be hospitalized."
Jackson Memorial Hospital collaborated with churches in Miami-Dade this week to register parishioners for vaccines at various locations on Wednesday.