State lawmakers want to add an automatic trigger to dissolve cities in financial trouble.
Eleven cities, including Opa-locka, are watching a bill that could be on the governor's desk before the cities get out of the reason state lawmakers say residents may want to dissolve: fiscal irresponsibility.
"Dissolution of municipalities," House Bill 1209 and Senate Bill 1522, adds financial criteria to the state's already existing power to dissolve cities.
Opa-locka fits some parts of the bill: Elected officials have been under financial oversight for at least two years, with an emergency board to respond to a money crisis. The city has failed to comply with a signed agreement with the governor; has been late on sending audits for at least two years; and an auditor general issued a report within three years, which pointed out major problems.
If the bill passes, the city's elected officials have to set an election date or the county will.
Opa-locka Mayor Matthew A. Pigatt on Feb. 25 vented live on Facebook. In his 36-minute-57-second video, Pigatt, talked about Opa-locka's history and was angry that a politician not from a city would seek to dissolve it. Pigatt pointed to work that is being done to fix Opa-locka's problems that no one is talking about.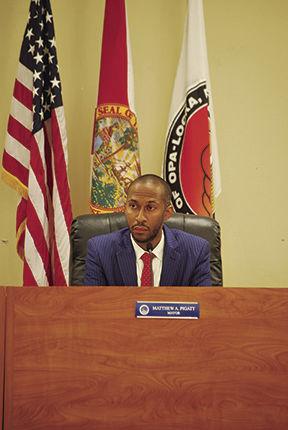 "This is what the new commission is doing. Making sure these finances get right, taking care of our water billing, fixing these roads and streets and addressing the pump station," Pigatt said in the broadcast. "It is a hassle to not only try and address what's going on within the city, but to have people outside the city try to attack us while we're down."
Pigatt posted twice on Facebook, once to announce the live broadcast and the broadcast itself. The two posts generated 125 comments.
"When are we going to stop letting these people back door us!," CM Deandre posted.
"I have been an employee with the city for over 20 years and the problem just didn't start, give the new administration a chance. But my issue with this is: why is Hialeah of all the cities around us. Think people?" Diane Dee-dee Cure Darden posted.
"My mother bought her house in 1975 in Opa-Locka where I grew up and she still there," Angel Bostic Thompson's comment reads. "I remember our first Mayor Robert Ingraham and we had 'Arabian Nights.' Mayor Helen Miller made sure we had great activities going on at Sherbondy park. We need to do something about this and make sure we keep the city of Opa-locka. They have been trying to get rid Opa-locka since 1982. Tell me what you wanted to do Mayor Pigatt."
In the Sherbondy Village Community Center, two public comments were about the dissolution bill.
Rodnika Cockroft, a field organizer with Dream Defenders, said she is proud of the strides the city has made since the new commissioners were elected and she is concerned about the city dissolving.
"We are ready and willing to run a campaign to maintain cityhood," Cockroft said.
Former candidate for mayor Dotie Johnson chided Pigatt for using Facebook because not everyone has access.
Vice Mayor Chris Davis said he hears the concerns; the commission is working and city residents can expect a public forum.
"We're working on letting the community know what's going on and that we're not up here making assumptions."
Commissioner Sherlean Bass said about the dissolution, "it's going to take all of us" and the community has to stay vigilant.
"We have a lot of issues. We know what we have but we don't know what we're going to get."
Commissioner Joseph L. Kelley said the dissolution is real and should not be taken lightly.
"The push is not only coming from up there; it's coming from down here too."
Opa-locka officials did not take specific action about the bill at the Commission meeting Feb. 26.
Commissioners unanimously agreed to hire a public relations and marketing firm for day-to-day operations, jumped on a North Miami Beach deal with an engineering firm for street repairs, purchased 10 2020 Dodge Durangos to add to the police fleet, agreed to build a self-storage facility at 12940 NW 27 Ave., voted 4-1 for an amended deed for property at 1801 Ali Baba Ave., and 5-0 to change an ordinance that allowed millions in tax exempt and taxable revenue to be issued.
"We are changing how this government is being run to ensure it is abiding by all standard rules and regulations," Pigatt said to The Miami Times. "We went through a national search for a city manager and a search for a city attorney to ensure we are addressing all the issues from the past to now."
DISSOLVE OPA-LOCKA NOT NEW
Dissolution was a topic before. Former city officials raised the idea and a group of upset residents started a petition.
Political consultant Willis Howard paid to get the petition moving in 2017. He wrote via text on Tuesday, March 3, the group did not pursue signatures because former Mayor Myra Taylor promised to tie up the petition in court.
"She basically put the baby in front of the truck," Howard said. "They didn't want people to know. They didn't want to approve any step of the process and had their attorney fight."
Since taxpayers' money would have been used to fight the petition, Howard decided to change the city leadership.
"Ok I'll just change the council and the mayor. We brought on Burke, Davis and Pigatt as mayor."
As for city dissolution, "I support any bill that allows the constituents to have the final say. We don't like the state doing it unilaterally. I wanted the folks in Opa-locka to realize they have an option. It wasn't a Black or white issue; it was a facts issue."
Pigatt said the city was "not at all" given a fair shake to get out of its financial crisis.
Former Gov. Rick Scott put Opa-locka under financial oversight in 2016 after Taylor and commissioners asked the state and county for help. Since then, expense payments need approval from a state-appointed auditor general.
Years later, as Opa-locka is making steps to improve - almost done with a recovery plan and one outdated audit left - state lawmakers have added requirements that would force elected officials to ask voters whether to start their city over by revoking the charter and dissolving the city as a municipal corporation.
Opa-locka was three years behind in audits and was tasked with completing six audits and a five-year financial plan in two months.
"No way we could have done that," Pigatt said. "They didn't give us an opportunity to do a financial projection to figure out how to turn the city around within 60 days."
City officials will finish a late audit, for 2017-2018, by the end of March 2020; Audis for 2014-2017 are done. March of the following fiscal year is the deadline for audits.
The audit for 2018-2019 will be finished June 2020. The audit for the current fiscal year, 2019-2020, should be done by March 2021.
"That was a herculean effort to complete six audits in 13 months - three CITT audits and three state audits. By the end of summer, we will be done with our five-year recovery plan."
The auditor general's report was published in June 2019 and it listed 99 problems. Then-City Manager Newall Daughtery had a response dated May 23, 2019 in which the city acknowledged the problems and that it would work to correct them.
Pigatt said 35 of the 99 findings have been addressed as of January 2020; 33 have been implemented; and two of the auditor general's recommendations were not applicable.
"In the next 90 days we should have a plan for the completion of 90 percent of all the findings," Pigatt said. "We have until December of this year to make progress on addressing those issues. Our city manager is making the strategic plan in place to make sure that all those findings are addressed by December."
State representatives and local elected officials could dissolve municipalities for years.
In 1973, the Legislature created the Home Rule Powers Act, which gave state elected officials the power to do so. Local officials must dissolve a city through an ordinance which takes two readings; both have to pass.
If the bill passes, city residents would have to vote whether to maintain the charter, remain incorporated and improve the city's finances;or revoke the charter and dissolve the city as a municipal corporation.
If voters did so, parks, community centers, police, public works, city record keeping, or legal representation would need to have money raised to fund those services after they incorporate as private businesses either non-profit or for-profit.
However, money would not be able to be raised for the city as a business until a new charter is created and regulatory oversight over the area known as Opa-locka would be lost.
State Rep. Jason Fischer, R-16, filed the dissolution bill in January. State House members voted twice to move the bill forward - in the Local, Federal and Veterans Affairs Subcommittee and the Ways & Means Committee.
Fischer was unavailable for comment.
There are five Democrats in the 15-member Local, Federal and Veterans Affairs Subcommittee.
David Silvers, Bruce Antone, Anna V. Eskamani and Evan Jenne voted to move the bill forward. Shevrin D. "Shev" Jones did not vote.
The House Ways & Means Committee has 18 members, six of whom are Democrats. Only Al Jacquet, D-88, voted against the bill moving forward.
The other Democrats are Amy Mercado, John Cortes, Dianne "Ms Dee" Hart, Eskamani and Silvers.
All the Republicans in the committees voted for the bill.
Eskamani, D-47, admitted no municipal government advocated for the bill but wrote that her vote in committee could change if the bill were brought to a vote on the House floor.
"It's not a black/white issue for me. There is a lot of nuance to iron out which is why the legislative process is so important and why my vote could change if the bill comes to the floor. For example, I would love to speak to our Black Caucus members to see if any cities at risk via this bill are historic Black communities or check in with our rural Republicans and see what their thoughts are."
Eskamani said there is a chance the bill would not be voted upon this session.
DISSOLVED CITIIES
Eleven cities in Florida were dissolved according to a 2018 fact sheet from the Florida League of Cities. The most recent was Hastings in St. John County in 2018. The most recent in Miami-Dade County was Islandia in 2012 by the County Commission; there were no elections since 1990 and less than five people lived there.
There are 10 other municipalities in states of financial emergency: Caryville, Eatonville, Gretna, Hampton, Hawthorne, Noma, Pahokee, Wausau, Webster and Westville.
The Florida League of Cities is opposed to the bill because the requirements for a referendum are too low.
A city could face a voter referendum if officials submit an annual financial audit and an annual financial report three months late for two or more years in a row.
David Cruz, a lobbyist for Florida League of Cities, said a city could be recovering from a hurricane and submit an audit late.
"There should be some additional hurdles when it comes to dissolving a city," Cruz said. "If at any moment's notice a city can go away that would scare developments."
Cruz also said there needs more clarity in the requirement about a report from a grand jury or inspector general that identified major problems.
"How do we know the findings were corrected? The requirements have to be crystal clear so good actors are not affected. I don't think one elected official makes a city a bad actor."
Then there is Opa-locka's water billing and the decades-old pipes.
George Suarez, who ran for the City Commission in 2018, said the issue with the water billing has never been resolved and fixing the pipes could cost $300 million.
He would vote no on dissolution, Suarez said.
"But if people had to vote today, they would vote to dissolve the city because they're so frustrated," Suarez said. "I'm very worried our community – Opa-locka – may not exist."
Pigatt said he was confused at the idea anyone would vote to dissolve Opa-locka.
Pigatt is not worried the inspector general would block the hiring of the PR and marketing firm though agenda items have been denied by the inspector general.
There is no cost for the firm yet because proposals have yet to be received.
The city received over $900,000 for completing three late audits from Miami-Dade County's CITT funds, which is money for transportation-related expenses.
The money will be used to pave six miles of road, sidewalks, beautification and landscaping on medians, fill potholes and road repairs for Northwest 139 and 141 Streets.
From 2017 to 2018 Opa-locka's property values increased by 10.4%, putting in the top of five increases in the county. Miami and Miami Gardens did not have such an increase.
By July 2019 property tax values increased 30.1%; the Amazon warehouse opened in June 2019. The increase in property value added $1.8 million to city revenue.
"We're in a great fiscal position to get out of this financial crisis in the next few years," Pigatt said.