Elvin Dowling, one of 10 Democratic candidates for the U.S. House seat left vacant by the late Rep. Alcee Hastings, amended his federal lawsuit against Gov. Ron DeSantis last week, stating that the timeline the governor set for the special election to fill Hasting's seat is "unreasonable and politically motivated."
As previously reported in The Miami Times, Hastings died April 6 and DeSantis remained silent for nearly a month about when an election would be scheduled to fill his congressional seat. This prompted Dowling's initial complaint, filed April 29, that the governor's failure to schedule the election was unlawful.
Four days after the lawsuit was filed, DeSantis announced that the primary election to fill the seat would be held November 2, 2021, and the general election on January 11, 2022.
Dowling, a public speaker, Pulitzer Prize-nominated author and former chief of staff for the National Urban League, contends that the governor's timeline is too drawn out.
"Until we have an election timeline that is both reasonable and free from political games, and outright voter suppression, the battle wages on," Dowling said during a news conference May 7.
According to court documents received by The Miami Times, Dowling claims that the governor's election schedule is "retaliatory," violating constitutional and statutory mandates, Dowling's rights to equality, and his First, 14th and 15th amendment rights.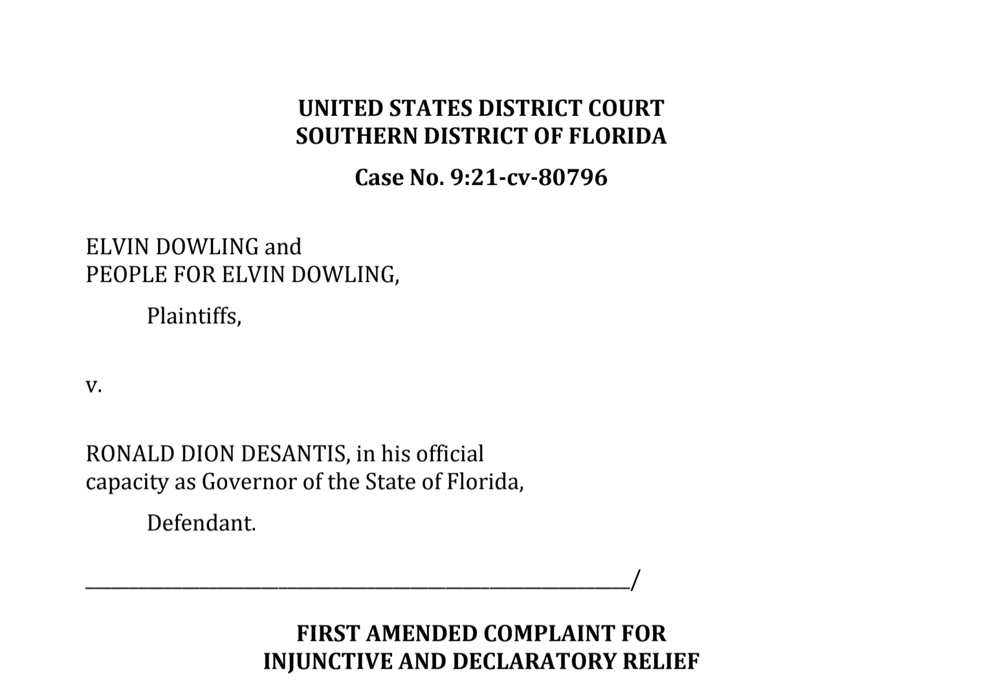 The lawsuit also points to the length of time residents of Florida's 20th Congressional District will be left without representation. The general election is 244 days away, and nearly 40% of Hastings' remaining term will have passed by then.
"In the last five special elections to fill vacancies in the U.S. House, all of which were in majority-white Congressional districts, the average time span between vacancy and special election is 127 days. DeSantis' timeline is more than double that average time span," court documents state.
District 20's demographics are majority-minority; 53% of the district's residents are Black or African American, 23% of residents are Hispanic or Latino, and 19% are white. The area is also largely left-leaning, with 62% of voters registered Democrats, 13% registered Republicans and 24% registered with no party affiliation.
Both political consultants and Dowling point to the district's demographics as the cause for DeSantis' delay. A Democrat is almost guaranteed to win the congressional seat, something the Republican governor is trying to avoid for a host of reasons. 
Elections officials in Broward and Palm Beach counties gave the governor recommendations for when to schedule the primary and general special elections – August and November 2021, respectively.
Broward County Supervisor of Elections Joe Scott criticized DeSantis' timeline in a statement to Florida Politics.
"The dates are extremely problematic and uncalled for," he said. "The dates that we are planning for would work so much better, and there's just no good reason not to go along with them other than politics."
Hastings' son, Alcee "Jody" Hastings II, supports the federal suit and stood by Dowling at his news conference.
"My dad dedicated his entire life to ensuring the disenfranchised and underrepresented would have a voice," Hastings said. "If he were here today, he would be appalled that the governor would have the audacity to leave this seat open."
As for the other candidates, Dowling says if they care about the people of District 20, they too should speak out against DeSantis' actions.