Rain or shine, Somora Cidoine, 27, was determined to cast her vote in person on Saturday. The fate of her noncitizen family and friends rested on her ballot.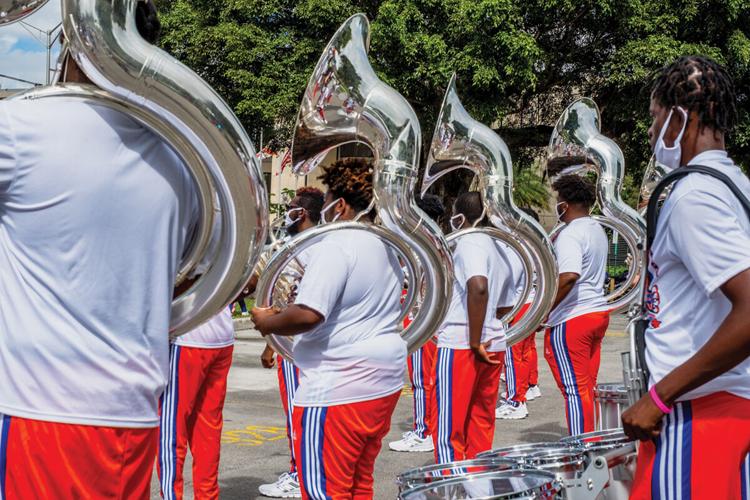 "I'm not happy with the lack of leadership in this country and especially in this community. Trump is looking to deport the TPS (Temporary Protected Status) holders here. I want a change in immigration policies," said the Haitian-born voter.
Like Cidoine, many millennial voters have realized what's at stake this election. A recent report released by Tufts University researchers reveals that more than 3 million young voters (aged 18 to 29) have voted early or mailed in their ballots, with the majority being from battleground states. The seemingly voting-apathetic generation was largely motivated by youth-led movements, data scientist Rey Junco disclosed.
Vote the Future is among one of the youth-targeted efforts working to increase voter turnout this election. The campaign partnered with the Overtown Youth Center and Miami Vote Float to inspire low-turnout precincts through lively entertainment on national Vote Early Day on Oct. 24. Prior to the start of early voting, the group was responsible for motivating 200 millennial voters to become civically engaged.
On Saturday, local artists, live DJs, floats and marching bands made special appearances at 14 polling locations across Miami-Dade County.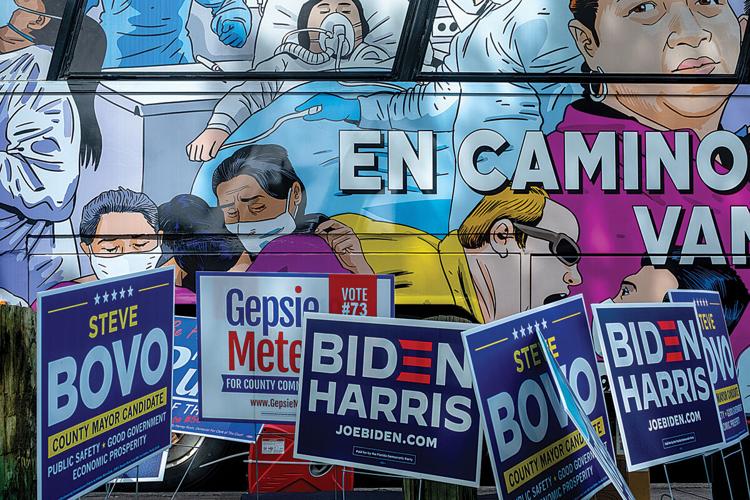 At North Miami Public library, Cidoine and other voters were greeted by Luckner "Lucky" Bruno's festive dance performance on stilts. Onlookers were delighted by the performance after risking long wait times associated with the wrapped-around lines the library saw in the first week of early voting.
North Miami resident Kassandra Timothe informed The Miami Times that the library's history of long voting lines never seemed to discourage voters in the community.
"The voting wing is named after [then 102-year-old] Desiline Victor, who stood several hours in line to vote in the 2012 presidential election. She was honored by Obama for her courage. We will probably see groundbreaking turnouts here," she said.
Now, North Miami seems be reflecting Victor's determination in this election.
"As someone who lived here, worked here and socialized here, this is home, and I hope to affect real change. [Voters] need to feel like the city is listening to them," said Timothe, whose willingness to be civically involved drove her decision to run for North Miami City Council next year.
Tracey Sellers-Montgomery, mother to Seattle Seahawks quarterback Geno Smith, showed support for early voting initiatives by joining attempts to engage the crowds.
Miami Dade College (MDC) North Campus also exhibited a similar level of enthusiasm, with a marching band performance by South Florida's only HBCU – Florida Memorial University – in a "Battle to the Polls" event between inner-city high schools.
Longtime rivals Miami Norland, Northwestern, Central and Edison senior high schools led a school spirit-filled caravan of students, teachers and alumni who would drop off their ballots or cast their in-person vote at the college.
"It was important for me to show up so [my] students can see the power of their voice. We, as the alumni, we vote, but now we have to get the youth to come out and vote," said Yolette Mezadieu of Edison's magnet Academy of Finance and Entrepreneurship. "It brings joy to my heart to see young kids engaged because they'll be the ones making changes in the future."
The high school alumni associations participating in the Vote the Future effort galvanized their schools to come together collectively in a healthy competition that promoted civic duties.
"This election is beyond big. It's very important for us to come out here in numbers and win our democracy back. We brought in a caravan of 44 cars," said Edison alum Hernan Chavez.
"We're out here for a great cause," added Alan Smith, the school's alumni association president.
School buses were stationed at MDC – on which riders followed a one person per seat rule – to provide transportation for voters who would need a ride home.
Organizers of Vote the Future worked to accommodate the needs of voters across all early voting sites participating in the campaign. Sanitary packs, water and food provided by World Central Kitchen were distributed to the socially distanced crowd.
Artist coordinator Jordan Levin explained that the effort is meant to persuade the discouraged to come out, enjoy the entertainment, then cast their vote.
"When there's so much hostility and anger towards politics right now and people are putting up barriers, we are going to make it a party, a celebration. We're bringing [the party] to the voting sites where the people are," said Levin.
Get out the vote tactics at early voting polling sites on Saturday brought several groups together for the same goal. Marleine Bastien, executive director of Family Action Network (FANM), was happy to contribute to the push for voter turnout in predominantly Black and immigrant communities. She was at the Lemon City Branch Library.
"We need everybody to vote, the old, young, millennials, Gen Z. This is a nonpartisan effort," she said. "The Black vote will decide who will be president in November so Black voters need to have a seat at the table."
Throughout the day, Haitian cuisine and face painting for children were provided while voters withstood lines and Miami's unpredictable weather.
The uplifting atmosphere provided by FANM served as a backdrop to Vote the Future's parade of cars, live DJ and theatrical turns by drag queen and performing personality Adora (Danilo de la Torre) and visual artist David Rohn, on floats created by Miami artist Damian Rojo.
"The message is the same, unity. We have the same goal and that goal is to show that your vote matters, your voice matters," said Bastien.
Representatives from Miami Children's Initiative agreed with Bastien's push to create community during the pandemic.
"Our mission is to provide resources so Liberty City becomes a strong striving community that provides the education, health care and safety initiatives to make it sustainable," said Debra Nunez, MCI's director of programs. "We understand how important it is to vote to change the narrative of what happens in our community."
In partnership with Vote the Future, the organization brought vans to transport people to early voting sites.
The National TPS Alliance, which has visited 12 battleground states by bus in support of voter turnout efforts across the country, was also present.
"We're traveling across the U.S. to host events with TPS-holding communities to advocate for family demands for permanent status. We want to make sure people vote against white supremacy and on behalf of our families," said communications manager Erick Villalobos. "It's crucial that we get folks who can vote, to vote."
The group is traveling in a bus painted with a mural reflecting how immigrant and minority communities have been impacted by COVID-19.