As COVID-19 cases and deaths in Florida continue to rise, state lawmakers have determined how this month's committee meetings and upcoming legislative session will run. Any lawmaker in physical attendance at the Capitol will have to follow safety measures to prevent further outbreaks, as prior ones have resulted in nine Florida lawmakers being excused from the legislative organization session in November because they tested positive or had been exposed to someone who had tested positive.
A negative COVID-19 test from the on-site testing service will be needed to enter the Capitol building. Legislators and their staff are advised to arrive in Tallahassee one day prior to their meeting to allow for coronavirus testing and delivery of results. Senators, House members, staff and visitors will be prohibited from entering the Capitol if they have tested positive, have symptoms or are in quarantine.
In-person viewing will be limited to senators, Senate staff, experts invited to present information before the committee and members of the media.
Senate President Wilton Simpson said the governing body has worked with Florida State University to reserve three remote viewing rooms at the Leon County Civic Center, not far from the Capitol, where members of the public can gather if they wish to watch the proceedings, address the committee and testify.
To accommodate social distancing guidelines, the Senate intends to use its largest committee rooms with the largest seating areas and hold no more than three committee meetings at one time.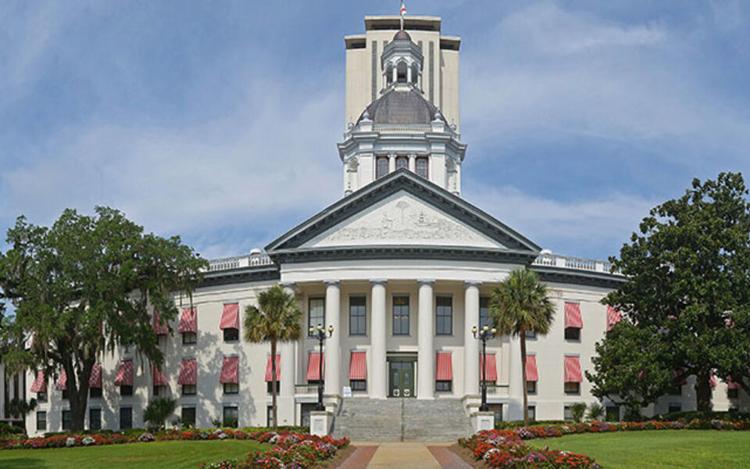 In a memo to House members, House Speaker Chris Sprowls wrote, "Members and House employees are encouraged to use conference calls or virtual meetings as alternatives to in-person meetings. If in-person meetings are necessary, every effort should be made to limit the maximum number of guests who can safely socially distance. In-person meetings should be by appointment only with sufficient time in between appointments to avoid crowding in common areas."
The House will split committee blocks in two during committee weeks and meet only two days a week instead of the traditional four, reducing the number of days House members will be in Tallahassee.
"Each committee notice published in the Senate calendar will include the room number within the Civic Center where members of the public may gather should they wish to address the committee. As always, additional public comment can be offered in writing and for inclusion in the committee packet," Simpson's memo noted.
The House will use an online registration system for those who want to provide substantive testimony, including lobbyists and advocates, and for the press. All committee meetings will be livestreamed on The Florida Channel and public testimony will be held in person, but limited seating will be available on a first-come, first-served basis.
According to Sprowls, expanded seating capacity for on-site virtual testimony will be available on certain issues of great public significance and when scheduling allows.
There will be one-hour breaks between committee meetings to clean and disinfect the House meeting rooms and replace microphone shields.
Visitors are required to social distance and wear face coverings "when in the company of another person," the House speaker wrote.
The Legislature will meet during the weeks of Jan. 25, Feb. 1, Feb. 8 and Feb. 15. Pandemic procedures will be updated ahead of the March legislative session. Due to warnings across the country of potential armed protests being planned at state capitols, Simpson asked Senators and staff to "work remotely this Sunday, rather than travel to the Capitol Complex."