As a student-athlete with a passion for basketball since the second grade, Florida Memorial University Lions captain Heather Durand was looking forward to her senior year, where she envisioned herself fulfilling her lifelong dream of playing overseas after graduation.
That all changed when she found herself kicked off of the basketball team, losing her scholarship and in the middle of a Title IX investigation.
The college junior is accusing her coach, Gregory Stanback, of sexual harassment. It has been more than three weeks since several unsolicited overtures from the coach have been reported to the school by a faculty member on Durand's behalf.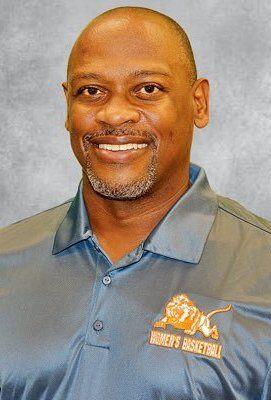 The attention from Stanback allegedly began shortly after Durand settled in at the university as a new student in June of last year. One of her 21,000 Instagram followers – Stanback – stood out, as she knew he was FMU's head women's basketball coach. He has worked at the university for 14 years, where he served as assistant coach for the first eight.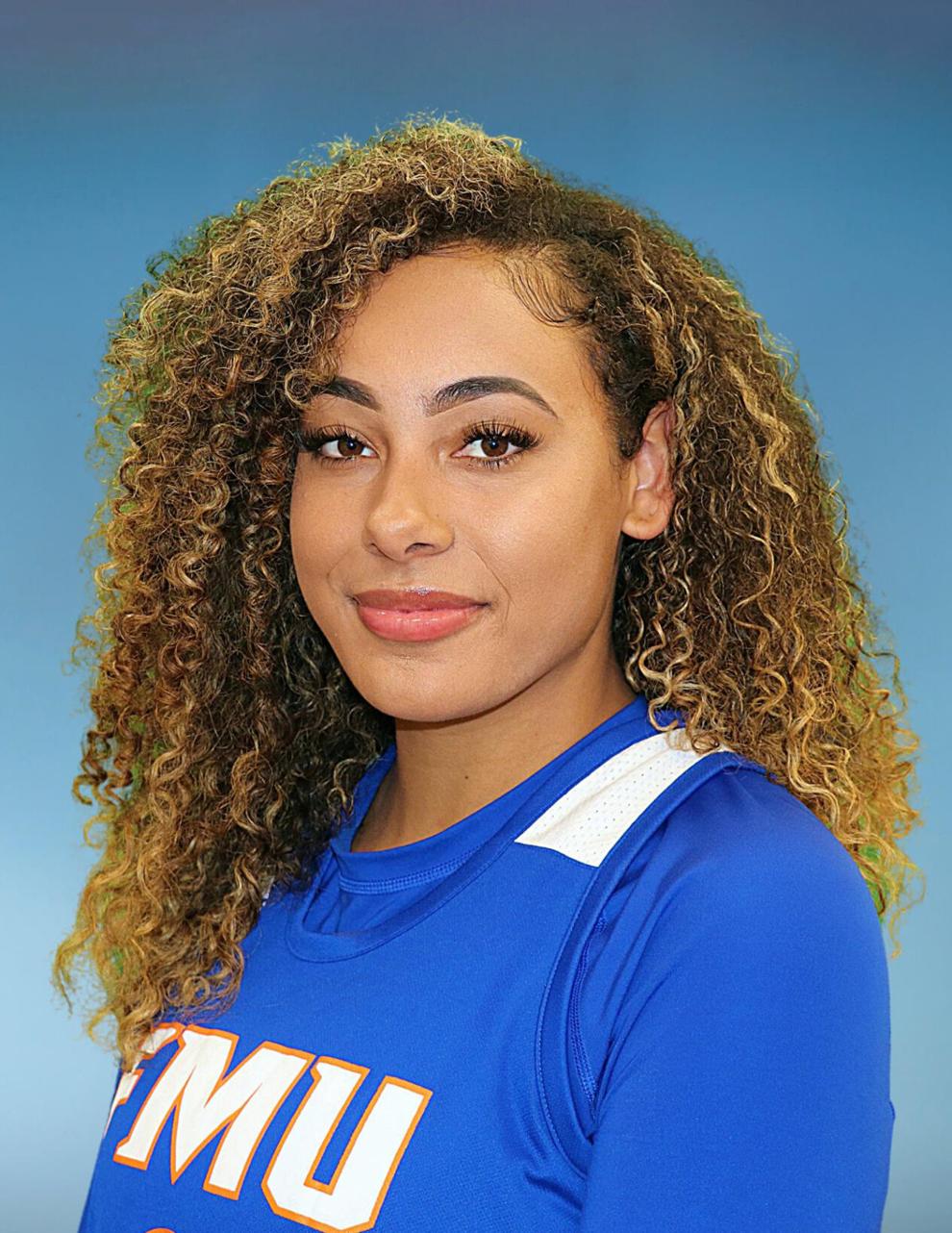 The unexpected follow immediately struck Durand as a red flag, because Stanback hadn't followed her teammates or his assistant coaches.
"I understand that coaches can follow you on Instagram, just to make sure you're not posting anything irresponsible, which is a normal thing," she said. "Most of my college coaches have all been women up until now, so I didn't even think twice about them following me on Instagram."
Because Durand's account was public, Stanback was able to follow her without sending a request, just as any other user could. She decided to remove him as a follower and switched her account to private. Once private, he requested to follow her. She denied that request, and the others that followed.
Stanback also followed her fitness page on Instagram, which she started last year during quarantine for at-home workouts. The account only has three posts and less than 30 followers. As of The Miami Times' deadline for this story, Stanback is still following the account.
Screenshots shared by Durand show that Stanback sent her a direct message through her personal account on June 30, 2020, at 12:11 a.m. that read, "I 'WAS' following you…," implying that he wanted to see her posts like he did before, but was now unable to see them. She said that upon seeing the message, she thought to herself, "Obviously," because she took measures to keep her account from being accessible to him.
The following day, the two ran into each other and Stanback tried persuading her that because the communiqués were made via their personal Instagram accounts, it would be OK if they followed each other.
"Being new to the school, I don't really want to cause a problem already, so I was like 'Sure,' because it wasn't totally foreign that a coach follows you. I just thought it was weird that he was only following me," Durand reiterated.
As a result, she allowed him to follow her. The following month, the Instagram direct message exchange continued.
An uncomfortable series of messages
 Screenshots show that on July 18, 2020, at 10:52 p.m., Stanback replied to a photo Durand had posted of herself wearing a swimwear top with the word 'saucy' across her chest, from clothing brand F.F. Lifestyl, for which she is a brand ambassador. In the photo, she is also wearing bike shorts and Nike sneakers. The message read "Nice shoes" followed by three smirking emoji. Trying to keep the conversation cordial, Durand commented back.
"We should have stayed Nike," read her message referring to the partnership between FMU's athletic department and Adidas.
In response, Stanback said, "Yup!! We going "Saucy" next season!" followed by a laughing emoji.
"That made me feel uncomfortable because he clearly was talking about my body, which was weird," Durand told The Miami Times. The photo has since been deleted from her social media due to the encounter.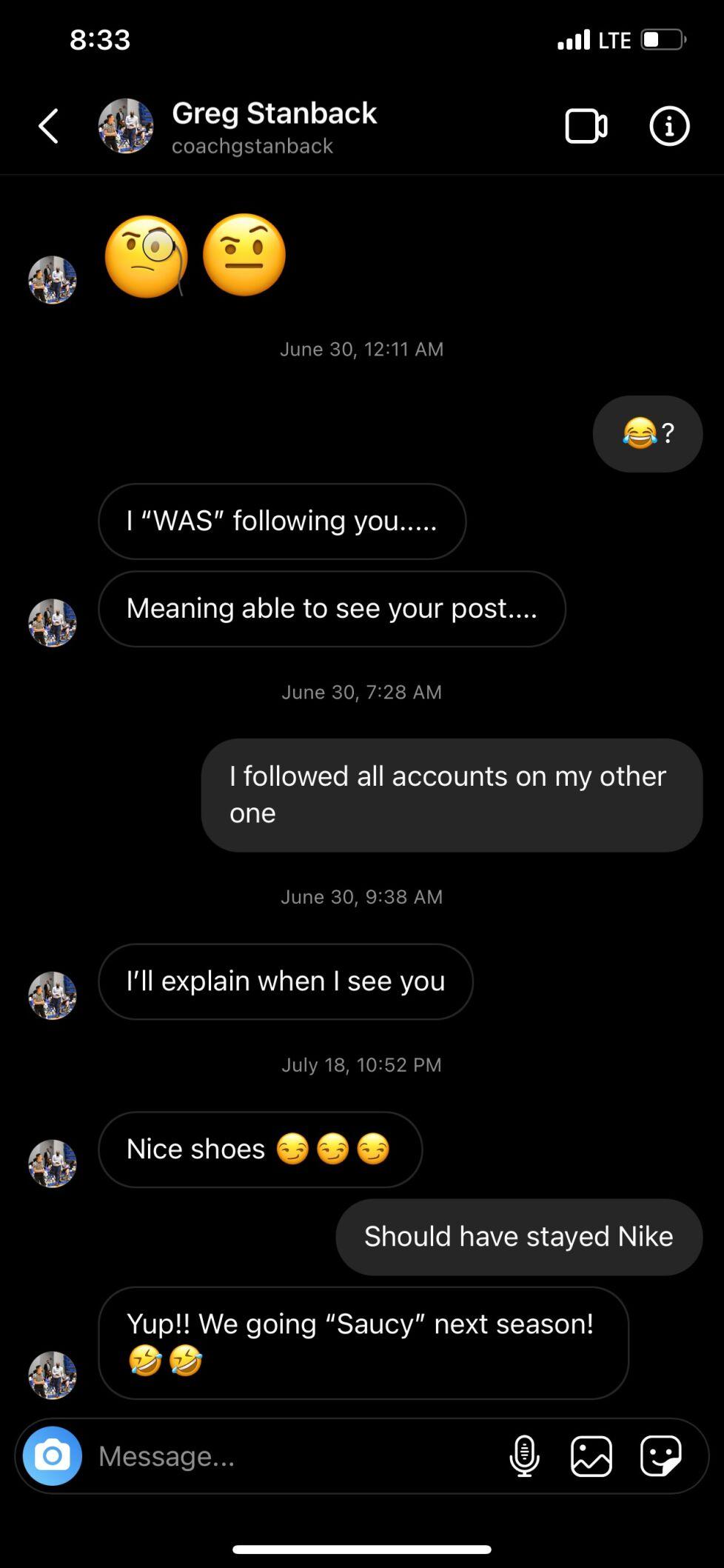 Throughout the preseason and the beginning of the season last October, Durand alleges Stanback would make comments on her shorts during practice, drawing attention to them being tight.
"He would make comments like, 'We definitely need to get you bigger shorts.' It was funny the first time, but like when you keep making comments about how it's clear I need to get bigger shorts, it makes me feel uncomfortable," she said.
The Times had planned to speak with three current and former FMU basketball players, even promising them anonymity, but all turned interviews down out of fear that the school would find out and retaliate by taking away their scholarships.
Two other basketball players who played alongside Durand ultimately came forward and spoke to The Times, but asked that the current status of their position on the basketball team, whether current or former, not be disclosed, in order protect their identity.
One teammate interviewed recalled a moment in the weight room when Stanback was asking players what uniform sizes they wanted because the school was looking to order more.
"People were saying what sizes they wanted; some wanted larger sizes, other people wanted smaller. Heather's like 'Coach, I need a larger size.' And I heard him say 'You sure do,'" she said.
The second player said Durand would share conversations she had with the Stanback during the season about things that "sounded weird coming from a coach." One of the conversations she remembered Durand shared with her was when Stanback said that if he knew Durand back in the day, he would probably try to hit on her.
"I thought the conversation was weird," the player said.
The first teammate we spoke to also weighed in with this: "He would pull her to the side. It's one thing when the coach is instructing you, but there were certain things that he would say to her and she would come to me like, 'He just said 'If I was around your age, you would be somebody that I would talk to, basically.' Like she would share these things with me when it happened."
That encounter, which Durand said was one of the first, happened when Stanback pulled her aside from the team during a shoot around and he brought up her Instagram account as an example to talk about her confidence on and off the court.
"He was talking about how I was a beautiful girl and I have all these men who probably want to pursue me, and then he was saying that if he was my age, that he would have tried pursuing me. When he said that, I just laughed uncomfortably, like I didn't even answer him and just waited for the conversation to be over," Durand said.
That was when she decided to go to her assistant coaches.
Asking for help that didn't come
Durand started the conversation by mentioning that it was uncomfortable for her that Stanback was following her, and asked if he followed the other coaches or anyone on the team.
"They were basically like, 'Oh, just try to play it off, maybe he just wants to be able to trust you' or something. So I put it in the back of my head, but I shared with my teammates everything that happened," she said.
It then became a running joke on the team that the coach had a "crush" on Durand, because he treated her differently than the others on the team.
"There would be times where we wanted the weekend off or we didn't want to go to the weight room, so the girls would be like, 'Heather, ask the coach. We know she's the favorite,'" said the first of the two teammates that spoke to The Miami Times. "It started becoming like a joke. It was like we knew the coach had a crush on Heather, [but others on the team]  just didn't see what I saw of him – saying the things in her DMs and him liking certain pictures, him trying to talk to her." This player was one of the first people Durand confided in when Stanback first followed her on social media.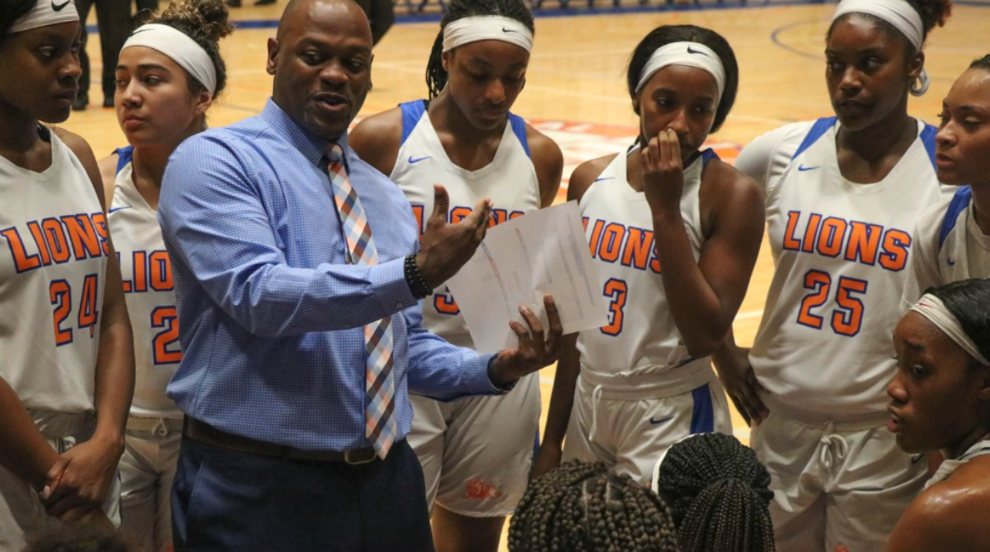 Over winter break, Durand flew home to New Hampshire and told her father, Scott Durand, about everything. At the time, she was considering quitting the second half of the basketball season.
"I remember telling Heather that [Stanback's behavior was] completely off the hook, and then she kind of downplayed it, and I think a lot of women do, like just making it go away and that it's not a big deal," Scott Durand told The Miami Times. "I remember telling her, 'You do not have to play basketball there. That is not okay.'"
Durand said her father was upset and wanted to fly down to the school to confront Stanback and the school's administration, but she wanted to not "make a big deal" out of the situation. She was captain of the basketball team, after all; it was her first year and she was getting a lot of time on the court.
"I didn't want to lose my scholarship and I didn't want to make it a huge problem because it's not like he had physically tried to make advances at me, so I just pushed it to the side the whole year," Durand said. "I really didn't want to mess this up for something that could be taken the wrong way. Now looking back at it, I didn't take it the wrong way at all. There was a reason why I was feeling like that."
Durand returned to FMU after the holiday break. According to her, the second half of the season went smoothly. She played almost every minute of every game. During that time, she said inappropriate comments from Stanback ebbed – that is, until her exit meeting, a yearly assembly between players and coaches to discuss how the season went and expectations for the following year.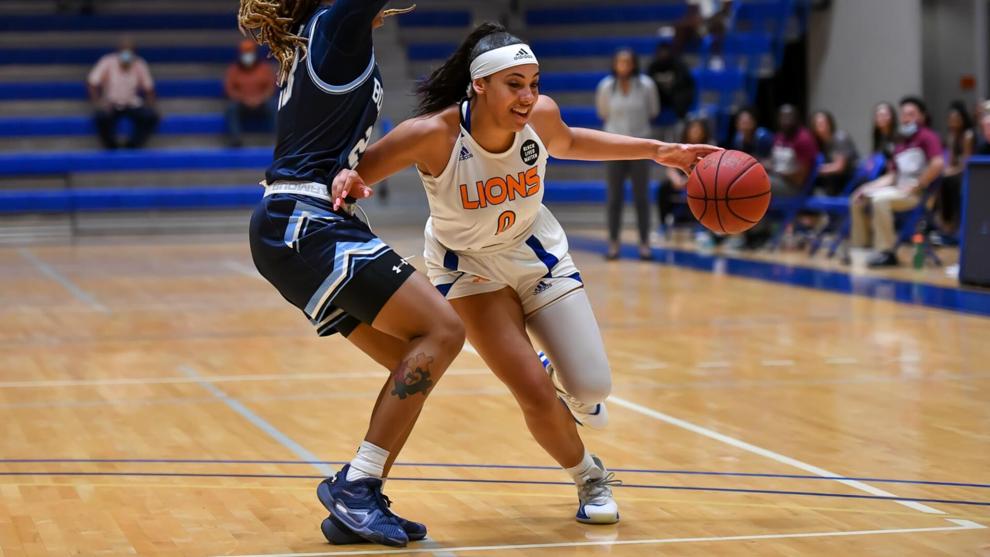 An ugly confrontation
Durand's sister had a baby shower planned for March 14 in Virginia. She needed to fly out earlier to help out with the event, which meant either pushing the exit meeting back because it was not yet scheduled or making it virtual. Stanback made it clear he wasn't open to either option.
Prior to Durand's trip, Stanback asked for her travel information through a text message, in which she replied with a screenshot of her boarding pass. Seemingly unsatisfied with the information, he pressed her for her seat number and said he needed her full itinerary.
"I hadn't gone home since Christmas and the season was over so I was confused as to why he was asking me for all this personal information," she said.
She asked her teammates if Stanback had ever asked any of them for a seat assignment when leaving on a trip. When they answered no, and that all they had ever needed to provide was a boarding pass, she decided to confront him.
She reiterated to Stanback what her teammates told her through text, asking if it is a requirement from the school or from him.
"I'm only asking because the team told me that they've never had to send you a seat number when traveling," her message read.
"It shouldn't be a problem. Because your original information was incomplete," Stanback responded.
"I understand that it was a team rule where you had to send him everything, but it's like, if you're targeting me out to send you more information than everyone else then I'm not doing that," Durand told The Miami Times.
When she came back from her trip, Stanback told her that they needed to speak about the exit meeting. When the in-person meeting took place with her, the coach and the assistant coaches in attendance, Durand said Stanback made a shocking revelation about tracking her flight information.
"During the meeting, he said, 'I just want to talk about your travels. I gave your information to my sister who works in an airline and she looked up your record locator and it said that the flight was canceled,'" Durand said.
She explained to Stanback and the other coaches that flying as a standby passenger means not having a seat assignment.
"My flight was never something I was obligated to tell him because I'm an adult and the season's over. You just have to notify your coaches when you're leaving and coming back, not the details of what you're doing on your trip every day," Durand said.
At the end of the meeting, Durand revealed to Stanback that her family, and she, felt uncomfortable about his relentlessness over her flight information.
"He got really upset and visibly angry and he looked at the coaches and then looked at me … and he said 'This meeting isn't going well, it's not going to work out,' and basically kicked me off of the team," she said. "Like, just in a split second. I was so thrown off."
Durand said and left the meeting. She then told her teammates what had happened and the situation was relayed to a faculty member they confided in, who took it upon themselves to report it. It was then that Durand blocked the coach from her personal Instagram.
Stonewalling & and uncertain future
Opal Comfort, spokesperson for Florida Memorial University, said the school is not at liberty to say anything about the allegations at the moment.
"Per the Title IX coordinator, there is a matter that is currently under investigation. Florida Memorial University, our priority is to protect and support our students. We could tell you a standard operating procedure, we always offer supportive measures to any student who may be experiencing anything, so right now, there's no details to give because it is under investigation."
Title IX of the Education Amendments of 1972 is a federal civil rights law that prohibits unwanted behaviors like threats, aggression, bullying, stalking, abuse, assault, rape, sexual intimidation and assault. Every educational institution, public and private, has to abide by Title IX and by law must have a Title IX coordinator. Per the FMU Title IX website, an investigation can take up to 60 days to complete. However, the current spring semester ends next month.
Durand said she has not received any updates or information on the investigation, despite contacting FMU's Title IX coordinator.
In response to why Durand has not received any answers in the last three weeks, "Everything is going by the book," Comfort replied.
It is unclear if Stanback has been suspended pending the investigation and how many students are currently on the women's basketball team. The university would not provide any of the requested information to The Miami Times. The Times also requested an interview with University President Jaffus Hardrick and Stanback, but were denied.
Scott Durand reached out to Hardrick on March 21 at around 9 p.m., intending to travel to Miami Gardens and discuss the situation in person. Hardrick responded that same night by explaining that although he did not have details about the specific situation, the university takes these issues seriously and that he would review his schedule for a conversation.
"When Heather and I talked, it became really clear how serious this was. It was well beyond the uncomfortable comment the coach had made to her in July that she shared with me when we went for a walk at Christmastime. And that prompted the email I sent the president," Scott Durand said.
It then became clear to him that communication between him and Hardrick had been shut down after the school's general counsel came into the email exchange asking that all communication be forwarded to their office.
An unpleasant sense of deja vu
In October of last year, The Miami Times reported that FMU athletic director Ernest Jones had resigned. Jones had been accused by student-athletes and employees of sexual misconduct, which this paper reported at the time to be unconfirmed.
Documents displaying email exchanges among FMU faculty and staff sent to The Times last year after the series of articles were published detailed two investigations regarding complaints against Jones, alleging inappropriate behavior, sexual harassment and discrimination.
One claim came from the former team operations manager for the football team, which was found to be "unsubstantiated," and the evidence provided by the employee and witnesses "concluded that the allegations do not meet the legal definition of sexual harassment," according to an email sent to Jones on June 2, 2020, from Director of Human Resources and former Title IX Coordinator Youseline Poteau.
Another investigation involved the university's cheerleading coach, where Jones was found to have engaged in inappropriate behavior by texting her about visiting her hotel during the early morning hours on a road trip. In the summary of findings filed by FMU's HR office on Jan. 14, 2020, "While the text messages appear innocuous, there is no reason for AD Jones to continue to text Ms. James in the late evening to early morning hours about a visit. … However, there is not enough evidence to conclude that AD Jones had any sexual intent with respect to the text conversation with Ms. James, or that the messages rise to the level of harassment in violation to the university's Title IX Policy."
Ultimately, Jones was to complete Title IX and sexual harassment training, cease traveling with female student-athletes to regular games, and immediately stop entering the female locker room during half-time and after games.
The Times also reported last year that two petitions called for Jones' removal from the university. One garnered 777 signatures before being removed by the creator; the other called him a "sexual predator" and received 118 supporters.
Upon Jones' resignation, Chevonne Mansfield was named interim athletic director, making her the first woman to serve the university in that position. She resigned two months ago and told The Times this week that "after much deliberation [I] decided it was the right time to seek new challenges."
She may ultimately prove to be but one more casualty of whatever blight has taken root below FMU's athletics department foundations.
Back in June, Durand was thrilled to be a student at FMU. In search of diversity outside her hometown, the New Hampshire native transferred to Lynn University in Boca Raton after her first year at Southern New Hampshire University before ending up in South Florida's only HBCU.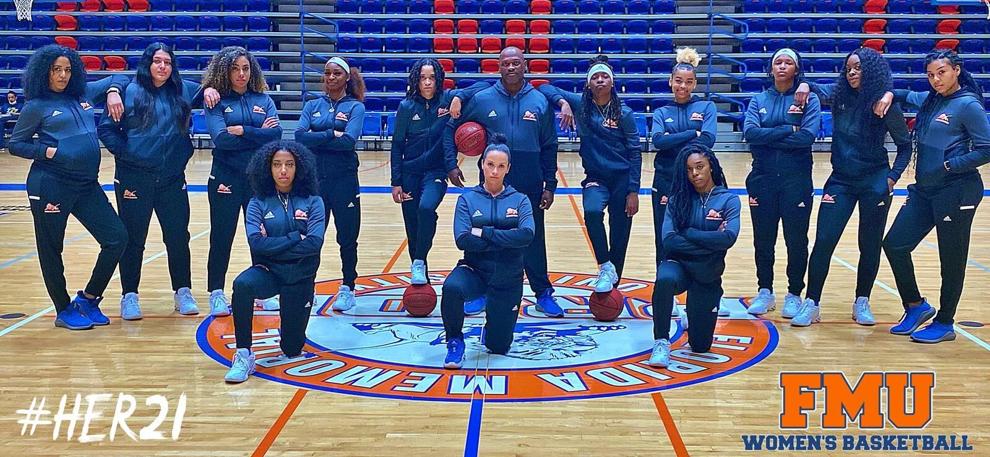 "It met my athletic goals, my cultural goals and my educational goals, just because it's good for my major," said Durand. "I'm a computer science major, so there's not a lot of females in that major [at FMU], let alone Black females."
When asked what she would like to see happen moving forward, she said she wants to continue her studies at FMU because she is nearing the end of her education as a junior – which makes it inconvenient for her to transfer once again – and she's focused on just finishing school. She'd also like to continue playing the sport she loves, but only if Stanback is no longer coaching the team.
"He put me in a powerless position, because I don't want to be forced to stay at a school where he's at," Durand said. "This happens to female athletes a lot of the time and you have to think, they're put in powerless positions because their education and scholarship are at risk."