A series of shootings in Miami-Dade County has left up to four people dead and more than 30 wounded during Memorial Day weekend. A reported seven separate shooting incidents occurred between Thursday and Monday night.
In the aftermath of these tragedies, elected officials and police are calling for an end to gun violence and for any information that can put the perpetrators –who were still at large at deadline – in custody.
"Please help us to bring justice for the victims and help us prevent more violence," Miami-Dade Mayor Daniella Levine Cava said in a press conference held Monday. "We must get these killers off the streets! We can only do it with your help and we must break the cycle of violence."
The worst of the incidents occurred just after midnight on Sunday, May 30, when 23 people were shot while standing in front of El Mula Banquet Hall at 7300 NW 183rd St. in the unincorporated west North Miami-Dade neighborhood of Palm Springs North, west of Carol City and north of Hialeah.
Two 26-year-old men, Clayton Dillard III and Desmond Owens, died on the scene. Three people are still in critical condition. According to police, the victims had just emerged from an album release party for local rapper ABMG Spitta.
Security video released by the Miami-Dade Police Department shows three armed men wearing ski masks emerging from a white Nissan Pathfinder. Within three seconds, the shooters ran back to the vehicle.
"Several groups that were in the parking lot also armed themselves and opened fire toward the initial shooters," said Miami-Dade Police Major Jorge Aguilar.
The vehicle used in the shooting, which was reported stolen two weeks prior, was found dumped in a canal nine miles away.
The three shooters are still at large. Marcus Lemonis, Miami businessman and host of CNBC's "The Profit," has offered a $100,000 reward for information leading to the shooters' capture. Miami-Dade Crime Stoppers has offered a $30,000 reward.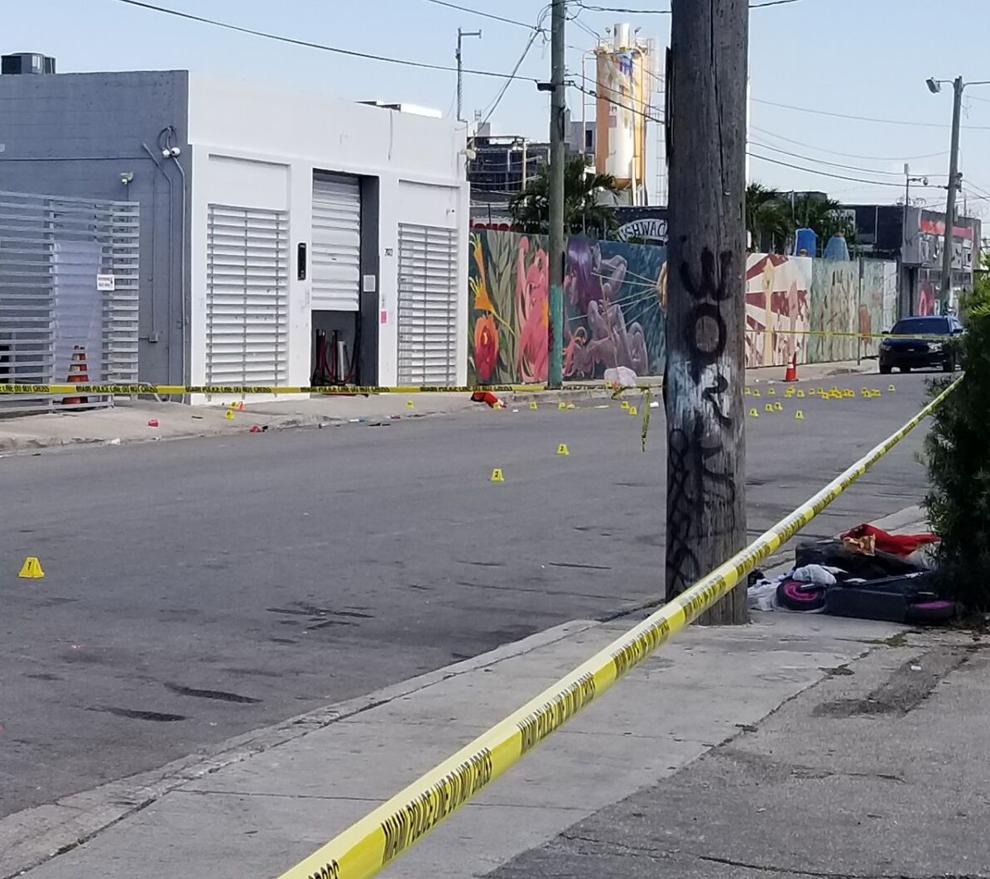 Two nights earlier, on Saturday, May 29, just prior to midnight, a drive-by shooting at a rented party space at 20th Street and NW 1st Avenue in Wynwood left 25-year-old Quinton Valbrun dead and six others wounded. Witnesses told WSVN that as many as 60 shots were fired. The gunman, who according to the Miami Police Department drove a Nissan Maxima, was still at large as of deadline. Lemonis and Crime Stoppers have offered a $130,000 reward leading to the arrest of this shooter as well.
On Monday, May 31, two more shooting incidents transpired within an hour of each other.
Just before 6 p.m., City of Miami police officers "made contact with two males who appeared to have been suffering from gunshot wounds" at 3301 North Miami Ave. and were transported to Jackson Memorial Hospital, according to MPD spokesman Orlando Rodriguez. The Miami Herald reported that one of the men has since died, a fact that could not be independently confirmed by The Miami Times at deadline. An hour later, two more men were transported to Jackson Memorial after being shot by a man emerging from a white sedan in front of a house at 12705 NW 10th Ave. in North Miami. One of the victims was shot in the chest and is in critical condition, the Miami Herald reported.
And on South Beach at 11:37 p.m., multiple shots were fired at 1st Street and Ocean Drive near Prime 112. Two people were shot – one in the shoulder and the other in the leg – and were taken to Jackson Memorial Hospital Ryder Center, according to the Twitter feed of the Miami Beach Police Department.
"MDPD has several possible suspects detained," the Twitter feed stated.
Perceived slights & a shattered peace
The shooting on South Beach marred an otherwise peaceful weekend that was visited by tens of thousands of tourists, many of whom were African American.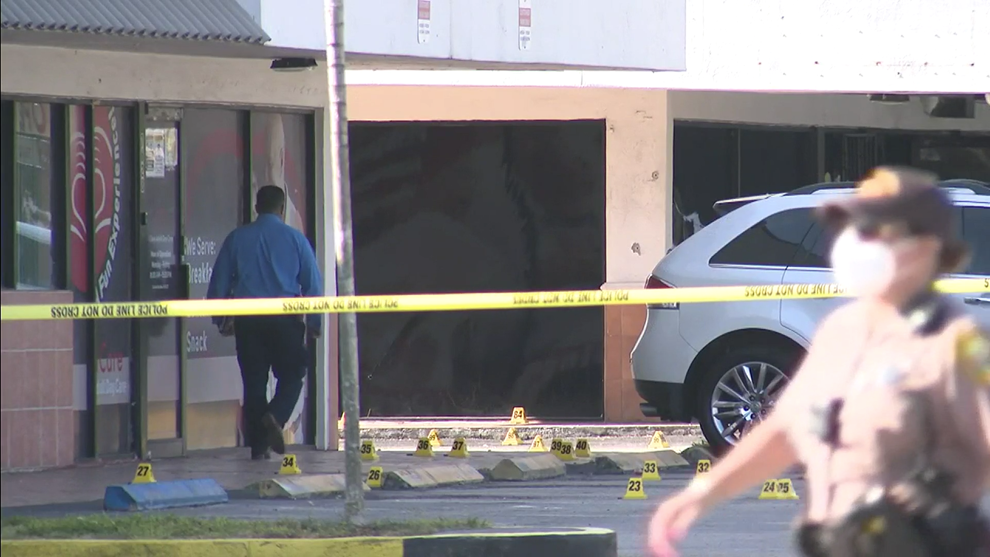 Exact motives for any of the violence were not apparent at deadline. However, Miami-Dade Police Director Freddy Ramirez said that the El Mula shootings appear to have been at least partly motivated by perceived slights on social media.
"In other words, they were being called out on social media several times," Ramirez said at Monday's press conference. "So, what do you get? Three individuals in a vehicle, showing up somewhere and retaliating and then bragging about it."
Aguilar said the violence at El Mula appeared to stem from an "ongoing rivalry from two different groups."
"We know that their intended target was most likely in front of the establishment when the shooting took place, and that is what we are trying to work out with our investigators," he said, and added that local law enforcement is bracing for the cycle of retaliatory violence to continue.
Ramirez also said that while the El Mula three shooters had a target in mind, they clearly didn't care other people were shot as well.
"They were targeting individuals and, at the same time, they were hitting innocent people that have nothing to do with their beef," he said. "Harming families, hurting mothers who are here today."
At that moment, the distraught father of Clayton Dillard III, Clayton Dillard Jr., interrupted the press conference.
"Whoever killed my kid," the father yelled as he was being taken away by police and county officials, "you are going to burn!"
"This is the pain that you see," Ramirez told the assembled media as Dillard's screams were still audible in the background. "This is the pain that affects our community right there, so all of us, together, we must work harder to bring justice to these families as you hear right now."
Miami-Dade County Commissioner Keon Hardemon said the latest incidents of gun violence are really "acts of domestic terrorism."
"If you look at our most recent shootings, they happened in areas where people were out to have a good time. It routinely happened in neighborhoods where people are, sadly, accustomed to gun violence," Hardemon, a Liberty City resident, said at the press conference. "But what does that mean for those families? That means those families are afraid to see their children go to school. That means those families won't have the ability to send their children to the neighborhood park to play. That means that those families are afraid to have a stress-free life and pursue happiness."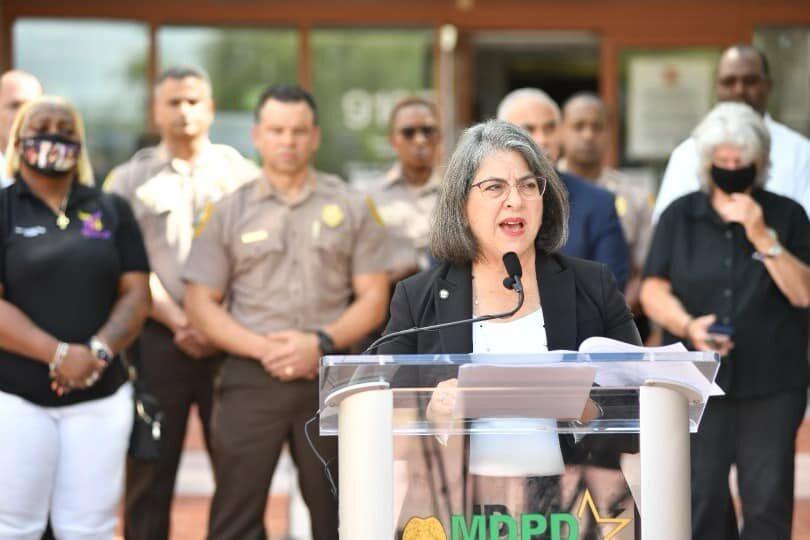 To help stop the cycle of "death and destruction," he urged anyone with any information on the shootings to call the Crime Stoppers anonymous tip line. Anyone who "has the audacity to shoot a group of people in the community doesn't deserve to be in the community," said Hardemon. "They don't deserve to have freedom. They deserve to have the weight of the United States Justice System to be brought down upon them."
In an effort to stop gun violence "at its roots," Levine Cava said she wants to "strategically invest" in anti-gun programs and law enforcement initiatives. Much of that funding will come from the $90 million that FTX, a cryptocurrency exchange, has pledged to pay the county over 19 years in exchange for securing the naming rights of the former American Airlines Arena in downtown Miami.
Called the Peace and Prosperity Plan, Levine Cava said part of that investment will be toward expanding "the enforcement and intelligence capabilities of our law enforcement." She also expressed her wish to install cameras in high-crime locations, help the Miami-Dade state attorney's office hire more prosecutors and "victims' advocates," and fund more programs for "at-risk youth."
"We will bring all those responsible for these heinous crimes to justice," the mayor promised.
Stephen Hunter Johnson, chairman of Miami-Dade's Black Affairs Committee, said the county should focus its attention on clamping down on unregulated and illegal nightclubs like El Mula. Johnson contended that the venue doesn't make its money by renting its space for birthday parties and wedding receptions. Instead, it operates as an unlicensed nightclub with strippers. Police in the past have been called to the location to address fights and other disturbances, added Johnson, a resident of northern Miami-Dade.
"What happened in North Dade was an example of what happens when people allow unregulated parties to go unchecked," he told the Miami Times.
A call to El Mula was not returned by deadline.
A shaky return to tourism
The shootings occurred during a period of time when Miami-Dade received its highest volume of visitors in more than year.
Indira Almeida-Pardillo, spokeswoman for the Miami-Dade Aviation Department, said Miami International Airport was expecting "our busiest travel days since the pandemic began, with more than 110,000 passengers each day."
Many of those visitors are African Americans who flew in to attend parties across South Florida as well as to hang out on South Beach.
But residents and officials of Miami Beach, a predominately white city, have been wary of Memorial Day crowds since 2000. More recently, city officials were concerned that the unofficial kickoff weekend to summer would be a repeat of spring break, when the rowdy behavior of young visitors made national news. Meanwhile, South Beach residents, and even real estate developers like R. Donahue Peebles, have urged the city to eliminate its all-night party reputation.
In response, Miami Beach officials passed an ordinance that closed bars on Collins Avenue and Ocean Drive south of 16th Street by 2 a.m. instead of 5 a.m. For Memorial Day weekend, the city altered traffic patterns, installed license plate readers, jacked up parking garage rates, and banned the rental of scooters and three-wheeled "slingshot" vehicles. The city also invited the Hyundai Air and Sea Show to Miami Beach for the fourth time since 2016, which blocked off a section of the beach between 10th and 14th Streets for air show attendees. (Memorial Day activities and travel were shut down in 2020 due to the pandemic.)
Nevertheless, several visitors told The Miami Times they enjoyed visiting Miami Beach and planned to come back again.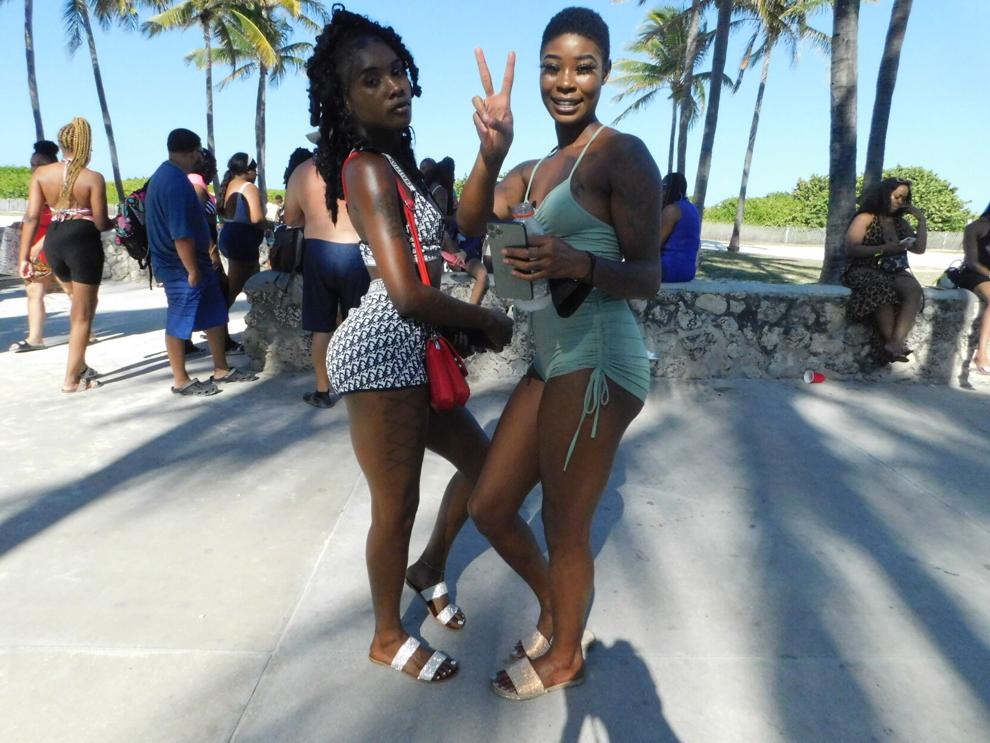 "We are getting drunk and having a great time," said Daija Cooper, who traveled with her friend Nilah Pierce from Cleveland. Cooper said she enjoyed the warm weather and the close proximity to a large salty, body of water.
"We have a lake," she explained. "We don't have an ocean."
Asked how she felt about part of the beach being sealed off, Cooper replied: "I didn't like that. But it's there."
The NAACP was also present in South Beach during Memorial Day weekend. Daniella Pierre, president of the organization's Miami-Dade branch, said her chapter decided to set up a table in Lummus Park on Ocean Drive in an effort to be "proactive" and ensure that African American visitors aren't mistreated by the police or local venues.
"In previous years there have been reports … of unfair treatment. That's why we took the initiative this year to be proactive and upfront," she said.
Pierre shared that she heard no complaints from visitors during the weekend. If anything, she said, the City of Miami Beach has shown that it is capable of providing programing during high impact events – something the municipality has often resisted in the not-too-distant past.
"I have been asking for the last three years for planning for spring break, for high-impact events, and [Miami Beach officials] say they were not in the planning and programming business," Pierre said. "But here we are."
Anyone with any tips on the shootings can call Crime Stoppers at 305.471.8477 or 866-471.TIPS.