Birthday parties, airports, schools, malls and even churches are no longer safe places to frequent, as shooting incidents reach an all-time high, leaving several innocent bystanders caught in the crosshairs.
With many of those victims being children, local leaders felt compelled to bring forth an ambitious plan that could curtail the alarming increase in gun-related deaths, starting with a newly created trust fund that was explained in detail at the Anti-Gun Violence & Prosperity Community Prayer event held at Historic Saint Agnes Episcopal Church on May 6.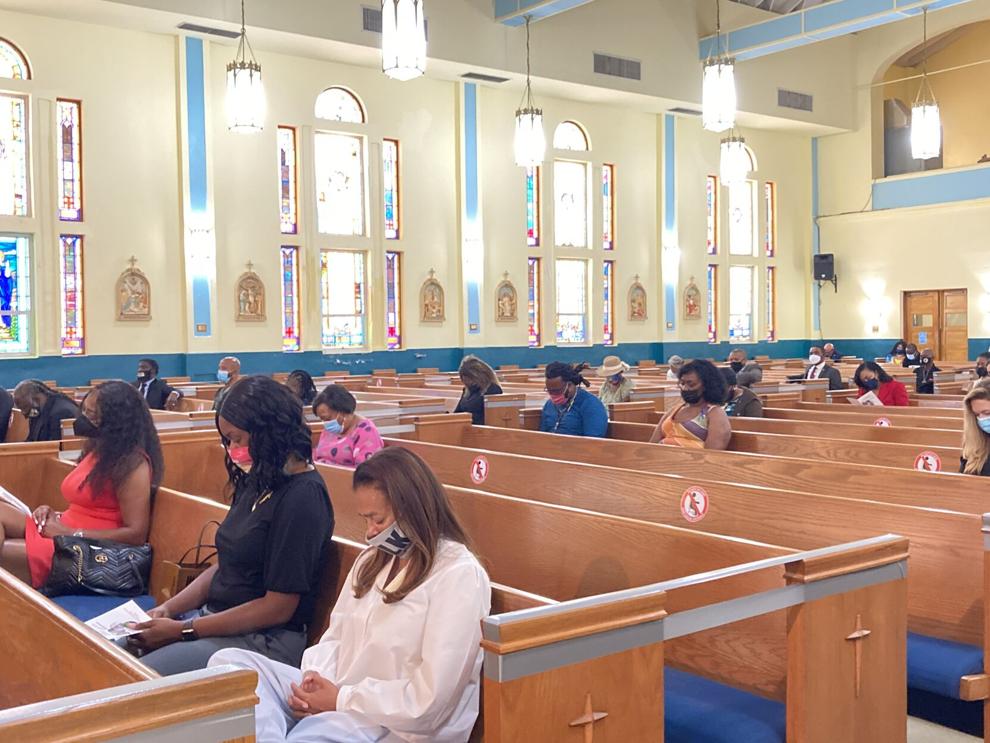 The event was a call to action on National Day of Prayer in response to the death of Elijah LaFrance, a 3-year-old slain at his own birthday party in Miami last month, and whose perpetrators still elude police.
LaFrance's death sparked outrage from the community and resulted in County Commissioner Jean Monestime sponsoring the Safety Neighborhood Emergency Team Pilot Program at the last county commission meeting to address gun violence in Districts 2 and 9, in addition to support for the trust fund. It also led him to contribute $10,000 to a $25,000 reward to catch the killers of the heinous crime in his district.
LaFrance's name joins Sherdavia Jenkins, King Carter, Jada Page, Amiere Castro, Marlon Eason, Alana Washington and many others, in a long list of children taken by Miami's recurring cycle of gun violence.
District 3 County Commissioner Keon Hardemon has had to grapple with losing a child in his district. Six-year-old Chassidy Saunders, like LaFrance, was the casualty of a drive-by shooting as she left a birthday party in January.
The tragedy hit home for Hardemon, as he recalled similar incidents where he could have been a victim himself after hearing several shots go off in his neighborhood.
Down in Naranja, Lashonte Jones was shot while carrying her 3-year-old daughter to their apartment. The child was grazed by the bullets that killed her 24-year-old mother.
According to published reports, more than 1,100 shootings have occurred throughout the county last year with at least 100 of them resulting in homicides. Despite the pandemic forcing many to remain indoors, 2020 saw an increase in shooting-related deaths compared to 2019, and more than 2,000 guns were impounded by Miami-Dade Police.
The District 1 neighborhood of Miami Gardens, infamously known as "Murder Gardens," saw a 33% drop in homicide rates last year as Opa-locka struggled with increasing shootings, forcing the Miami-Dade branch of the NAACP to demand gun violence prevention programs. Both are in Vice Chairman Oliver Gilbert's district.
In 2018, 1,284 homicides by gunfire were reported in Florida. Miami-Dade County contributed a whopping 343 deaths to that number. Teens and children were not spared from the count. And 2017 was no different, leaving the county distraught by the death of 10 children, as shown in data released by The National Institute of Justice.
On average, about 30 teens and children are killed by firearms in Miami-Dade County each year.
Miami-Dade and Miami Police departments are still processing The Miami Times' public records requests to release official numbers for shooting deaths of children between the ages of birth to 18 during the past five years.
Seeing the severity of the issue, county commissioners knew it was only a matter of time before an initiative had to be created to stop the violence.
"Throughout the history of the parish, the church has had to bury many victims of gun violence," said Father Denrick Rolle of St. Agnes Episcopal Church. "There have been family members who have suffered from the loss of loved ones through gun violence. The job of the church, not only from the pastoral perspective, but also from the membership perspective, is to care for those persons going through that time of need."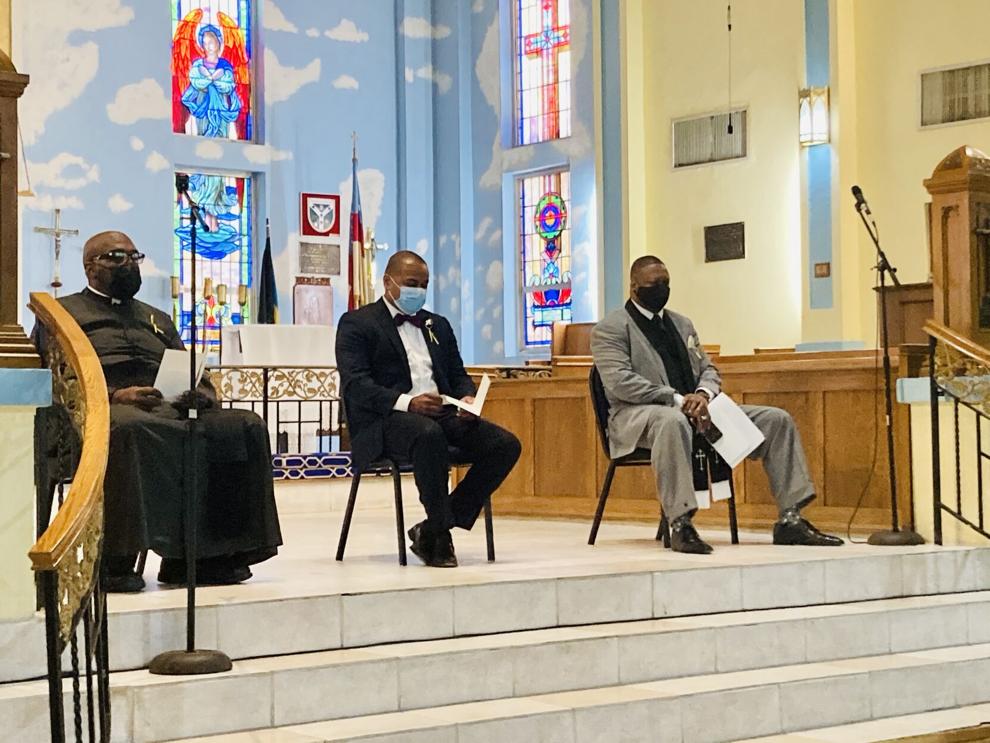 Rolle was eager to respond to Hardemon's call for faith leaders to support the county's efforts through the trust fund.
The Anti-Gun Violence & Prosperity Initiatives Trust Fund, created through a naming rights agreement between the board of county commissioners and cryptocurrency exchange company FTX, will disseminate millions of dollars throughout the county's 13 districts to fight gun violence.
Hardemon initially agreed to sponsor the legislation that led to the creation of the trust fund. The county-owned American Airlines Arena in his district will be renamed FTX Arena during the 2021-22 NBA season, while FTX front loads $14 million to the county for the trust fund within the first 10 days of the agreement's execution.
Thirty percent of that same funding will be equitably distributed among the commissioner's district, with remaining amounts distributed to districts with high homicide rates, like Hardemon's.
"This is the first time Miami-Dade County has resolved to spend nearly $100 million on gun violence, any other amount that they've spent in the past pales to this," Hardemon told The Miami Times. "We've taken $92 million dollars and decided to give it to the communities that are suffering the most. It's not chump change."
The decadeslong battle has seen various programs intended to diminish homicide rates, but this is by far the most financially supported and expansive approach the county has launched.
County officials will attack the multifaceted problem from an economic standpoint. They believe that in order to decrease the likelihood of more children becoming victims of gun violence, economic opportunities must be poured into disadvantaged and underserved communities. The approach goes back to the idea that a lack of investment in such communities results in higher crime rates.
Residents of those neighborhoods can expect to see an influx of offerings through employment opportunities, internships for young adults, youth mentoring, social services, gun violence education, educational opportunities and community policing initiatives.
"The county is putting its arms around our children and ensuring that they have every skill, resources and tools necessary to become productive members of our society," said Hardemon. "What I look forward to is the money [getting] down to the people, so that those that are doing the violence will have an opportunity to have a new job or internship."
Each district will offer different services and programming based on the needs of those residing in the area. The mayor, county commissioners and community partners are still deliberating the logistics of those programs with Miami-Dade County Mayor Daniella Levine Cava set to oversee the continuity of programs supported by the trust fund.
Hardemon said he plans to create partnerships with major hotels and developers to allow internship and shadowing opportunities for his constituents.
"If there's anyone who knows the temperature of this community and knows what it needs, it's Commissioner Hardemon," said Queen Brown, an advocate for preventing gun violence whose son was killed in 2006 just miles from where LaFrance was shot. "I am hopeful. There are a lot of broken pieces to the puzzle and it will take every aspect of the community to end this."
Assistant Chief Armando Aguilar, head of the Criminal Investigations Division at the Miami Police Department, agrees that the issue requires a multipronged approach.
"It's a much more complicated issue than what you see on the surface," he said.
Aguilar explained that the issue of gun violence plaguing all areas of Miami has evolved from gang-related turf wars to casual disputes on social media that erupt in violent acts.
"A lot of people engaged in this type of behavior see no other way of resolving disputes, there's just a lack of hope and trust in institutions that are supposed to support and protect them," he added.
Since joining the profession 20 years ago and working as a former homicide detective for five years, Aguilar has come across many incidents that are just that – heated arguments that turn violent and leave innocent bystanders caught in the crossfire.
Within the past year, the City of Miami has seen more young adults between the ages of 18 to 23 fall victim to gun violence, unlike the county, which had more fatalities under the age of 21. Miami Police responded to 62 homicides last year.
"I want to jump on board with what we see going on over there (with the trust) and really start saving lives," said Aguilar. "But also turn lives around and show people that would otherwise be involved in [gun violence-related] activities that there are other avenues to success. If we can reduce [homicides] by 10%, we're not just talking about numbers, we're talking lives."
The department is currently seeking the $1 million Byrne Criminal Justice Innovation grant from the Bureau of Justice Assistance to create a gun violence initiative modeled after several successful programs in other cities in the country.
Following a similar approach as the county's trust fund, the initiative will locate at-risk individuals to provide jobs, social services, educational opportunities and even relocation services to seek those opportunities elsewhere through a cross-sector partnership.
The goal of the initiative is to balance traditional law enforcement responses to gun violence with resources and other avenues for those who are at risk for carrying out violent acts.
Though the creation of the trust fund made some people hesitant that others might see it as the be-all and end-all of gun violence, Hardemon reassured doubters that this is just the first step.
Gaston Smith, senior pastor at Friendship Missionary Baptist Church, thinks prayer is one of those essential steps.
"Before Black lives can matter, Black lives have to be accountable for Black lives," he said. "As believers, we can do more on our knees than the government can do standing. Even though prayer isn't the end, it's the start."
Smith believes economic opportunities, more policing and better parenting should follow. Various programs to come out of the fund will address his concerns.
"We're very thankful for this initiative and the fact that each commissioner will have resources in their districts to address this issue," said Freddy Ramirez, director of the Miami-Dade Police Department. "When dealing with the gun violence problem, there's not only the police perspective, it's also investing in the community to prevent future tragedy. Without a solid foundation, opportunities for negative behavior and desperation [are created].
Many are optimistic that this can genuinely put a dent in the number of yearly casualties from gun violence.
"This can happen to anyone, it can be someone you love at the wrong place at the wrong time," said Ramirez. "It's a small amount of people creating this violence so why not [have all leaders] come together to stop this?"
*Image of Elijah LaFrance retrieved from social media.
Image of Alana Washington and Chassidy Saunders courtesy of family.
Image of Jada Page courtesy of WSVN.