The Haitian American imprint is already a brightly indelible mark on the Nov. 3 North Miami Beach municipal election ballot, and one national organization with local ties is working hard to put an even bigger stamp on it.
This month, the National Haitian-American Elected Officials Network (NHAEON), a decade-old group of 175 current and former mostly Haitian-American elected officials across the country, formed its inaugural NHAEON Progressive PAC, to build "a strong Black political movement to ensure one vote counts."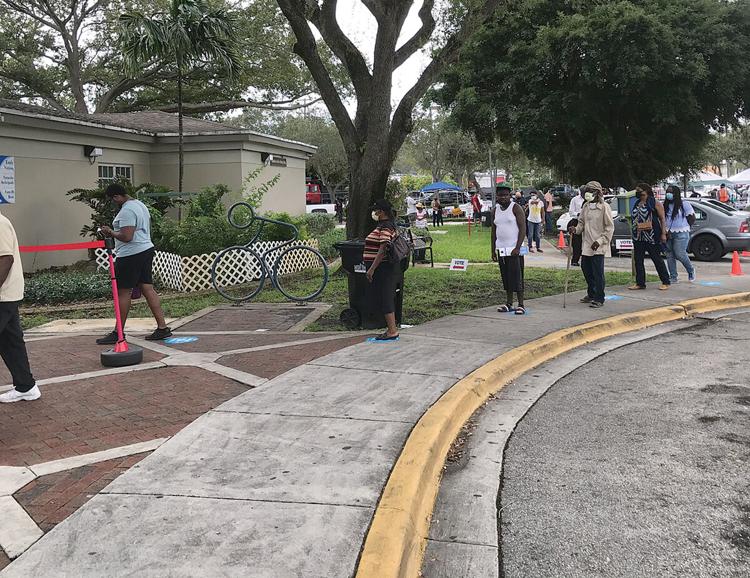 With a stated mission of "working to increase the number of Caribbean, Haitian-American and Black elected officials to office at every level of government," the PAC issued its first endorsements last week. In addition to the Biden-Harris ticket, it announced its support of Marie Woodson for Florida House District 101, squaring off against Republican Vincent Parlatore, and of Daniella Levine-Cava for Miami-Dade mayor, who is running against Steve Bovo, her fellow county commissioner.
The NHAEON also made its first and only municipal endorsements: North Miami Beach City Commission incumbents McKenzie Fleurimond in Group 5 and Michael Joseph in Group 7. It donated $1,000 to each candidate and scheduled an Oct. 21 fundraiser for Fleurimond, whose campaign slogan is "Local Elections Matter."
It certainly appeared that way at the North Miami Public Library at 835 NE 132nd St. on the first day of early voting Oct. 19. With lines around the block and hour-plus waits, signs and supporters were in abundance for all candidates in the North Miami Beach election. Early voters can vote or drop off ballots 7 a.m. – 7 p.m. through Nov. 1, either there or at Northeast-Dade Aventura Library at 2930 NE 199 St.
There's good reason for NHEAON's focus on North Miami Beach. Its 2020 national president is North Miami Councilman Alix Desulme, an educational consultant and marketer who is rotating vice mayor; and the organization's 2020 secretary is North Miami City Clerk Vanessa Joseph, an immigration attorney and one of the few elected city clerks in Florida. Desulme, elected to the council in 2015, was previously elected to the city clerk's position in 2009. While Desulme personally endorses Ketley Joachim for North Miami Beach Group 3, NHAEON has made no endorsement in that six-person race.
"I haven't seen as much organizing [in North Miami Beach] as I'd like to see," said Desulme. "The folks on the west side of city have never been represented. They don't have a single member."
Three of seven of North Miami Beach's at-large commissioners are of Haitian American heritage. Group 4's Paule Villard, a retired police officer, was elected in 2018, along with Fleurimond, an independent insurance agent, and Daniela Jean, a risk management specialist with the City of North Miami and a consultant. Villard, Fleurimond, and Michael Joseph live in the city's central areas; Joachim lives to the west, in the Uleta neighborhood near 171st St. and NE 2nd Ave.
If the incumbents keep their seats and if a Haitian-American wins Group 3 Nov. 3 or in the runoff election Nov. 17, the North Miami Beach City Council will for the first time have a Haitian American majority.
A growing voting bloc
North Miami Beach is one of South Florida's most racially and ethnically diverse communities. Its voting rolls tally 5,499 self-described whites, 8,700 Blacks, and 6,962 Hispanics. Even that, of course, does not tell the full story of this community of 13 singular neighborhoods with a growing group of Dominicans, a fair concentration of Asians and a substantial community of Orthodox Jews.
Its 12 voting precincts run deep blue, with 14,890 Democrats and 3,226 Republicans – a ratio just under 5-1. Outsized Haitian American political involvement has marked politics in North Miami and, increasingly, North Miami Beach, for nearly 20 years.
Gepsie Metellus has nurtured the Americanization of the Haitian community for more than 20 years as co-founder and executive director of Haitian Neighborhood Center Sant La, a North Miami resource center serving South Florida's Haitian immigrant population. She is a candidate for Miami-Dade County Commission District 3 against Keon Hardemon.
"There is a change in voting complexion due to increasing citizenship and people buying their first-time homes," said Metellus. "People are increasingly naturalizing after five years of residence. They register to vote and they do vote. The Haitian population has the distinction of being a strong voting bloc."
A new generation of Haitian American politicians is continuing to emerge. They are often American-born children of immigrants and are highly credentialed, ambitious, and driven. Vanessa Joseph, a University of Miami law graduate and millennial, is a classic example.
Individually, through NHAEON and through her singular office as elected city clerk, Joseph has taken on the mission of civic education. She has noticed the gradual shift in campaigning and organizing beyond the usual means of Creole radio, which is still a vital medium for elections in North Miami and North Miami Beach. Joseph wants to ensure that all information being disseminated is accurate.
"I have noticed shifting is engagement of Haitian Americans in political process," she said. "They are getting more involved. I have seen more Haitian Americans, especially younger ones, getting more involved in campaigns. Our involvement has grown from staying on the sidelines to being part of the process. Decisions made on TPS [Temporary Protective Status] affect many people, but I can't say it's the only thing. We're trying to spread the message. People need to be informed, empowered and engaged."
Ethnic groups sticking together have been a political building block for 150 years, whether among the Irish and Italians in New York, Boston and Chicago, or the Cubans in Miami as they progress, sometimes fitfully, into American society.
Metellus herself illuminated this in a report made in partnership with FIU's Metropolitan Center, "Progress and Unmet Challenges: Sant La's Profile of The Haitian Community of Miami Dade 2010-2015." The report documented the progress that's been made thus far into the middle class, but also its continuing lag, with median income 21% lower than the county's average and a cost-burdened housing cost of 58.3% for owner-occupied dwellings and 75.3% renter-occupied.
Contentious campaigning
Racial inequality in South Florida is well documented, locally and nationally. Last year Ohio State University issued a study entitled "The Color of Wealth in Miami" that documents the yawning wealth gap across households. The study found a median household net worth of $107,000 for whites, $3,700 for Black Americans, $12,000 for Caribbeans and $22,000 for Cubans. For the college-educated, the median was $301,000 for whites, $87,500 for Hispanics, and $32,000 for Blacks.
Miami is among the nation's most unequal median income metropolitan areas, but it is of course not alone. The Federal Reserve Bank of Boston in 2017 reported the median net worth of Boston white households at $247,000 and Black households at $8.
"Racism is an issue," said Desulme.
Politics in North Miami Beach is famously nasty, and perceived racism and ethnic prejudices only poison things further. In June 2019, the North Miami Beach commission at Michael Joseph's behest voted to censure Mayor DeFillipo for insulting Haitian Americans after he wrote that the city fired its city clerk to "put in a person of there [sic] own heritage to do what they want!!!" in a Facebook post. DeFillipo, for his part, in late 2018 filed a $2 million defamation suit against the American Federation of State, County, and Municipal Employees (AFSCME) for a mailer suggesting that "Tony DeFilippo's [sic] Crime Family is asking for your support." De Fillipo's family has been in North Miami Beach since 1950, and his father was also a city commissioner.
The union instantly denounced the mailer, which listed the union's PAC as a financial backer, ordered a cease-and-desist and filed police reports. As it happens, the union has endorsed both DeFillipo and Joseph this year. Fleurimond, DeFillipo and Joseph have also voted for or advocated in common cause for Dezer Development and a new Washington Park community center, for which Joseph says he secured significant funding and may break ground next year.
Said DeFillipo: "I am mayor for all the people. Please quote me on that."
Some residents at the early voting site at North Miami Public Library were met by individuals handing out a "Quick Pick Voter Guide" stating "Your City = Your Voice!" and "Non Partisan. For the People." It said it was paid for by New Direction Florida, and came with a slate of recommendations: DeFillipo for mayor, Raulson for Group 3, Spektor for Group 5 and Ortega for Group 7. Such a slate would reduce the Haitian American presence on the seven-member commission to 3-1.
Whatever the outcome, former North Miami Mayor Andre Pierre, who had his own share of controversies a decade ago, is heartened by what he sees in NHAEON and its youngest generation of emerging leaders.
Said, Pierre, an immigration lawyer who was in on NHAEON's founding, "We are a young, progressive, aggressive, still learning organization. We have a lot of young leaders in their late 20s and early 30s, leading us to a land of milk and honey. Back then we were reactional kinds of leaders, fighting for immigration issues, Temporary Protective Status and such things. Now we can be at the table making demands not just for our community, but for the community at large. Although we are Haitian Americans, we are Americans, leading American cities."