In a continued effort to increase confidence in the COVID-19 vaccine in minority populations, Jackson Health System has launched a community education campaign via a series of videos in English, Spanish and Haitian Creole featuring its own medical experts.
The campaign is taking a serious yet conversational approach, featuring health care professionals in each video explaining the vaccine's effectiveness and safety. One video focuses on the Black community and features Carol Biggs, chief nursing officer, and Dr. Hansel Tookes III, UHealth infectious diseases physician. Both discuss the history of abuse and racial inequity in medical research and how this vaccine is different.
"This vaccine is how we end the racial disparities in COVID," Tookes says in the video.
He refers to the 40-year Tuskegee syphilis experiment as a legitimate reason as to why Black Americans might view the vaccine with skepticism and fear.
"It's absolutely reasonable to have hesitation about the vaccine because there have been injustices done to our communities since this country was founded. … We can't allow them to harm us in the year 2021 because we're scared of the vaccine, because of the evil things they did back then, because then they win."
The experts detail Pfizer's 95% efficacy rate and continuing the use of social distancing and mask-wearing, even after receiving both doses.
"This virus affects Black people. It hits us more harshly than nonBlacks. Just knowing that … your chances of dying are greater than if you're a white person, that's tough, that's not easy to swallow. If there is something we can do to prevent that, and that's what this vaccine is ... we have to take it," Biggs says in the video.
Last Friday, Jackson held two virtual town halls open to the public which featured its executive team and medical professionals. Panelists highlighted key facts such as how precautions still need to be taken after receiving a second dose of the vaccine, washing masks on a daily basis, throwing away disposable masks after each use, and postponing vaccination if you are experiencing COVID-19 symptoms. They also discussed the similarities between the Pfizer and Moderna vaccines, their minimal side effects and the hospital system's faith-based outreach efforts.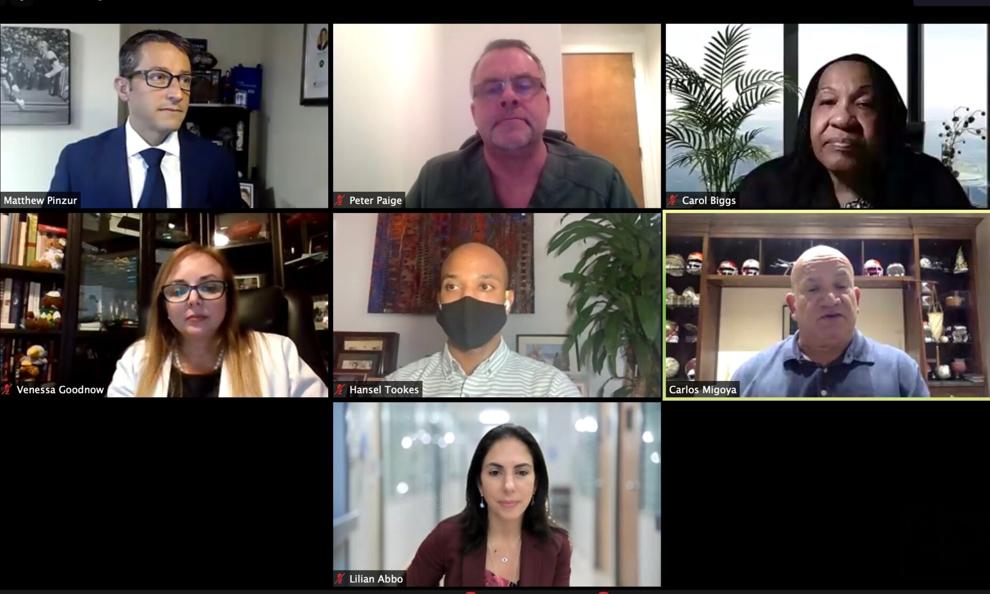 As previously reported by The Miami Times, outreach efforts involving churches and sororities were designed to increase vaccine accessibility in the Black community, where far fewer people were getting vaccinated as compared to Miami-Dade's white and Hispanic populations.
Carlos Migoya, president and CEO of Jackson, said the health care system is very proud to have raised its percentage of vaccinations in the Black community to just above 13%, thanks to those outreach efforts. The hope, he said, is to get closer to the number of total Black residents in the community at about 16% by continuing their efforts.
Jackson began vaccinating its health care workers in December and has been vaccinating Florida residents aged 65 and older, as well as patients with specific medical conditions, since early January.
To view the videos and town hall meetings, visit JacksonHealth.org/vaccine-facts.