Kameela Russell held the signature pose of a violinist as she played "You are so Beautiful," by Joe Cocker at a friend's wedding. The string music of the eloquent instrument blended in a duet with a pianist, who was surrounded by Renaissance-inspired stained-glass windows facing pews in a church. Out popped a smile that mimicked the title of the song. Kameela Russell played each string note for note in a video that her mother, Linda Russell, posted on Facebook for the world to see. Linda wanted the public's attention.
Her daughter, a mother, an educator, a talented musician and performer had vanished on May 15. Her remains were found wrapped in a tarp and floating in a Miami Gardens canal 10 days later. A police tip, blood stains and a near confession led to the arrest of her longtime friend and colleague, Ernest Roberts. Friends, loved ones and an extension of such gathered Saturday behind the stained glass of St. James Catholic Church to memorialize the 41-year-old woman.
"I love my Mom. She is great. I miss her. Why did this happen to her?" said a handwritten note from Kameela Russell's 6-year-old daughter, Layla Braddy. "She is in a better place with Jesus. I'll remember her and the things we did."
Kameela Russell would often take her family on trips, where she was the driver. They would sing and laugh together on the ride. Russell had planned to spend her 42nd birthday, on June 17, in her native country, The Bahamas. Her family will take the trip, carrying Kameela Russell, as ashes.
Dozens of mourners packed the North Miami church; some had never met Kameela Russell. They knew her from missing person's photos and local and national headlines. At the funeral, mourners were met with portraits that displayed her bright smile. Russell's remains are dust packed in a parchment-colored urn marbled in brown spots. There, engraved next to a musical note, were the words: Kameela S. Russell, June 17, 1977, May 15, 2019.
Dancers played tribute to her life. The Reverend Deacon Thomas Dawson addressed the congregation's angry disposition over Russells' murder. It was "not fair."
"To know Kameela was to love her," Linda Russell told The Miami Times. "She was a bright light in the lives of everyone she encountered and was filled with so much love, life, talent and creativity."
At the time of her death, Kameela Russell worked as test proctor at Miami Norland Senior High School. She had dedicated most of her adult life to children. She was a language arts teacher, cheerleading coach and a Sunday School instructor. Her two daughters Layla and Skye were "the center of her attention."
On the day Kameela Russell went missing, her aunt, Donna Blyden was getting her niece's daughter ready for gymnastics practice. She saw Kameela Russell's Audi pull into the driveway and leave shortly after. Several unanswered calls and texts brewed concern and then alarm.
Blyden called the police. "This behavior was uncharacteristic," Blyden told Miami Gardens Police officials.
Besides being a devoted mother, Kameela Russell was "the life of the party," wrote her cousin, Olivia Russell after Kameela's body was discovered, washed up and discarded in the canal.
In a blog post titled," Currently: She Did Not Deserve to Die," Olivia reflected on the emotional roller-coaster it was from the day her cousin went missing to when she was found and the many moments they shared together.
Kameela Russell was a motivator in Olivia's life who taught her how to dance and would be there for her for advice.
Olivia wrote: "She helped me to move out of my college dorm, picked me up from the airport countless times, trusted me of all people with her kids, picked me up after my first tattoo and taught me how to care for it. She taught me so much but I will never be able to repay her for it."
To her mother, Kameela Russell was "a ray of sunshine since birth."
"Her smile and carefree spirit lit up any room she entered, and I hope this is what people will remember most when they think of her," said Linda Russell.
Kameela started playing the violin at 4 and later learned how to play the marimba, steel drum and handbells. She was part of Miami Northwestern's High Performing and Visual Arts Center magnet program and performed at Carnegie Hall in New York.
There were no violins at Kameela Russell's funeral. She had played her last tune.
Gospel music was played by track. Liturgical dancers, in purple and white robes, flung their bodies in unison to the faithful words of Smokey Norful.
"Not another second or another minute. Not an hour or another day. But Lord I need you right away," Norful's voice echoed through the church.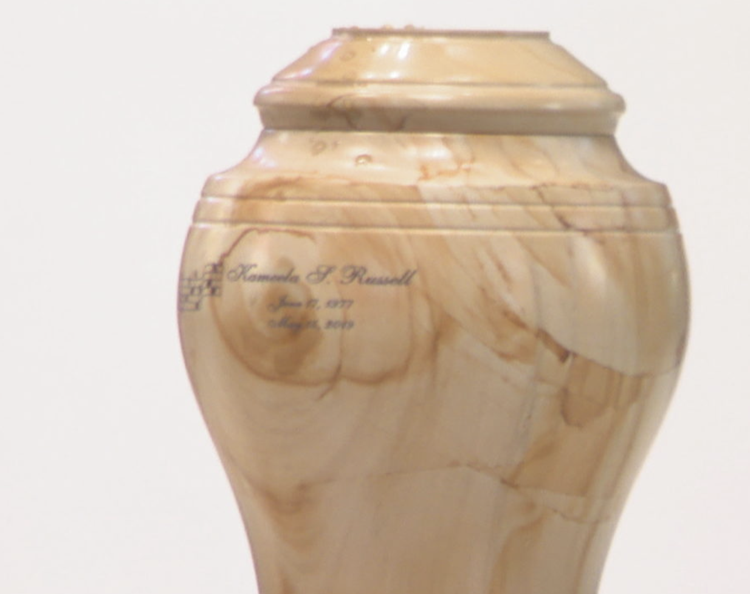 Instead of picking up her daughter on May 15, Russell left and went to the girl's godfather's house. He lived on the same street as her aunt. She was seen on surveillance video going inside of Ernest Roberts' home, but she never walked back out. What was left of Russell at Roberts home was her blood that stained the walls, the door and several corners of his master bedroom and bathroom, police allege. Detectives found blood splatter on sandals and an Amazon box in the suspect's room. Roberts had tried to clean the blood with bleach and a mop.
Police said all of the blood was a match to Russell's DNA, whose cause of death was blunt force trauma to both sides of her head.
Roberts and Russell knew each other since they were children. They were also coworkers at Norland High when Roberts served as an assistant principal before he was transferred to another school in February.
After Russell went missing, rumors swirled that Roberts was involved. Roberts denied the allegations.
"Kameela was more than my sister. For 20 years she's been at my side. Both of our families and close friends know the bond that we've had," Roberts wrote, accompanied with photo him and Russell on his Facebook page. "Rumours are dangerous. Anyone with facts please reach out. We lost a beautiful mind and a Great spirit."
An employee at the school where Roberts worked, Linda Lentin K-8 Center, reached out to investigators on May 20 about a note left for him by Roberts. That morning, Roberts called the witness and told him to look in a specific cabinet file where he would find a handwritten note and keys to an Audi.
"Do you know anyone that can chop a car up?" the note read. "It is behind the Speedway racetrack on 441 by County Line," Roberts allegedly wrote, instructing the employee to throw the note away.
Roberts told the witness that he had confronted an intruder and hit that person with a baseball bat and killed him or her, wrapped the body up in a tarp and dragged the body through the house.
Authorities arrested Roberts on June 14. His Facebook page has since been deleted.
Roberts has pleaded not guilty to a first-degree murder charge. If convicted, he could face life in prison.
The family said their ceremonial final goodbyes to Kameela Russell on June 22. Olivia Russell, on the other hand, hopes that the story had another ending.
"No one deserves this. I'm still going back and forth between acceptance and 'did this really happen?' I want answers. I want more time. I want to comfort my aunt who just lost her only child," she wrote.