The long-awaited first installment of a $31 million agreement to help Little Haiti was announced Monday.
Following years of negotiations, $3 million from developers involved in the Magic City Innovation District was presented to the Little Haiti Revitalization Trust. A second $3 million installment will be made in six months.
Plaza Equity Partners and commissioners for Miami and Miami-Dade County announced to residents that the money would go toward the economic development of the often blighted neighborhood, which could include job training and affordable housing.
The announcement comes after months of community and government meetings about the development of Little Haiti, a financial plus for some but a shock to those worried about whether they must brace themselves for more gentrification or rising sea levels.
The news conference was designed to highlight investment in the neighborhood, but residents are worried. The development of shops targeted to higher-income tourists and people from wealthier parts of the region always increases the cost of goods and services, forcing out locals in Little Haiti, who are predominantly Black and brown.
Miami Mayor Francis Suarez did not deny that gentrification is real.
"For some it is a measure of opportunity coming to an area," he said. "But for others it's a real difficulty. It's a power. It's a force that has the ability to push people out of an area that have traditionally been living there. It has the power to wipe out a culture which frankly, Commissioner Hardemon worked hard to preserve.
"What we're seeing here today is historic. Little Haiti does not have a CRA. If this project would have been built without the negotiations of Keon Hardemon, this community quite possibly would have gotten nothing, zilch, nada ... "
Neil Fairman is chairman of Plaza Equity Partners and managing partner of Magic City Innovation District – Little Haiti. He said the key for developers is to make sure the project is "both a boon and a blessing for all residents who call this community home."
Fairman also said the Miami-Dade Board of County Commissioners chose Little Haiti as one of the preferred railway stops for a commuter line from Aventura to downtown.
Hardemon, whose county commission seat oversees District 3, said of Little Haiti, "Many of us believe that this place can be a part of the future of Miami. This is about the people that decided to stay. This is about wealth-building in a place called Little Haiti."
District 4 City Commissioner Manolo Reyes said Cubans his age or older know that Haitians succeed in Miami or any place they go. Reyes spoke of how area median income is important to him.
"The only thing I ask from every developer and government is affordable housing to be affordable for the community," he said.
Community activist Rulx "Ringo" Cayard spoke to the audience in Haitian Creole and said the developer pledged money and "is keeping his word."
But not everyone was so complimentary.
Fellow community activist Leonie M. Hermantin, a member of Concerned Leaders of Little Haiti, said Hardemon wasn't the only one in the community negotiating with developers.
"We fought," Hermantin said. "We didn't wait passively for Hardemon."
And while Fairman agreed with Hermantin saying, "She did represent the community along with Concerned Leaders for Little Haiti ... they made sure they got what the Haitian community deserved," Hermantin said recommendations made by her group were not taken into consideration.
"Our original idea is that it would be handled by The Miami Foundation," Hermantin said. "But the commissioner was opposed to it, as were some stakeholders in the community ... I don't know to what extent the commission will reflect the needs of the community."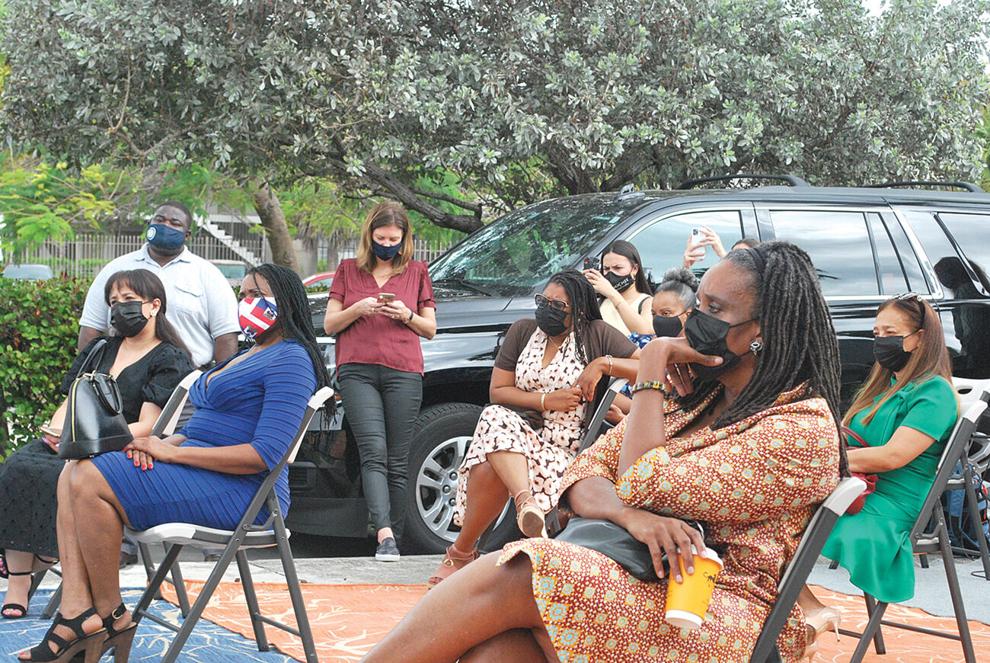 Marleine Bastien, executive director of the Family Action Network Movement, told The Miami Times the negotiations she held with Fairman were later closed, and that he said he would only negotiate further with Hardemon, then a City of Miami commissioner.
In a written statement from Hardemon's office, spokesperson Lindsey Johnson said, "Marleine Bastien sued to stop the benefits that would flow from Magic City. She lost their lawsuit in court but managed to delay the first installment ($3 million) of the $31 million for nearly 18 months. Whether or not Magic City chose to continue meeting with Marleine says more about her character than it does about anyone else. She should only blame herself. Magic City continued to meet with other community organizations, such as Concerned Leaders of Little Haiti, and the community benefited because of their leadership."