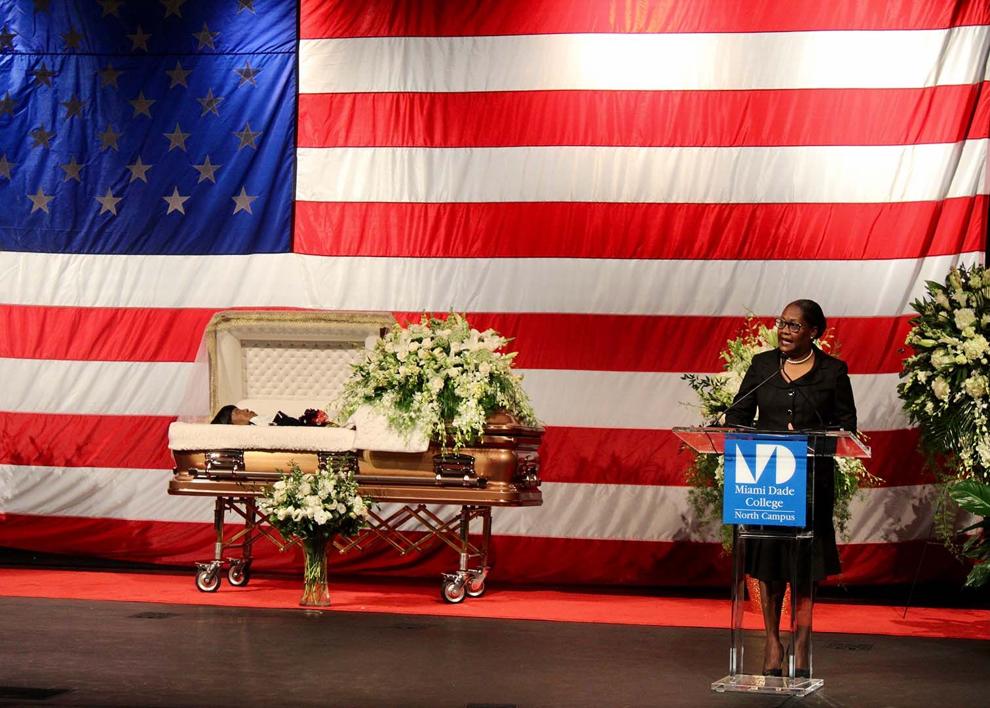 Hundreds if not thousands of people flocked to Antioch Missionary Baptist Church in Miami Gardens yesterday morning to pay final respects to Carrie Pittman Meek before she was laid to rest at an Opa-locka cemetery.
Dignitaries from across the nation showed up in droves for the South Florida memorial events that took place over the course of three days, starting Dec. 5 at Booker T. Washington Senior High School – Miami's first high school to host Black students.
Meek was a mentor to many, a queen to some, but a legend to all. Fittingly, she received a homegoing service nothing short of a spectacle.
As a chopper hovered in the air a few hundred feet above the church, Meek's casket was rolled from a hearse and into the lobby led by Range Funeral Home personnel while an honor guard gave the late congresswoman a military salute.
Two trumpeters bellowing Richard Smallwood's "Total Praise" followed, leading a procession of pastors, family, friends and colleagues into the church before an angelic choir picked up the melody.
Beautiful flowers and countless wreaths, including one from the NAACP to mark Meek's contribution to the advancement of Black communities, adorned the altar near where the casket lay.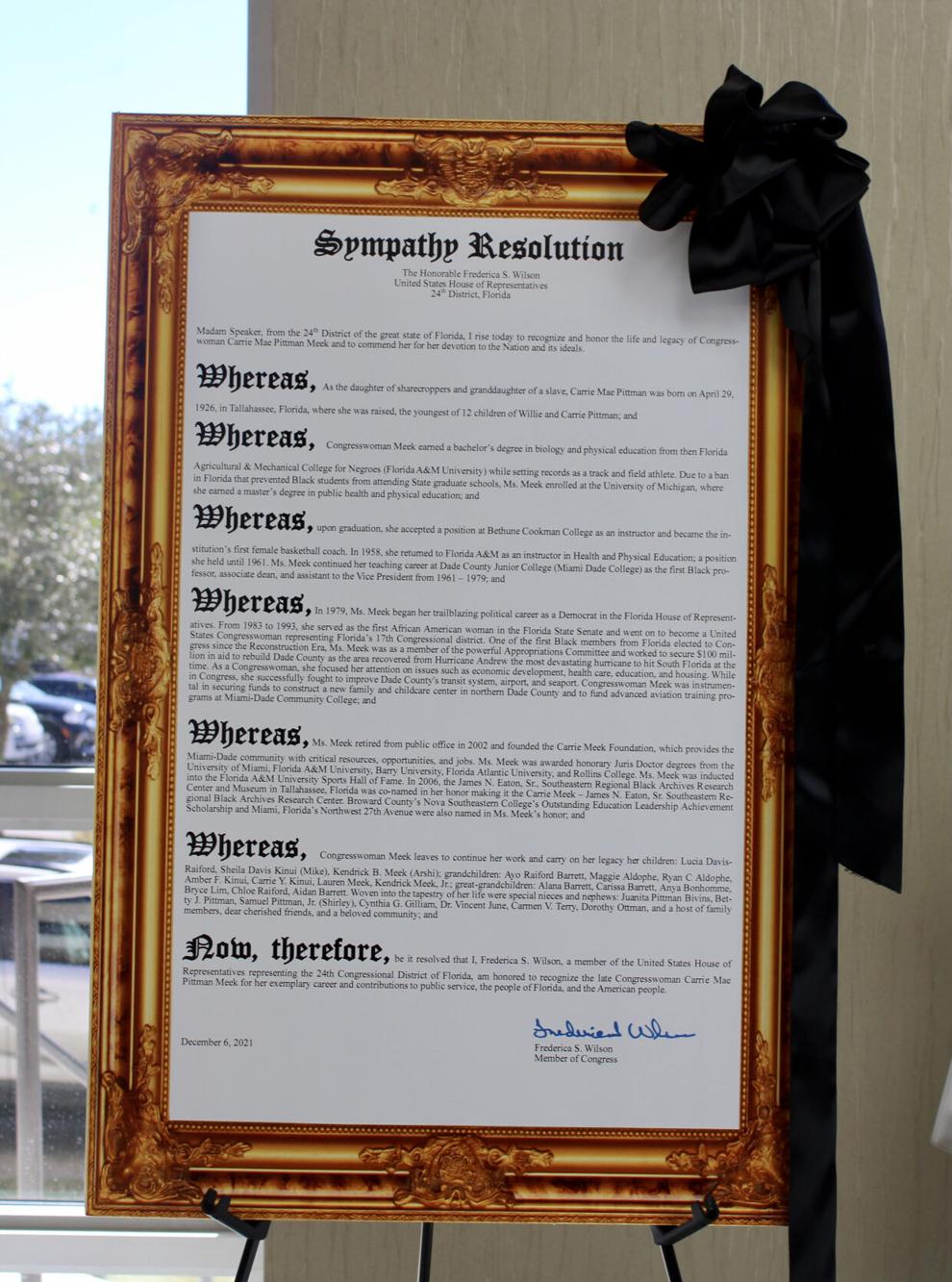 In attendance were federal, state and local elected officials, who signed proclamations in her honor.
"You know I'm walking in big shoes," said Congresswoman Frederica S. Wilson, who represents Meek's former district, at the funeral service. "Helpless slaves came out of freedom because one woman led the way. The civil rights movement was invigorated when one woman refused to move. An entire community prospered because one woman cared."
Like Harriet Tubman and Rosa Parks, Wilson says Meek was one of those courageous people who rebelled against the status quo for the greater good of those around her.
"We loved her and wanted to be just like her. What a role model," Wilson recalled, who was one of Meek's physical education students at Florida A&M University in Tallahassee decades ago. "Man, they were huge footprints to follow."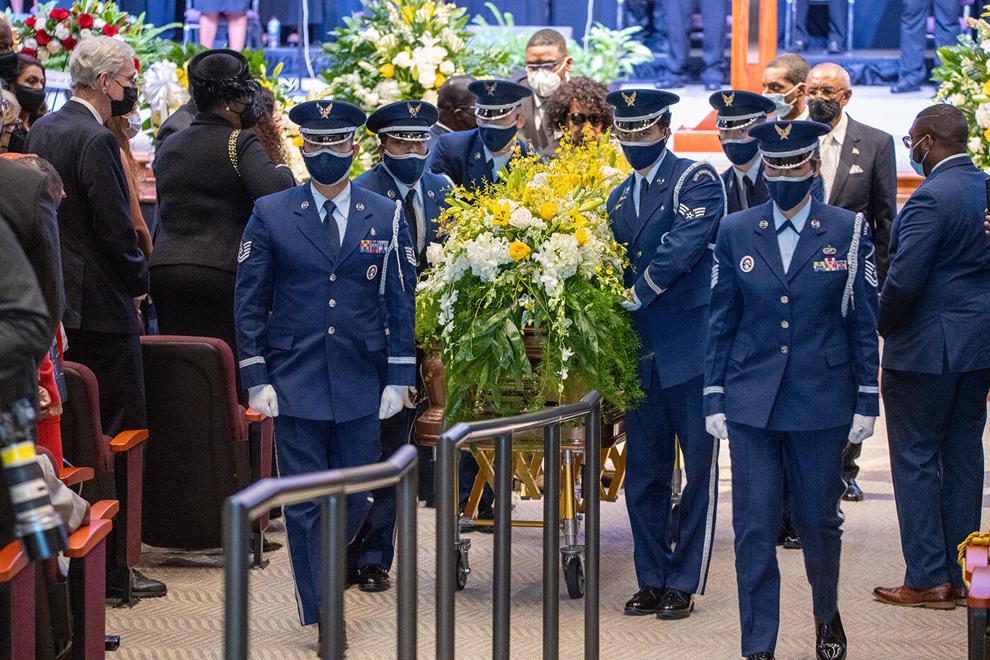 Rev. Hugh Westbrook alluded to Matthew 25 to describe Meek, explaining how she tirelessly fed those who were hungry, invited those who needed sheltering into her home, and gave water to those who were thirsty.
"Carrie Meek was a perfect example of things we read about and inspire to be," said Kendrick Meek, former U.S. representative and one of Meek's three children, in a video tribute. "I'm not sad at all, I'm actually happy that she was able to leave a stamp on me and thousands of others. This celebration [is] a reflection of her life and memory."
"What I remember most about my mother is that she was an incredible human being that was filled with integrity and compassion," said Sheila Davis, one of Meek's two daughters, in the same video. "There are a lot of people that accomplished a lot of things, but to have compassion and integrity and a belief system was very important for me as a child growing up … she influenced many others to be compassionate."
Daughter Lucia Davis-Raiford shared memories of when her mother sheltered students with financial difficulties that needed a place to stay.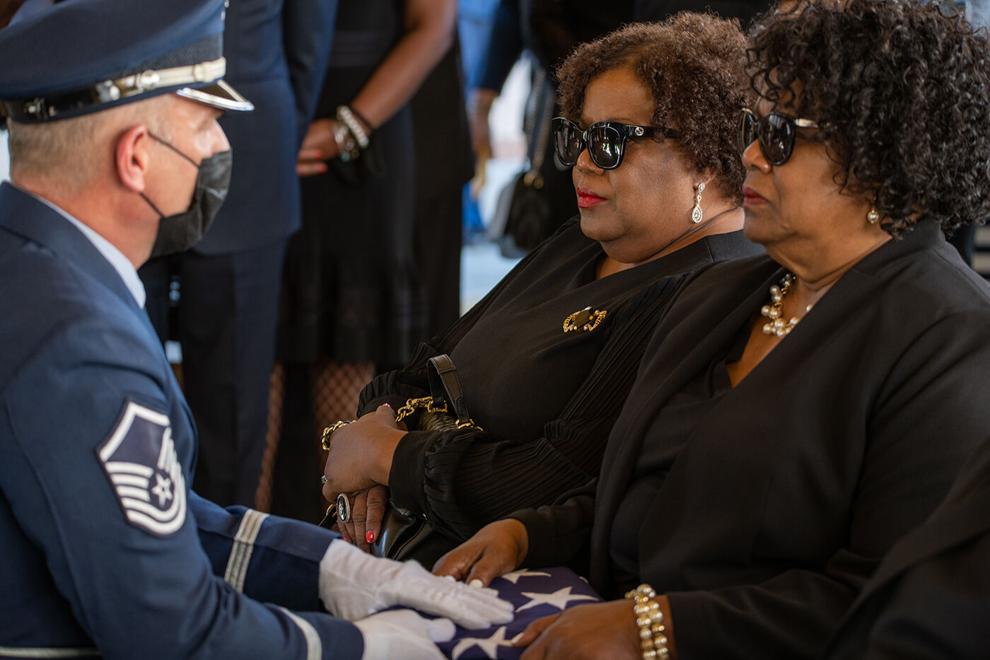 "I want people to remember the love and sacrifices she made to the community," she said. "Everywhere she went, she left a big legacy of giving, caring and supporting people."
Former President Bill Clinton, who worked alongside Meek for many years, submitted prerecorded remarks for the funeral.
"She was an outstanding representative of South Florida because she truly cared about its people," he said. "She was great at getting things done. At every stage of her life and career, she broke barriers and opened doors."
At Miami Dade College's North Campus, a special tribute was held with Meek's Delta Sigma Theta Sorority before a public wake at the campus' William and Joan Lehman Theater.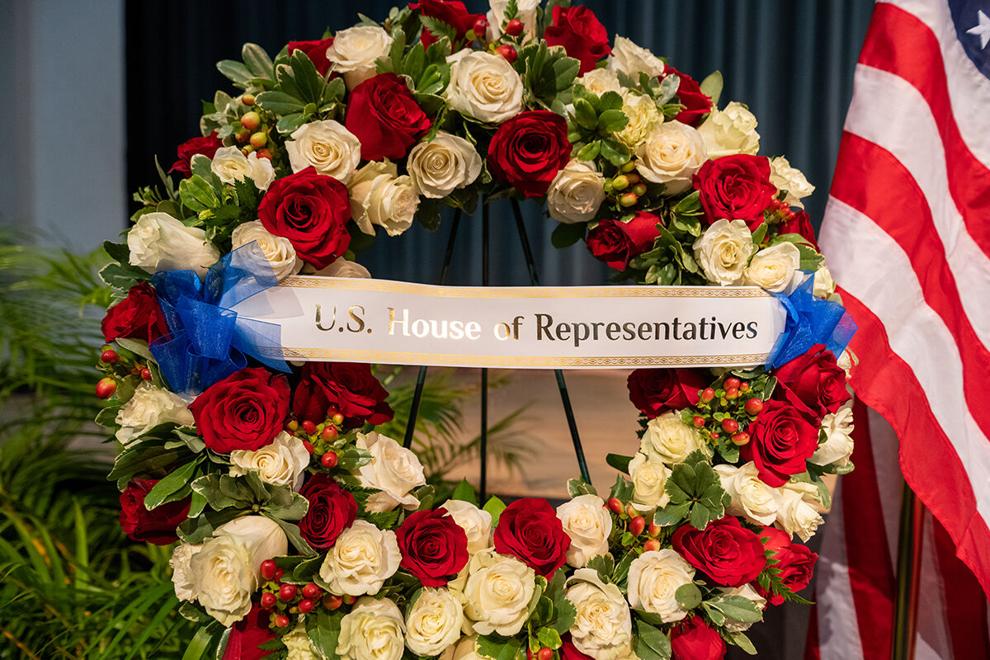 "I remain eternally grateful to the congresswoman for taking the time to show me the ropes," said Malou Harrison, the school's provost, at the wake. "She always made time to mentor and lift others up. That was the congresswoman."
"Carrie just made so much change; we didn't have a community college in the Black community so having [the Carrie P. Meek Entrepreneurial Education Center] develop made a big difference," Marcia Saunders, Meek's sorority sister, told The Miami Times. "Numerous people were guided and directed by her to make real change in the community. She was the backbone when it came to the education of the young people in our community and increasing political awareness."
While standing near the podium with former U.S. representative Corrine Brown and U.S. Rep. Debbie Wasserman Schultz, House Majority Whip James Clyburn shared fond memories of Meek and crediting her with his election as co-president of the 1992 freshman class.
"And I was relieved," he said, stating how he felt to be chosen to preside over the second session.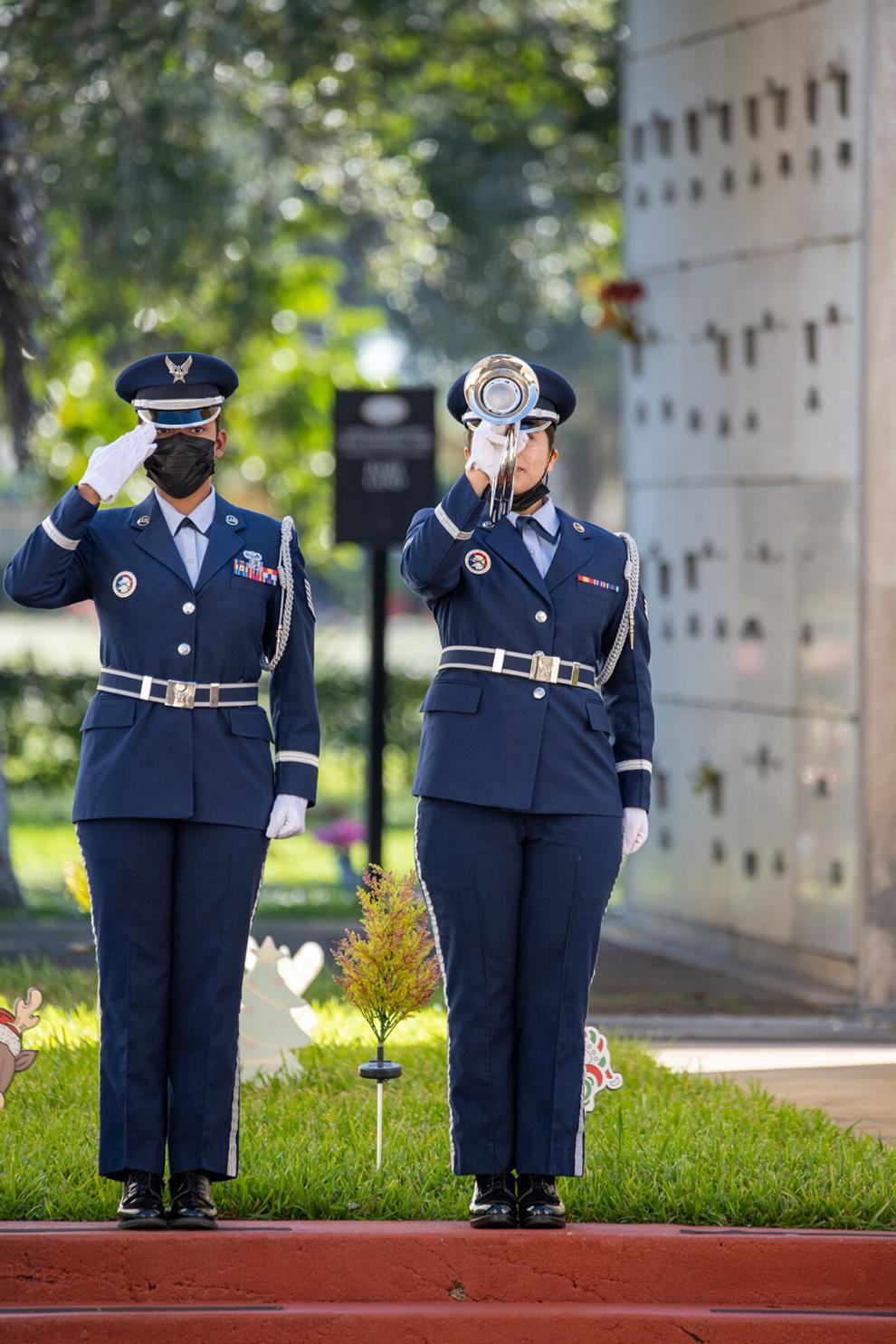 "She told us how proud of us she was for making sure that we stayed in the fight and that we didn't waste our time," added Wasserman Schultz. "And there's no greater compliment than that."
The wake was not without the presence of Haitian elected officials and leaders, who praise Meek for her efforts to champion to cause of Haitian immigrants. Members from the Veye Yo Haitian political party and the Family Action Network Movement (FANM) showed up with shirts baring Meek's face.
"Congresswoman Meek has been a mentor to me. She taught me how to amplify my voice and how to always be prepared in the fight for racial justice and equity," said Marleine Bastien, executive director of FANM. "The idea of organizing all the organizations together under one umbrella came from her. We lost a giant, but she has left a lot of little Carrie Meeks. We plan to honor her in March, but the best way to honor her is to make sure that we have a lot of little Carrie Meeks to continue the fight for equal treatment."
"This particular loss of Congresswoman Meek is not just the loss of an individual who has done so much for our community, but it's a loss for me personally," said Roseline Philippe, an early education consultant who served as a member of the Haitian American Democratic Club of Greater Miami when Meek was in office. "In 2003, we held a dinner to honor her at the Biscayne Bay Marriott Hotel. We crowned her queen of the Haitian community in Miami-Dade County because of what she has done for us Haitians. Honoring her should never be for just a moment. I've told Kendrick to never forget how much we love her."
"She was adamant about the fact that Haitians deserved more," said Bastien, sharing Philippe's thoughts. "She didn't care about being politically correct and was not ashamed to say when people should be treated better. She knew that [Haitians] were outraged by the treatment of migrants and wanted to show us how to organize because being outraged and angry wasn't enough."