As the May anniversaries of the Birmingham demonstration and the death of George Floyd approach – two gut-wrenching events where police violence was on full display – leaders are acting on the local community's demands for accountability and transparency when dealing with use of excessive force incidents.
Three officers from separate jurisdictions in Miami-Dade County are now on the receiving end of such disciplinary and accountability-increasing measures, after allegations of unnecessary force were disclosed to the Miami-Dade County State Attorney's Office.
Former police officers Sergio Perez (Opa-locka), Javier Castano (Miami Gardens) and Joseph Diaz (Miami-Dade) all face battery charges, a first-degree misdemeanor with penalties of up to 12 months in jail, or 12 months of probation and a fine of $1,000.
At a press conference held last Wednesday to announce the charges, State Attorney Katherine Fernandez Rundle explained the thin line between reasonable use of excessive force and circumstances where it would be deemed unnecessary.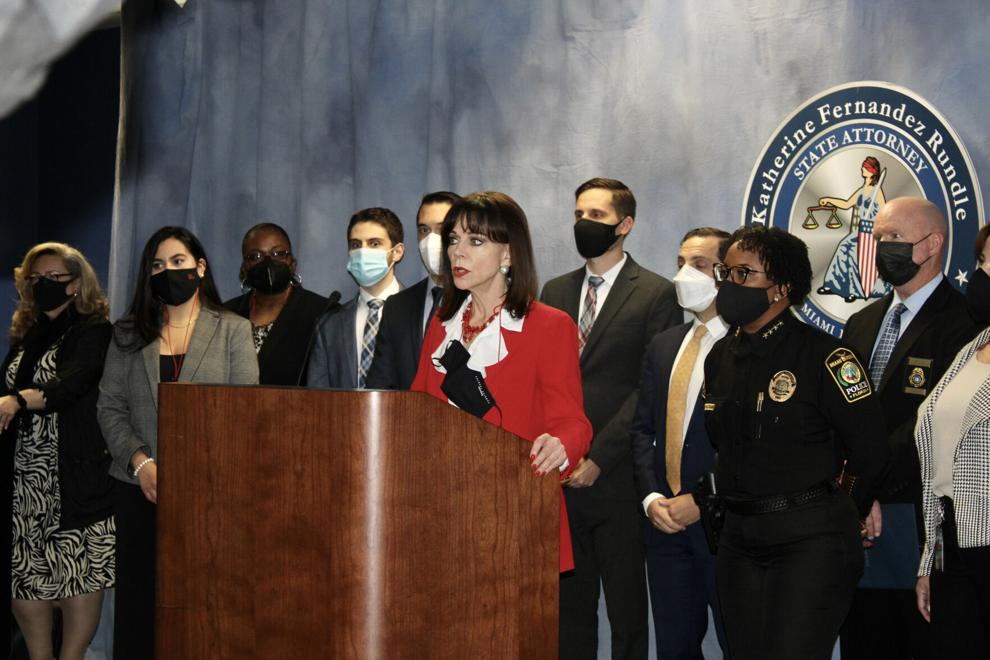 "Florida law gives police great discretion in how they interact with citizens. But depending on the specific situation [where] they need to gain control or given threatening or combative individuals, police can legally utilize a wide range of techniques," she said, noting the effectiveness of things like persuasion and verbal commands before turning to extreme physical measures as a last resort. "We believe that the law enforcement officers overstepped this generous discretion allowed under Florida law."
The three incidents occurred in 2020 and 2021, but are now being reviewed by the state attorney's office after Florida Department of Law Enforcement (FDLE) investigations were completed. Only two incidents involving civilians were captured on camera while the third took place inside police headquarters between two officers over a taser.
Kicked while he was down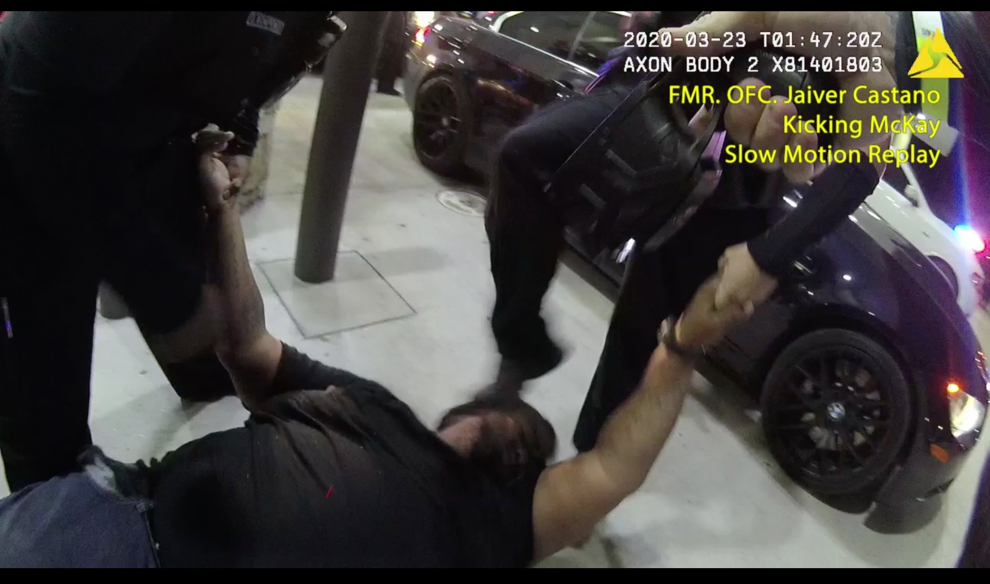 An incident involving Castano took place March 22, 2020, at a Miami Gardens RaceTrac gas station on 191st Street.
According to a police report, Castano responded to an emergency assistance call for the arrests of individuals performing illegal donuts in the area. Arriving on the scene, he was ordered by now former Miami Gardens police officer Jordy Martel – who later faced four counts of battery and two counts of official misconduct for a separate incident involving a civilian that occurred in January of that same year – to arrest Miguel McKay, a friend of an alleged "donut" driver who had already been detained.
Both McKay and Castano fell to the ground during the arrest attempt. Castano then used his right leg to kick a restrained McKay in the head before turning him onto his stomach and initiating a knee strike for 22 seconds, similar to the one used on George Floyd. Body camera footage shows at least four officers actively detaining McKay as he informed them of a heart condition. One officer can be heard saying that he didn't care, while another shouted expletives toward McKay.
"He was offering no resistance. He was fully subdued with officer Castano and another police officer holding his hands," said Fernandez Rundle, pointing to the footage as evidence. "They were exercising unlawful and unnecessary force."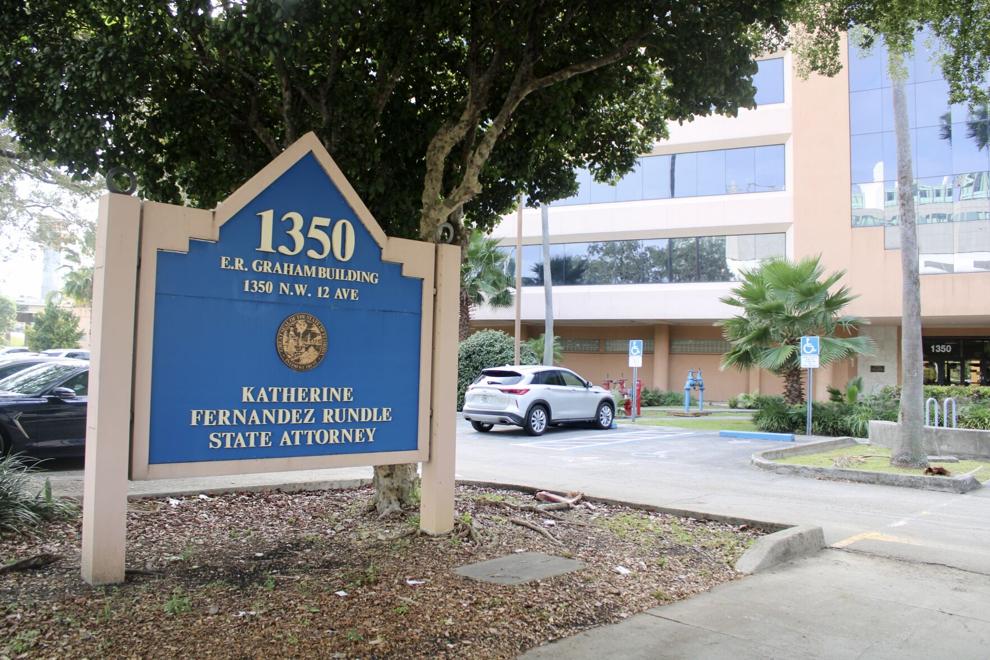 Castano is charged with two counts of battery, one for the kick and the other for placing his knee on a civilian's neck.
Capt. Tim Adams, head of the training division at Miami Gardens PD, told investigators that the knee strike and kick to the head while a suspect is being detained is not taught by the department.
Miami Gardens Police Chief Delma Noel-Pratt relieved both Castano and Martel of duty. Neither Miami Gardens nor Opa-locka PD responded to interview requests on the matter from The Miami Times.
A simple intervention turns violent
A second incident took place within Miami-Dade PD's jurisdiction July 25, 2020. Diaz responded to a call at the Country Club Towers Apartments in Hialeah of a suspicious and intoxicated male lingering near the complex.
Diaz offered assistance to the man, Kenny Ortega, before letting him go. As a drunken Ortega walked away, he made derogatory statements toward Diaz, who egged Ortega on with the statement: "Tell me what you just said to my face."
Ortega was shoved to the ground and arrested after repeating the insulting phrase. Diaz not only faces battery charges but also a third-degree felony charge for falsifying the arrest report to justify his use of force.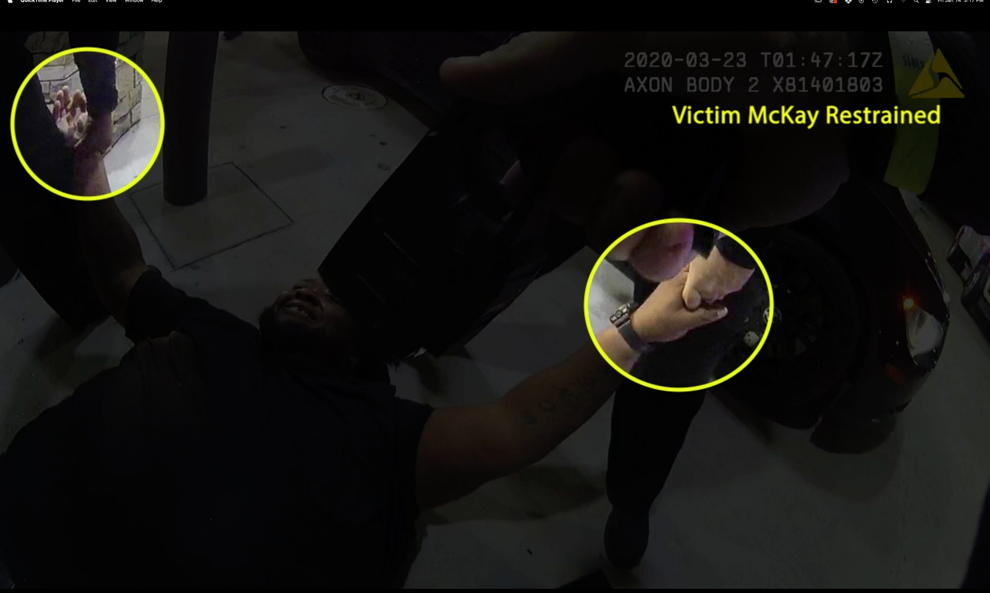 "It's really sad for all of us in law enforcement when we have to charge colleagues that are here to protect and preserve public safety for our community," said Fernandez Rundle to the media. "But none of us can really tolerate this, nor do the good police officers tolerate this."
Sharing a similar sentiment, Alfredo "Freddy" Ramirez, director of Miami-Dade PD, said the community's trust in the department should not be taken for granted, and officers should uphold a duty to protect and defend the constitution.
"It is disheartening when a police officer violates their Oath of Office, this act is without dispute unacceptable," Ramirez added in a statement to The Miami Times. "Our Internal Affairs Section initiated a thorough investigation into this matter and worked diligently alongside the Miami-Dade State Attorney's Office."
These incidents raise serious questions about policing practices and standards.
Examining excessive force
When asked whether a culture of excessive force exists in policing, Lt. Ramon Carr, vice president of Miami's Black City of Miami police union, said the issue hinged on maintaining respect and self-image. 
"Incidents where we see the use of excessive force is more about pride," he told The Miami Times. "It's part of the different thought processes taught. When we come into a situation where someone is challenging our thoughts or our authority, we have to make sure that they know that we're the boss. We have to stick to the old adage that says 'Sticks and stones may break my bones but words will never hurt me,' [and] let those words go in one ear and out the other."
Carr is happy to see the state attorney's office take action against police officers who abuse their badges but says real accountability and reform involve everyone.
"A lot of police chiefs are afraid of disciplining their officers," he said. "But once we start seeing salary reductions for chiefs who aren't doing the right thing and local governments disciplining people through finances, then we'll see a move towards accountability. Those who aren't willing to prosecute officers, or anyone at the top not willing to do their job, need to be removed."
Police unions and police oversight panels, Carr says, are also essential when building accountability.
Unions have taken the blame for halting progress when it comes to police reform by supporting their members and providing resources for bail.
"Our job is to ensure that police officers are getting due process just like anyone else," said Carr. "Instead, what happens is that some unions fight to make sure that officers receive no punishment. Sometimes officers do things that need disciplining and the unions need to understand that. We do need laws like qualified immunity to help us but there's still a level of wrongdoing that police officers have to be held accountable for, even when making split-second decisions."
Civilian oversight panels
As for oversight panels, Carr says they must truly be independent and impartial, claiming that accountability can be lost when members of the panel join the same circles as the accused. The newly created Miami-Dade Independent Civilian Panel (ICP) is in the process of hiring an executive director. Its chair, Loreal Arscott, did not make herself available to be interviewed for this story.
Jeanne Baker, co-chair for the ACLU of Greater Miami's Policing Practices Committee, agrees that civilian review panels play an important role in increasing accountability.
Baker recalls how her organization and the City Of Miami Civilian Investigative Panel aided the U.S. Department of Justice (DOJ) in investigating the City of Miami Police Department following police-related killings of seven young Black men over the course of eight months more than a decade ago. The DOJ's finding determined that a pattern of excessive use of force with a deadly firearm existed within Miami PD.
"It's been a long-established tenet of the ACLU to urge the creation of civilian police oversight panels and we've been very focused on police accountability," said Baker. "If they're not prosecuted for the use of excessive force, they need to be civically sued. The expression of governmental accountability is through the justice system."
Baker adds that it's a good sign the recent charges were announced by Fernandez Rundle's office.
"There was a long period of time where the state attorney's office was not bringing prosecution against police officers, even when there were clear examples of aggressive conduct," she explained, attributing present-day prosecutions to a string of action taken by various advocacy and social justice groups. "We were very concerned that some of those behaviors should have been prosecuted. It's heartening to see that our current state attorney is now doing so regularly. The way our government forces are now responding to police officers alleged to have engaged in violent behavior is a favorable change."