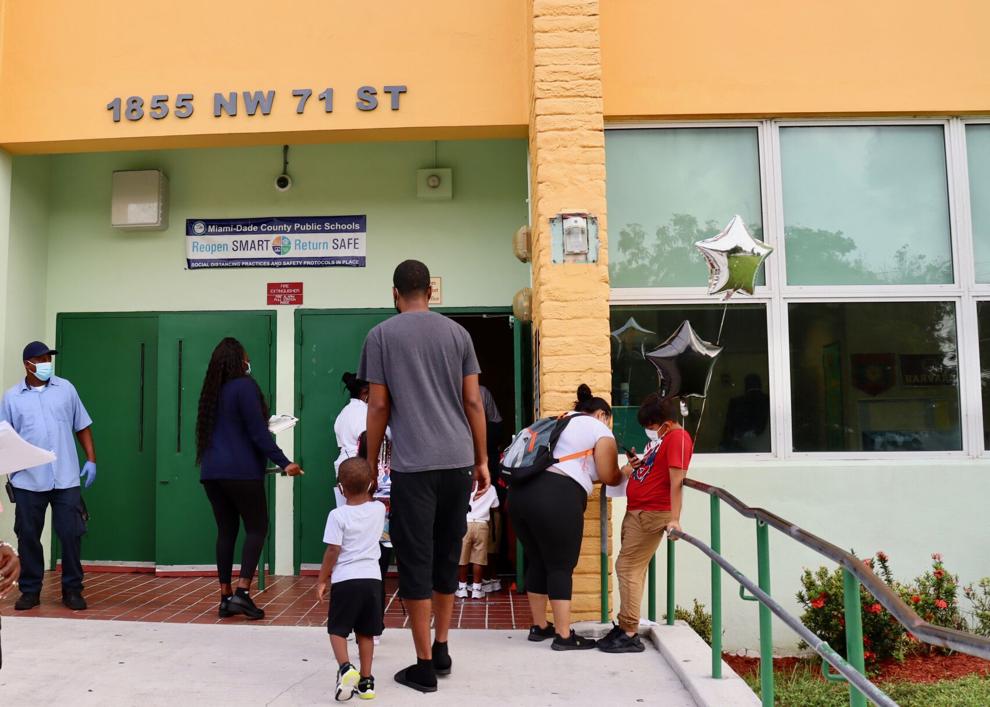 It's a big week for Miami-Dade County Public Schools, as students were welcomed back into the classroom for the first time in more than a year since the pandemic took hold.
Monday morning marked the start of the fall semester at Liberty City Elementary School, where parents walked hand in hand with their children to the entrance, watched as they got their temperatures checked and then kissed them goodbye.
Hallways and classrooms were filled with masked-up K-5 students eager to begin the school year. 
The Associated Press reported Tuesday that more than 80 school districts in more than a dozen states have closed or delayed in-person classes, only a few weeks into the new school year. Others have sent home whole grade levels or asked half their students to stay home on hybrid schedules.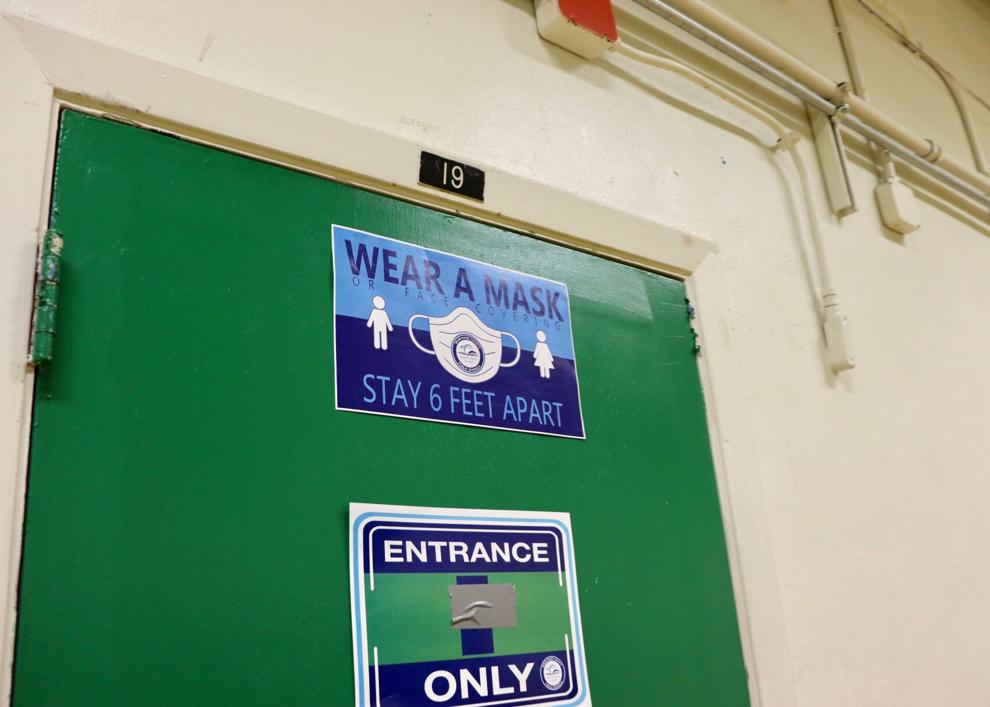 As the delta variant of COVID-19 continues to surge throughout the country – and with Florida leading in cases – anxieties surrounding in-person learning varied among Miami parents.
Serena Felton, a mother who transferred her two kindergarten-aged boys to the elementary school, was more nervous about their adjustment to a new environment.
"I'm kind of nervous," she said. "I don't know if they'll like it."
Despite her children's cheerful reactions as they were welcomed into the school, Felton said they were only excited because they're out of the house after attending virtual preschool last year. She looks forward to a safe school year and has made sure to tell them to follow the rules, using virtual learning as a warning to get them to listen.
"I told them they had to keep on their masks at all times or [else] they're going to go back to virtual school – and they don't want to do virtual school so I know they'll keep their masks on," she said.
Brandon, a parent who took his daughter Aubrey for her first day of kindergarten, said he is excited for her face-to-face interactions.
"She likes making friends so this will be a new, fun experience for her," he said.
However, he is worried about going into another school year impacted by the ongoing pandemic, especially as he's been keeping up with the news. More than 400 students in Palm Beach County had to be quarantined just two days after the start of the school year, which began two weeks ago. In Hillsborough County schools, almost 3,000 COVID-19 cases were reported in the first two weeks since its students returned to classes Aug. 10.
"When school started and hearing about, basically, a whole county getting COVID, I'm kind of nervous now. But I still want her to get that interaction," said Brandon.
When Aubrey was placed in daycare, he felt good about the safety practices they had set during her time there.
"They seemed pretty preventative," said Brandon. "Hopefully it's the same here and they can be safe with the kids."
Liberty City students enjoyed a surprise visit from Dorothy Bendross-Mindingall on Monday, who felt the need to give students a warm welcome back since she attended the elementary school as a child.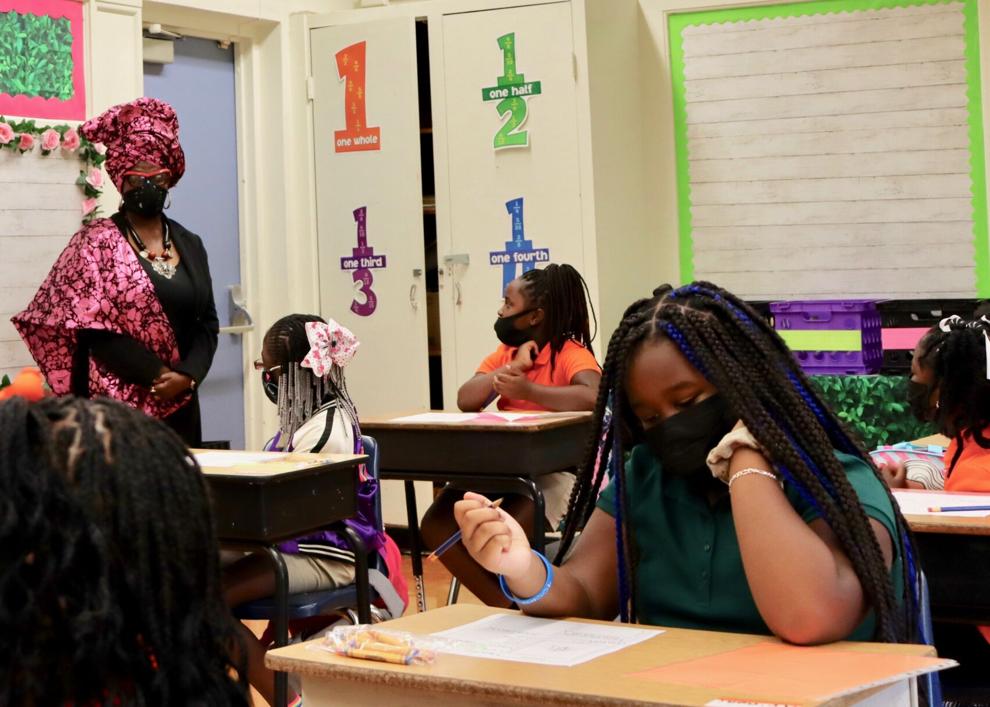 "I appreciate the opportunity just to say hello to the children and remind them that they're all great," said the District 2 school board member. "We are with them."
Bendross-Mindingall was led through the school by its newest principal, Lamar Johnson, who stopped by classrooms, introduced himself and said he looked forward to coming back and getting to know everyone's names.
"It's the first day of school – the best day of school, as I like to call it," he said.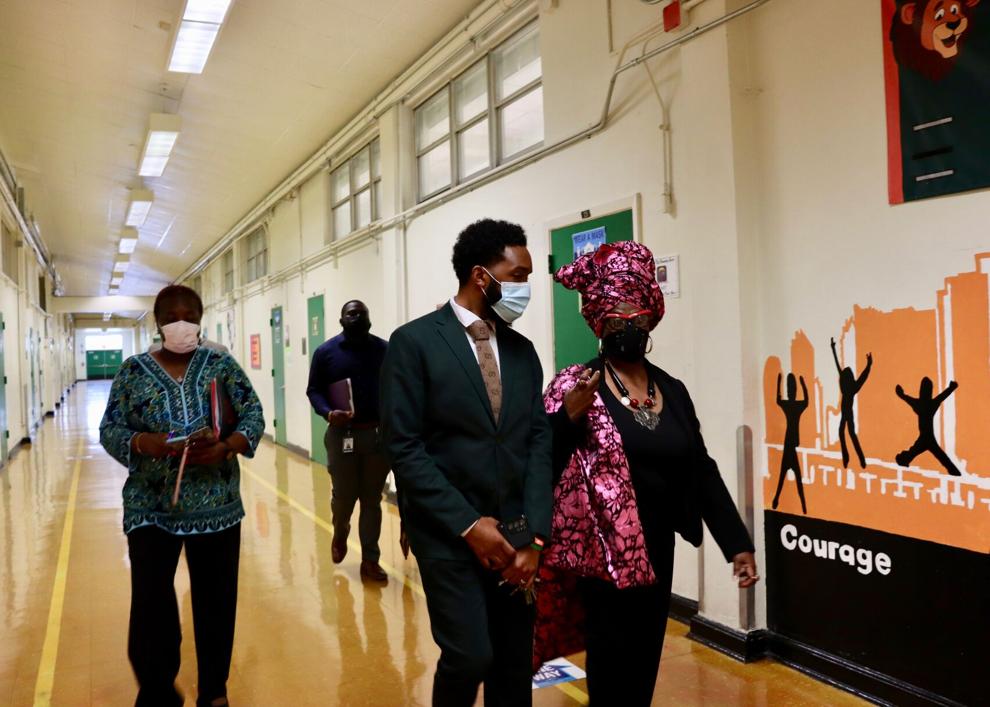 It was a typical school day. Uniformed students stood up for the national anthem, listened to morning announcements and paid close attention to their teachers as they settled back into the classroom, pencils in hand.
It was not a full return to normalcy, however. A language arts class made up of fourth grade students had to do a mask check to make sure everyone was wearing them properly. Children were instructed to raise up their masks to cover their noses and pinch the bridges of their noses to mold their masks and keep them from slipping.
"You have to protect yourself," Johnson told his students.
The return to school this week followed the M-DCPS school board decision to mandate masks last week, joining Broward, Alachua, Palm Beach, Hillsborough and Sarasota counties in making masks mandatory.
Miami-Dade, the state's largest school district with 334,000 students, made masks mandatory on school grounds and on buses. There are only exemptions for valid medical reasons, signed off by a doctor. Students are able to take off their masks only when eating or outdoors for recess and physical education.
The mask mandates imposed by the six Florida school districts are in direct violation of Gov. Ron DeSantis' executive order, which states parents have the right to make the mask-wearing decision for their children instead. As more districts continue defying him, the Florida Board of Education is following through on its threats over the issue, and looking to cut state funds in districts that have chosen to defy the order, targeting school officials in Broward and Alachua counties. In an announcement Friday, the board did not address the other four counties currently in violation.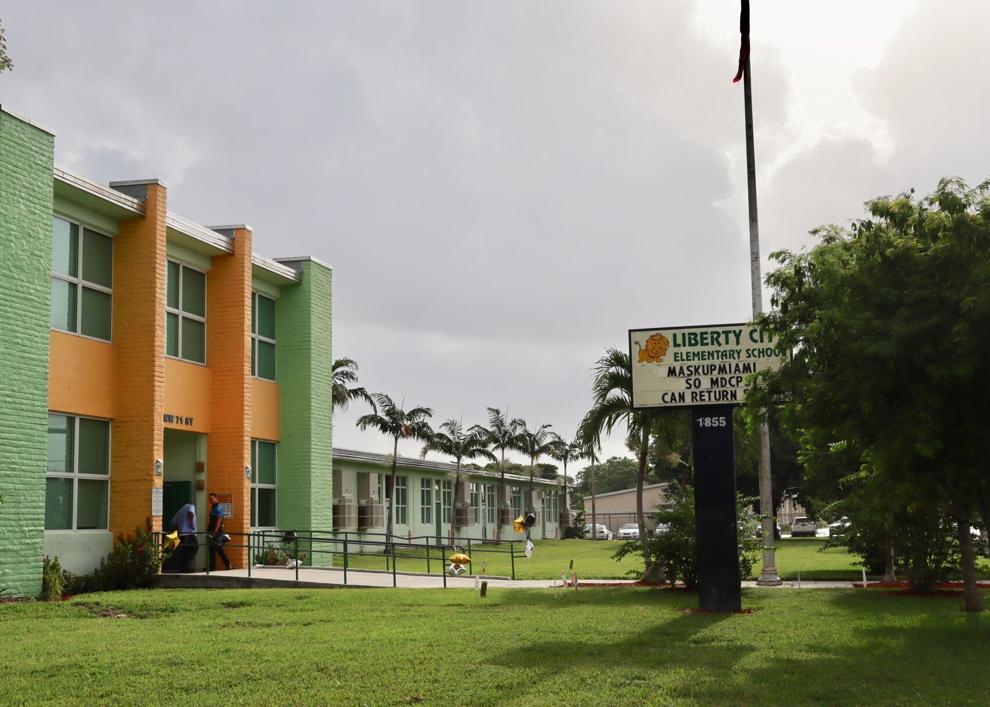 President Joe Biden has stepped in, reassuring school superintendents that if governors like DeSantis follow through on threats to withhold salaries from schools that imposed mask mandates, federal funding could make up the difference.
Biden has ordered U.S. Secretary of Education Miguel Cardona to take action. Cardona sent open letters to DeSantis and the governors of Iowa, Texas, Utah and other states, writing that the department stands with educators "who are working to safely reopen schools and maintain safe in-person instruction."
In an interview with WLRN on the Florida Roundup, Cardona said that school systems already have access to significant federal pandemic recovery funds through the American Rescue Plan, which can be used to offset any retaliation by DeSantis, and that more funding is available.
"We distributed the funds in March and districts should have these funds already," Cardona said during the program on Friday. "I don't understand what the delay is."
He added that he is prepared to deploy the Education Department's civil rights enforcement arm to investigate states that block universal masking.
"Our office for civil rights is prepared to take on any investigation necessary to support the safe reentry into schools if allegations that students' rights to a free, appropriate public education are being violated," said Cardona.