Backing candidates in favor of more gun control measures this election cycle, Giffords Florida concluded a six-day bus tour across Florida Tuesday evening in Orlando.
"Gun violence is a top concern," said Debbie Mucarsel-Powell, former District 26 Congresswoman-turned-senior adviser for Giffords, at the tour's kickoff press conference in Miami last week. "Eighty-five percent of Florida residents support background checks on all gun sales and 69% are more likely to vote for a candidate who supports background checks."
Giffords is a national gun control advocacy group founded by gun violence survivor and former U.S. Rep. Gabby Giffords following the mass shooting at Sandy Hook Elementary in 2012. It launched Giffords Florida earlier this year as a political initiative to increase voter turnout and support candidates with a gun safety record ahead of the 2022 elections.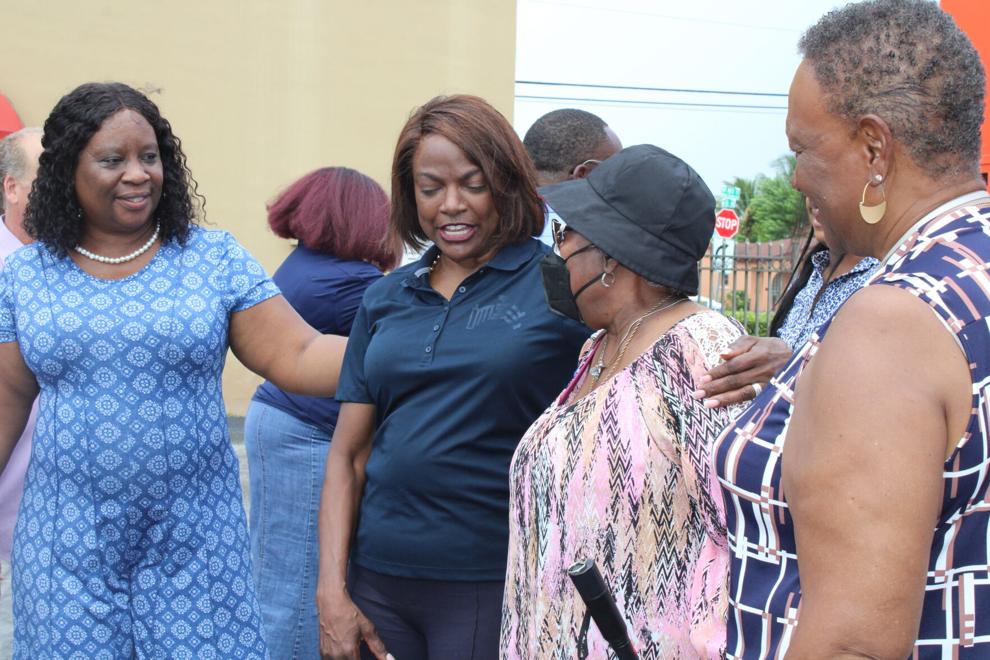 With more than $1 million invested toward gun violence prevention measures, the group kicked off the bus tour last Thursday with a single goal in mind: Get candidates with a commitment to end gun violence elected this November.
Those who did not fit the bill were criticized.
Candidates endorsed by the group, such as Sen. Annette Taddeo and U.S. Reps. Val Demings, Charlie Crist and Kathy Castor, were invited to join the tour, which made stops in Miami, Tampa, St. Petersburg, West Palm Beach, Hollywood, and the campuses of Florida International University and the University of Central Florida.
Demings is taking on incumbent Sen. Marco Rubio for U.S. Senate; one-term former governor Crist is running against Gov. Ron DeSantis, who has pushed for open carry legislation in Florida.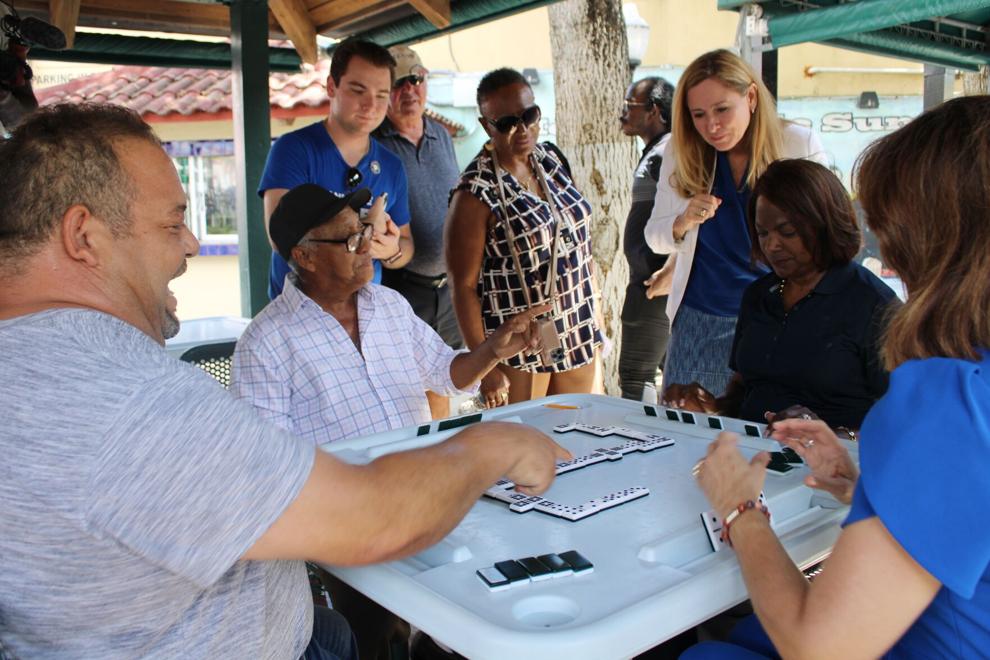 Local candidates Sen. Shevrin Jones, running for reelection in Florida Senate District 34, and Florida House District 109 Representative-elect Ashley Gantt, received endorsements from the organization during the Miami visit.
"Over half of all gun violence victims in Florida have been Black men, many of whom are under the age of 25," said Jones at a press conference in Miami Gardens. "Politics is what has gotten in the way (of) commonsense policy, something that everyday Americans support. We cannot and will not stand by and allow the gun lobby to win this issue. We will make sure that the people win."
Political division
The decadeslong battle to address gun violence has often boiled down to whether legislatures should enact stricter gun control laws or prioritize protections of the Second Amendment.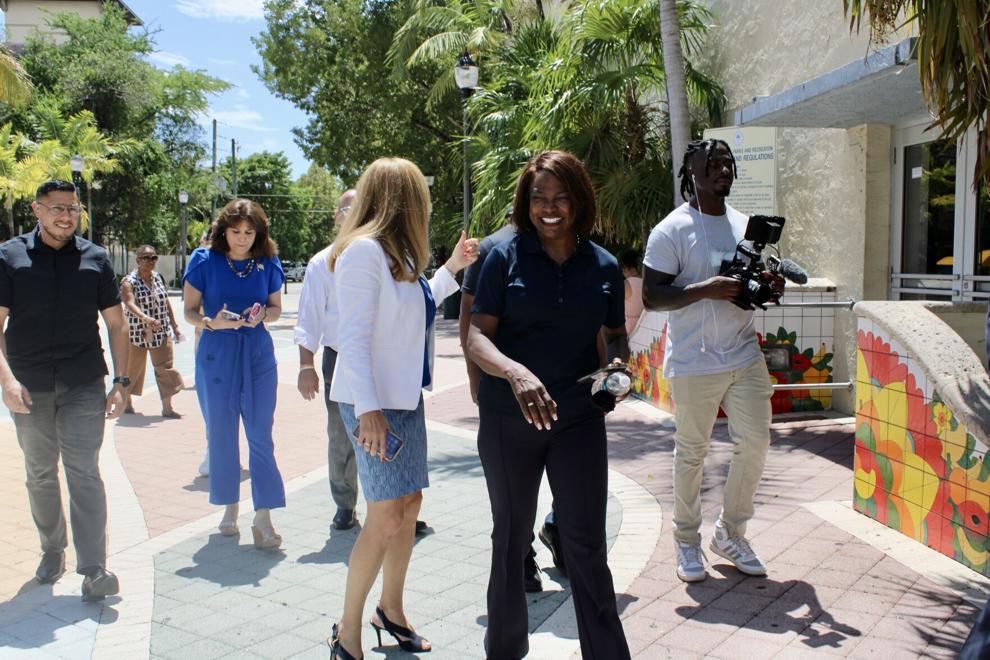 According to a Pew Research Center poll conducted last year, only 20% of Republicans agree that gun laws should be more strict, compared to 81% of Democrats. On the other hand, 27% of Republicans argue that gun control laws should be less strict, while only 4% of Democrats share the same opinion.
The poll also revealed that more Democrats believe that fewer mass shootings would take place in the U.S. if it was harder to obtain guns legally.
"The positions I hold on these issues of the Second Amendment, I've held since the day I entered office in the city of West Miami as an elected official," said Rubio during a CNN town hall with families of victims of the Marjory Stoneman Douglas High School mass shooting four years ago. "People buy into my agenda, and I do support the Second Amendment."
That was Rubio's response to criticism for allegedly taking millions of dollars in campaign contributions from the National Rifle Association.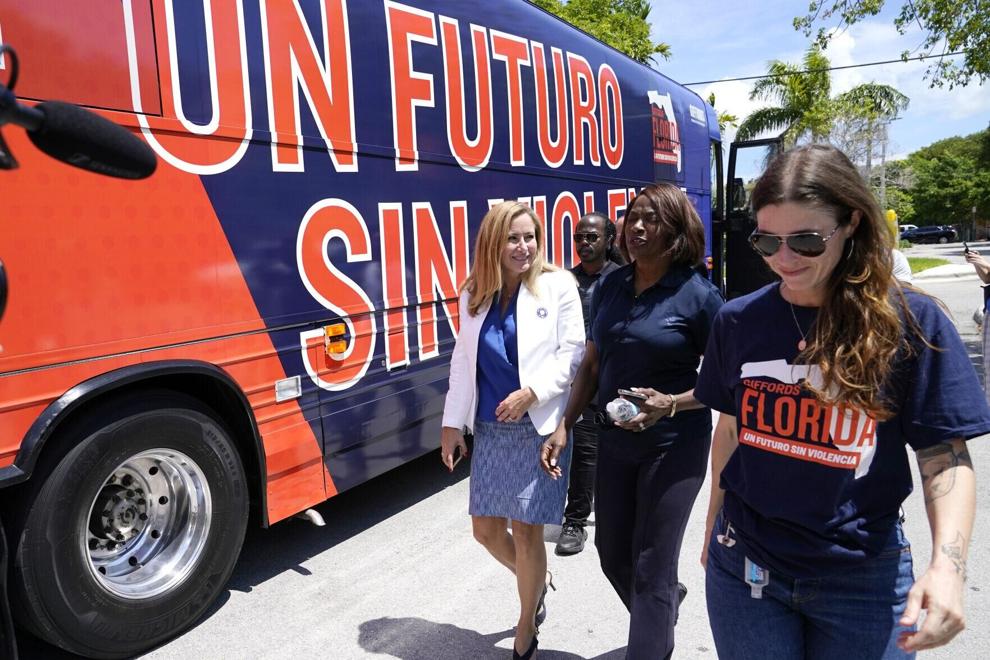 "I hope you all are just sick and tired of weak and ineffective leadership, people who have no clue how to deal with a crisis," said Demings at a press conference at Coconut Grove before stopping in Little Havana and Miami Gardens, criticizing the way leaders in the past have responded to mass shootings.
"See, we don't think it's okay for our children to be gunned down in first grade, in fourth grade, in high school, on a college campus …," she continued, encouraging voters to remove those in office who refuse to support gun violence reduction legislation come November. "We all know that Sen. Rubio has not done a damn thing to address gun violence in his home state of Florida."
Demings' remarks were in reference to Rubio's opposition to the Bipartisan Safer Communities Act, which passed in a 65-33 vote.
"Unfortunately, after careful review, the constitutional protections in the package are inadequate," Rubio said in a statement before the vote. "I promised the people of Florida I would do everything I could to keep our schools and communities safe while protecting their constitutional rights. This bill fails that test."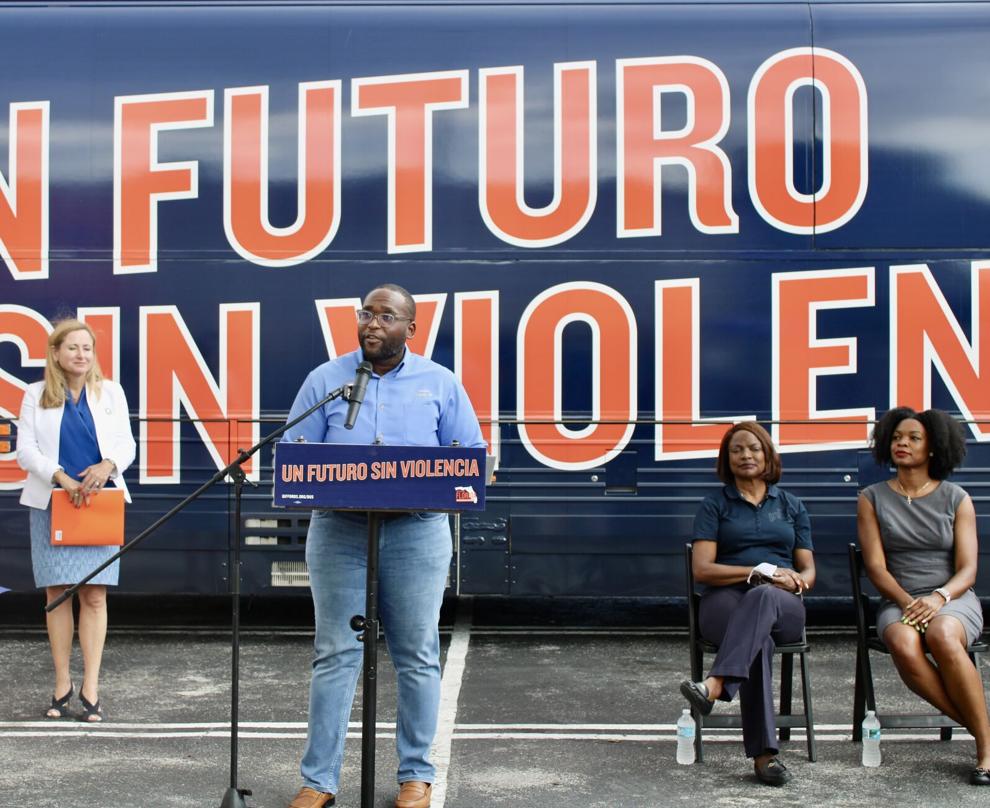 "I, unfortunately, learned the hard way that my current senator failed me, he failed Florida and he continues to fail all of us," said gun safety activist Fred Guttenberg, who lost his daughter in the 2018 Parkland school shooting that took the lives of 17 people and left 17 others injured.
Crediting election results in 2018 and 2020 for paving the way for the passage of the Safer Communities Act, Guttenberg said this year's elections will also prove consequential, and that he's throwing his vote behind Demings.
"[She] doesn't spin like Marco. [She] speaks the truth about what matters to us, what we need to do," he said, joining Giffords Florida at one of its Miami stops. "[She] is needed now more in the Senate to ensure that we keep doing the work that we've already begun."
"You would think that every elected leader at all levels would have the political courage to do what is right and in the best interest of the people that they represent," said Demings. "But we're painfully reminded today that that's not true."
Rising violence & homicides
The Florida bus tour comes as investigators work to solve a series of unrelated shootings in West Park, northwest Miami-Dade, Miami Gardens and Liberty City that left at least five dead.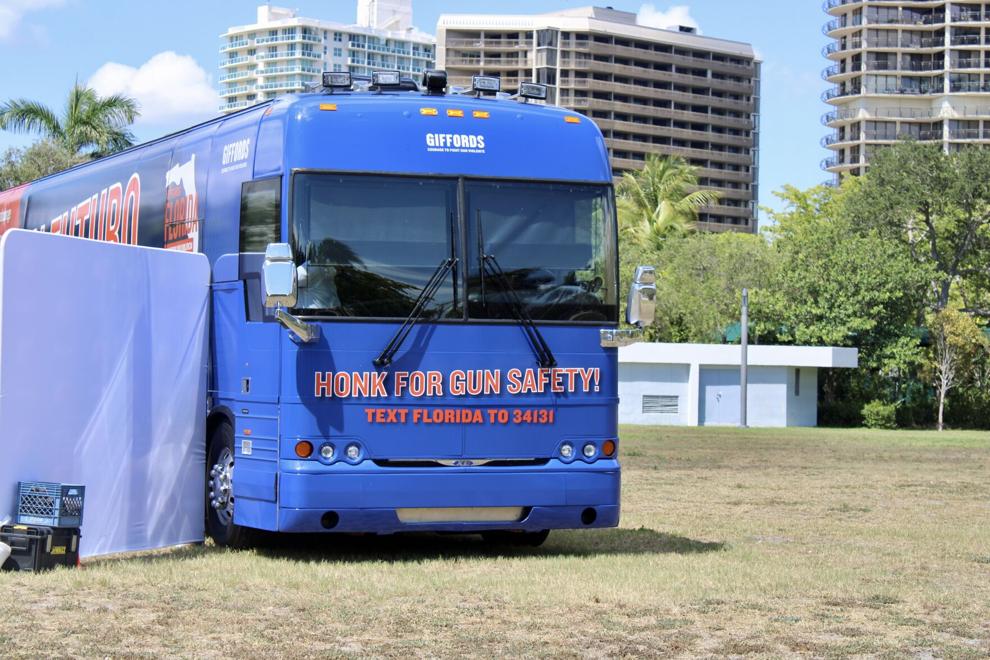 Data from World Population Review calculated more than 33,000 gun-related deaths occur in the U.S. each year, a number that increased by more than 10,000 in 2020. That same year, Florida ranked as 29th for states with the most gun deaths.
Demings said any approach to addressing gun violence should include the community, implementing preventative measures through grants, and equipping police departments with more resources and technology to solve homicides, in addition to legislation.
"Our primary responsibility, as I said earlier, is the safety of the people that we represent," she said. "And if we're not doing that, like Marco Rubio is not, then why be in the Senate? I'm not sure why he wants to be."
Revisiting the painful memory of having to bury colleagues, including a Black female officer she promoted to sergeant during her first year as Orlando's police chief, Demings emphasized the importance of elected leaders being connected to the communities they serve to come up with community-led solutions to pressing issues.
"I don't pick and choose who I want to talk to or only go into places where I'm most comfortable like my opponent does," she told The Miami Times, noting Rubio's minimal interaction with diverse communities and those with opinions differing from his. "When I'm a U.S. senator I want to represent everybody. That means going into every community."