The Nov. 2 referendum on whether to incorporate Biscayne Gardens has arrived in force.
Supporters and opponents are fanning through neighborhoods, knocking on doors and hitting the airwaves, the internet and social media to make their respective cases. Like many heated campaigns in Miami-Dade, this one offers a rich combination of useful information, community service, a spirited citizenry, a discussion of honest government, half-truths, distortions, demagoguery, explicit and private race-baiting, and questions of underlying motive.
One big issue is whether voters want to increase their tax rates by about 10% for more local control over police, zoning, code enforcement and parks. Another big issue is whether voters trust that 10% or so is all they would have to swallow as the cost of running a new city becomes more fully apparent over time – and if they are willing to pay more taxes if they must.
Mail-in ballots went out Oct. 5 and early voting starts Oct. 23.
If voters approve incorporation, the Village of Biscayne Gardens would become Miami-Dade's 35th municipality, with a population of roughly 35,000, and the first to incorporate since Cutler Bay in November 2005 and Miami Gardens in 2003.
Once approved, voters would the vote on a city charter, likely in the Aug. 23, 2022, primary election, and elect a mayor and council in the Nov. 8, 2022, general election.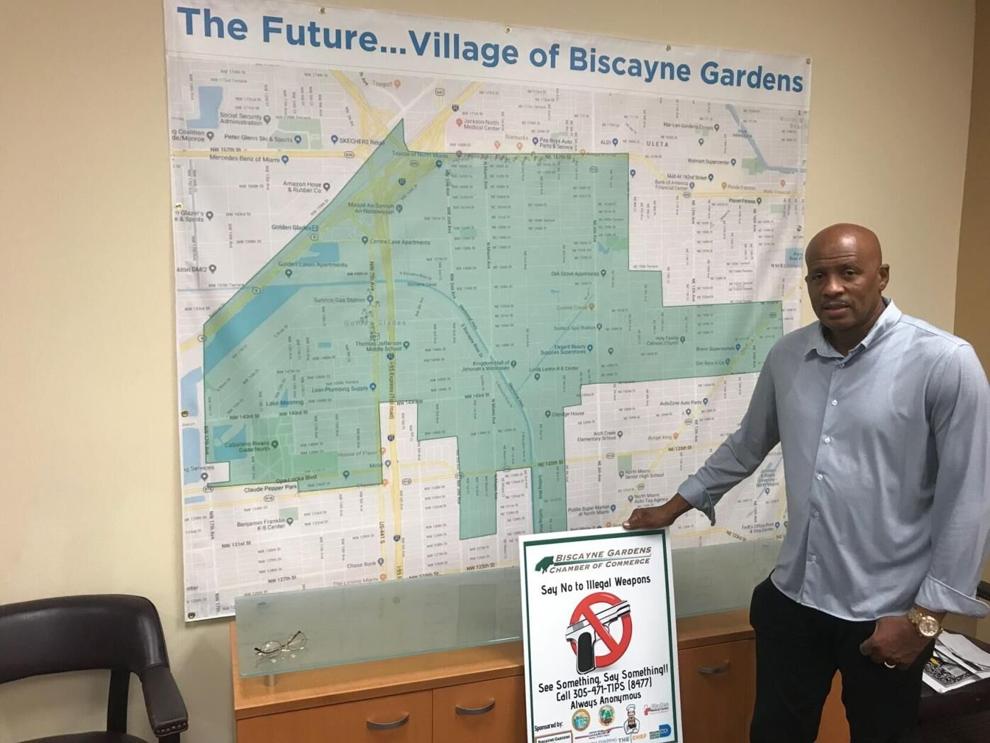 Incorporation champion Bernard Jennings of the Biscayne Gardens Chamber of Commerce says he envisions a strong city manager reporting to a council of five, including a mayor, three district members and one at-large member. Jennings, a 53-year-old who moved to Biscayne Gardens at age 11, makes no secret that he wishes to be mayor.
Some county commissioners strongly support incorporation, notably term-limited District 2 Commissioner Jean Monestime, who lives in Biscayne Gardens. Monestime's efforts over the years paved the way to the Nov. 2 referendum.
One broad argument for incorporation is that it increases local control and relieves the county of some administrative burdens and costs. One argument against it is that it produces duplication and inefficiencies with neighboring communities, thereby leaving taxpayers and residents with undue burdens.
Said Sean Foreman, professor of political science at Barry University, "It's understandable that neighborhoods want to incorporate and have local control. The lessons have been that incorporation is expensive and the payoff might not be what residents expect. It would be more natural for a neighborhood to be annexed to an existing city."
If voters oppose incorporation, Biscayne Gardens would remain part of the unincorporated county, surrounded by incorporated North Miami on the south, Opa-locka on the west, Miami Gardens on the northwest, and North Miami Beach on the north and east.
Champions of incorporation have coined the slogan "New Beginnings," with bright green yard signs, flyers and a digital rotating billboard visible along I-95 on either side of the Golden Glades.
Supporters assert that Biscayne Gardens deserves to determine its own destiny as a cohesive community going back more than three generations, with the civic ability to determine its own community policing, zoning, development, code enforcement and services. The city is served by the City of North Miami Beach and North Miami water systems, and Metro-Dade police and fire.
"We have the advantage of being surrounded by longstanding incorporated communities and can learn from their mistakes," said Jennings, countering opponents who suspect that Biscayne Gardens could easily mimic the corruption and mismanagement that have, in different ways, marred North Miami, Opa-locka and North Miami Beach.
Opponents are not so sure. Their message is expressed on their signs: "No incorporation. Keep taxes and rent low."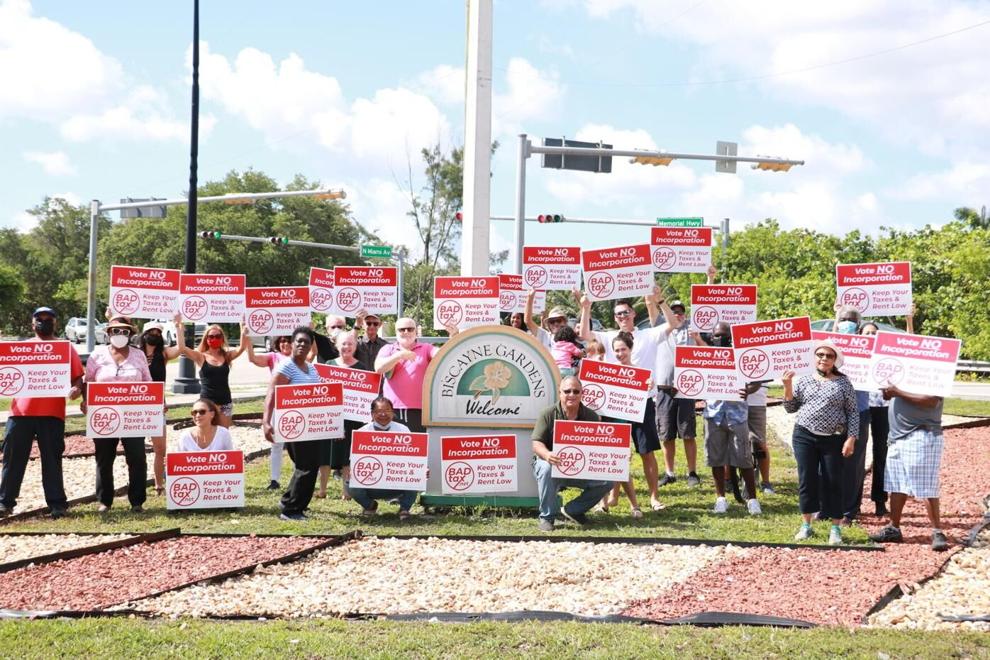 Many residents polled say they are reasonably happy with county services at a tax rate of $1.928 per $1,000 assessed valuation, or 1.928 mils. A county staff analysis from September 2020 estimated that incorporation would cost a total of 4 mils.
That is far less than the 7.5 mils in North Miami, 9.1 mils in Opa-locka, 7.2 mils in Miami Gardens and 6.2 mils in North Miami Beach.
Said incorporation opponent Bruce Lamberto, 68, "There's no way this community can sustain itself on just 4 mils. Look at Miami Gardens. They figured on 3 mils in 2003 and now they're at 7.2. And they have a stadium and all that commercial property."
Lamberto and other opponents point to policing in particular, saying the projected police force of 26 officers is too low, with underestimations of costs for equipment, benefits and pensions. The community is now served by the county's regional station, or about 60 officers. Jennings says the county would serve the community over the first three years in any event, and the community would then choose how to best handle policing.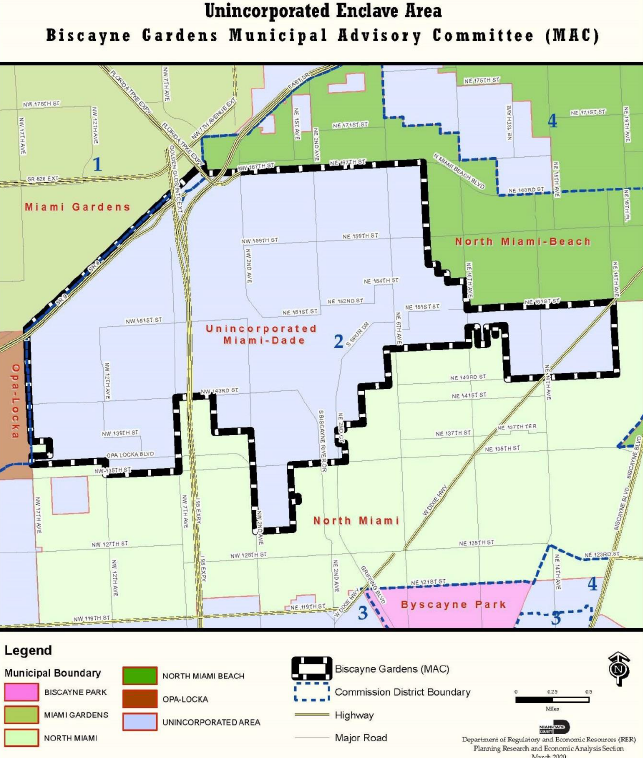 Incorporation supporters have consistently said that the county commission "approved" incorporation Sept. 1. This is not precisely the case. The county commission voted 11-2 to proceed with the referendum, which is not the same as approving incorporation.
Supporters argue that the increase would cost the average taxpayer about $150 a year, while opponents have said "taxes would double."
While each assertion contains some truth, neither is exactly right.
The unincorporated operating rate of 1.928 mils for general services represents about 10.4% of the total unincorporated rate of 18.61 mils. (The biggest single chunk is nearly 8 mils for schools.) For a house assessed at $125,000 after homestead exemption, that 1.928 mils comes to just over $145.
Bring that up to 4 mils, and that indeed comes to an additional $150, as Jennings asserts.
But if that house sold more recently and carries an assessed valuation of, $375,000 – a fairly representative number for a recent purchase – that increase comes to $450 a year.
Development is another touchy issue. Multifamily projects are going up on vacant land in the flood zone between North Biscayne River Drive and Toyota of North Miami, over the objections of single-family residents just to the south and west.
Jennings' pro-incorporation group has received $10,000 from at least one developer. State Rep. Joe Geller, who represents developers in the area through his law firm Greenspoon Marder, has lent his name to the pro-incorporation cause.
Jennings argues that local control is better than county control for such things. Opponents are unpersuaded.
Issues of race and ethnicity cut painfully through the debate and have gotten ugly, with no evidence Jennings sanctions any of it.
"KKK don't want Black city," says one bus placard, as well as a bus caravan going past the "No incorporation" signs on South River Drive. Lamberto has received messages saying, "Why so racist Bruce?" Or, in one message to Miami-Dade Democratic Party Chair Robert Dempster, who is Black: "Keep your coon rear out of Biscayne Gardens incorporation efforts."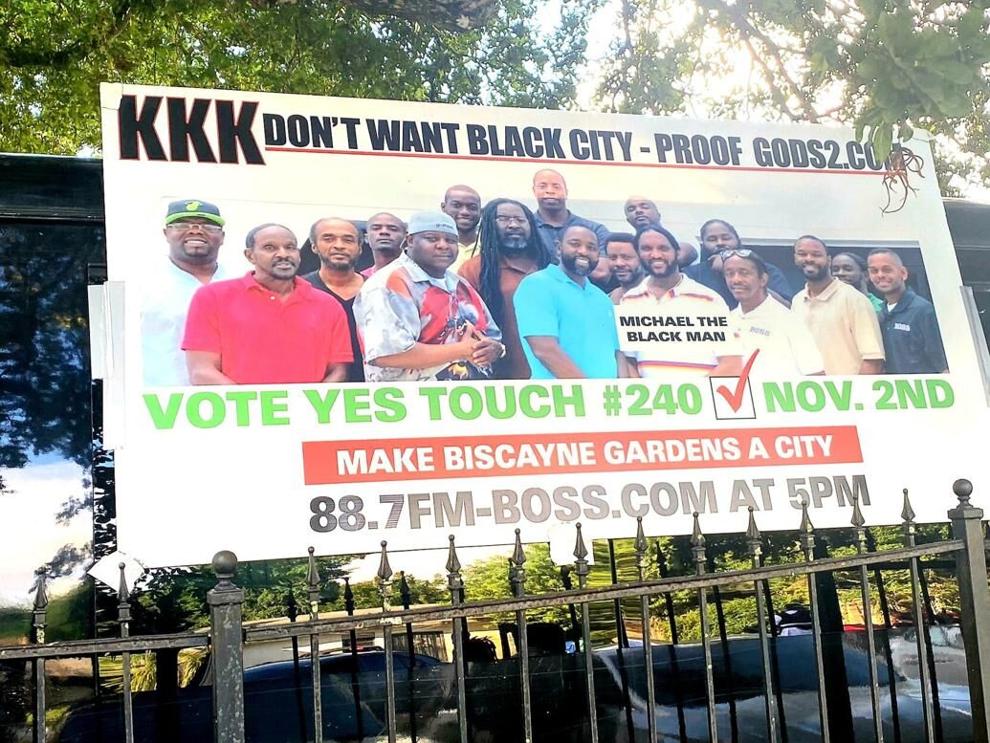 One misleading robocall message uses the voice of Barack Obama urging people to vote, patched with a "Vote 240 to incorporate Biscayne Gardens" message.
Biscayne Gardens is a majority-minority community, like its neighbors. According to census data, nearly half of Biscayne Gardens' population is foreign-born, about 40% are of Haitian heritage – the highest percentage in the nation – and about 70% of the population is Black.
In the end, the vote comes down to money, trust and the willingness to face Biscayne Gardens' future together with open eyes.
The election will be decided by a straight majority, whether three or all 18,900 Biscayne Gardens voters cast ballots. Turnout for such elections tends to range around 12-18%.
Early voting takes place at the Golden Glades Branch Library at 100 NE 166 St. from Oct. 23-31, from 8 a.m. – 6 p.m. Monday through Friday, and 8 a.m. – 4 p.m. Saturday and Sunday. On Nov. 2, voters can cast ballots at their assigned precincts from 7 a.m. – 7 p.m.
The pro-incorporation case is laid out at the website SayYes2021.com. Opponents make their case on the site BadTax.net.