Bus drivers are dying in the midst of a shortage. Educators are wondering where their colleagues are. The number of deaths in Florida's largest school district paints an alarming picture of the state of schools reopening in the middle of a pandemic.
Thirteen unvaccinated Miami-Dade County Public School employees – all Black – have died from COVID-19 since Aug. 16, according to the district and local teachers union.
Among the 13 were four teachers, one cafeteria worker, one security monitor and seven school bus drivers, said United Teachers of Dade President Karla Hernández-Mats.
"I wouldn't be surprised if we dug in a little deeper that the numbers are actually higher," she said. "There are people that passed away even over the summer (break) that we're not accounting for. This really became an issue because people started to go back to work four weeks ago and their colleagues were missing."
In order to reward those who have gotten the shot and encourage those who haven't to go out and get it, the Miami-Dade County Public School Board unanimously passed a $275 stipend for full-time and permanent part-time employees that provide proof of vaccination.
But is $275 enough to motivate hesitant employees to get the shot?
U.S. Rep. Frederica Wilson realized this was a problem months ago, when only eight of 45 total students stepped forward to receive $1,000 grants for showing proof of vaccination at this year's 5000 Role Models of Excellence academic signing ceremony.
As an incentive to get young people vaccinated, the congresswoman decided to offer a hefty $1,000 reward to each vaccinated scholar at the ceremony back in June, where scholarships are presented to students going on to attend college.
"First it was 30 who had committed, then it was 20 who had committed, and at the event, eight boys showed up with vaccination cards," she said. "Now that is one for the history books."
When asking students why they would not take the vaccine, Wilson said they listed fears of the vaccine causing infertility, which the Centers for Disease Control and Prevention says there is no evidence of, and that those who have already made it this far in the pandemic and have not contracted the virus believe they're fine as is.
Abe Coleman, one of the 13 M-DCPS employees that died, was longtime educator and beloved mentor. The math teacher taught at Holmes Elementary School for 31 years and was deeply involved in his community as a site director with 5000 Role Models of Excellence, a mentorship and dropout prevention program for boys in the school district, an initiative created by Wilson.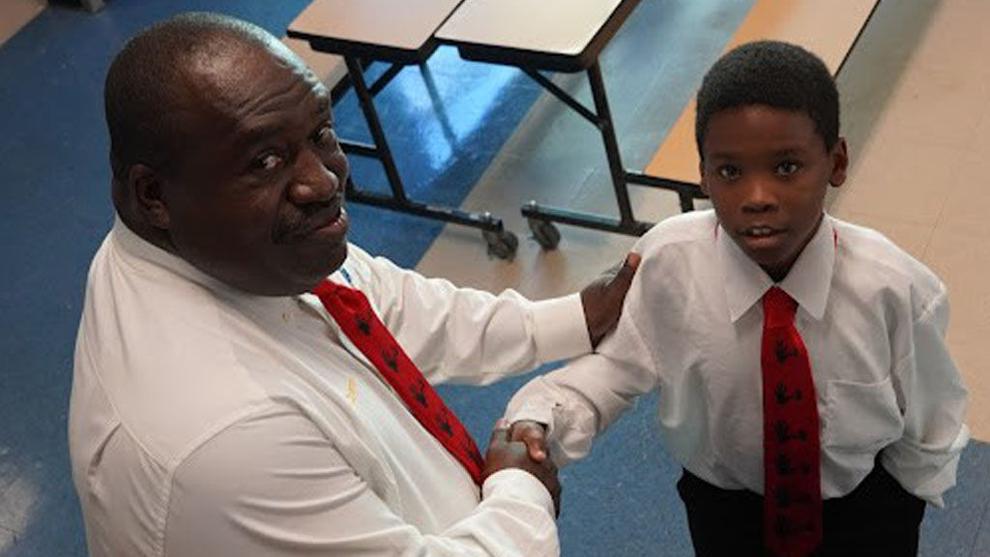 "Mr. Abe Coleman was a wonderful, genuinely caring and compassionate individual," Wilson said. "He returned to teach at the elementary school where he attended so that he could uplift young boys in a way that they would not have the same struggles that he had."
Trying to protect the community
For Phyllis LeFlore, vice president for schools of the American Federation of State, County and Municipal Employees (AFSCME) Local 1184, the employee deaths also impacted her because she had a personal relationship with members from her union, which made up eight of the 13.
"It's been really hard because I know these people," she said. "I've been in the district for 36 years, so the majority of them are longtime employees."
The teachers union set up a pop-up vaccine site last week in response to the growing death toll among district employees in partnership with M-DCPS at the Lillie C. Evans K-8 Center. Vaccinations were made available to employees as well as community members in the surrounding area of Liberty City.
Based on polling conducted by UTD a month ago, 85% of M-DCPS teachers have received at least one dose of the COVID-19 vaccine.
"The most important thing is conversations on the ground," said Sonia Diaz, a spokesperson for TWU Local 291, who recalled being at the pop-up and speaking to a woman with three children, one in a stroller.
As the woman walked past the site, she was invited by Diaz to get vaccinated, but she explained that her son needed to take a COVID-19 test because another student tested positive in class.
"She was hesitant, but I said 'Hey, you know, if your son has been exposed to COVID this might be your last chance. ... you have to do it for your babies.' And she turned that stroller around and she went inside and got vaccinated," Diaz said.
At the site, a total of 40 people were vaccinated, according to the union's president.
"We were down on the ground in the community talking to them and just getting it to them and meeting them where they're at," said Diaz.
LeFlore is partnering with UTD on setting up more vaccination sites. By becoming a part of the effort, she hopes to encourage local AFSCME members who are unvaccinated to show up and get the shot.
"I'm trying to do everything that I can to promote it," she said. "Everyone that passed away, from my understanding, no one was vaccinated. No one. And I can't understand it."
About 30% of Black Floridians are vaccinated, state health department data shows, by far the lowest rate of any racial group.
Bus drivers few and far between
The school district has been facing yet another serious issue since in-person school has started – a shortage of bus drivers. This is a crisis being seen throughout the country, even in Massachusetts, where National Guard members were recently called up to drive school buses.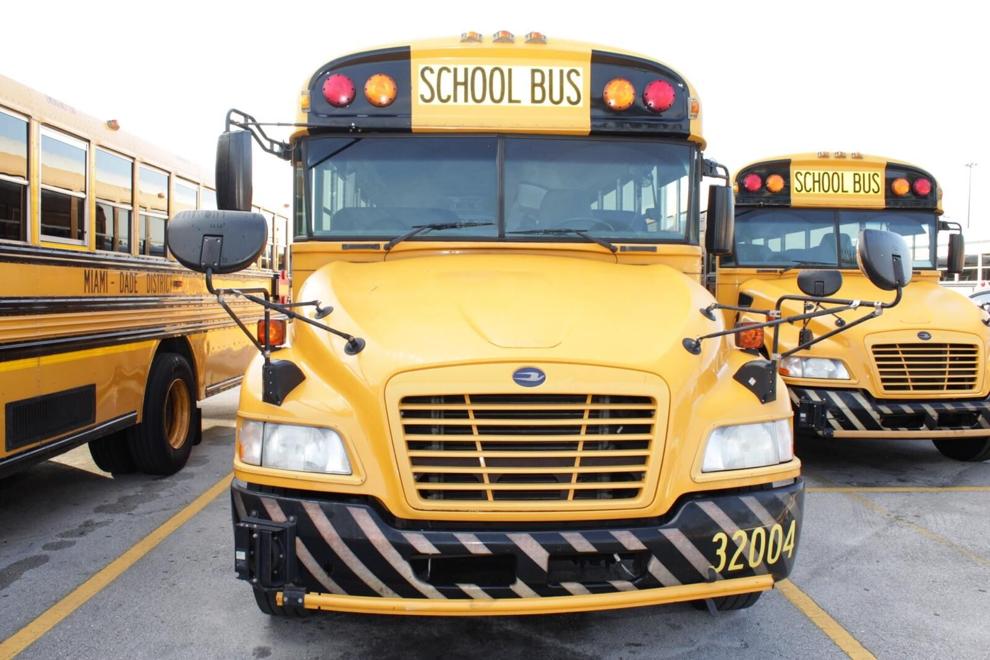 As a result, Broward County Schools has recently raised starting pay for bus drivers from $15.41 to $16.50 an hour. LeFlore, who leads the county's school bus drivers, cafeteria workers and maintenance staff, is working with the district to raise the pay in Miami-Dade in fear that drivers will look for work in Broward instead. She is also recruiting bus drivers within her union that have retired.
"They can come back even if they can't come back for the whole day. They can help us out in the a.m. or the p.m.," she said.
Flyers made by the district relaying the need for drivers have been distributed to let people know they are hiring, according to Elmo Lugo, a spokesperson for M-DCPS. Applicants need a clean driving record, at least five years of licensed driving experience, must be physically capable of operating a bus and will earn $15.26 per hour and work 35 hours per workweek, seven hours per day.
In an email, Lugo described that another incentive the district is taking on aside from the $275 stipend is a partnership with the University of Miami Health System Pediatric Mobile Clinic to offer testing and administer the vaccine, including to employees and students 12 years of age and up. Through this partnership, vaccinations are offered at seven schools throughout the week. A vaccination schedule can be found at BackToSchool.dadeschools.net. 
M-DCPS did not respond to The Miami Times' question about what incentives, if any, are being specifically offered to Black employees. 
The grim number of deaths has spanned beyond the school district.
TWU Local 291, a unit of the Transport Worker Union of America, has also lost eight workers to COVID-19 over the past month, with more than 100 others currently out sick. The labor union represents more than 2,000 of the county's Metrorail, Metrobus and Metromover system employees, who are predominantly Black.
"This is life or death," said Wilson, who is restarting to push the vaccine out to residents in South Florida's communities.
A grassroots vaccine campaign
Earlier this year, the congresswoman launched a campaign called Get Out the Vaccine to encourage shots in every arm by partnering with a Black-owned medical group, WorldSafe1st, and having Black doctors and nurses administer vaccines.
"We have to give them the courage and the ethnic connection that these are Black doctors who are administering it," she said.
Wilson will be working with UTD and Miami Gardens Vice Mayor Reggie Leon to do more pop-ups, especially at churches.
The Health Foundation of South Florida, one of the largest philanthropic organizations dedicated to health in the region, also is continuing to collaborate with churches and organizations to administer vaccines.
The foundation has committed $1.5 million to address racial and ethnic disparities in vulnerable communities in Miami-Dade and Broward counties. In its next rollout, board chair Melida Akiti said they are getting ready for their second round of funding, which will include Keeping the Faith (a project that focuses on collaborating with churches to administer vaccines), the Opa-locka CDC and the City of Miami Gardens. Through Keeping the Faith, 29 churches will be preparing to administer vaccines, including Antioch Missionary Baptist Church, Mt. Calvary Baptist Church and Faith Community Baptist Church.
The Health Foundation has advertised so far through billboards, radio and TV, especially in the Black community, but now there will be a new digital focus on social media.
"At this time, it's all hands on deck. We have to do whatever it takes," said Akiti. "If I have to sit down with a person for one hour just to be able to, not convince them, but educate them. Because this is not about convincing. This is about people [being] scared."
Amid the effort to vaccinate employees and seek bus drivers, the on-again, off-again ban of masks in classrooms imposed by Gov. Ron DeSantis continued last week when Florida's 1st District Court of Appeal reinstated the governors' ban on mask mandates. The move followed a ruling by 2nd Circuit Judge John Cooper against the governor, allowing Florida schools to institute mask mandates.
For now, this blocks local school requirements and gives the State Board of Education the green light to continue withholding the salaries of school board members in districts requiring face coverings.