A former top Black accountant was sentenced to serve three years and three months in jail on Thursday for evading to pay federal income and payroll taxes.
The sentencing comes after Darryl Sharpton, owner of the Sharpton Group, entered a guilty plea in December of 2018, according to his attorney, David Garvin. Sharpton has already surrendered to the government sometime this year and has started serving his sentence, Garvin said.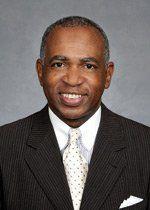 Garvin said Thursday that Sharpton's agreement to a plea deal "indicated Mr. Sharpton's willingness to accepting responsibility for his failure to timely pay his taxes." 
After Sharpton serves his term, he will be on probation for three years. He has to pay a fine of more than $1.3 million.
The government believes that Sharpton, who is a certified public accountant, used his knowledge of the trade to skirt paying taxes for himself and his employees.
"Tax professionals, such as Darryl Sharpton, who use their expertise to commit tax fraud and enrich themselves rather than to assist honest taxpayers will be fully prosecuted by the Department of Justice and held accountable for their criminal conduct," said Principal Deputy Assistant Attorney General Richard E. Zuckerman. "Employment tax fraud is a violation of the trust of employees and all honest taxpayers." 
The government indicted Sharpton in April 2018 on the suspicion of tax evasion. When the indictment came, some in the legal community said they would take a wait and see approach. He was well-known in the community and served as chairman of the Public Health Trust.
It alleged that while Sharpton filed personal income tax returns for the years 2004 through 2008 and 2010, he did not pay the reported taxes that were owed. The indictment alleged that Sharpton failed to file personal income tax returns for years 2009, and 2011 through 2016.
The government alleges that when it tried to collect taxes from Sharpton's wages, he removed himself from his company's payroll, paid his personal expenses through corporate bank accounts, and lied to an IRS collections official.
Sharpton was a part of accounting firm Sharpton, Brunson and Co., but went on his own in 2015. The Sharpton Group specialized in financial and management consulting, audit and attestation, and tax and wealth planning.