With the 2022 election cycle fast approaching, South Florida has a lot to say – and much left to do – about voting rights.
That's why several activists and community organizers gathered at Florida Memorial University (FMU) on Saturday for several events addressing how the Black vote can be leveraged to liberate people of color next year.
A group of leaders, including historian Tameka Bradley Hobbs, Miami Workers Center executive director Santra Denis, activists Valencia Gunder and Jasmine Rogers-Shaw, and several social justice organizations who sponsored the gathering, say they are determined to empower young leaders to join the racial justice fight to dismantle racism within institutions, starting with policy and voting.
Saturday's events, part of a two-day social justice conference created by FMU's Social Justice Institute, featured two panels and an HBCU vote bus tour. The conference's theme was "Building a Different World: Reimagining the Future," a play on the 1980s-era sitcom "A Different World," which followed college students navigating through life at a historically Black institution of higher learning.
"It is our goal with the Social Justice Institute to become a facilitator of change in our community," said Hobbs, the institute's founding director. "We want to make tangible reforms that are going to advance this community and also eliminate racial disparities in whatever arena that they exist in. We know that one of the ways we can do that is by bringing people and resources together."
Both the conference and institute, she said, are meant to serve as a training ground for FMU students to learn how to identify social justice issues and provide them access to resources that would enable them to create impactful solutions.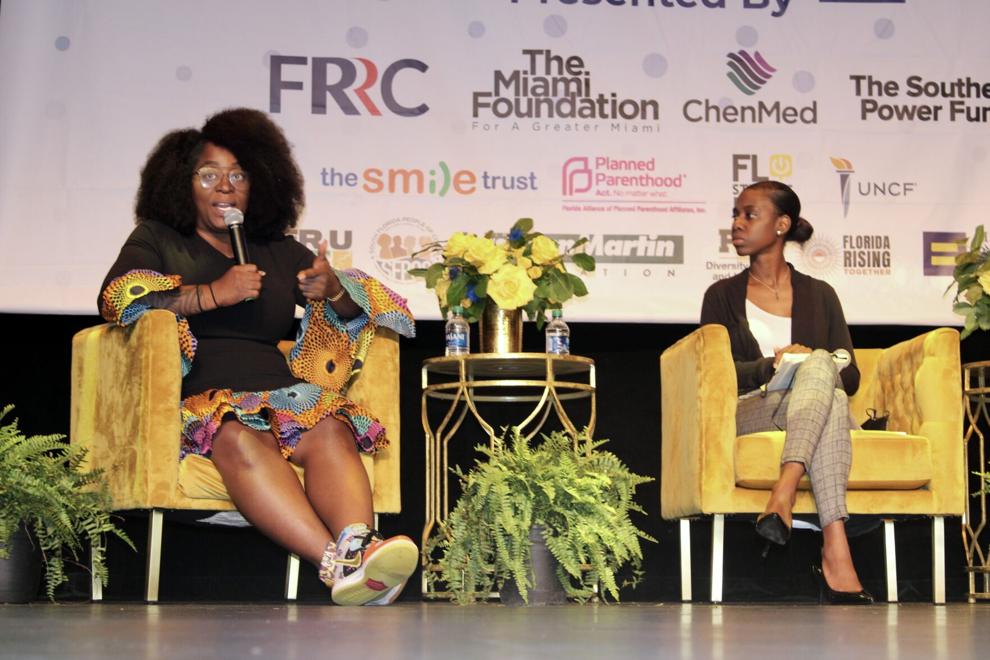 Desmond Meade, civil rights activist and president of the Florida Rights Restoration Coalition, spoke on one of the panels alongside New Georgia Project CEO Nsé Ufot about ways organizers can motivate people in their communities to go out and vote.
The panel, titled "The South Has Something to Say," focused on the activists' past organizing experiences. Speakers shared strategies that worked for them, and analyzed historical voting trends and the impact of COVID-19 on elections.
Meade opened up about a dark past marked by drug addiction, incarceration and homelessness, experiences that led him to the civil rights defense arena.
He disclosed a time when he felt like he was at the lowest point in life after struggling to transition back into society with fewer rights and without a stable source of income. Depressed, he found himself standing on train tracks ready to end his life. The train he was hoping would end his misery never came.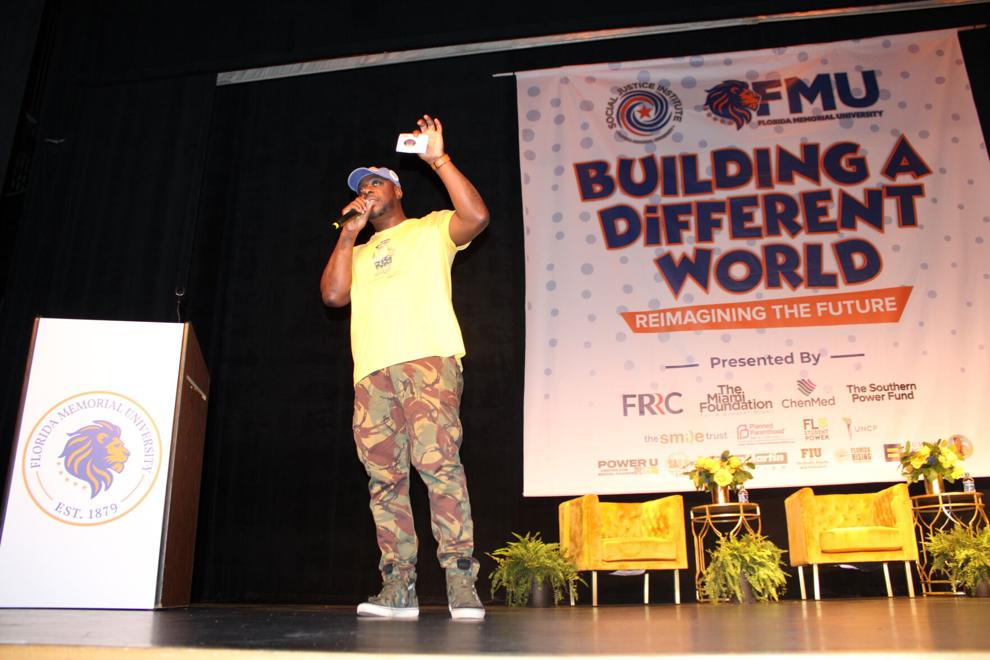 "To know that I came out of [incarceration] with this stigma, this scarlet letter of shame that I would have to wear for the rest of my life. That I was the 'F' word, a felon," Meade explained. "With barriers, like not being able to vote, that should not have been or made any kind of sense. They were a part of systems put in place to condition me to go back (to jail)."
Recalling that low moment, he recalled wondering if anyone would even show up to his funeral.
"This [fight for justice] started selfishly with me wanting to have a big funeral. It didn't feel good wondering if people would show up," said Meade. "But I also didn't want anyone to have to go through what I did. Now part of my journey is to get people like me to know that we have power, that we can change [systemic barriers] and we are the ones to make that happen."
Since then, he's worked to change disenfranchisement laws for formerly incarcerated individuals to regain civil rights tied to housing, education, financial assistance, and voting. His book, "Let My People Vote: My Battle to Restore the Civil Rights of Returning Citizens," documents that journey.
When the moderator asked Meade how he remains committed to the work, he brought up the consequences of giving up.
He vividly recalled when former Florida Gov. Charlie Crist, though a Republican at the time, vouched for automatic rights restoration for ex-offenders of nonviolent crimes, only for his successor, Rick Scott, to roll back the clemency policy, making Florida the leading state in felon disenfranchisement.
"To see all of that work, money and time wiped out with a piece of paper was very disheartening and people (felt) dejected and they went home," said Meade. "But I couldn't go home. I still couldn't vote and at the time, over 1.5 million people like me living in Florida couldn't vote and so I had to keep going."
Because of subsequent organizing strategies of various grassroots organizations responsible for the record-breaking voter turnout witnessed in last year's election, Meade was able to vote in a U.S. presidential election for the first time.
"What the world is seeing right now is a place where organizing can have an influence," said Ufot, who played a major role in Georgia's voter turnout and helped flipped the state blue. "We were working to overcome conventional wisdom that Black people don't vote, that Latinos are not citizens, that Asian Americans are secret Republicans, that white women lie and young people are unreliable ... we get to determine whether or not Georgia moves toward the Texas model or toward the California model in terms of its political future."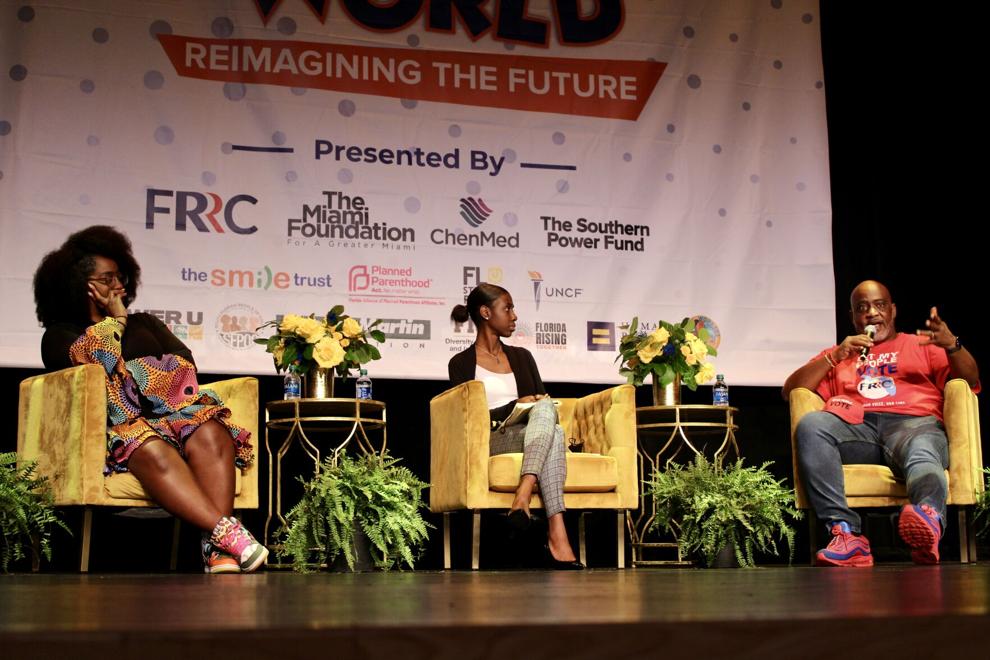 One of the New Georgia Project's goals is to register 1 million people to vote. Ufot says 600,000 people have been registered through the effort so far.
"What's happening right here is that there is a population boom, it's happening really quickly and at the same time, the defenders of the status quo, the people who are currently in power, are shocked," added Ufot. "And so they're afraid, and when people are afraid, they act, oftentimes, in desperate ways. With this rise in people power and democracy, we're seeing an associated backlash or 'whitelash' that's coming with it."
The backlash Ufot referred to is the massive national push from Republican lawmakers to pass anti-voting and anti-civil rights legislation that would disproportionately impact Black and brown voters.
In April, Florida Gov. Ron DeSantis signed an omnibus voter suppression bill that makes voter registration more difficult, imposes restrictions for providing water and small food items to people waiting in line to vote, and decreases the vote-by-mail window. An election integrity bill prohibiting the mass mailing of ballots soon followed in May.
States like Georgia and Texas have also enacted similar laws.
Ufot urged organizers to not wait until next year to start educating people on such legislation, in hopes of finding ways to get around the new barriers. Meade agreed and said Florida organizers can replicate Georgia's election cycle success.
"Part of the work is figuring out how to uplift people that have been marginalized and made to feel like they're not as worthy as other folk," he said. "It's not about us, it's about our ability to empower other people and let them lead. This is something, other than my family, that I am willing to die for."