Food banks are having a hard time supplying their communities with meals as the holidays approach. Workers say that's due to lack of funds, inflated prices and a lingering pandemic.
On one day last week, Curley's House Hope Relief Food Bank in Liberty City provided food for more than 700 people, according to founder and executive director Lavern Spicer. Anywhere between 200 to 400 is the norm. 
"They're calling from 5 o'clock in the morning to 10 or 11 o'clock at night," she said.
Spicer says the main problem has been a shortage of turkeys as Thanksgiving nears, and that a crowd of people waited in the rain at Curley's House last week to get theirs. The food bank gave away about 500 of them before running out.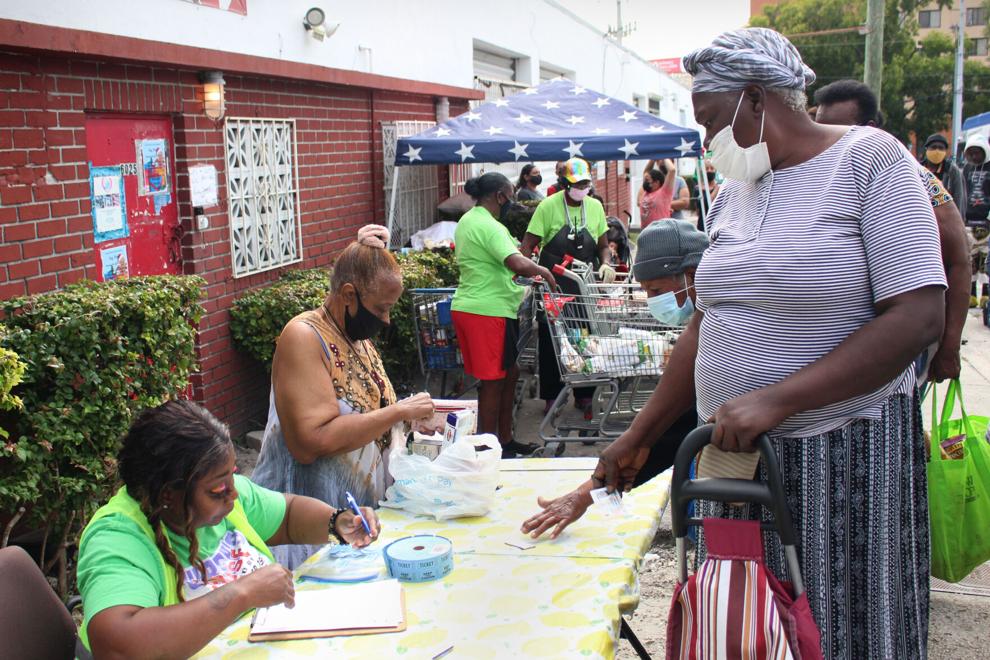 Curley's House, located just west of I-95 on NW 60th Street, relies primarily on funding from elected officials in the district, which, Spicer said, isn't cutting it during the holiday season.
Former County Commissioner Audrey Edmonson, Spicer remembers, used to allocate $70,000 a year under the department of Public Housing and Community Development to supply food for people ages 62 and older. But once Commissioner Keon Hardemon took over for District 3, she added, that money stopped coming in.
Spicer says many of Curley's House clients are older people who rely heavily on food banks.
"These are people that have worked all their lives," she said. "But now that they're retired, their checks are so small. They barely have enough to pay their rent, let alone be able to eat."
In an Oct. 7 press release, Hardemon's office announced that the commissioner was able to secure funding for Curley's House in the current fiscal year's budget, which was approved Sept. 28. 
Spicer, however, says she hadn't heard anything about it. She said she doesn't know when the money will come.
Hardemon said the new amount allocated to Curley's House will be $300,000. Once the contract is completed in December, the Office of Management and Budget added, they'd be willing to provide a cash advance if needed.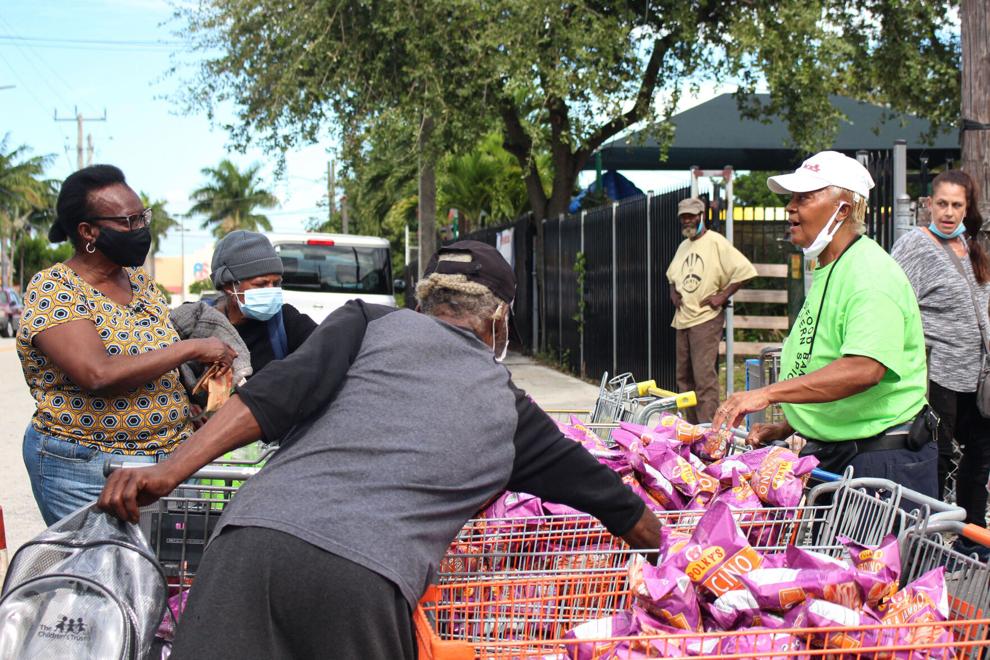 "My office has done its due diligence to ensure Curley's House has the resources to continue providing services to our residents in need," Hardemon says.
The food bank also received nearly $1 million in COVID relief funding in 2020 and an additional $200,000 through the general county budget in the last fiscal year, which ended in September.
Curley's House isn't the only organization struggling to supply food during the holidays. Feeding South Florida CEO Paco Vélez says the nonprofit ordered a batch of Thanksgiving turkeys in September. But, because of global supply chain issues, the order was canceled, forcing the submission of another at nearly double the price.
Feeding South Florida partners with approximately 300 different nonprofit organizations throughout Miami-Dade, Broward, Palm Beach and Monroe counties. Last year, it provided food to more than one million individuals every month, says Vélez.
One of those nonprofits is Glory Temple Ministries, a church in West Little River that also serves as a food pantry. Pastor Ronae Cambridge says more people began coming in for assistance in mid-October. She noticed the change happened around the same time that consumer prices started to go up.
"We began to see lines stretching down the street," she shared, "just like they were during the pandemic."
As demand grows, supply is failing to keep up – and not just for turkeys. Cambridge says donations from Glory Temple's partnering food services, including Farm Share and Feeding South Florida, have not returned to pre-pandemic levels. Meanwhile, Cambridge adds, annual assistance received from District 2 County Commissioner Jean Monestime helps only a little.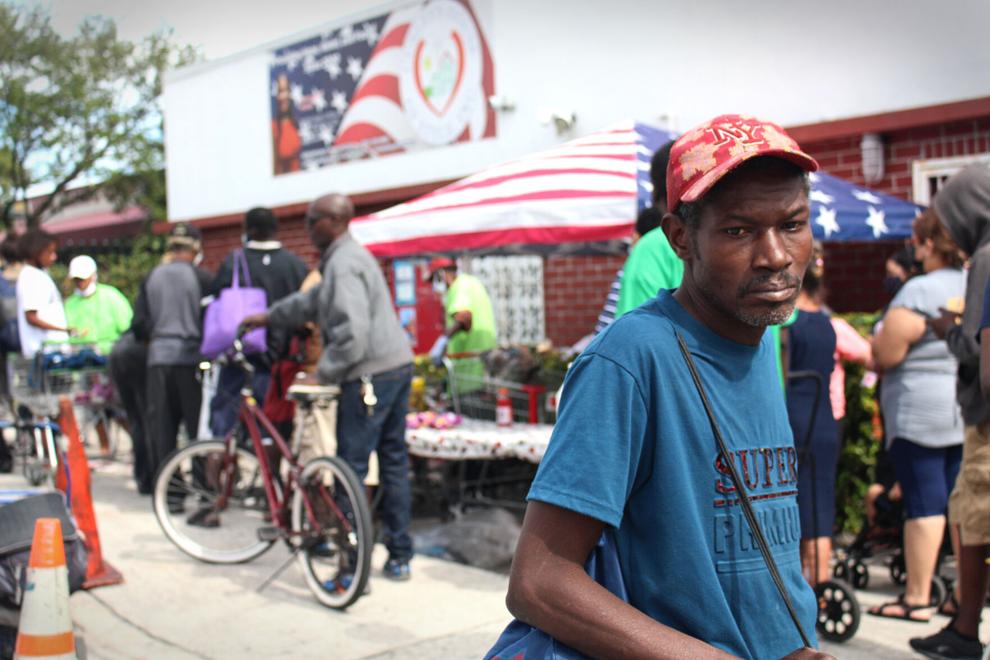 The food pantry is now receiving a smaller quantity of essential food products, including beans, pasta, rice, cereal, cheese, eggs, canned meat, chicken and fresh produce.
"Most people, even though they're coming to food banks, want to eat healthy," said Cambridge. "In our community, COVID was really rampant, and a lot of it had to do with nutrition and obesity."
Glory Temple Ministries currently feeds about 3,000 families, approximately 45% of whom are Black, according to Cambridge. The pantry, located at the corner of NW 22nd Avenue and NW 79th Terrace, serves people coming from neighborhoods across Miami-Dade County, including Hialeah, Overtown, Little Haiti, Liberty City and more.
The church usually has a traditional Thanksgiving dinner for people without houses or families, something that normally draws about 300 people. But, because of the pandemic, it's resorted to doing drive-thrus instead.
On Nov. 17, the church distributed 100 turkeys provided by Chen Senior Medical Center. Two days later, it partnered with CHF Corporation to give away another 400. With additional help from private donors and North Miami Mayor Philippe Bien-Aime, Glory Temple was able to provide a total of approximately 700 turkeys to members of their community last week.
But it was still forced to turn people away after running out, and is hoping for more donations as the holiday season continues.
Cambridge says it's heartbreaking to see so many people in such great need for basic goods. She says she's seen people run out of gas just trying to get through the line of cars.
"Unless that basic need is met, people will struggle just to think, because if you can't eat, then you can't think," she said.
Still, Feeding South Florida's Vélez says he doesn't want people to hesitate to come to food banks for help.
"I don't want folks to feel that, just because there are supply chain issues, they shouldn't ask for help," he said. "We want folks to continue to feel comfortable asking for assistance if they need it."