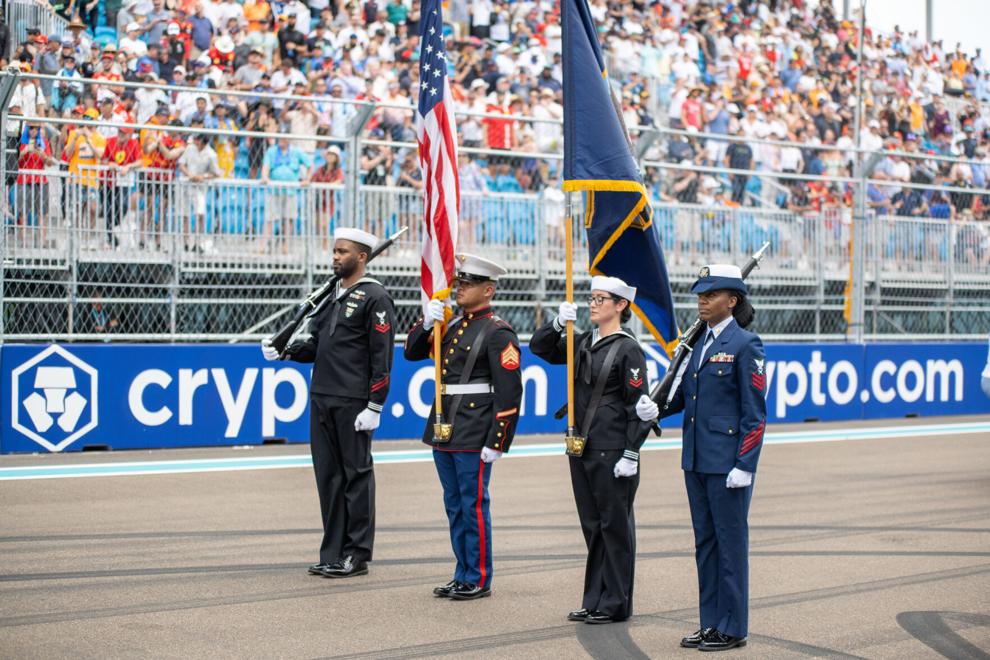 The Formula One Crypto.com Miami Grand Prix made its inaugural debut this past weekend in Miami Gardens, and the prestige attached to hosting such a race on the F1 circuit is significant. With a viewership of more 400 million worldwide, F1 racing is the third most-watched sporting event on the globe behind the Olympics and the World Cup.
After a series of Super Bowls and mega music festivals like Rolling Loud and Jazz in the Gardens, South Florida was ready. The transformation of the Hard Rock Stadium grounds was a sight to see.
The fanfare and star power behind the event was incomparable. It was a who's who parade in the city of Miami Gardens, from former first lady Michelle Obama to sports legends like Michael Jordan, LeBron James, Dwyane Wade, Michael Strahan, Tom Brady, and Serena and Venus Williams, to music phenoms such as Pharrell, Will.i.am and DJ Khaled to film royalty George Lucas and Spike Lee. The star list was endless. Even Black billionaire and philanthropist Robert F. Smith of Vista Equity Partners was present.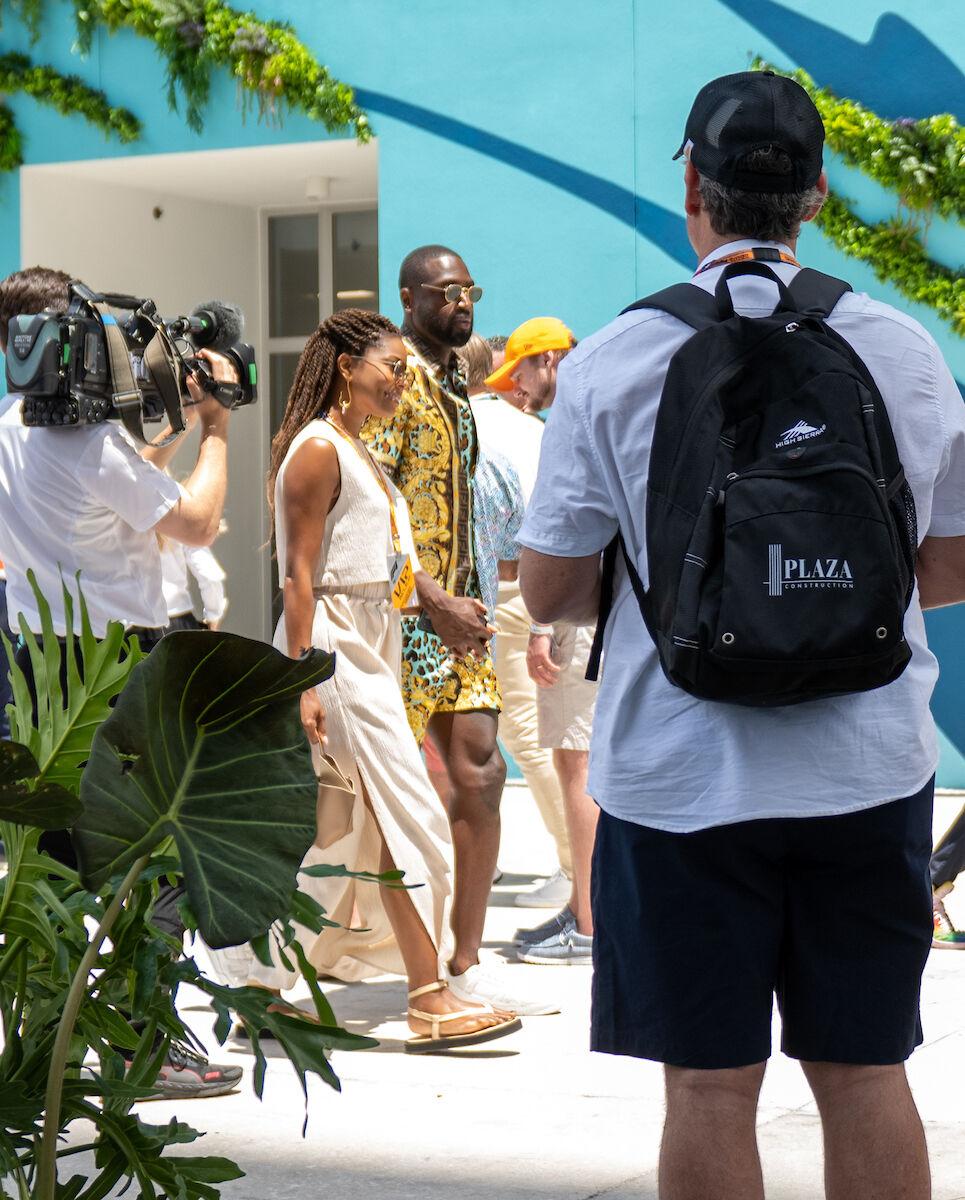 Who did they all come to see? Seven-time FIA champion and Mercedes driver Sir Lewis Hamilton – the only Black driver in F1.
"I met Black people from the Bahamas, Guyana and Senegal, and they are here to see Lewis Hamilton. You have people from all over the world who already live here in America and now can say that this race is in their town," said racing expert Tony C. LeSense. "I've been on a lot of tracks, and what's important is how is this one unique? This track is anchored by a stadium – and there is no other track that has a stadium – and this allows people to walk around and see the race from different vantage points, and the track has a Miami flavor."
Tickets were astronomical, with some prices in the hospitality zones reaching nearly $30,000. Organizers admitted they could have done better promoting the campus passes that started at $300 on Friday, $400 on Saturday and $500 on Sunday. These passes granted access to the grounds and all the various activations in the different zones, such as the west campus, the MIA Marina, the fountains, the east campus, the beach, the north campus and the stadium. There were 2,000 campus passes donated to Miami Gardens' organizations and residents.
The technology and state-of-the-art engineering that goes into building an F1 race car is exceptional. Many of the spectators at Hard Rock Stadium – those new to the sport as well as die-hard racing enthusiasts – were awed by the sights and sounds. The unique F1 hybrid engine translates to toned-down racing compared to the deafening sound of years past.
The Miami Grand Prix also showcased Miami Gardens and Miami-Dade County to the world, and provided a much-needed tourist boost and economic uplift to local businesses. There were three practice session between Friday and Saturday with qualifying laps taking place on Saturday. In that round, Hamilton finished sixth in pole position for race day.
The 20 best race car drivers in the world would be put to the test on a track specifically designed for errors that occurred with several crashes on turn 18 in practice sessions two and three, as well as on race day. The track is 3.36 miles in length with 19 turns in total (12 left turns and seven right turns).
Sunday's race day kicked off with the W Series – women's racing – and the event prequel included participation from several local organizations involved with the F1 in Schools program. Students were delighted to be tasked with holding the U.S. flag during the national anthem.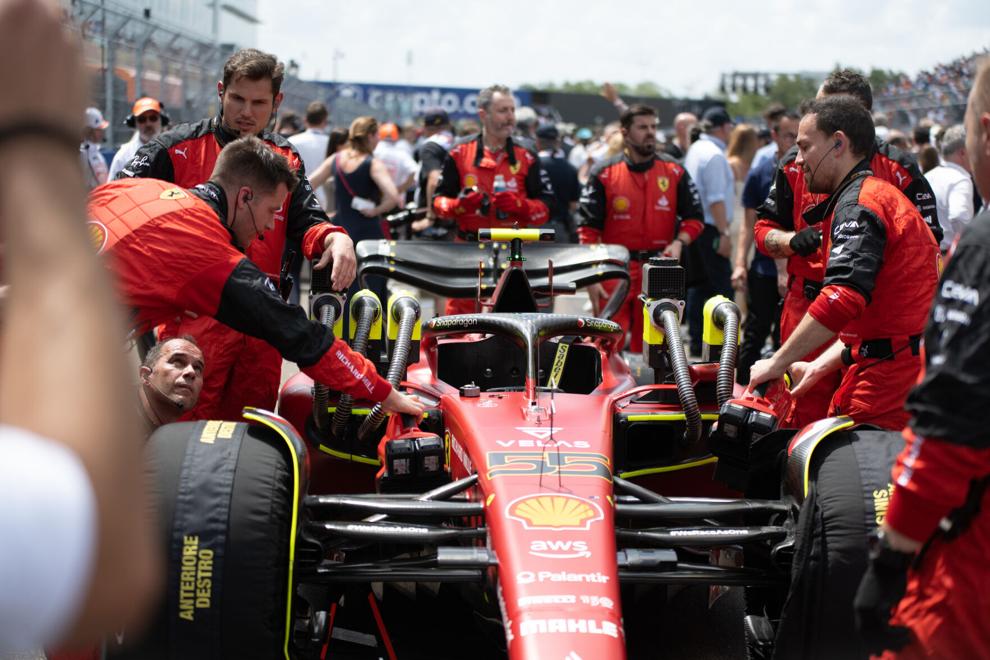 Drivers had to complete 57 laps on the track for a change to take home the first Miami Grand Prix trophy. Max Verstappen of Red Bull Racing finished first on the podium with his fastest lap coming on lap 54 and timed at 1 minute, 31 seconds and .361 milliseconds (1:31.361), followed by Charles LeClare and Carlos Sainz Jr. of Ferrari finishing second and third on the podium. Hamilton finished sixth in an echo of his qualifying round performance.
While pit crew members must work quickly as part of their teams, a significant emphasis is also placed on the quality of their services. Quality and speed play crucial roles in determining the outcome of a race. Due to these different variables, a pit stop could last anywhere between two and seven seconds.
Leon Morgan of McLaren Racing is one of the few Black members of a pit crew on a F1 race team. Morgan, who hails from London, is a technician responsible for setting up the garage and making sure things are in their proper places before the main team arrives. He also is responsible for refueling vehicles.
"When you see Lewis (Hamilton) as the only Black driver in Formula One since its inception, its 100% important to have representation. It's getting better with women in the sport as well, but I'm only one of five Black individuals in the entire sport," he said.
Tony C. LeSense, who has been covering racing for more than 15 years, hosts a YouTube show called "On the Track" on the AutoFocus World TV YouTube Channel, was also at the Miami Grand Prix.
"When you think of diversity in the sense of Black and African descent, there is a lack of diversity due to many reasons. Tennis, ice hockey, water polo – these sports are not traditionally around our community and some of them are very expensive," said LeSense. "Lewis Hamilton is the first working-class champion. That's important because racing is not a working-class sport but a blue blood sport. The lack of diversity as it relates to Black folks and women is something indigenous to the culture because it's hard to be able to afford to do it."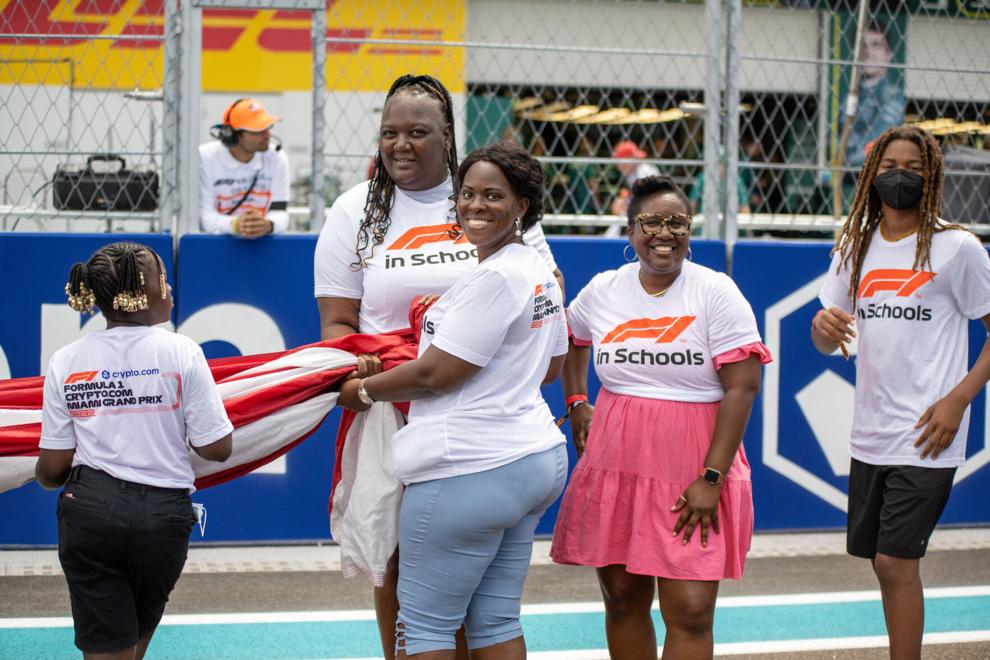 When asked what residents who have never been to a F1 racing event should expect, LeSense went on to add: "The biggest party in the world is happening in your city. I hope residents think not so much about the noise but understand the dynamics of how to tie in the economics beyond. Are there opportunities in parking? Opportunities in apparel and merchandising? Restaurants? Our community just needs to wake up to opportunities so when they come to us, they won't pass us like a speeding race car, and we're sitting on the side saying it's not fair. We must find our lane because this will be here for a while."
The history of F1 racing goes back to 1950. There are 10 teams currently on the circuit: Ferrari (the oldest team in F1), Red Bull Racing, Mercedes, McLaren Formula 1 Team, Alfa Romeo, Alpine, AlphaTauri, Haas F1 Team, Aston Martin and Williams Racing.