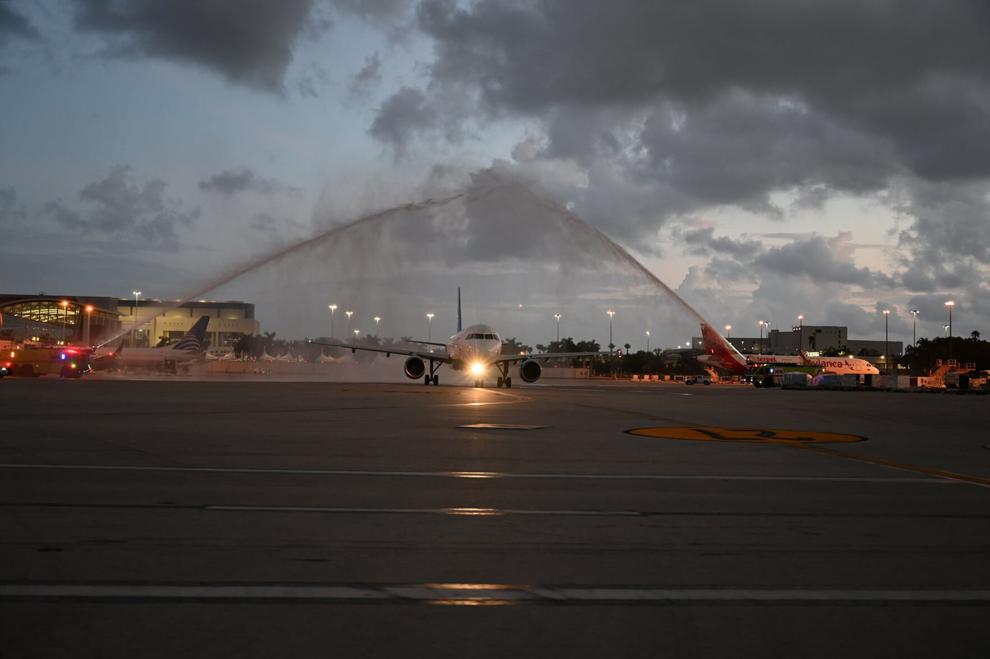 Early Sunday morning, a water cannon salute at Miami International Airport sent off more than 70 U.S. veterans for a solemn, yet celebratory flight to Washington, D.C., where they were honored for their service.
The flight was organized by Honor Flight South Florida, an organization committed to honoring veterans across Miami-Dade, Broward and Monroe counties.
At least four times a year, a group of veterans from South Florida and their chaperones embark on a one-day, all-expense-paid trip to the nation's capital via a chartered flight to visit memorials and participate in an honorary luncheon where their service – and that of their fallen comrades' – is recognized.
Because of the pandemic, the flights had to be postponed for several months. Sunday's flight, in partnership with GlobalX Airlines, is one of two fall flights taking place this year. The next one will fall on Oct. 17.
On board were veterans from the Vietnam, Korean and world wars. The trip includes round-trip airfare, bus transportation, police escorts, T-shirts, meals and amenities. Less than five Black veterans signed up for the flight.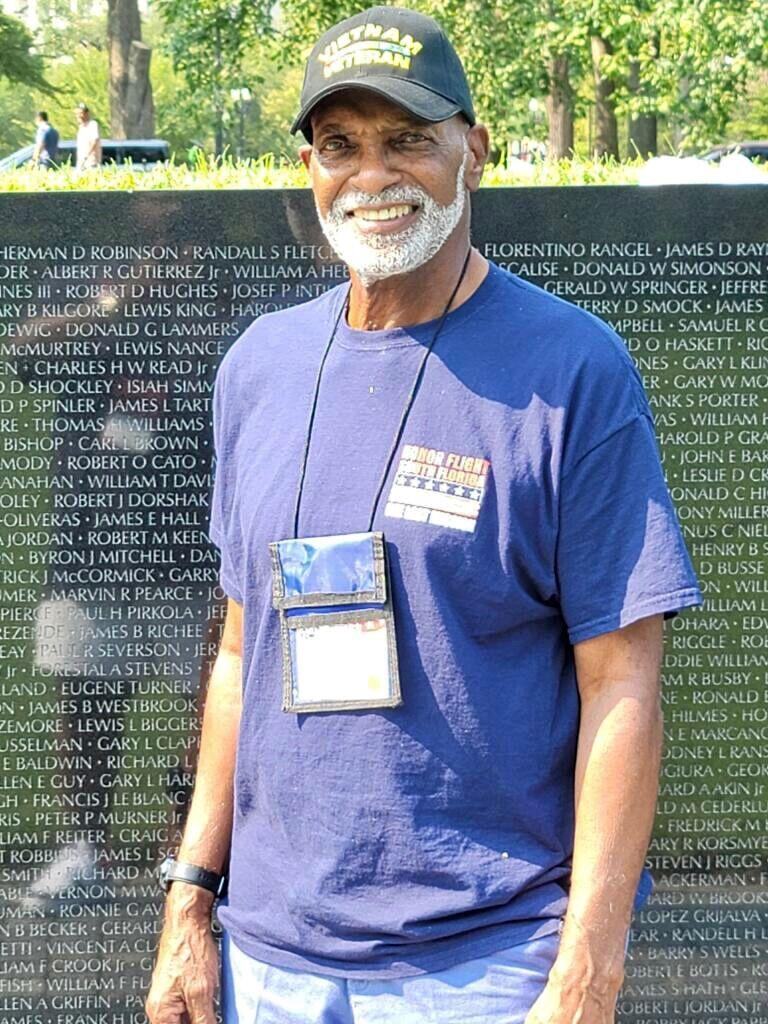 It was a somber and memorable day for Charles James, one of two Black Vietnam veterans who attended the trip, on the weekend anniversary of Sept. 11, 2001.
The Texan-turned-South Florida resident volunteered to join the military at a time where people avoided the opportunity, some escaping to Canada during the draft because of how controversial the war was. He served in Vietnam for one year in 1966, then again in 1970.
"During that time, there was a lot of racial turmoil," said James. "So a lot of people would say 'Man, why are you going to fight for a country that doesn't even care about you and treats you like a second-class citizen?'"
Despite this, James considered himself a patriot and saw the military as an opportunity to create a better life for himself.
His decision to join came after his older brother, who served in the Korean war, dropped out of an HBCU to join the military to support their mother. James' brother was killed in combat one month into service.
James said the trip felt like a special honor to his brother's legacy.
James served in the military for 21 years before relocating to Miami and working as a JROTC instructor at Miami Jackson Senior High School.
Though his last assignment was at the Pentagon, just outside D.C., he said he has never had the chance to visit any of the memorials there in honor of veterans like himself.
"When you go to the wall and see all the names of the people you served with, it makes you wonder, 'Why was I not on that wall?'" he said. "I was in the same unit as some of those guys. A lot of people go up there with guilt, asking 'Why was I spared? Why did I not get hurt?'"
James said recognition and memorials are helpful in coping. For him, this trip comforted him through loss and painful memories associated with the war, unlike some veterans he knew with PTSD who turned to substance abuse as a coping mechanism.
He also credited board-certified psychiatrist Delvena Thomas, who works with his veterans group, as being a constant resource for him and the other group members.
For information on future veteran flights, visit HonorFlightSouthFlorida.org.