Barely a month after renters and organizers pushed the Tenant's Bill of Rights through the Miami-Dade County Commission, tenants gathered again to strategize for additional protections in the middle of Miami-Dade County's worst housing crisis.
The Tenant's Bill of Rights – passed May 3, 2022, and added to county code – creates an office of housing advocacy, or allows for the designation of an existing county office to perform the duties of that office; establishes unlawful practices, such as landlords asking about eviction history; requires landlords to provide tenants notice of their rights; and requires that the county government provide an information helpline and a website for tenants and establish enforcement procedures.
The Tenant Assembly, organized by the Miami Workers Center, gathered dozens of people at the Joseph Caleb Center June 11, including renters, government officials and community partners such as the Community Justice Project and Allapattah Community Development Corporation, to brainstorm solutions related to concerns already addressed therein. This includes chipping away at what those describe as an all-encompassing crisis involving development, subsidies, affordability, tenant treatment, code enforcement, landlord oversight, rental assistance, section 8 vouchers and public housing.
Unsafe living conditions
Tenants present at the assembly spoke of living in illegal and unsafe conditions while facing retaliatory landlords and few if any other housing options.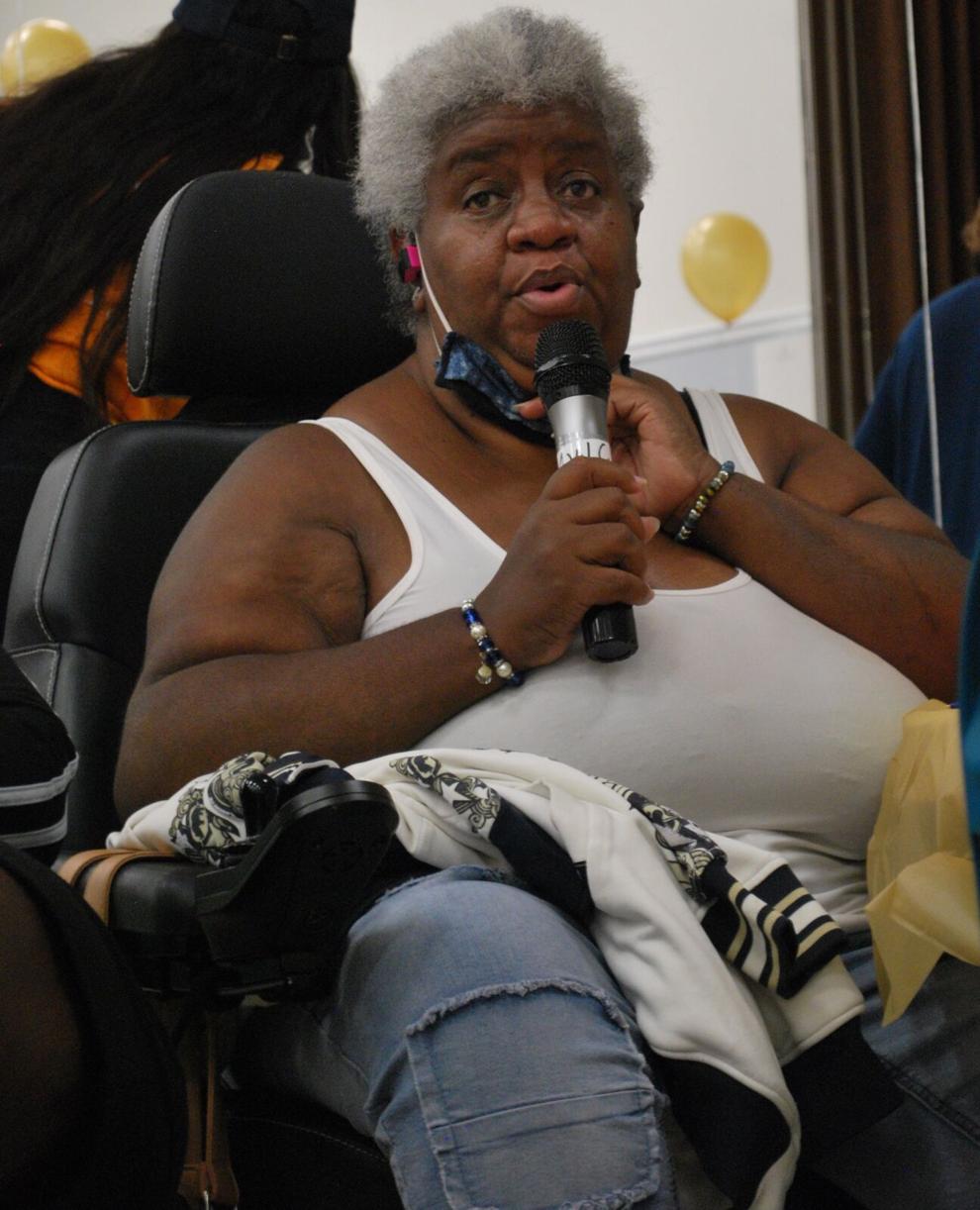 Bernadine Dent, who has a disability and chronic obstructive pulmonary disease, says she ended up in the hospital because of mold in her county-owned unit, but was harassed by her landlord for trying to have the issue remediated.
"I cannot feel safe to see I'm breathing that," Dent said. "I don't want to die."
"Yes, that's why we're here," said Jason Smith, director of equity and engagement in the office of Mayor Daniella Levine Cava. "We're committed to come into the community to know what the issues are."
He noted a federal government program called Rental Assistance Demonstration (RAD), which will convert public housing to more renovated and rebuilt section 8 housing units. The project will allow the county to redevelop apartments into brand-new, mixed-income rentals.
Nadege Green, a journalist and historian with the Community Justice Project, says low-income housing provides critical shelter to the community's most vulnerable.
"Death by poverty is real," she said. "There are plenty of immunocompromised people in Miami."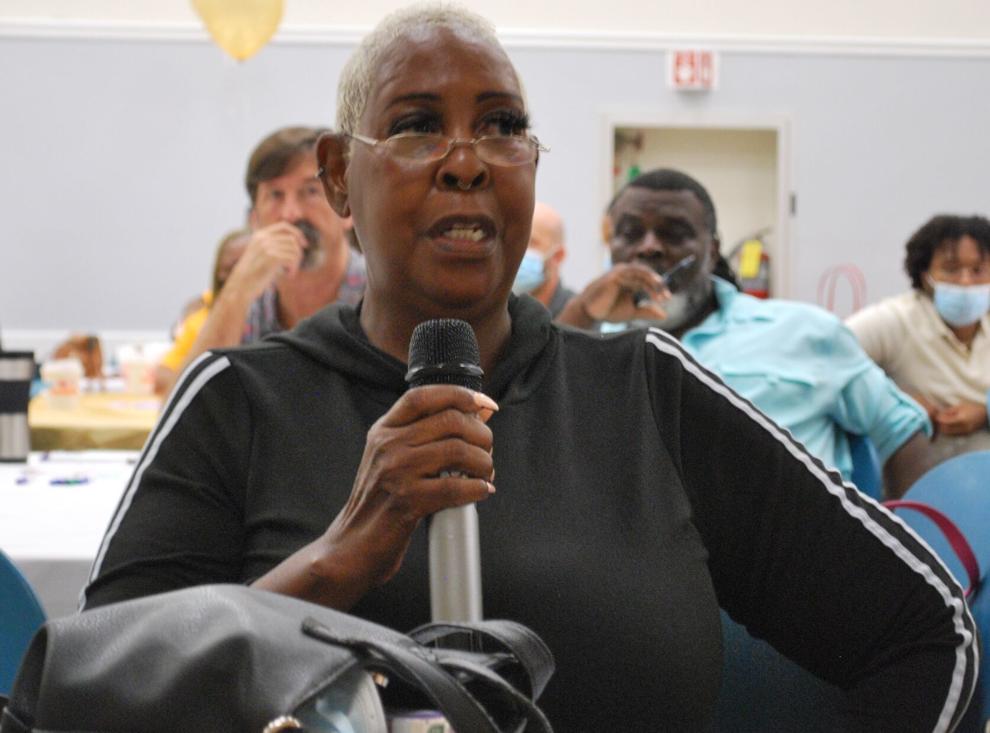 Through her reporting, Green says she discovered that the biggest area slumlord is the county. Many in attendance concurred.
"That has been a fact my entire life and I'm four generations deep from Miami-Dade County," Sonya Brown-Wilson said.
Brown-Wilson has lived at the North Park at Scott Carver apartment complex for 14 years, where she says essential repairs can go for months without being addressed, and where the cost of rent is "out of control."
Juana Marin, a Black Indigenous woman from Honduras who is pregnant and a mother of two, said her family was evicted in February.
Speaking in Spanish, Marin said her landlord ignored repairs for six months. She wrote to the landlord and withheld the rent because of that, but a judge ruled against her. Through tears, she explained how the landlord harassed and mistreated her prior to the eviction proceeding, and shared that her family was on the brink of collapse until the Miami Workers Center stepped in to help. Now, she says she's transformed her pain into action to help others.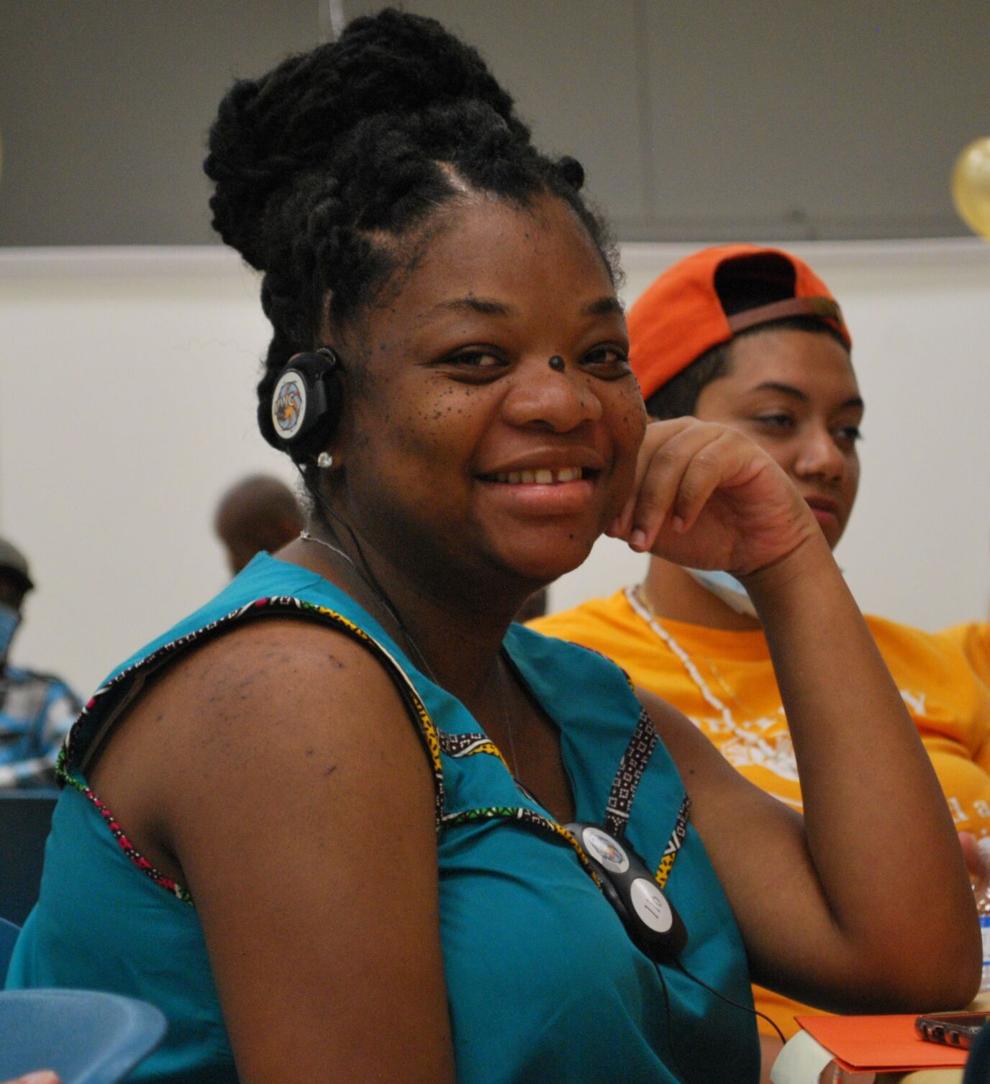 Pushing for accountability
Santra Denis, executive director of Miami Workers Center, says 9 in 10 evictions stem from an inability to pay the rent.
From October 2020 to November 2021, 17,962 residential and 1,322 commercial evictions were filed in Miami-Dade, according to the January 2022 County Commission Auditor's Countywide Evictions and Foreclosures Data report. However, Taycha Santos, assistant division director in public housing and community development, says 600 of those were prevented.
The rising cost of shelter contributed most to the 8.5% inflation rate in April, according to the Bureau of Labor Statistics, which also reported a real average hourly income decrease of 3% from May 2021 to May 2022, despite reports of companies raising pay to attract workers. Rent prices in metro Miami, which includes Broward and Palm Beach counties, have risen by 32.12% since February 2021, according to a study by three economics professors.
Another Miami Workers Center goal is for the right to counsel to be connected to the newly established housing advocacy office – which will operate as part of the county's Community Action and Human Services department and must include a director, a tenant advocate and a housing advocate.

Also part of the give-and-take discussion with tenants is the department's name, says Denis.
"I think that ultimately, this is what I mean in terms of whose duties it is; ultimately it is the mayor's duty … to put forth budget proposals. Last year we already advocated for the office of tenant advocacy. Now it's housing advocacy. We already advocated for an increased amount to fund it. This year it's making sure it's in the law that it exists. It's still a part of our advocacy."
One responsibility of the new office of housing advocacy is to ensure that a notice of tenant rights is delivered by the landlord within 10 days, and signed by the tenant and returned within seven days.
"We'll continue to do our part to make sure the office is accountable to the people," Denis said.
Long-term solutions
Since the Tenant's Bill of Rights passed, 311, the county's information phone line, has answered calls to the Office of Housing Advocacy's housing hotline.
A call on June 9 to the housing hotline number redirected to 311, which was then transferred to Community Action and Human Services, then back to 311; a government official answered questions providing numbers for assistance.
County Information takes a tenant's information so Public Housing and Community Development can contact the tenant within seven business days. It also recommends checking with legal aid to confirm whether or not an eviction can be delayed.
Three calls to Community Action and Human Services made on June 9 went unanswered.
In the short term, Miami Workers Center plans to host listening surveys of tenants across the county, to better understand contracts between the county, developers and landlords. The group also plans to host "Know Your Rights" training sessions across Miami-Dade County and set a cap on application fees, particularly for subsidized units. In New York, rental application fees are capped at $20.
In the mid- to long term, the organization plans to speak with thousands of tenants to bring them into the movement for housing justice. The group hopes to win in 2022 the right to counsel for tenants, and expand legal support and defense of tenants in eviction court.
Denis says it infuriates her when elected officials speak of maintaining a balance for landlords, and that the importance of right to counsel is to add protections for tenants. According to her, the right to an attorney would address the inherent power imbalance between renters and landlords, and make landlords more willing to negotiate.
"What we're seeing is people don't respect tenants," she said.
Smith said during the assembly that the mayor's office set up Court Help with the 11th Judicial Circuit Court to shorten the settlement process with landlords and increase fair market standards, and is developing 14,000 workforce and affordable housing units.
"We have money for them," he said of landlords who say they lack the funds for repairs.
He added that the county has passed policies to protect both tenants and landlords, and there are things the mayor's administration can do without going to the county commission, such as reducing red tape for development, quickly reviewing permits for affordable housing and creating partnerships with donors, citing the mayor's Building Blocks Fund.
The fund has a commitment of $55 million in total from seven different providers – four for-profit and three nonprofit. With an additional $15 million coming from the county's Public Housing and Community Development department, it will pay for affordable housing for the next three years.
That should address in part tenants seeing commitments of 50% low-income or affordable housing units that have dwindled down below that.
Ultimately, Denis says the county should stay in the business of affordable housing, but believes publicly owned and community-designed housing should be on public land.
"The public should be determining what should be put on public land," she said.