Florida's dire need to close the achievement gap, enhance student support services and increase percentage outcomes in key subject areas were outlined in a letter to the U.S. Secretary of Education – goals that will rely heavily on federal COVID-relief funding.
The letter from Florida Commissioner of Education Richard Corcoran accompanied his department's application for the American Rescue Plan Elementary and Secondary School Emergency Relief Fund (ARP ESSER) that's providing nearly $122 billion to states to safely operate schools during the pandemic.
State educational agencies (SEA) were required to submit a plan detailing how ARP ESSER funding will be used to support the educational needs of students during COVID-19, mitigate learning loss and help fill educator shortages. SEAs were also encouraged to submit strategies schools found effective in supporting students impacted by the pandemic and best practices to keep educational campuses safe.
Florida submitted its plan last week, far past the June 7 submission date, making it the last state to apply. The state was previously awarded $4.6 billion in ESSER funding and now awaits an additional $2.3 billion from the U.S. Department of Education.
Data in the Florida Department of Education's (FLDOE) application, categorized by race, gender, disability and socioeconomic status, shows how certain students have fallen further behind in school.
"Student performance among economically disadvantaged students typically lags the performance of all students," read the application. "The declines experienced this year among economically disadvantaged students were larger than the declines among all students."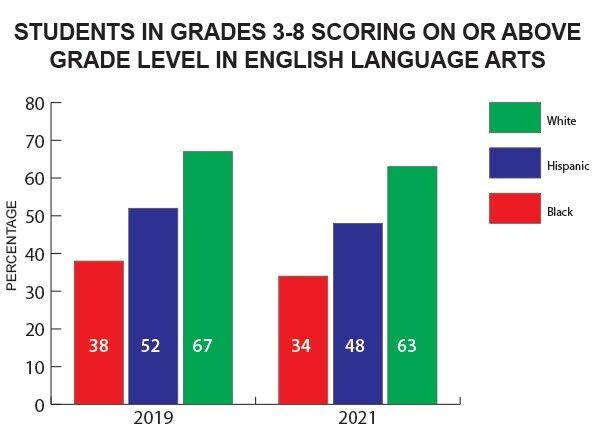 About 63% of the state's students come from low-income families, according to FLDOE. Only 41% of students from these families in grades 3-10 scored on or above grade level in English Language Arts (ELA) assessments this year, compared to 45% in 2019.
Assessment results for Black students, many of whom also come from low-income families and make up 21.6% of Florida's student population in the 2020-21 school year, also saw declines. ELA scores for Black students within the same third- to 10th-grade category in 2019 showed 38% scored at grade level compared to 67% of white students. In 2021, only 34% of Black students were scoring at the basic level required for their respective grades compared to 63% of white students.
"In some instances, such as ELA, achievement gaps between White and Black/African American students and between White and Hispanic students did not widen," FLDOE wrote. "However, that was due to the fact that White, Black/African American, and Hispanic students all declined at the same rate on ELA between 2019 and 2021 (each declined by 4 percentage points)."
The decline in reading skills and comprehension, though seemingly insignificant, can have a detrimental impact on the lagging child's future.
According to the National Council of Teachers of English, literacy is used as a global metric to assess how well communities are faring. High literacy rates among a particular population can be tied to better access to economic opportunity, nutrition and environmental stability.
Last fall, when only 54% of Florida students received instruction in person, Florida educational leaders noticed a decline in performance. That led FLDOE to dig into the Coronavirus Aid, Relief and Economic Security (CARES) Act and some ESSER funding to promote literacy, listing literacy skills as a top priority for the current school year.
Dollars distributed to the state helped establish regional literacy directors and instructional coach teams assigned to school districts with vulnerable students, based on progress monitoring data.
Long before the pandemic, Black students in Miami-Dade's public schools were already trailing behind their Hispanic and white counterparts.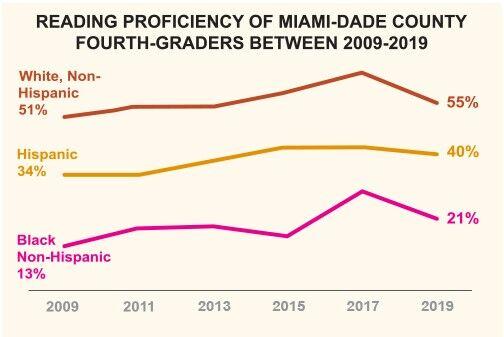 Data compiled by The Children's Trust placed only 13% of Black fourth graders at a proficient reading level in 2009, based on the National Assessment of Educational Progress (NAEP) measuring tool. By 2019, that number increased to 21% but still, Black fourth graders were trailing behind the 40% of Hispanic and 55% of white students reading proficiently.
NAEP specifies the difference between achievement levels, setting guidelines for what would constitute a student who is proficient. The proficient level is marked by solid academic performance and a display of competency in challenging subject matter, whereas a basic level of achievement implies only partial mastery of prerequisite knowledge for a certain grade level.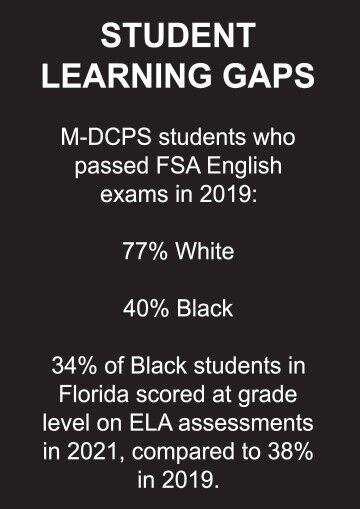 M-DCPS says 77% of its white students in grades three through 10 passed the Florida Standards Assessments ELA exam, while just 40% of Black students passed in 2019.
Since then, achievement gaps between white and Black students in other subject areas like mathematics and history widened on both the local and state level. Mathematics saw a percentage decrease in proficiency in the double digits.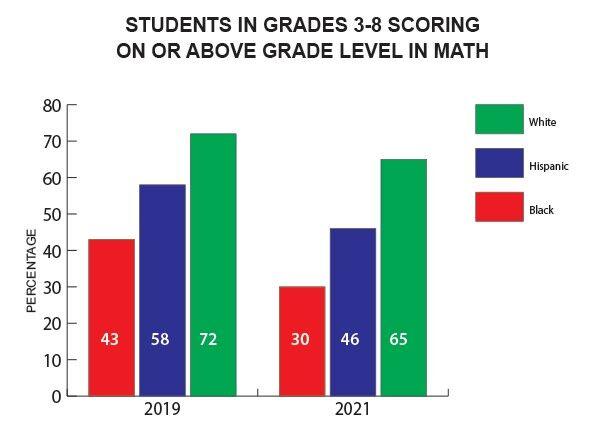 The FLDOE application points to the spring 2021 FSA and end-of-course (EOC) exam scores, taken by 94% of the state's students, as guidance for its ESSER funding distribution plan, along with a survey from stakeholders.
Survey responses from 91% of superintendents, educators, charter school networks and partnering organizations were in support of advanced academic enrichment and mathematical support in school districts. The second-highest response was in favor of student support and intervention programs.
FLDOE says it will crack down on the achievement gap with a $5,000,000 upskilling grant for 2,000 educators to receive literacy coach credentials, reading grants to local education agencies, STEM accelerator grants, a $2,500,000 grant for a Pathway to Job Market Dashboard for Career & Technical Education programs covering the costs of SAT/ACT assessments for high school juniors next year, and an early-grade level tutoring initiative for the 2022-23 and 2023-24 school years.