The Miami Marlins are starting the year off right by continuing their efforts to support those in need.
The Miami Marlins Foundation joined The Players Alliance, a nonprofit organization of Major League Baseball players dedicated to serving communities of color, to distribute various goods at Gibson Park in Overtown on Tuesday.
The drive-through event was a part of a nationwide initiative called "Pull Up Neighbor," where members of The Players Alliance are traveling to multiple cities and providing local Black communities with aid. Baseball gear, food, hand sanitizer and masks were some of the main resources distributed at previous events in cities like Philadelphia, Baltimore and Cleveland.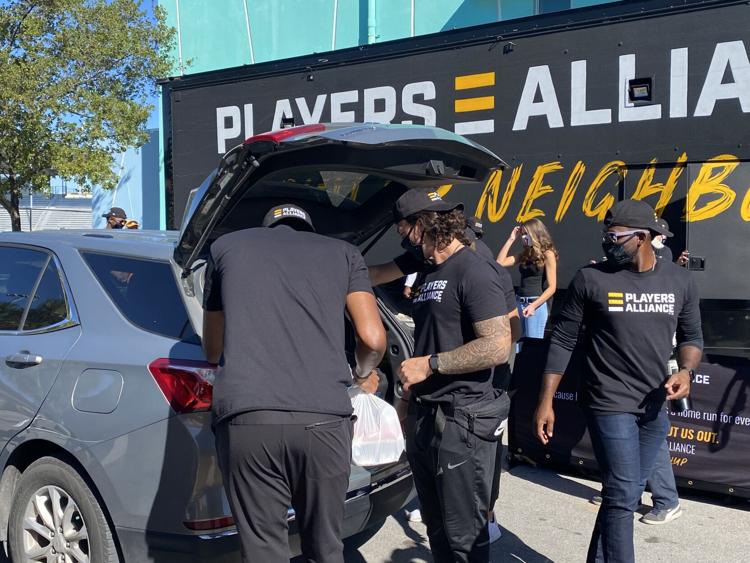 The Miami stop of the tour was a great opportunity to "kick off the New Year" for the Marlins, according to Raquel "Rocky" Egusquiza, the foundation's executive director.
The Players Alliance provided meals for 250 households as well as baseball gear for children. The Marlins partnered with the organization to provide masks, hand sanitizer and Marlins merchandise to families.
"We're really committed to being the community's team," said Egusquiza when asked why these events are so important. "Last year we distributed more than 800,000 meals, $24,000 [worth] of hand sanitizer and 20,000 masks to the local community. We want to make sure we continue that impact in the new year," she added.
Several current and former Marlins players helped hand out goods, along with the organization's volunteers. Jazz Chisholm, Monte Harrison and Marlins CEO Derek Jeter were all in attendance to lend a helping hand.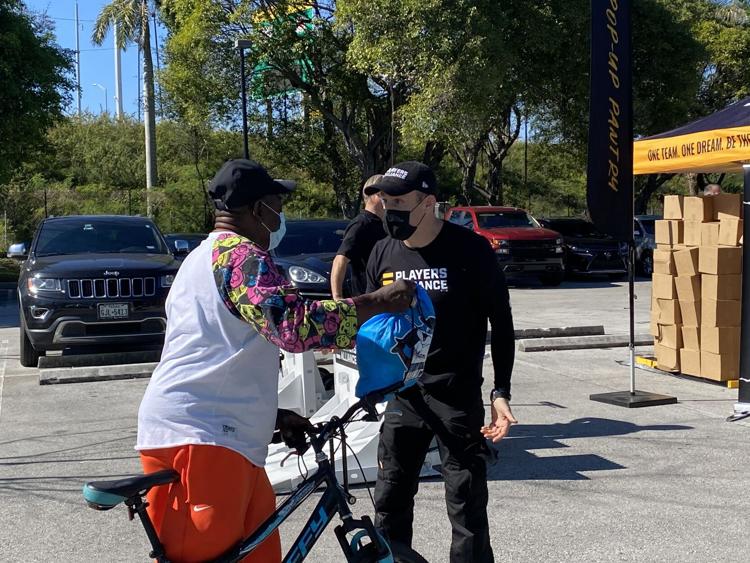 "Being out here today with The Players Alliance means a lot to me. With everything going on now, I know it's tough for a lot of people, so we're just trying to make it a little easier," said Marlins outfielder Lewis Brinson. "We're also trying to push the idea of playing baseball in the African American community."
One of the goals of The Players Alliance is to promote diversity within the baseball community. Black Americans only make up about 7.8%, or 80 players, in major league baseball.
Brinson and the Marlins also hope to inspire the local Black community through the game.
"I'm in love with the game of baseball," Brinson said. "Hopefully by pushing that and giving away some COVID supplies we're able to help a lot of people."
The Miami Marlins Foundation was especially active last year because the COVID-19 pandemic caused an increased need for aid. Biweekly food distributions at Gwen Cherry Park were one of the cornerstones of its efforts. The foundation plans to continue these distributions, with the next one taking place Jan. 6. Additionally, the organization will continue to partner with Miami Lighthouse for the Blind to provide free eye-screening for children. The next eye-screening event will be Jan. 8 at Poinciana Park Elementary School.