Congresswoman Frederica S. Wilson shed tears as she witnessed Black boys being shut-out during a 1993 high school dinner.
That dismay inspired her to ignite change. Wilson conceptualized the 5000 Role Models of Excellence Project to mentor and groom young men, any one of whom could become an iconic leader, much like Reverend Dr. Martin King Jr. In honor of King's example, the program's celebrated fundraising breakfast is held the same month of the slain civil rights leader's birthday. King was born Jan. 15, 1929 and died from a gunshot wound April 4, 1968, while pushing for equity for Black people.
While the nation has come a long way from 400 years ago when Africans were brought to America and enslaved, Wilson senses that what King strived for in during his life signifies there is still more to be done to make Black people feel at home in their new land.
"Dr. Martin Luther King Jr. would be in tears if he witnessed the state of America today," said Wilson.
The 27th annual 5000 Role Models of Excellence Project Dr. Martin Luther King Jr. breakfast will take place on Monday, Jan. 20, starting at 8:30 a.m. at the DoubleTree by Hilton's Miami International Merchandise Mart – East Hall, located at 711 NW 72nd Ave. The sold-out event will be headlined by actor Larenz Tate; radio host Tom Joyner; and Korey Wise, one of the Central Park Exonerated five.
"Freedom and Justice" awards will be given to ambassadors from Ghana, Liberia, Ethiopia, Mozambique, Nigeria, Molawi, and Rwanda.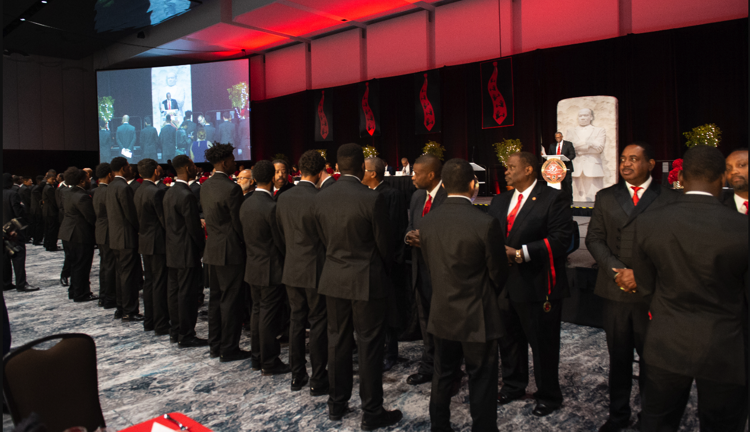 Local honors will be awarded to Adore Obi Aweze, president of the Florida State Conference of the NAACP; artist Dinizulu "Gene" Tinnie, Marshall Davis, Marshall L. Davis, director of the African Heritage Cultural Arts Center; and Freddie Young, educator.
Wilson has made this year's theme an African affair titled, "400 years: our legacy, our possibilities," following 2019's many Year of Return activities. King made his journey, too. In March 1957, King and his wife Coretta Scott traveled to West Africa to attend Ghana's independence ceremony.
"This year we are ushering in a new decade with the breakfast being held on the 20th in 2020. When I founded this event, everything happened quickly," said Wilson. "I researched and found Charles Dutton, the star of the early '90s television show "Rock," about a former felon's life. The city paid his $5,000 fee, AT&T and American Airlines were my first sponsors and 100 boys were each awarded $500 and a copy of Nathan McCall's book, "Makes Me Wanna Hollar."
Since its inception, the 5000 Role Models of Excellence Project Inc. expanded from 500 Black students to include Latinos and satellite programs in counties throughout Florida. The project mentors minority boys and send them to college.
The upcoming event will award 42 young men scholarships to academic institutions partnering with the program including Florida Memorial, Florida A&M, Bethune Cookman, Florida International universities and more. The inaugural class are now in their 40s and one standout is Adly Norelus, director of Ev3 Robotics Program at FIU.