A victory party was in full effect in Miramar on Tuesday after a landslide re-election win by the city's mayor and a reshuffle of chairs on the Commission.
Mayor Wayne Messam and longtime Miramar politician Alexander Davis were the residents' picks on March 12 after months of intense campaigning.
"Victory is mine; victory is mine; victory today is mine," sang Frankyenae Daley, a Messam supporter. She was one of many who attended the mayor's election party. 
Messam was elected in 2015, he ran against Davis. This election, Messam faced one challenger, Jose Larose. Larose, however, appeared to be a troubled candidate with a tumultuous political trail. 
At one point, Larose ran for three offices at once. He was dubbed "the PAC Man" by the media after he filed fraudulent campaign financial reports for more than 300 political action committees. The Florida Elections Commission found Larose guilty of more than 2,000 counts of election violations in 2012. He was fined more than $500,000.
Messam was excited about this win Tuesday. He credited his win to God and his campaign leaders, supporters and his wife.
"Four more years; four more years!" dozen of supporters shouted as they rammed every corner of the local restaurant, Our Humble Abode, Tuesday.
Messam told The Miami Times about his vision for the city moving forward. He touted the progressive growth of the city, which Messam said has the most Fortune 500 companies in South Florida. 
"We've come such a long way and our city is really on fire," said Messam. "We have some great opportunities coming to our city, and I look forward to laying the groundwork."
Messam also said one of his main goals is to keep the residents safe and continue to upgrade the profile of the city. He plans to ramp up the redevelopment of the east side of the city.
East Miramar, as it is dubbed, is the first portion of the city that was incorporated in 1955.
However, as the city's limits expanded, the east side did not keep up with the new developments. Messam, like others who ran in the election, promises to complete renovation of East Miramar.
"There will be no disparities in our city," he said.
Messam's campaign also had whispers of White House ambition.
However, Messam said even though he is considering a presidential bid, he is more focused on Miramar. He hopes to use the city as a model for what could be changed in this country.
"We are looking to see if our track record in Miramar can be parlayed into solutions for this nation," Messam said. He added that he will be "announcing really soon" what his next step will be.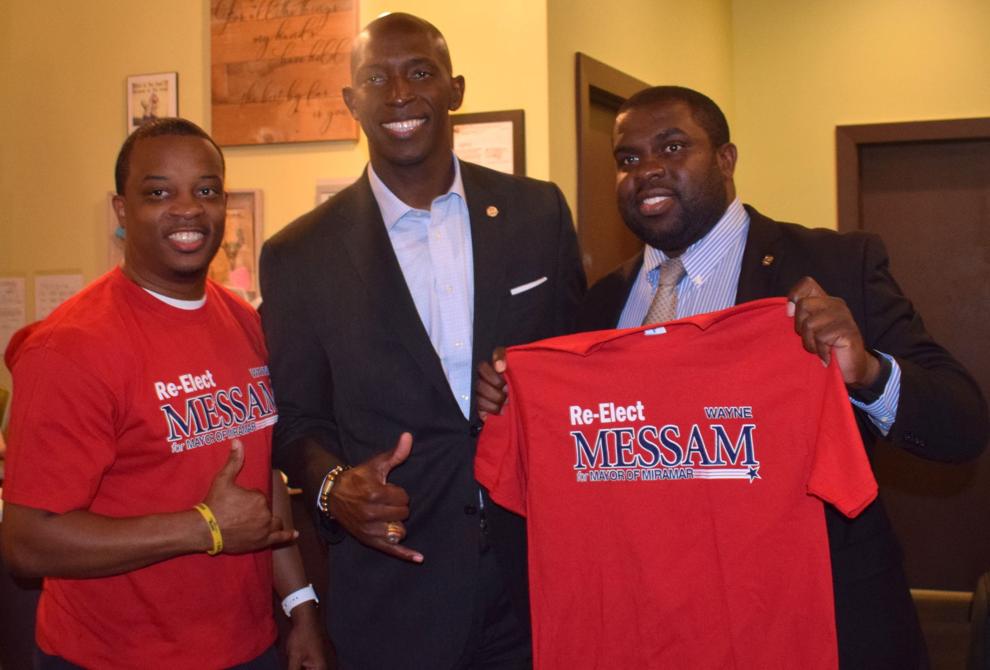 Leo Gilling, candidate for Commission Seat 4 thanked all the residents for casting their votes. He also added that he was inspired by Messam.
"His vision matches my vision," he said. Gilling also promised the crowd that he will be back for the next election.
"Don't give up," Messam told Gilling.
Daley was all smiles as she listened to Messam address the crowd. She has been living in Miramar for 18 years and said the mayor has been "building up the city."
"He is all about meeting the needs of the people," said Daley. "He is all about making the city of Miramar better."
Less than 5 miles away, the new commissioner for Seat 4, Davis, was celebrating her victory.
Davis has served on the commission and as vice mayor from 2010 to 2014. She left her seat on the Miramar Commission to run for Broward County Commission in 2014 then returned in 2015 to an unsuccessful run against Messam.
Davis' biggest competition in 2019 race was the incumbent, Darline Riggs. They ended the night with a close finish.
Davis secured 46 percent of the votes for the win while Riggs garnered 36 percent.
Davis also thanked her supporters at her victory party at Juana's Latin Sports Bar and Grill.
"The people of Miramar have spoken," said Davis, who added that she will be taking "the city to a whole new level."
Davis said she looks forward to working with the other members of the commission, two of which joined her at Juana's.
"We continue to work together to make Miramar continue to be great," she said.
Both Messam and Davis faced challenges in the election.
Messam was under investigation by The Florida Elections Commission for an inaccurate campaign report during his 2015 mayoral bid. Davis experienced backlash from supporters who said that she flip flopped on her stance on a construction project that was heavily criticized by residents.