The November elections are swiftly approaching and the runoff race for Miami-Dade County's District 9 commission seat is in full swing. Originally filled with five candidates, the race now includes veteran politicians Kionne McGhee and Elvis Maldonado.
McGhee, 42, is the outgoing Minority Leader of the Florida House of Representatives. He has served eight years in the state legislature, a post he will leave this year due to term limits.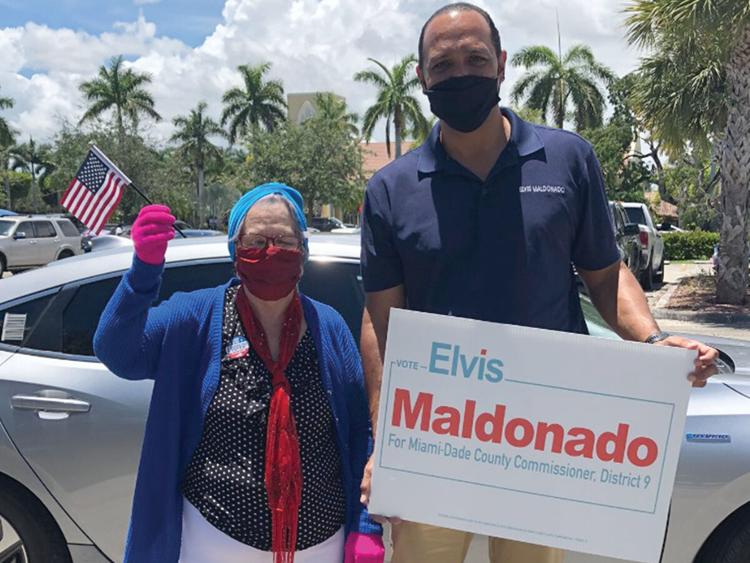 Maldonado, 47, has more than a decade of experience in local governance, including serving on the Homestead City Council and being active both in the Florida and Miami-Dade League of Cities.
During the August primary, McGhee garnered 37% of the vote; Maldonado, 23%.
Despite their different backgrounds, the two share commonalities. Both men were raised in the community and profess a strong love for its residents' well-being. Both said they've been lifelong community servants and – when asked if they felt they could emerge victorious – noted they knew they had to earn every vote.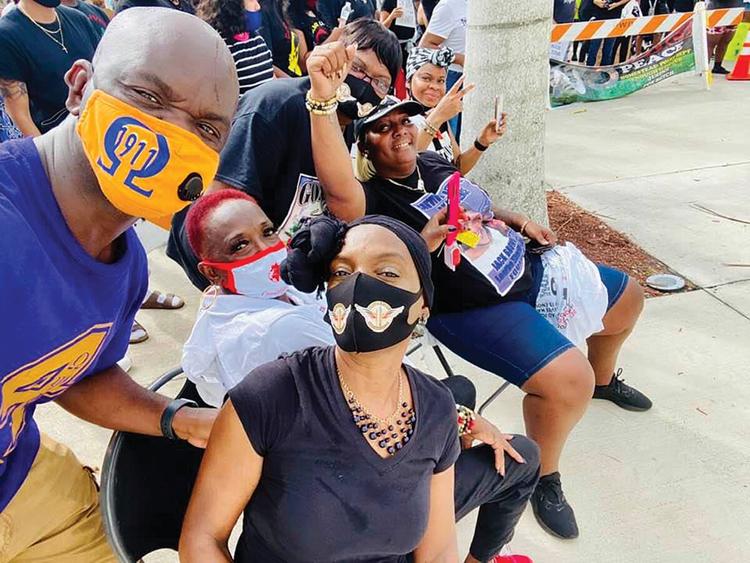 "I feel like every other race; I don't have any feelings at this moment. I just have work ethic and my work ethic will determine the results of this race," McGhee told The Miami Times in an exclusive interview. "I'm running as if I am 30, 40 points behind and that's how I run. I never give myself a narrative of whether I'm winning or losing, I always give myself the narrative that, like everything else in life … my starting place is not at the bottom, but beneath the bottom."
"I'm not one that says this race is in the bag. I have to work and earn those votes," Maldonado said in a separate exclusive interview. "I'm just grateful, thankful that I have an opportunity to continue to share my story, share my convictions and share my passion as to why I want to serve this community in District 9."
As of Sept. 1, District 9 boasted 121,461 registered voters, according to data provided by the county. Of that number approximately 28% are Black, 54% are Hispanic, 10% are white, and 8% come from an array of other backgrounds.
This means both Maldonado and McGhee must build a multiracial coalition to win the race and govern successfully. It is not a fact lost on either of them.
Highlighting residents whose ethnicities include Haitian, Jamaican, African American, Columbian, Guatemalan, Salvadoran, Mexican, Puerto Rican, Anglo and Irish, Maldonado said he's used to working with his diverse constituents.
"The beautiful thing about living in Miami-Dade County and South Dade is that we have this beautiful mixture of culture and backgrounds. … I know them all," Maldonado said. "There's such a rich history in South Dade that it's really hard not to come across your constituents and be able to speak to them. So, I've had the opportunity to cross-communicate with every part of my community because the goal as a representative of the great city of Homestead should be, we all have to move forward together. So, it's something that I've done always."
McGhee said despite the varying demographics, serving all residents in South Dade is his priority.
"I will continue to do what I've been doing since birth – and that is to speak to the hearts and the conditions and a better tomorrow for each and every last one of our friends, our family members, our associates and the people of South Dade," McGhee said. "Our issues have been around for quite some time and our issues are widely known. Our issues are seen through the prism of all demographics within the South Dade district."
Among those issues that need attention are transportation, affordable housing, social injustice, police reform, crime, education, help for small businesses, immigration and more.
"Our issues are transportation, affordable housing, crime, education and help for small businesses. So, when we look at it from those lenses … everything else stems from those issues," McGhee said.
He added that, due to the south's unique positioning, many of the issues faced span demographics.
"If this is what's facing our African American community, then we can also without question see the exact same thing going on in our Hispanic community, and that is primarily built into the reality that we are interchangeable, interlocked in a way that's difficult to describe, but easy to explain," McGhee said.
Maldonado named many of the same issues McGhee did, but also noted there are issues that may be unique, or more prevalent, in certain demographics.
"One of the issues that's been on our radar is social injustice," Maldonado said. "For example, body cameras [for police], that's a need African Americans feel is important to them, as well as having the resources they need to get past the challenges. … Many Hispanics have challenges with immigration and becoming U.S. citizens. Every community, we know they all have needs and they might be different. But they're all looking towards local government to see how they can get that worked out."
Maldonado and McGhee each said that transportation was the greatest immediate need for District 9 residents. Maldonado cited a reduction of bus services and routes, jitneys with no air conditioning and other problems with transit. He said he has addressed the issue before as a councilman.
"In South Dade we've always been left behind and in particular it's transportation. … When I go back to the foundations of life, people just want to work and provide for their families and enjoy life, but it negatively impacts them if they don't have transportation to get back and forth," Maldonado said.
"One of the issues we heard on the campaign trail was buses, but that stems from transportation or lack thereof. Without a question transportation has the greatest need for attention," McGhee concurred.
When it comes to crime, the candidates both say people should be careful how they interpret crime data. However, they also explained the matter from different perspectives and provided different information.
Maldonado said District 9 is often painted as having a high crime rate because of the way data is collected and reported. Using his background as a network engineer and IT analyst who is well versed in data analytics, he told the Times that oftentimes, websites are reporting "false information."
"There are websites that gather data from outside the district and … they include all of that crime data as Homestead when most of that is not Homestead at all. Most of that is unincorporated Miami-Dade," Maldonado said. "When you look at the data for crime in the city of Homestead, we've actually had a 30% reduction in crime over the past couple of years."
McGhee, an attorney by trade, said oftentimes crime is used as a political talking point by certain candidates.
"Politically, it makes sense to say crime is on the rise because then it gives someone the opportunity to speak to their platform on how to decrease it because that's a wider scope. Crime can include anything from driving with a suspended license up to murder," McGhee explained. "So we have to be very careful when we're talking about crime. … That's why it is so difficult when I hear people say crime is on the rise. Well, based on that measure, you're absolutely right, because you deal with it as a whole."
McGhee further noted that homicides are up across Miami-Dade County, not just District 9, based on information from law enforcement. He said they are working to mitigate it. Maldonado also made the distinction.
"There's crime everywhere, but our community doesn't feel like there's this big crime push or unjust issues that are happening in Homestead. If we have a 30% reduction in crime, I think that speaks to that we are in a better place," Maldonado said.
While Maldonado and McGhee share similar views on a number of things, they also highlighted their unique experiences as reasons they are the man best suited for the job.
Maldonado underscored his local governance experience as a strength, saying sometimes Tallahassee is not in tune with the needs of the local community.
"I've had the honor of serving as the chair of a few committees for two organizations [the Florida and Miami-Dade League of Cities] and what those orgs do is make sure we're fighting and standing up to Tallahassee for protection of what is called home rule law," Maldonado explained. "We have folks that are elected to represent us and then they go to Tallahassee and they forget about us and when they forget about us, they forget about the important needs of the community and end up making votes that negatively impact us. There's a difference when you're making the decisions on a daily basis."
While he acknowledged that Tallahassee's decisions can have either a positive or negative impact, Maldonado posited that sometimes elected officials lose sight of the needs of the local community while in the state capital, and being in the trenches locally gives one a different perspective.
"For the last 10 years all my decisions were based on local issues … Myself and my colleagues are voting on issues … which are infrastructure needs, your tax base here, police and firefighting, quality of life, safety, security, education, the budget is a local budget impacting local issues," Maldonado said.
As it relates to transportation he added, "We have free trolleys running throughout the city of Homestead that makes up for where the county has failed us in the South Dade area." He believes he can also help find a solution for the district as a whole.
McGhee, however, said his decisions in Tallahassee have had a trickle-down effect and he has always kept his hometown top of mind when making decisions.
"I have receipts for everything I've done, McGhee said. "My political report, my public service report, they both say it all. Even as a state legislator, I led the charge to bring the rail to the South Dade community, so that's a local issue that I have receipts to show. A quick Google search of Kionne McGhee in South Dade will show that I've been on the front lines fighting the good fight, I have the receipts to show it. Law enforcement has the receipts to show it. The community members will tell you where I was … Whether it was promoted in the news or whether it was quietly done, I was there."
His experiences in Tallahassee – including serving as a ranking member of the appropriations committee – have equipped him to serve at the local level in a "county that has traditionally refused to hear our cries for help," McGhee said.
"As a person who's at the table constructing a $90 billion budget, I can honestly say it has lent me some experience that I think could only benefit everyone because the budget is designed to bring about change in all 67 counties. The money is then allocated to the municipalities," McGhee said. "The experience of local-level politics is different from the experience of local-level governance. So, when I hear people say, 'Well you got state level, what about your local level?' Everything we did on the state level benefited the local level because that's how it's set up."
When it comes to votes of confidence from peers and supporters, Maldonado and McGhee each have them.
McGhee has been endorsed by outgoing District 9 Commissioner Dennis C. Moss, Miami-Dade County District 12 Commissioner Jose "Pepe" Diaz, Congresswoman Frederica Wilson and others. The biggest endorsement, McGhee said, comes from the community.
"The community recruited me similar to how they recruited me to run for the state legislature. They met with me throughout session and informed me that Commissioner Moss was term-limited and they needed someone to replace him," McGhee said, adding he "deeply loved" his community. "Even with Moss and all the endorsements that I have, it's not the endorsements that are going to move the needle; it's Ms. Jane, Ms. Johnson, Ms. Diaz, Mr. Adam. Those are the endorsements I want. I want thousands of endorsements from the constituents. When the constituents endorse me, I feel good. I feel really good."
Maldonado told the Times two of his former three opponents have endorsed him.
"Johnny Farias and Mark Coats both have given me their endorsements. They literally called me the next day and said we're on board, no questions asked," Maldonado said. "They feel like I am definitely approachable … and definitely felt comfortable in coming to help me out to make sure that we have someone they feel truly has the best heart in representing this community as a whole. … Two out of three, I think is a really good number to have the endorsements."
Attorney and community activist Marlon Hill, who came in third in the primary, trailing Maldonado by a mere 274 votes, has decided not to endorse either of his former opponents.
"I'm deferring this power to the voters to decide. When I ran, I was hoping that we would have a fair fight in the ring as well, so I don't want to put my finger on the scale," Hill told the Times. "I believe that both candidates should make an effort to meet the voters where they are, including those who lent their support to me, and not take it for granted. We live in a dynamic and multicultural district, with voters who were born here, raised here or relocated here from another state, country or from other parts of Miami-Dade County. They deserve to have a seat at the table because for too long their voices have been neglected."
Hill added that he was proud of the race he'd run despite being edged out of the runoff.
"We made quite a positive impact in expanding the electorate and creating awareness of the need for more civic engagement. I have zero regrets. We fell only 274 votes short and it underscores the point that every election and vote matters. Every election, local or otherwise, has consequences. I encourage all voters to complete their ballots from the bottom up and submit them as early as possible. There's a huge difference between having a voice and having a say," Hill said.
Now that it's just McGhee and Maldonado, the race could go to either way. Both men are committed to doing the work so they can emerge the victor.
"If people truly do their research and look at our backgrounds, we both have diverse stories in how we got here, but I feel confident when you hear my story or you get to really meet me or see me and the successes I've brought forth over my time of service, you'll feel confident that you are choosing the person who's going to best represent this community as a whole," Maldonado said. "I understand color, but I don't see color is what I say. My goal and my heart are to make sure I help my brothers and sisters move forward in life and that's it."
"What I'm seeking is to remain in good graces of the voters who I know without a question have seen me mature, have seen me bring back resources, and I believe if I continue doing what I'm doing and honoring their wishes they will see me to the victory line," McGhee said. "They've always been my bosses, the voters. … At the end of the day, it's all about the people and what they want. We have so many egotistical leaders that want to lead based on their view as opposed to the views of the people. I've come to realize so long as I continue to listen to them, they will hire me. They will keep me employed as their employee to do the work on their behalf."