The Federal Emergency Management Agency has announced that Florida will receive $245 million to cover costs associated with transporting, storing and handling COVID-19 vaccines.
The news comes as an additional 307,000 vaccine doses are set to arrive in Florida this week. While President Biden's "wartime effort" gets underway, distribution is still a grave concern for residents across Miami-Dade County, and many are anxious to know when they can get their hands on an appointment.
As recently reported by The Miami Times, vaccination rates in Black and other minority communities remain relatively low.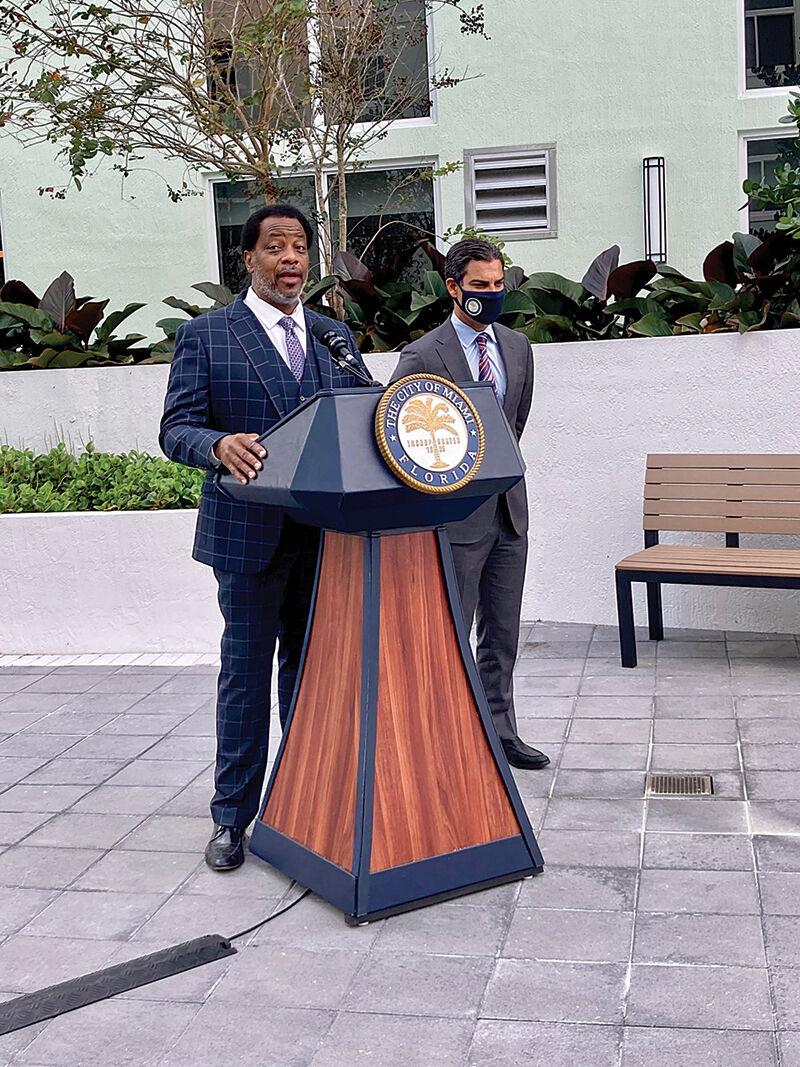 District 5 Commissioner Jeffrey Watson has partnered with Mayor Francis Suarez to increase efficiency in vaccination and appointment scheduling in underserved areas.
COVID-19 vaccines will be administered to residents at De Hostos Senior Center on Friday and at Barbara Carey Shuler Apartments on Thursday, as part of a "Miami First" effort announced by the mayor several weeks ago. Over at Charles Hadley Park, seniors able to commute secured appointments to be vaccinated on Feb. 3.
Both Suarez and Watson say the "Miami First" effort is meant to address inequity in vaccination distribution by prioritizing the most at-risk senior residents in the city. This meant amending distribution methods to consider homebound seniors and those with limited internet access.
"We're doing everything that we can in different parts of the city to ensure that the most vulnerable in our community are being vaccinated," said Suarez.
The effort called for a partnership with the City of Miami Fire-Rescue (MFR) to transport and administer doses of the Moderna vaccine. For one of the three methods of distribution planned, MFR sets up mobile distribution pods (MPODS) outside senior residential buildings and facilities selected by the five city commissioners.
For Watson's majority Black district, senior living facilities with a high population of Black residents will be primary targets. He explained his intention to bring more vaccines to seniors in his district using three methods: MPODS, MVACS – mobile vaccination operations where MFR command vehicles visit individual homes – and opening up mass vax sites like Charles Hadley Park.
"Our office recommended some sites in primarily [Black] communities, all of which give us that priority level in populations that need to get the vaccine," said Watson. "We're all fighting each other for you, the residents of the City of Miami and District 5."
At a press conference last Wednesday, Watson, Suarez and District 3 City Commissioner Joe Carollo announced ways they would address the issue of equity in vaccine distribution.
There, Watson revealed the plan to open Charles Hadley Park, a current COVID-19 testing site, for vaccinations. That same day, MFR vaccinated 101 seniors in common rooms at Edison Towers and Tuscany Cove Apartments, a senior living facility for people 55 and older.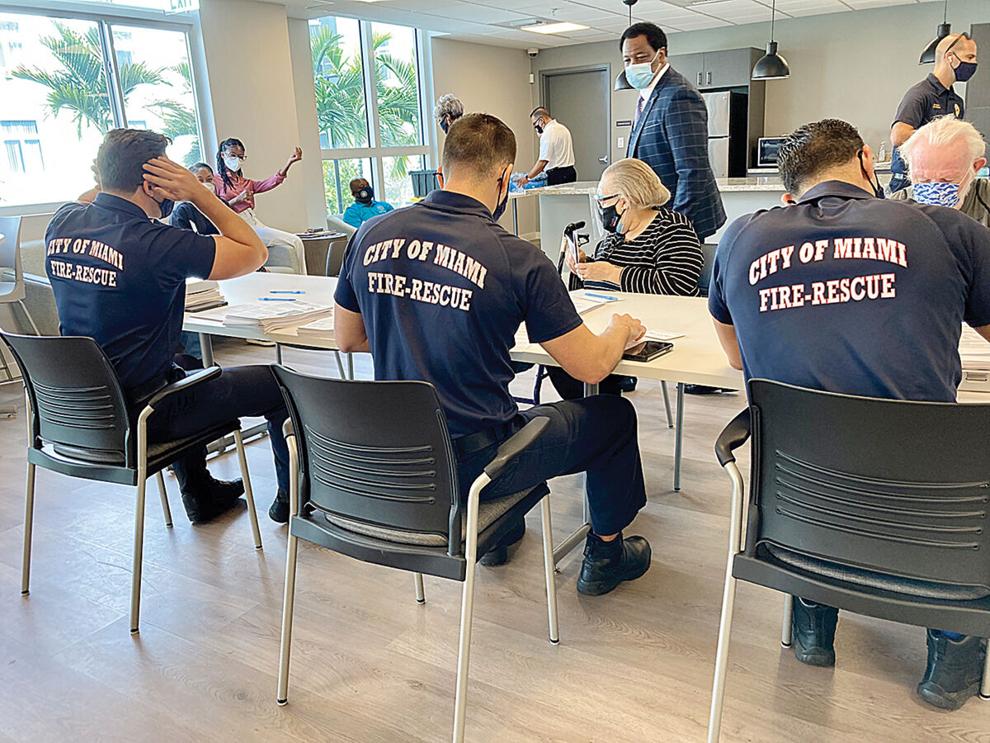 Tuscany Cove resident Virginia Robinson was relieved to be among that number. The Holy Temple Missionary Baptist Church member was surprised to discover she'd missed out on her church's effort to vaccinate its senior congregants a few days prior.
"I didn't know that they were doing it until someone told me after it took place," she said. "But I am happy [MFR] came here to do it. It was more convenient for me. To know that someone cares enough to do something like this is good, now we have to tell everyone."
Robinson already received confirmation that her second dose will be administered by MFR the same way as the first, on Feb. 25.
Watson was not concerned about the alarming imbalanced distribution of vaccines in poor communities. Instead, he said the importance should be placed on coming up with a strategy to address it. He mentioned being interested in partnering with places of worship to maximize outreach in Black communities.
"I want the infrastructure put in place so that we can make sure people who want the vaccine can get it," he said. "If we put that in place, the numbers will take care of themselves. We're not trying to under serve, we're trying to over serve, but we just don't have enough."
The city says it's receiving 7,000 Moderna vaccines per week for distribution. Suarez suggests that Gov. Ron DeSantis double the amount to ensure the process is not further delayed.
The mayor noted that the partnership between the city and commissioners will continue with a promise that no doses will go to waste, after the Florida Department of Health revealed 3,000 vaccines in the state were rendered useless.
City of Miami is currently using a deep freezer to store vaccine doses once they are received.
Between "Miami First," Jackson Health System's faith-based approach and drive-through vaccination efforts run by church leaders, far more Black seniors are being inoculated since the COVID-19 vaccine first arrived in South Florida.