Culture Wash – that's what a local artist and a longtime Miami Beach promoter said is happening to Urban Beach Week. The main reason: What seems to be a conscious, steady removal of hip-hop culture from the festivities that was built on artists such as Diddy and Lil Wayne.
By excluding hip-hop culture from the programming, Johanne Rahaman said the beach is washing all the culture away.The Miami Dade Branch NAACP president disagrees.
Johanne Rahaman, an award-winning photographer, has spoken out every year against the city's approach to Urban Beach Week.
"Urban Beach is hip-hop. If you erase that then you are really getting rid of the event," she said.
Since 1999, Memorial Day Weekend on Miami Beach has attracted thousands of visitors from all over the nation who view the time as a chance to pop champagne with hip-hop artists and celebrities. Rappers like Diddy, 50 Cent and Busta Rhymes make cameos at clubs like Story and LIV.
Promoters have set up websites where hip-hop fans can book all-inclusive packages.
"Urban Beach Week hits Miami once again and every single celebrity will be there. The pool parties, the clubs, the beaches, the entire strip will be lit up like a Christmas tree on steroids," according to UrbanBeachWeek.com.
Miami Beach officials have called it an out-of-control series of parties that increase crime on the beach. After shootings in 2017, then-Miami Beach Commissioner Kirsten Rosen Gonzalez sent an email to Miami Beach Police Chief Daniel Oates demanding he give the police back their bullets and take away their body cams. She has since apologized. Former Miami Beach Commissioner Michael Greico has called the event "a thing of the past." Unsuccessful with their attempts to end the festivities, city officials have now hired a team of Black curators to "reframe" the weekend. They also wanted to employed Rahaman. Her name appeared on a memo released to the press that was later pulled back. Miami Beach needs to accept Urban Beach Week as it is, said Rahaman.
"I would never work with Miami Beach in their effort to culture wash the festivities," she said. "This is not an art event."
Local NAACP branch president Ruban Roberts said the city seems to be taking a step in the right direction. He has confronted the city about vilifying Black tourists in previous years.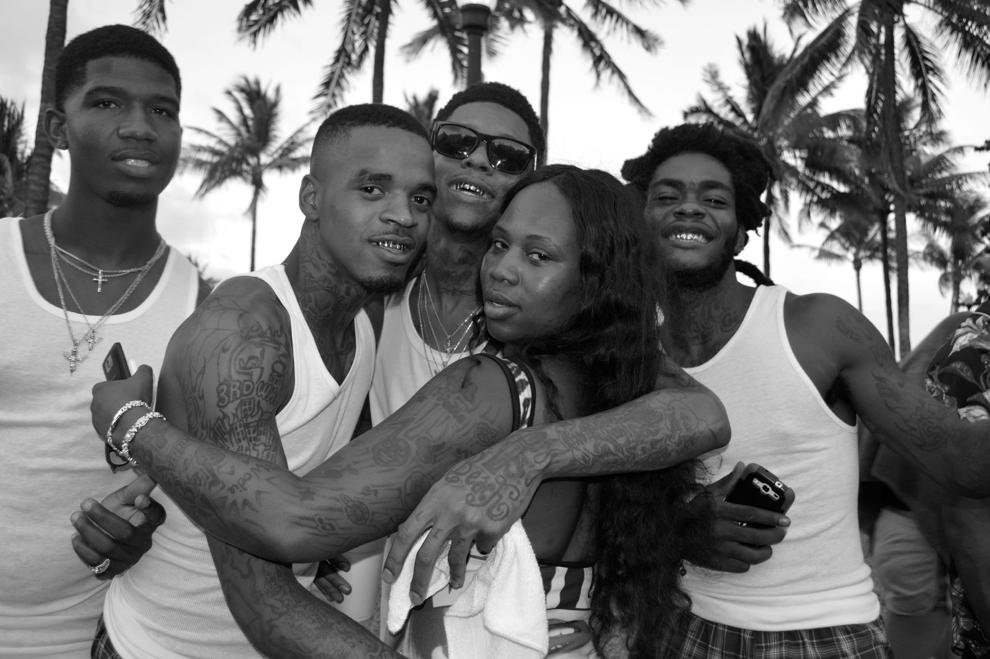 Each year, city officials have looked for ways to tame the party. They have implemented noise ordinances, restricted access to areas of the beach and increased police presence, among other efforts. Last year, the Commission tried to make the festivities "classy" with a gospel concert, a movie night, poetry readings, a barbecue cook-off and a basketball tournament between the mayors of Miami Beach and Miami to the attractions. This was after the NAACP sent a letter to officials calling for solutions. Roberts expressed concerned about the overpolicing of Black visitors and the lack of hospitality and city-sponsored events. Roberts later consulted with the city about creating the programming.
"One of the things we talked about was programming," said Roberts. "We talked about how they can make it more welcoming by providing more programming on the beach."
This year, there will be art installations and open forums to talk about inclusion. But plans for incorporating hip-hop into the exhibits, so far have been excluded, curator Octavia Yearwood told The Miami Times.
Yearwood, an artist and arts educator will, co-curate a series of installations with artist Jared McGriff to be on display during Urban Beech Week. Yearwood and McGriff also plan to take the art to the patrons on the beach, and attract them with images of themselves and influencers. The team is still finalizing the events.
Yearwood told The Miami Times that the theme for the weekend is "Reframe."
"The vision is to shift the narrative for Urban Beach Week to start to use art to mobilize change," she said. "We plan to create artistic activations to highlight the story of both sides."
POP GOES FLO RIDA
The Hyundai Air & Sea Show, of which Miami Beach is a sponsor, will take place on Miami Beach Sunday, May 26 and will feature Flo Rida. Flo Rida, a Miami native, is a rapper, however, a press release for the event listed him as an "international pop sensation."
Roberts said that the city is addressing issues with their new plan, and that he would like to see more going forward. Visitors come to the beach to have fun and attend events, and the programming still offers them that, he said.
"They've decided they wanted to do something more arts and culturally," said Roberts. "I believe they have gone with a Black, and they're trying to make an effort."
The culture has already been established for Urban Beach Week, according to Rahaman.
"It is controlling the weekend in a way," she said.
Rahaman has been capturing moments from Urban Beach Week for years – a time she considers is all about unity and having a good time. She has been a documentary photographer since 2002. Seven years ago, she created the BlackFlorida archives.
"I was photographing the Black communities because I am passionate about my people," said Rahaman, who was born in Trinidad but has lived on South Beach for 10 years before moving on.
She compares Urban Beach Week to Trinidad's annual street festival, Carnival. For Carnival, men and women parade in the streets barely clothed, covered only by costumes made of feathers and gems. Soca music is played on loudspeakers that are attached to trucks. People dance, drink and party for days upon end. Rahaman said visitors come to Miami Beach for Memorial Day Weekend to attend a big party that is just as culturally significant.
"They enjoy the attention. They work really hard to get their bodies looking good for Urban Beach Week," she said. Men and women socialize on the beach in beachwear and swimsuit during the festivities.
'waterRights'
Rahaman approaches capturing snapshots during Urban Beach Week with "the same dignity and respect when walking into a shoot with an 80-year-old."
Because of footage that has circulated of fights, arrests and shootings portrayed in the media and exasperated officials, Urban Beach Week has gotten a bad rap, she said.
One thing the media misses is the unity on the beach, she added.
"You see situations with people taking care of each other," she said. Most of the partiers hang out at Palace, a well-known gay restaurant and lounge.
"Everyone gets along, and everyone feels welcome," she said.
Through her latest installation, "waterRIGHTS," Rahaman shows photographs she captures from the previous year's Urban Beach Week. She received an Ellies award from Oolite Arts for the work.
The images are shown on a 40-feet LED screen on the water. Both in Black and white and color, the moving installation shows Beach patrons dancing, strutting in fashion and enjoying the South Florida sun.
Rahaman hopes that some of the returning Urban Beach patrons will catch a glimpse of themselves.
"I want them to know: 'You are welcomed. This is you,'" she said.
"WaterRIGHTS" is not only about Urban Beach Week. It is also an examination of Black people's struggle with acceptance and water. It starts with the middle-passage, through segregation to present.
"It is about our right to be near water as much as it is about South Beach," she said.
"WaterRIGHTS" will float along the ocean 5 to 7 p.m. on Saturday, May 25.