More than 100,000 Miami-Dade County students in need will receive free internet for the next two years through a new initiative called Miami Connected. Announced at a press conference in Overtown on Monday, the program is a major step forward in tackling Miami's digital divide – or lack of internet access in underserved communities.
The news comes as another issue looms large over Miami's public schools. More than 10,000 students have "gone missing," having not shown up to class since last March, according to school officials. The digital divide is partly to blame, with many students seemingly getting lost in the mayhem of attempting to attend school remotely. Local leaders say they are committed to ensuring too much damage hasn't already been done, but uncertainty remains.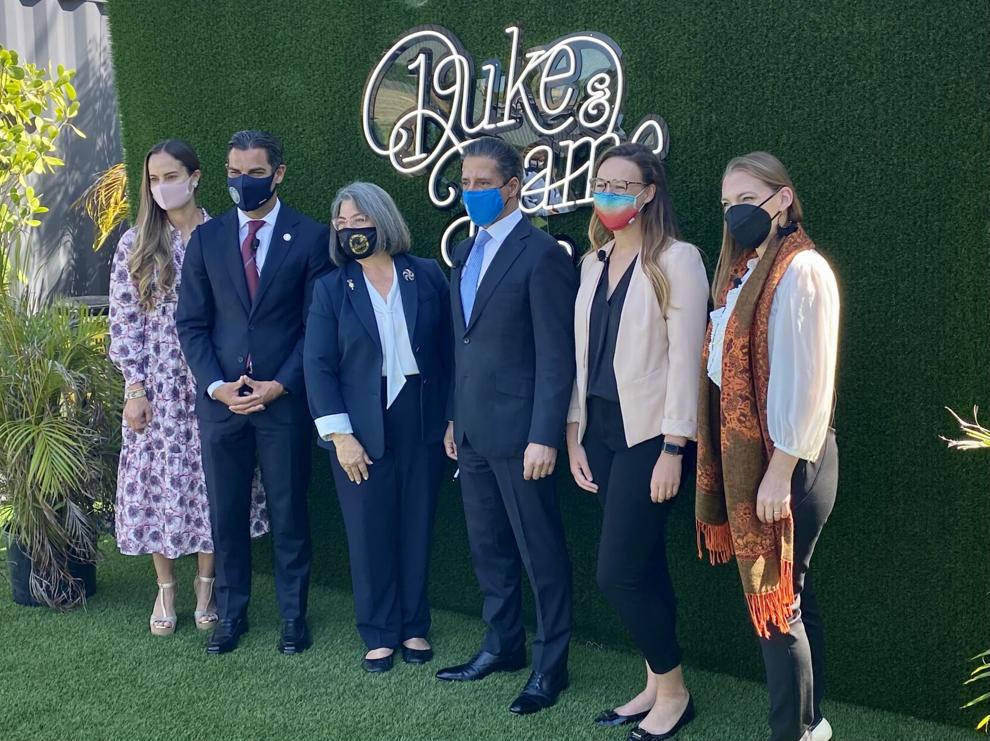 More than one in five Miami-Dade residents do not have reliable access to the internet, making Miami the second least-connected large city in the U.S. according to Achieve Miami, a nonprofit organization dedicated to advancing educational equity in the county; K-12 students have been especially disadvantaged by Miami's digital divide over the years.
The county's curriculum already involved assignments that were easiest to complete with internet access at home, driving many kids to public libraries to do their homework. When schools transitioned to remote learning last March, children in households lacking connectivity had a difficult time attending class. Some families adapted, calling on friends and relatives for support. Others relied on makeshift learning labs – facilities run by nonprofit organizations with available computers where students could be dropped off to attend remote classes. But a number of students had to navigate their situations alone.
That's what drove Achieve Miami to develop Miami Connected in partnership with The Miami Foundation. Achieve Miami was awarded $5 million in CARES Act funding, which was initially used to purchase devices for students last fall. Remaining funds (of an unspecified amount) are being dedicated toward this effort, which Miami Foundation CEO Rebecca Fishman Lipsey reported through her organization's PR firm as having an estimated total cost between $15 and $30 million – a very wide range.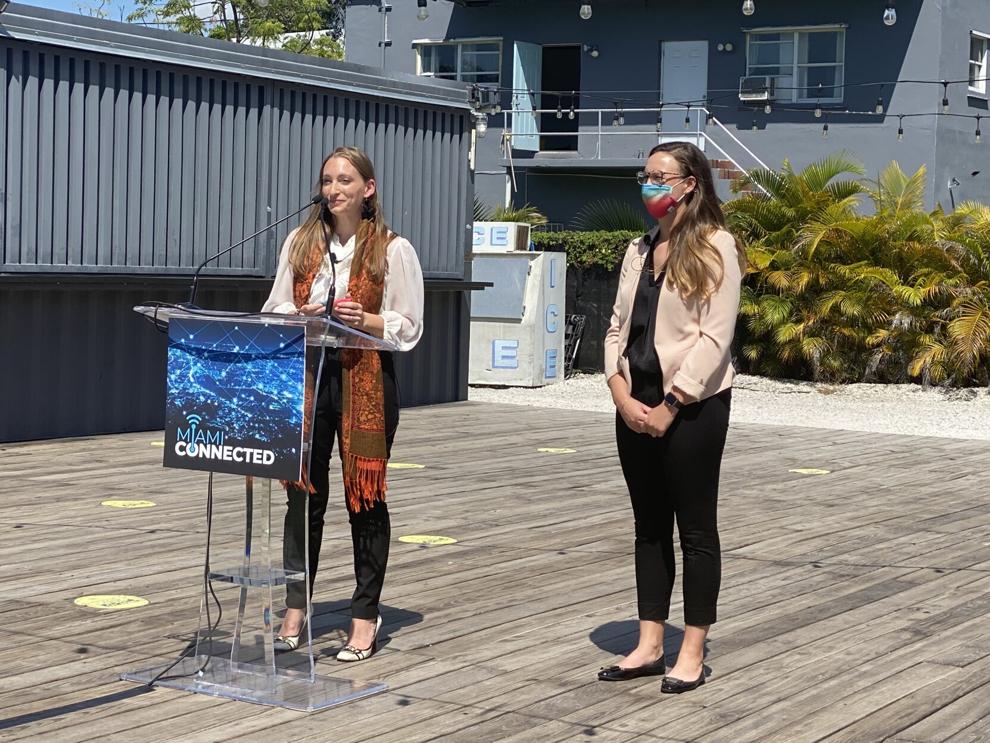 A total of $11 million has been raised for the initiative to date, including $5 million from Citadel Group CEO Ken Griffin, who supported a similar program in Chicago, as well as contributions from The Miami Foundation ($300,000), the City of Miami ($50,000) and The Children's Trust ($150,000 a year for three years). Achieve Miami Founder Leslie Miller Saiontz, tech group eMerge Americas, TD Bank and the Miami Heat, have collectively contributed an unspecified amount, which Achieve Miami and The Miami Foundation declined to itemize prior to deadline.
Miami Connected will launch this month, working with wireless provider Comcast.
"The initial rollout of Miami Connected will be to the 22,000 students who attend Title I schools in the following four high school feeder patterns, Booker T. Washington in Overtown, Homestead Senior in Homestead, Miami Edison in Little Haiti and Miami Northwestern in Liberty City," said Sarah Emmons, Achieve Miami's executive director. "Any student who attends a school in one of these four feeder patterns will be eligible."
Phase Two of the rollout will expand Miami Connected to 67,000 additional students on a school-by-school basis. Miami-Dade's highest-need communities will be targeted again, in other school feeder patterns. The joint initiative's mission is to make Miami-Dade the most technologically inclusive county in the nation.
"Our community has been through a lot this past year, but I want you to imagine with me what it was like to navigate this past year without high-quality internet in your home," said Fishman Lipsey. "Over the past year, internet was a basic human need, and the truth is it will remain a basic human need in the future."
In addition to providing free Internet service, Miami Connected will teach students and their families the skills necessary to become more digitally literate. This aspect of the program will be achieved through a community advisory group that will execute grant programs.
"Our responsibility at The Miami Foundation is to identify issues that matter most to the future of Miami, to serve as a backbone and to act … This is what it looks like to solve real problems," Fishman Lipsey said.
"This is the right investment for our community," said Miami-Dade County Public Schools Superintendent Alberto M. Carvalho. "We recognize that eradicating the digital deserts in our community may seem like a simple idea, but we are on the verge of actually getting it done."
Regarding the 10,000 missing Miami-Dade County students, Carvalho told the Miami Herald last month that the district has a "pretty good sense" of where they are, and shared that about 76% now attend private schools or have left the county. He also said the true estimate of students the district has had no contact with, and whose whereabouts are still unknown, is about 1,700.
School districts employ a team of social workers and resource officers to search for students in the event they stop going to class. After a child accumulates more than 20 absences, a red flag is raised and a case file is opened. This year, caseloads have doubled or tripled because of disruptions caused by the pandemic.
District 2 school board representative Dorothy Bendross-Mindingall will propose a new strategy at the next school board meeting to help find the missing children.
"As a [prior] principal at Lillie Carmichael Evans Elementary School in the heart of Liberty City, when children didn't come to school, I went to their homes and got them," Bendross-Mindingall said.
"What I'm going to offer is an opportunity for our parents, who might not be employed at this time. I'd like to employ some of them to go out and knock on doors," providing support to the district's social workers and officers, she said.
Steve Gallon III, school board vice-chair and District 1 representative, expressed concern about children who remain unaccounted for.
"Any inability to locate and engage students in learning remains concerning," he said. "We will continue to be vigilant in ensuring that we account for all students, and ensure that they are engaged in meaningful, consistent learning activities."
Although Miami Connected may not solve every problem the school district faces, Booker T. Washington Senior High School principal Kevin Lawrence is "optimistic."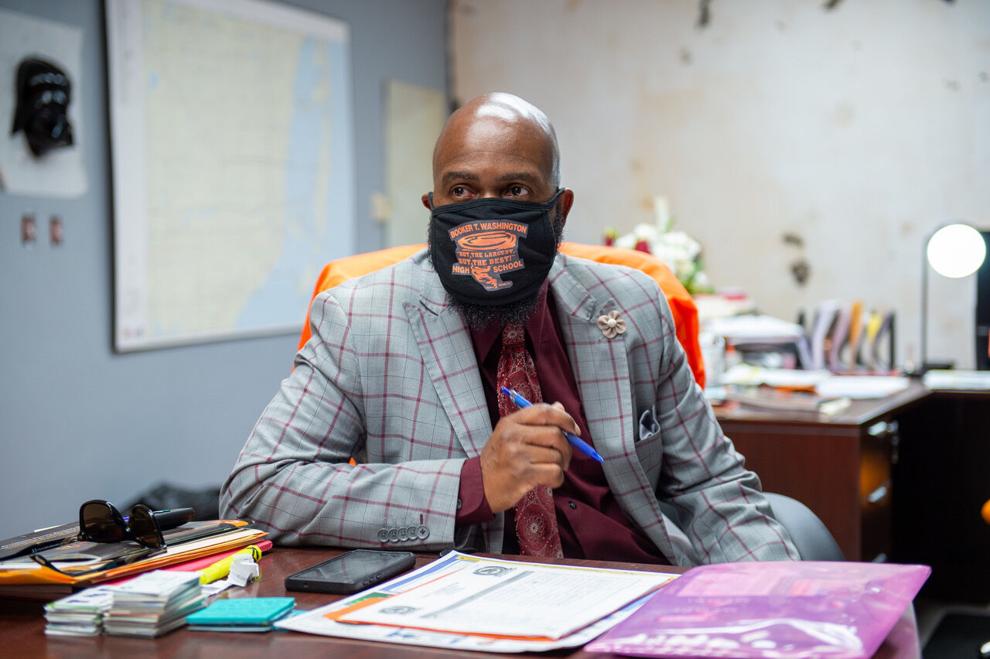 "I'm not going to sit here and say it's going to solve every single problem, but it's at least here to provide kids with resources that they normally would not have," he said. "And that, to me, is more important than anything else. It puts us in a better place to provide more support. This is just the start."
Lawrence became the school's principal last July, after serving in the same role for Horace Mann Middle School in El Portal. He said that prior to the pandemic, students with internet issues could go to a teacher's classroom, study hall or tutoring after school to work on assignments. Shutdowns, due to the coronavirus, immediately exacerbated the impact of the already existing digital divide.
"Over the last 10 years, the way we've taught and the way we've learned has totally changed," Lawrence said. "There are some variations of internet services that students would need for school, even kids in elementary school, especially how students do research now, rely on search engines like Google for most things."
Mela Fleary, a sophomore at Booker T., says attending school has been difficult because of connectivity issues. She is in the school's astronomy magnet and engineering program. She is also captain of the girls volleyball team, a dual enrollment student at Miami Dade College and a member of the National Honor Society. Usually a very active student, connectivity issues made her feel uninterested, especially after she contracted COVID-19.
"When I was out sick with COVID-19, it was hard for me personally because there were issues on Zoom," she said. "The Wi-Fi might be stable one day, but the next day it crashes. So having [Miami Connected] is reassurance, knowing I will have extra backup and support when doing homework."
Giolany Mendes, another student at Booker T., said connectivity issues were discouraging and led him to fell behind.
"I wasn't doing in-person learning at the beginning of the school year," he said. "I came back [to school] because I had issues with online access and I wasn't used to the Zoom thing. It threw me off. Being at home felt better at the time, but my grades were poor. I didn't have a problem with coming back because I knew that they would get me the help that I needed."
Miami Connected is a solution long overdue for underserved Miami-Dade residents. But cleaning up the fallout of the digital divide and tracking down off-the-grid students will take time.
What happens after the two years of free internet access ends? Funding partners haven't figured that out yet.
Interested parties can help close that gap with donations - in-kind services as well as financial support. To learn more, visit www.miamiconnected.com.