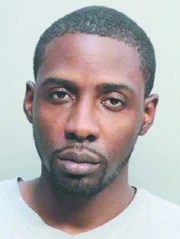 DAYTONA BEACH — Money meant everything to York Zed Bodden. Human life meant nothing.
The convicted felon from Miami had dollar signs etched on his chest when Florida Department of Law Enforcement officers arrested him on Friday. He was the sole suspect in the murder of two Bethune-Cookman University students and attempted murder of a third. Bodden was also the rogue wheel in the trio's roommate set-up. They offered him $200 to leave. But that wasn't enough—Bodden insisted on $400.
Following a domestic dispute that morphed into a violent fist fight, the 27-year-old felon left the Carolina Club apartment in Daytona Beach and retrieved what police believed was a 9mm or .350 mini-revolver. Within minutes, he returned to the scene and shot in the head Timesha "A'lisa" Carswell, 21, and Diona McDonald, 19. Both were struck at point blank range. He then pumped six bullets into the face and jugular vein of Michael Parham , their 21-year-old male roommate who remains critically injured and clings to life.
Bodden fled the crime-scene and managed to evade a statewide manhunt. At 1 p.m. on Friday, Federal law enforcement agents arrested him at a North Miami apartment. The next day, his short-lived life ended. Prisoner #150020036 was found hanging in the K-28 section of the Turner Guilford Knight Correctional Center in Miami-Dade.
The three shooting victims were music majors from Michigan. McDonald is a Detroit native and Carswell and Parham are from the neighboring town of Inkster. Carswell was dating Bodden who authorities confirmed had been living with a Daytona Beach State College student just one week earlier. A criminal motivated by money, Bodden's victims lived honorable lives that were the polar opposite:
"There were no signs of drugs or (drug) money anywhere in the house or in the student's cars," Chief Michael Chitwood of the City of Daytona Beach Police told the Miami Times. "Every one of those students were good young men and good young women who've never been in trouble with the law. They were good students and well respected at Cookman, so that's what makes this really difficult. These are kids that had a brilliant future. These are kids that would be the future of what America is all about," he added.
DOMESTIC DISPUTE
DOMESTIC DISPUTE
The bedrock of communication is rooted in conflict-resolution, but for college roommates who realize, "things weren't working out," even a voice of reason may not be enough to intervene.
"Micah and Timesha felt it wasn't going to be pretty when they asked him [Bodden] to move out, so they asked their classmate Sidney Washington of Oklahoma if he could come over and lend some support," said Chitwood.
"And they were right. When they asked him to leave, a big fight erupts between Micah and our shooter. It got so violent that Mr. Washington armed himself with a knife and you can see in the back room that somebody got shoved through the wall because all the sheet rock was busted, so it was a physical fist fight first."
A conciliatory agreement ended the brawl and Bodden went as far as to shake hands with both men. But none of the students could have been prepared for the fatal events that followed when Bodden returned. And police were not prepared to discover a crime scene that revealed how the students ran for their lives.
One female victim was found dead at a closet entrance. The other was on a bedroom floor. Parham was shot initially shot in a closet, but made his way to the kitchen floor. Washington initially tried to overtake the shooter, but ultimately dodged death by jumping through a first-floor window. He escaped harm.
FELONS WITH GUNS
FELONS WITH GUNS
The tragedy took place off-campus and almost five miles away from Bethune-Cookman. The university is an institutional jewel that is rich in Southern heritage and seeks to develop students who enter to learn and depart to serve. Carsell and McDonald both departed before their time and at the hands of a felon who never should have been in possession of a gun.
These brutal murders mark the ninth gun-related crime at Bethune-Cookman in the past seven months. Previously, nine students were wounded—this time two students and a shooter are dead. Amplified is Florida's existence as a fledging "Gunshine state" that continues to search for law enforcement and criminal justice solutions to curb gun-related crimes.
"How do you stop somebody, especially in our society that is so pro-gun everything? You can't stop 'em from getting a gun. Especially here in Daytona Beach," said Chief Chitwood. "All you gotta do is drive into a parking lot and see an F-150 flying the rebel flag and you can rest assure there's a gun in there. He's got his bumper sticker screaming 'I love the NRA' and 'Long live the second amendment,' and that's what the bad guys break into. They get guns that way."
BODDEN'S RAP SHEET
BODDEN'S RAP SHEET
York Bodden may have died in a damp county jail, but he left a legacy of felony arrests and convictions that began eight years ago and continued in three-year increments.
• 10/26/2007 False Imprisonment.
• 10/26/2007 Felony Battery
• 04/16/2010 Burglary of an occupied dwelling
• 04/16/2010 Burglary of an unoccupied structure
• 09/17/2015 Capital Murder in the first-degree and aggravated assault.
• 09/19/2015 Felony Suicide
Had he not hung himself, Chitwood's recommendation would have been life in prison.
"Part of me is a death penalty advocate and part of me isn't. He should (have) sat in that jail cell and rot the rest of his life away thinking of what he did to those families," said Chitwood. "Whatever it was to be, his days of being free and able to hurt anyone else should be done….life in prison may even be too good."
At press time, the Miami Times was unable to contact Bodden's next of kin for comment.
Meanwhile Walter Clark, president and CEO of Special Consultant for African-American Government Employees (SCAAGE), is questioning why an inmate in transit ended up dying in police custody.
"The prisoners are not being supervised properly," Clark said. A similar situation happened to an inmate that was in transit at the jail. They are not equipped to take care of unruly prisoners."
EXEMPLARY YOUNG WOMEN
EXEMPLARY YOUNG WOMEN
Both McDonald and Carswell are B-CU music majors who were active in the university choir and described as "kindhearted girls." They were exemplary students who both had a parent precede them in death. McDonald's mother died of breast cancer just months ago and Carswell's father succumbed to cancer when she was 3.
"I hope to God, in my lifetime, I never know the pain that those parents know because I don't know if I would be able to live in the shoes they're in, especially Mr. McDonald," shared Chitwood, whose own daughter is a college senior at a separate institution. He finally allowed her to move off campus this year, but after these shootings, he regrets that decision.
Prayer vigils were held on campus the day following the students' tragic deaths. The Miami Times spoke with Ira Johnson, the uncle and pastor of Carswell. It was his family who raised his deceased niece after her father [Tim] Carswell died:
"She always called me "Uncle Ira J" and the whole family called her "Lisa." She was always smiling and such a great spirit," Johnson shared. " We have a huge family, but Lisa was the heart and soul of the family. She was an encourager. After the Charleston shootings, she went on Facebook and lifted up other cousins by saying, 'Don't worry Cuz, it's gonna be alright. She would often call and say 'I love you' for no reason," Johnson added.
BETHUNE COOKMAN STATEMENT The office of president Edison O. Jackson released the following response last week:
BETHUNE COOKMAN STATEMENT The office of president Edison O. Jackson released the following response last week:
"It is with saddened hearts that Bethune-Cookman University announces the loss of two students and the critical injury of a former student. The students were victims of a fatal domestic violence incident that occurred at a privately owned apartment complex in Daytona Beach, Florida early Thursday afternoon.
Bethune-Cookman University's first priority is the safety and wellbeing of the students. We will continue to communicate and educate the BCU family about domestic violence and general conflict resolution.
Our Department of Public Safety is readily available to assist all students who are in need of conflict mediation and security services. In addition, personnel in Counseling Services are available for grief counseling. This is a very unfortunate incident and our thoughts and prayers are with the families, loved ones and fellow classmates of these students."
Surviving student Parham remains in intensive care at Halifax Regional Hospital. Chitwood is expected to launch a campaign in the coming days for donations in the form of gift cards to restaurants that will be extended to Parham's family. They arrived from Michigan and have remained at his bedside since last Thursday.