Congress passed a $900 billion pandemic relief package Monday night that would finally deliver long-sought cash to businesses and individuals, and resources to vaccinate a nation confronting a frightening surge in COVID-19 cases and deaths.
The bill is on its way to President Donald Trump for his signature, which is expected in the coming days.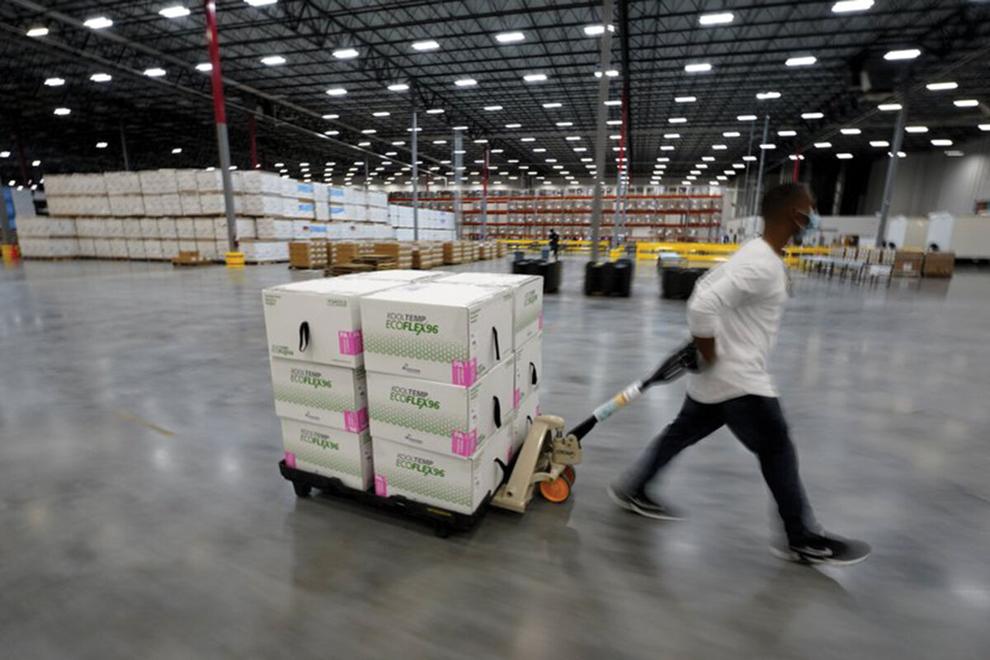 The relief package sped through the House and Senate in a matter of hours. It is less than half the size of what Democrats had demanded earlier this fall, but President-elect Joe Biden was eager for a deal and broke the logjam by urging his party to accept a compromise with top Republicans.
"This deal is not everything I want – not by a long shot," said Jim McGovern, D-Mass., the rules committee chairman. "The choice before us is simple. It's about whether we help families or not. It's about whether we help small businesses and restaurants or not. It's about whether we boost [food stamp] benefits and strengthen anti-hunger programs or not. And whether we help those dealing with a job loss or not. To me, this is not a tough call."
Vice President-elect Kamala Harris, D-Calif., came to the Senate to cast her vote for the bill.
"The American people need relief and I want to be able to do what I can to help them," she said.
Democrats promised more aid to come once Biden takes office, but Republicans were signaling a wait-and-see approach.
The aid is part of a massive, $1.4 trillion year-end catchall spending bill that doesn't address reams of other unfinished legislation on taxes, energy, education and health care.
Here are highlights of the measure with overall funding amounts and specific amounts for some, but not necessarily all, initiatives. Noticeably absent from the relief bill is funding for states with budgets buckling under massive spending they've been forced to incur to fight the virus.
Direct payments ($166 billion) Provides $600 direct payments to individuals making up to $75,000 per year and couples making $150,000 per year – with payments phased out for higher incomes – and an additional $600 payment per dependent child. Direct payments would begin arriving in bank accounts next week.
Unemployment insurance ($120 billion) Revives supplemental federal pandemic unemployment benefits but at $300 per week – through March 14 – instead of the $600 weekly benefit that expired in July. Extends special pandemic benefits for "gig" workers and extends the maximum period for state-paid jobless benefits to 50 weeks.
Small business ($325 billion) Revives the Paycheck Protection Program – for which $284 billion of the $325 billion allocated has been earmarked – to provide forgivable loans to qualified businesses. Especially hard-hit businesses that received PPP grants would be eligible for a second round. Ensures that PPP subsidies are not taxed.
Vaccine, testing, health care providers ($69 billion) Delivers more than $30 billion for procurement of vaccines and treatments, distribution funds for states and a strategic stockpile. Adds $22 billion for testing, tracing and mitigation, $9 billion for health care providers and $4.5 billion for mental health.
Schools ($82 billion) Delivers $54 billion to public K-12 schools affected by the pandemic and $23 billion for colleges and universities; $4 billion would be awarded to a Governors Emergency Education Relief Fund; nearly $1 billion for Native American schools.
Rental assistance ($25 billion) Provides money for a first-ever federal rental assistance program; funds to be distributed by state and local governments to help people who have fallen behind on their rent and may be facing eviction.
Food/farm aid ($26 billion) Increases food stamp benefits by 15% and provides funding to food banks, Meals on Wheels and other food aid. Provides an equal amount ($13 billion) in aid to farmers and ranchers.
Entertainment venues ($15 billion) Provides a maximum of $10 million to qualifying venues such as music halls, movie theaters, theatrical stages and similar cultural institutions. Applicants must have lost at least 25% of their revenue to qualify, and those that have lost more than 90% will be able to apply first, within the first two weeks after the bill becomes law.
Child care ($10 billion) Provides $10 billion to the Child Care Development Block Grant to help families with child care costs and help providers cover increased operating costs.
Postal service ($10 billion) Forgives a $10 billion loan to the Postal Service provided in earlier relief legislation.
Surprise medical bills Contains bipartisan legislation to protect consumers from huge surprise medical bills after receiving treatment from out-of-network providers.
Tax "extenders" Extends a variety of expiring tax breaks, including lower excise taxes of crafter brewers and distillers. Renewable energy sources would see tax breaks extended, as would motorsport facilities and people making charitable contributions. Business meals would be 100% deductible through 2022.