Nixon Jean left his house on foot bright and early Saturday morning, to head to a food distribution event in North Miami.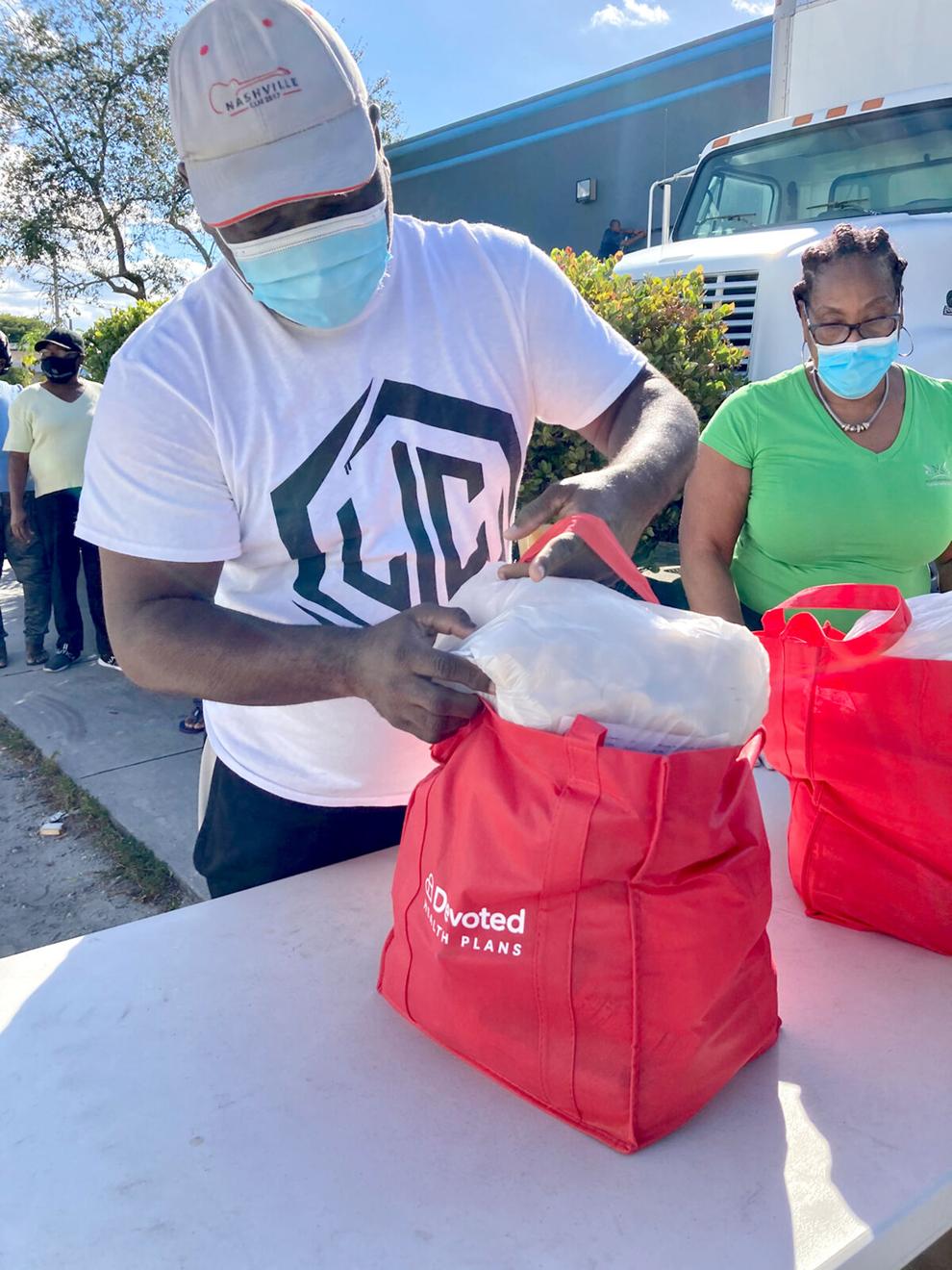 He was determined to bring something back home to his 15- and 9-year-old children who would wake up to an empty refrigerator.
Although the distribution was scheduled for 9 a.m., Jean arrived at 7 a.m. He found himself greeted by a small group of other walkers while a line of cars waited on the opposite end of the street, some of which had been parked there since 2 in the morning.
MJD Wellness, a Miami-based health care organization that caters to underserved populations, organized the event to announce the opening of its Nourishing Souls Food Bank, located at 1306 NE 123 St. in North Miami. The food bank will be supported through funding granted by the county in the sum of $200,000 and a Carrie Meek Foundation grant for $5,000.
Since the pandemic, food distributions have been staples in the Black community – and they still are. Jean and others financially impacted by COVID-19 were reassured to find out that a permanent food bank was coming to their neighborhood.
"When you see things like this being done in your community, it makes you happy," said Jean in his native language, Haitian Creole. "Things have been really difficult so this will have a big impact. I'm grateful to everyone who put this together."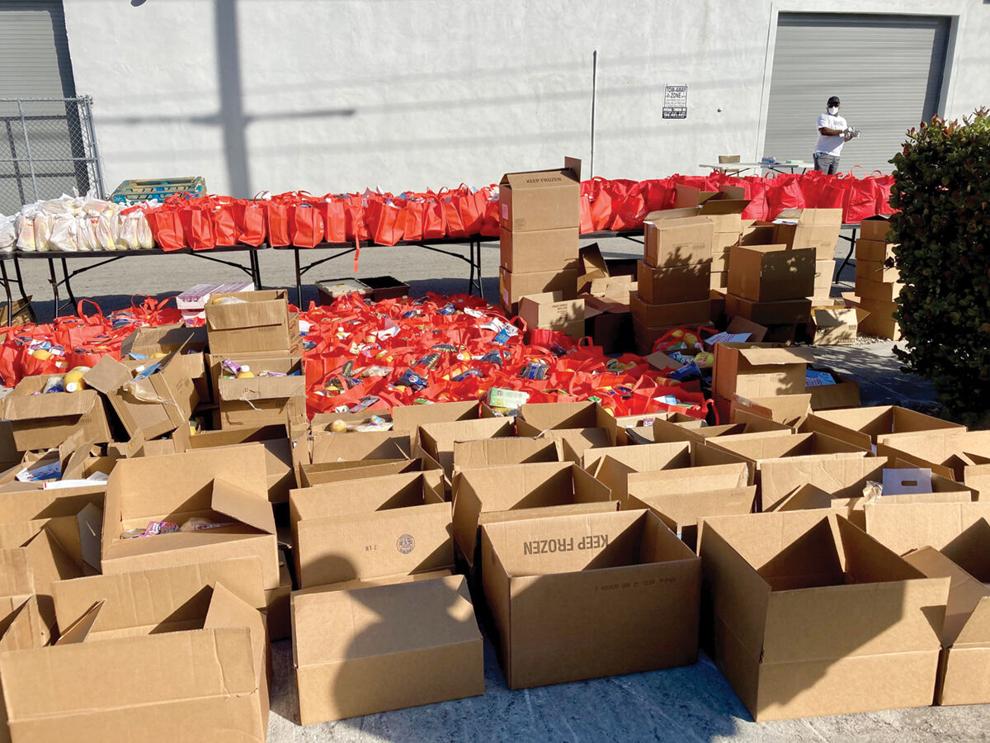 A ribbon-cutting ceremony kicked off the event, where several volunteers and elected officials were present. Among them were District 2 Commissioner Jean Monestime, who sponsored the food bank, Vanessa Joseph, North Miami city clerk, and representatives from city and county offices, all present to make sure things ran smoothly on the first day.
Families received tote bags filled with canned goods, quick oats, juice, a variety of beans, mashed potatoes, some produce and other nonperishable food items.
"This is a lifeline to a lot of families, without this, some families would probably go without eating," said Morris Copeland, Miami-Dade County chief community services officer, offering his and Mayor Daniella Levine Cava's support for the effort. "This is about being a good steward in the community and lifting a hand to those that need it the most."
Through donations and sponsors, MJD Wellness anticipated feeding 1,000 families Saturday.
Rachel Tanis, assistant general manager at MJD Wellness, was in disbelief when she saw people sleeping in their cars while the crew unpacked food overnight.
"There was a need before COVID-19 and it's clear that there's a major need now," she said. "A lot of people were excessively early and I think that says a lot about what we have to offer and why we offer it."
At previous food distribution events across the county, those on foot were turned away because of a drive-through requirement. Unlike those sites, MJD Wellness organizers felt a need to extend the resources to those without transportation, allowing Jean and other locals to benefit.
Marlène Jeanty was grateful she was not turned away this time.
"This event turned out great. I've been turned away in the past because I didn't come in a car," she said. "Sometimes organizers don't realize that not everyone has the means to afford a car, and often miss out on things like this because of that."
Jeanty and her adult daughter were overjoyed as they waited for their ride with bags in hand. Not only were they appreciative of what they received, they also made the decision to split their portions with others who are going through a difficult time.
"We must support each other," said Jeanty.
This was not MJD Wellness' first food distribution event. Founder and president Emmanuella Fleurimont, who named the nonprofit after three close friends, typically hosts health and wellness fairs annually and distributes food.
Fleurimont, who works as a mental health counselor at Jackson Community Mental Health Center and as a health and wellness counselor at select PharmCo Pharmacy clinics, saw a need to address health issues in the North Miami community in 2016. That's when she began partnering with several organizations to offer free health screenings and information through health-centered resources. In doing so, she realized that access to food plays an important role in health, and she committed to increasing access in communities across the county.
MJD Wellness became a nonprofit a year later but didn't officially launch until 2018, with the announcement of the MJD Wellness and Community Center located at 822 NE 125th St. in North Miami. The center began to offer behavioral health, nutritional and case management services, health screenings and wellness education. Following the launch, it has held monthly food distribution events every last Saturday in different communities.
Now, the new food bank is a permanent location where anyone in need can pick up food.
"I'm happy the community finally has their own place so they can come and get food whenever they want," said Fleurimont.
The food bank will be open five days a week from Tuesday through Saturday. Weekday pickups are by appointment only; walk-ins are accepted on weekends. An estimated 20 to 30 families will be served during weekdays. A partnership with Farm Share will allow more families to be serviced on Saturdays.
"I want this to continue for as long as it's needed," said Fleurimont. "Even though this has been financially draining for the past five years because I've used my own means to fund it, I see it as an obligation and I'm grateful to have the opportunity to make this impact."
Never one to turn people away, Fleurimont explained how she would often run to her parents' house to bring over more canned goods when things would run out during past food drives.
"It started as a little effort to help a few people in the community, and because [she] realized the need was so great, she sacrificed so much to bring people along, and now look where they are," said Joseph, referring to Fleurimont as a "fanm djanm," or strong woman.
As Jean approaches the one-year mark since losing his job at Quality Inn and being supported by friends and family, he is counting on the Nourishing Souls Food Bank to alleviate the economic impact of the coronavirus until he can get back on his feet.
For more information about the Nourishing Souls Food Bank, call 786.534.3896.