Plans to build a modern jail facility to replace the 61-year-old Pre-Trial Detention Center (PTDC ) in Allapattah are moving forward.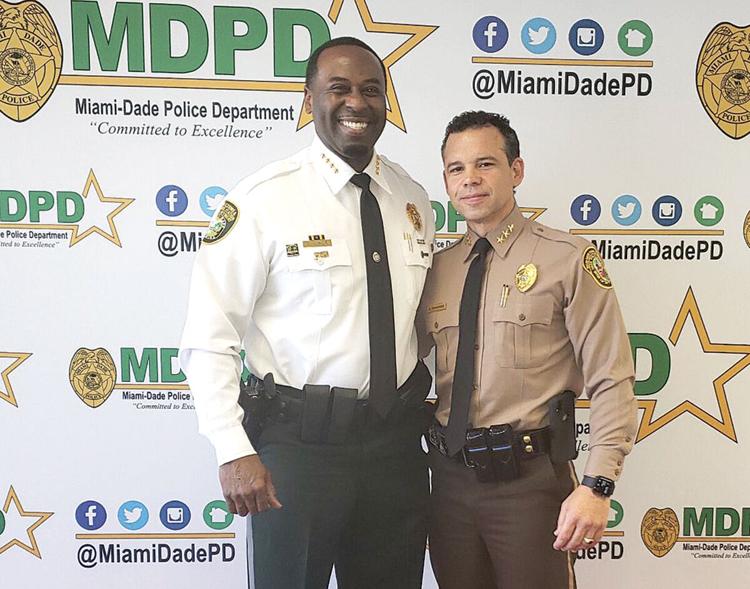 The Miami-Dade County Commission unanimously backed Mayor Carlos Giménez's recommendation on Oct. 6 to demolish the current PTDC across the street from the Richard E. Gerstein Justice Building and replace it with a new $448 million jail with 1,965 beds, medical housing and five new criminal courtrooms.
According to Daniel Junior, director of the Corrections and Rehabilitation Department, the number of beds in in the county's corrections system will decrease from 5,612 beds to 5,346 once the new PTDC is built.
Still, during public comments, 17 people called in to oppose the idea of building the jail, insisting that such funds were better spent on constructing new schools, affordable housing or social programs that will deter criminal residents. Some of the speakers felt that a new jail would only encourage the county to continue incarcerating people, rather than rehabilitating them. Two of them mentioned the brutal scalding death of Darren Rainey, who was left handcuffed in a shower with very hot running water by Florida Department of Corrections prison guards at Dade Correctional Institution near Homestead in 2012. Another talked about the "illegal fight clubs" in state-run juvenile detention centers that were revealed in a 2017 Miami Herald investigation.
But County Commissioner Sally Heyman insisted that the county was already taking steps to reduce incarcerations, and that replacing the jail was a health and public safety issue. Heyman also pointed out that the county has been under a federal consent decree with the U.S. Department of Justice since 2013 to upgrade its jails.
"It means the federal government can take over, do what they want without any dialogue from us and then charge us to run it," she said at the meeting.
"We can't afford not to replace those jails, and we have to replace these jails to be humane to the prisoners that we keep," Giménez later added, referring to the PTDC. "These jails are 60 years old, and they are not efficient. They are totally inefficient, and we have to replace them."
Under the recommended plan, the construction of the new facility would be financed by a bond and the sale of the 2.7-acre parcel that the current Pre-Trial Detention Center now stands on, which in Giménez's report to the commission is estimated to be "valued at $16.6 million as is, and $26.6 million if rezoned." The report also stated that Giménez's office was looking into relocating the Women's Detention Center at 1401 NW 7th St. and selling the land it now stands on, which Giménez stated was worth around $5 million.
The county will also solidify a deal with Tallahassee that will enable the construction of a pair of jail facilities on state-owned land in the western parts of the county, miles from residential areas. One likely site is near the 29-year-old, 2,300-bed Metro West Detention Center at 13850 NW 41st St. west of Doral, in an area surrounded by wetlands and rock mines. During the meeting, Heyman said another possible spot was near Krome Avenue.
"We are exploring the land; it was hard not to put it in a residential area," she said.
Giménez insisted in his report that the county will save $35 million a year "once the replacement detention complex is constructed and fully in use." Under the current "hybrid plan," the two additional new facilities would include a 1,956-bed jail with a court, and a second structure with four courtrooms, a centralized intake and release center, a video visitation facility, administrative offices, a parking garage and "inmate programing."
Previously, the county was looking at building a new jail by the 1,300-bed Turner Guilford Knight Correctional Center at 7000 NW 41st St., just north of Miami International Airport. That idea was withdrawn following objections from Miami Springs and Virginia Gardens residents.
Junior said it will be far cheaper to build a new jail complex than to renovate and modernize the PTDC, which was built in 1959. Back then, the county didn't factor the need for mental health facilities, programs for rehabilitation or global pandemics.
"[It] will require a lot of time, money and resources to bring that facility up to code," he said.
The PTDC also wasn't built with line-of-sight in mind, meaning that the PTDC needed to be equipped with 2,000 cameras "just to keep an eye on the inmate population, Junior said. Twenty-first century jails, on the other hand, are now designed more efficiently, offer more direct line-of-sight for guards, and require less employees to secure and maintain. The PTDC, claimed Junior, needs 3,000 employees to secure and maintain the facility, while a new facility will need just over 350 employees.
Commissioner Daniella Levine Cava said she'd like to see the jail beds further reduced through citations for misdemeanor infractions and other programs. And the early releases of some prisoners due to the COVID-19 pandemic shows that the county can reduce incarcerations, Levine Cava added.
"I hope we are going to continue our aggressive commitment to reduce the jail population even after the pandemic," she said. "We have shown we can do it and we can't go backwards. We have to continue forward in that direction."