Coronavirus cases rise in public schools
COVID-19 cases are spreading quickly among students and teachers in Miami-Dade County public schools, resulting in the United Teachers of Dade calling for the consideration of another systemwide school closure. Coronavirus cases jumped to more than 80 over the weekend, a 75%increase in new cases from Friday to Monday, according to M-DCPS. Now in the third week of face-to-face learning, parents and teachers fear the actual number of cases is significantly higher, suspecting the district is not being transparent enough. The M-DCPS online dashboard that is supposed to post accurate numbers of cases is apparently not always current.
More cases of West Nile Virus
Mosquito-borne diseases are still on the rise in Miami-Dade with three more reported cases of West Nile Virus announced by the Florida Department of Health, bringing this year's total to 59. Symptoms such as fever, headache and fatigue tend to happen two to 14 days after a mosquito bite, but symptoms develop in only about 20% of the people who contract the disease. Senior citizens and people with compromised immune systems are at a higher risk of developing the serious, possibly fatal, symptoms that hit less than 1% of those infected. To cut down on the chances of getting West Nile, drain standing water and wear mosquito repellent.
Early voting breaks records in Miami-Dade
Rain did not stop South Floridians from getting out the vote. Many people arrived at polling locations before dawn to cast their ballots on the first day of early voting this week. In some cases, people lined up around the block, but there were no complaints of excessive wait times. By the time early voting started, More than 2.5 million Floridians had already voted by mail. More than 40,000 people voted Monday in Miami-Dade County, deputy elections supervisor Suzy Trutie said after polls closed at 7 p.m. That surpassed the county's numbers in November 2016, when just over 35,000 voters cast a ballot in Miami-Dade on the first day of early voting.
Increased police presence at early voting sites
Miami Mayor Francis Suarez announced in a press conference on Monday that the city will be placing plainsclothes police detectives at all four of its early voting locations. The move comes in response to communitywide concerns from residents and business owners over heightened tensions due to a contentious general election and fear of potential intimidation tactics by civilians meant to scare voters away, exacerbated by pandemic stress and, more specifically, antagonism over wearing masks and face coverings in public. "Voting is one of our more fundamental rights," said Suarez. "And we intend, in the city of Miami, to protect those rights."
Lawsuit filed to pull Amendment 3
A Democrat from Tampa and a Republican from Palm Harbor have teamed up to file suit in the Florida Supreme court to remove FL Constitutional Amendment 3 from the November ballot. The amendment threatens to undermine political party dominance over legislative races. If approved by 60% of the electorate in November, all voters could vote in state and legislative races regardless of party affiliation, forcing candidates to appeal to a broader constituency beginning in 2024. The two candidates who get the most votes in each primary – even two from the same party – would then advance to the general election.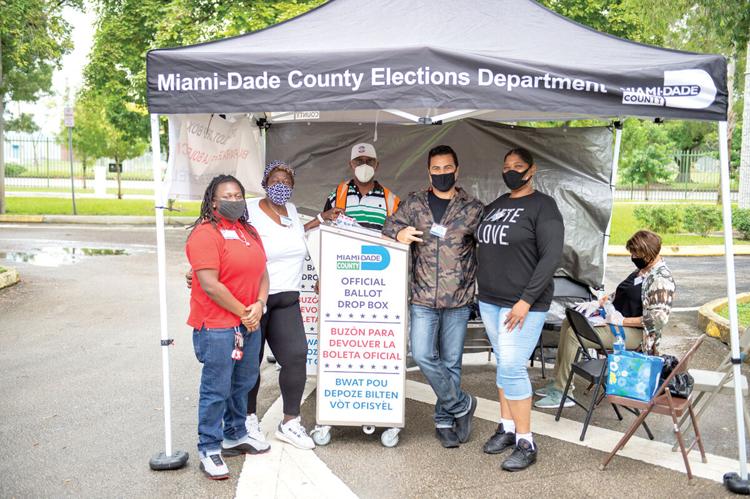 900,000 FL felons can't vote
Florida continues to lead the nation in the number of people unable to vote because of a felony conviction, despite passage of a 2018 constitutional amendment meant to restore voting rights, according to a study recently released by the Sentencing Project, a national nonprofit that advocates for criminal justice reform. Nearly 900,000 Floridians with felony convictions are unable to vote because of a law signed by Gov. Ron DeSantis last year that required them to pay all court fees, fines or restitution before voting, according to the study. It also calls Florida the "nation's disenfranchisement leader" because of the number of Floridians unable to vote due to felony convictions or outstanding court debts. About 15% of the state's Black voting-age population is disenfranchised because of a felony, the report estimates, compared to about 6% for the state's non-Black population.
BLM shirts get voters tossed out
A poll worker in Memphis, Tennessee, has been fired after turning away early voters who were wearing "Black Lives Matter" and "I Can't Breathe" shirts, an elections official said Monday. The worker was fired Friday after officials received a call from a witness at the Dave Wells Community Center in Memphis, Shelby County Election Commission spokeswoman Suzanne Thompson said. Tennessee law does not allow voters to wear items bearing the name of a candidate or a political party in a polling place. But state law does not prohibit statements such as "Black Lives Matter," Thompson said.