Don't throw out that county elections envelope.
It might be a ballot for an election you might not know about, if you live in a 10-square-block, 40-acre unincorporated area surrounded by the western Sunkist Grove section of North Miami. 
The question: Do you want to be annexed by the City of North Miami? The Miami-Dade Department of Elections needs to receiveyour vote no later than close of business Tuesday, Jan. 26.
The territory is bounded by NW 13th and 16th Avenues on the east and west, and NW 135th and 131st Streets on the north and south. The election affects 594 residents with 417 voters in approximately 160 households. Claude Pepper Park and North Miami's Joe Celestin Center lie directly north, with Benjamin Franklin Park and K-8 Center across the street to the east. 
"This is more important than a presidential election, because it affects your everyday life," said Jorge Fernandez, the Miami-Dade County coordinator who oversees annexations and incorporations.
Incorporation entails benefits such as faster police service, more bulk pickup trash collection, municipal services to aid homeowners, weekly as opposed to twice-yearly bulk trash pickup and sewer hookups, as all homes in the tract under discussion are on septic tanks surrounded by sewers, causing waste to flow into Biscayne Bay. Such benefits are likely to bump up property values.
However, they come with costs.
North Miami's tax rate is 7.5 mils, or $7.50 per $1,000 taxable value, versus the standard unincorporated rate of about $1.93. The county calculates this would raise a typical home's tax rate by 5.57 mils, or about $429 a year. But this does not fully count offsets in costs. While sewer hookups could cost a household between $14,000 and $20,000 over time, the City of North Miami is working to create programs to offset those costs through its Community Redevelopment Agency (CRA) and Public Works Department.
A majority of one will decide the vote, whether five people or 400 people actually cast ballots. If the vote is yes, the area will be incorporated into the City of North Miami. If not, it will retain its unincorporated status.
The city has pushed for the annexation since 2013, but paused when the county halted such initiatives to study their consequences, ultimately devising seven standards to consistently apply in approving them. After much study and external reports, the county determined this area and another in North Miami met these standards, giving a green light for annexation.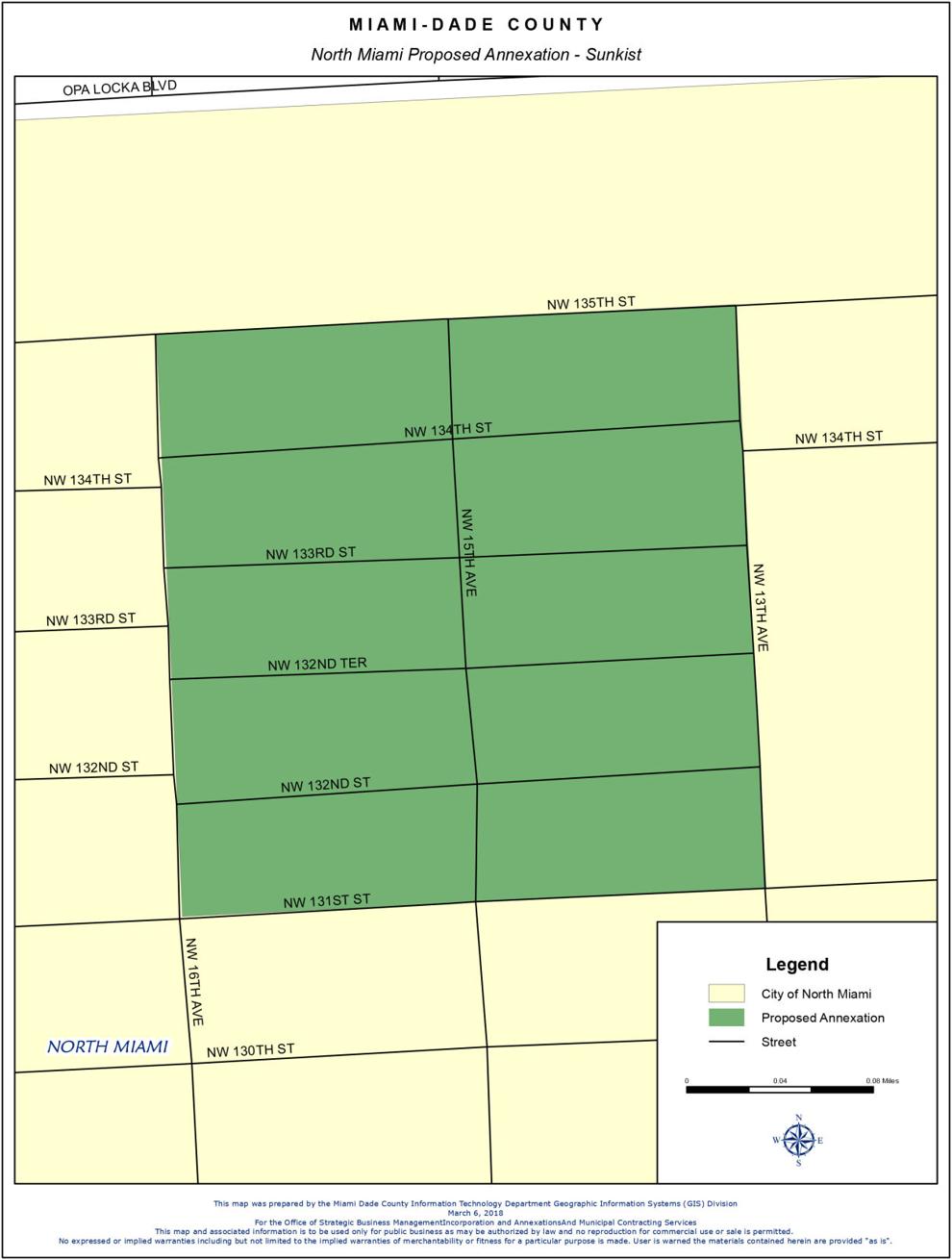 Two areas are up for annexation, but only Sunkist Grove requires a vote.
The county commission cleared the way for this vote on Oct. 6 2020, and a separate tract on the Gratigny-West Dixie tracts along the north side of NW 119th Street between NW First Avenue and West Dixie Highway to just south of the Griffing Boulevard canal, encompassing commercial properties and Gratigny Elementary School. These are not subject to a vote, as they have no residents. The lone 1949 single-family home, just north of Goodwill and south of the canal on West Dixie, is unoccupied, and the owner intends to convert that tract into 40-45 apartment units.
The Sunkist area is an ethnically varied, working- to middle-class neighborhood of single-family homes like those in the adjoining incorporated area. Its ethnicity includes households of Haitian American, Black American, Caribbean, Hispanic and non-Hispanic white heritage – or any combination thereof.
For questions of the City of North Miami, call Community Planning and Development at 305.895.9825 or email cpd@northmiamifl.gov.
---
Can't find your ballot?
To request a replacement vote-by-mail ballot, voters should call 305.499.8444 or email votebymail@miamidade.gov. To ensure your vote is counted, you can also drive your ballot to the county elections department in Doral at 2700 NW 87th Avenue. The department will post the unofficial results at 7:15 p.m. Jan. 26. Voters with uncompleted or problematic ballots will be contacted and must respond by Jan. 28, when the election will be certified.
Track vote results at miamidade.gov/elections.