In 95 years of shared history, North Miami and North Miami Beach have operated as rival fraternal twins.
They have much in common: working and middle-class majorities with the wealthier precincts hugging the coast, independent water and sewer utilities, individual police departments and weak mayor-strong manager governments – with big helpings of colorful characters and corruption over the decades.
As February ended, things changed fast.
The cities are now Siamese twins, joined at the hip, and much of the operation is being performed in the City of North Miami.
On Monday, Feb. 22, North Miami Beach Commissioner Michael Joseph jolted the minority three members on the divided seven-member commission by abruptly nominating a new city manager: North Miami Deputy City Manager Arthur H. "Duke" Sorey III.
McKenzie Fleurimond immediately seconded the motion "for purposes of discussion." Commissioner Barbara Kramer promptly exploded, sending the meeting into uproar.
"We are not doing this again!" she screamed, in a reference to a similar and successful 4-3 Jan. 28 move to replace the previous city attorney. "I am telling you now, this had better go through some process … I'll be damned if you think you can do this again. I'm ashamed to know you, Mr. Fleurimond."
Across North Miami, employees and managers had tuned in to the meeting, some – if not all – eager to see Sorey gone rather than elevated to a higher role, after years of bloated payrolls, yawning deficits and sagging employee morale.
In North Miami and North Miami Beach, word on the street had spread for weeks that Sorey had a lock on the position with a four-vote majority. In North Miami, he enjoys a base salary of about $200,000, but no longer wields the power and influence in city hall that he had enjoyed with former City Manager Larry Spring.
In the City of North Miami Beach, City Manager Esmond Scott could count the four-vote majority on the seven-member commission and see his end coming, so he negotiated a severance that was approved through Oct. 31.
Although it appeared Sorey might well have the four votes he needed, the commission drew back from ramming him through outright, voting for a 45-day search to fill the position. During another contentious four-hour meeting on the night of Feb. 25, it finally agreed to cap the search at 60 days.
Four commissioners either back Sorey outright or seem inclined his way – Joseph, Fleurimond, Paule Villard and newly elected Daniela Jean, whose election delivered a Haitian American majority in the Nov. 17 runoff, sharing a campaign slogan with Joseph: "People Over Politics." She won that citywide runoff with a voter turnout just over 10%, in a city that is 18% Haitian. Non-Haitians failed to rally the votes, the candidates or a coherent countermessage.
That left the non-Haitian minority of Mayor Anthony DeFillipo and commissioners Kramer and Fortuna Smukler. They all sought an extended search with an outside professional.
The 60-day search resolution passed 4-3 and included at least one curious catch. The candidates would be reviewed and vetted not by an outside firm, but by the city's own human resources department, which reports directly to the city manager.
North Miami's fingerprints have been visible in its northern neighbor's politics for months, particularly in last November's municipal election, and the victorious commissioners openly acknowledged that in the commission's Nov. 30 swearing-in ceremony. That influence only grows more evident with time.
At that swearing-in, Joseph and Fleurimond, both reelected, and Jean all thanked such familiar North Miami figures as former Mayor Andre Pierre and longtime ally Lesly Prudent, North Miami's former CRA coordinator. Also on the thank you list was superlobbyist Ron Book, who represents both cities in Tallahassee and lobbies for Dezer Development in its $1.5 billion waterfront Intracoastal Mall development on 163rd Street. Victors also notably thanked political strategist Willis Howard of Urban Initiatives LLC and Miami-Dade District 2 Commissioner Jean Monestime.
Joseph and Fleurimond got assistance from the newly created NHAEON PAC, an outgrowth of the National Haitian American Elected Officials Network. Its chairman is North Miami City Councilman Alix Desulme; Vanessa Joseph, North Miami's elected city clerk, is its secretary.
The Sorey nomination wasn't the first such sudden action with a North Miami twist. On Jan. 28, the 4-3 majority – simply by calling the question – sacked the city's 75-attorney, full-service law firm, Weiss Serota Helfman Cole & Bierman, and replaced it with Sunny Isles Beach solo practitioner Hans Ottinot as interim city attorney at the same rate of $55,000 a month. Pretty good cabbage for a one-man show.
Ottinot is a longtime friend of Pierre and was, in early 2020, unofficially in the running to replace Spring as city manager. At the time, Ottinot, former city attorney for Sunny Isles Beach, was attorney and vice president of RK Centers, a developer and shopping center management company with massive holdings in South Florida and New England. The City of North Miami was unable to match his package request at the time, which city officials said was $400,000 a year, nearly double the current city manager salary.
It appears Ottinot has come out on top, for now. In December, the City of Tamarac retained him as its interim city attorney after the sudden resignation of Samuel Goren.
Until North Miami Beach finds a permanent replacement, the city will operate under Interim City Manager Horace McHugh, a 28-year veteran of municipal governance and incoming president-elect of the Florida City and County Management Association. McHugh is working with Assistant City Manager Sharon Ragoonan, whom Scott singled out for praise both before the city commission that night and before a gathering of city employees and well-wishers at a three-hour city celebration on Feb. 23, declared Esmond K. Scott Day.
If the City of North Miami Beach has such bench strength, what's the hurry?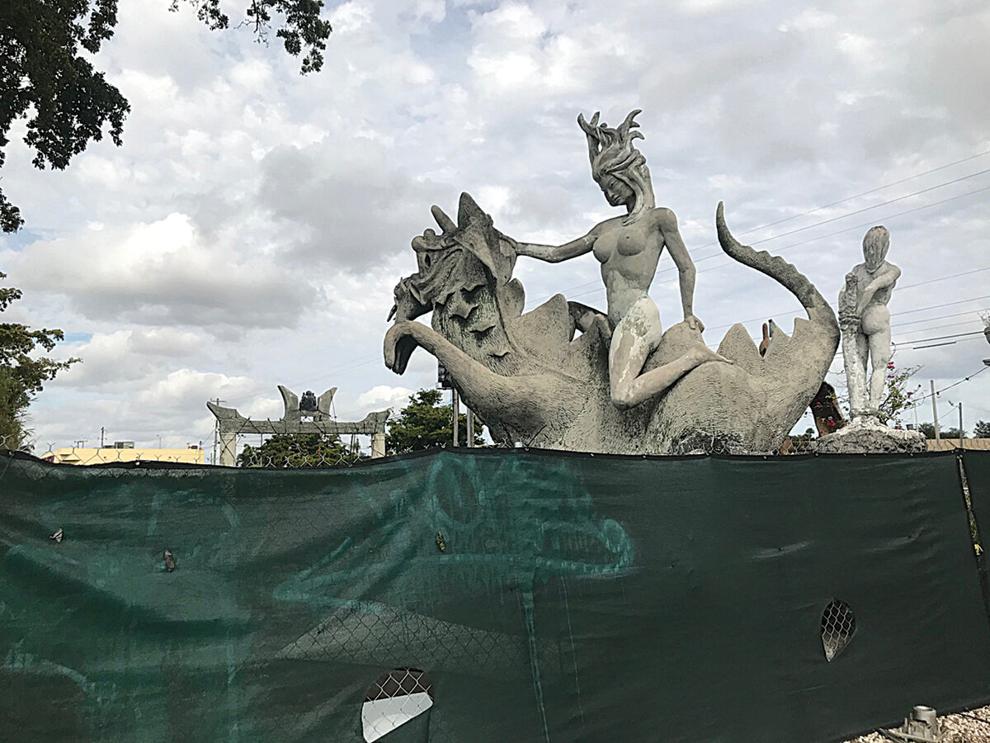 From Sorey's end, fast action would help, for he comes with baggage, much of which could figure prominently in the upcoming North Miami May 11 elections, where 14 candidates are jostling for one mayoral and two commission seats several weeks before the March 29 qualifying deadline. There's the benighted Red Garden pop-up project on NW 7th Avenue, bleeding $1.4 million and counting from a 2020 Super Bowl party mired in litigation with rapper, entrepreneur and activist Luther Campbell; the city's groaning deficits; and sluggish morale at city hall.
This would be a logical time for Sorey to jump out of North Miami into a prestigious position with an equivalent package well north of $200,000. Such work is tricky. He has an MPA from Florida International University and a certificate from a three-week Harvard University executive program, but so do others.
Sorey is a North Miami native and is the son of Arthur "Duke" Sorey – North Miami's first Black American city councilman, who served from 1995-99 – and he bought a house right next to where he grew up on NW 10th Avenue and 128th Street. As a budget analyst and manager less than a decade ago, Sorey was known for good, clear work, before he was thrust into power.
Taxpayers, however, deserve competence, integrity and transparency over sentiment and affection. As VotersOpinion.com blogger and activist Stephanie Kienzle – who called Sorey "a hot mess" – told commissioners, they are there "to serve, not to rule." She has followed through over the last month with a four-part incendiary series, with the Feb. 28 entry dubbing the four-commissioner NMB majority "Team Apocalypse."
Until Spring was terminated in early 2020, the former city manager handled the money, while Sorey took care of personnel and departments. Payrolls and deficits bloated. Today, City Manager Theresa Therilius is struggling to get the city out of its $8 million financial hole, and her relationship with Sorey has cooled. Sorey has tried and failed so far to get an equivalent job elsewhere, and North Miami Beach would provide a lifeline with locals he already knows.
Reading the tea leaves and counting the votes, North Miami Beach Police Chief William Hernandez retired in mid-February and was replaced by Interim Chief Richard Rand, who will report to the city manager. The department is generally well-regarded with a top-rated Excelsior status from the state's Office of Professional Standards.
At the close of the Feb. 22 meeting, and through the following day, Scott was treated to an emotional farewell.
During public comment at the Feb. 22 meeting, most residents greeted the axing of Scott and attempted anointing of Sorey with emotions ranging from skepticism to rage.
One resident after another recounted Scott's thoroughness, efficiency, attentiveness and kindness. Employees and family members did the same the next afternoon at the theater. Smukler started crying while she recounted how Scott came to her assistance as her father lay dying during the approach of Hurricane Irma.
Scott responded with grace, thanking his mentors in the city and family. He told council members: "Please be kind, respectful, true and loyal to each other and to the industry."
The immediate question remains not just what was attempted Feb. 22, but how it was done. Hiring city attorneys and managers are the most important jobs of any commission and it is striking to make such critical moves by simply calling a question or making a sudden motion.
That four commissioners could so readily come to accord calls into question the intent of the Florida Sunshine Law in a time of text messaging, and Zoom meetings with pictures instead of camera participation – when Gov. Ron DeSantis has mandated live commission meetings – and communications with lobbyists and job applicants. When Smukler on Feb. 25 asked commissioners if anyone had spoken with Sorey on this subject, no one gave her a straight answer.
This would be a logical occasion for a test of forensic and investigative teeth and will from the Commission on Ethics and Public Trust – and perhaps State Attorney Katherine Fernandez Rundle.
In his farewell to the North Miami Beach commission, Scott recited his accomplishments in bringing the water system back into the public ownership within deadline, strengthening security after a hacker broke into the system and demanded a $5 million ransom, and boosting the city's reserves to $29.6 million – a pointed contrast to North Miami, which has squandered its reserves as it wrestles with deficits.
Scott sought to reassure employees to stick to the work and do their best, as employees ran a celebratory video for him, playing a well-known reggae song from his native Jamaica: Bob Marley's "Everything's Gonna Be Alright."