At Miami's South Pointe Park on Sunday, 13-year-old Egyptia Green led a rally in remembrance of George Floyd, nearly a year after she organized her first Black Lives Matter protest.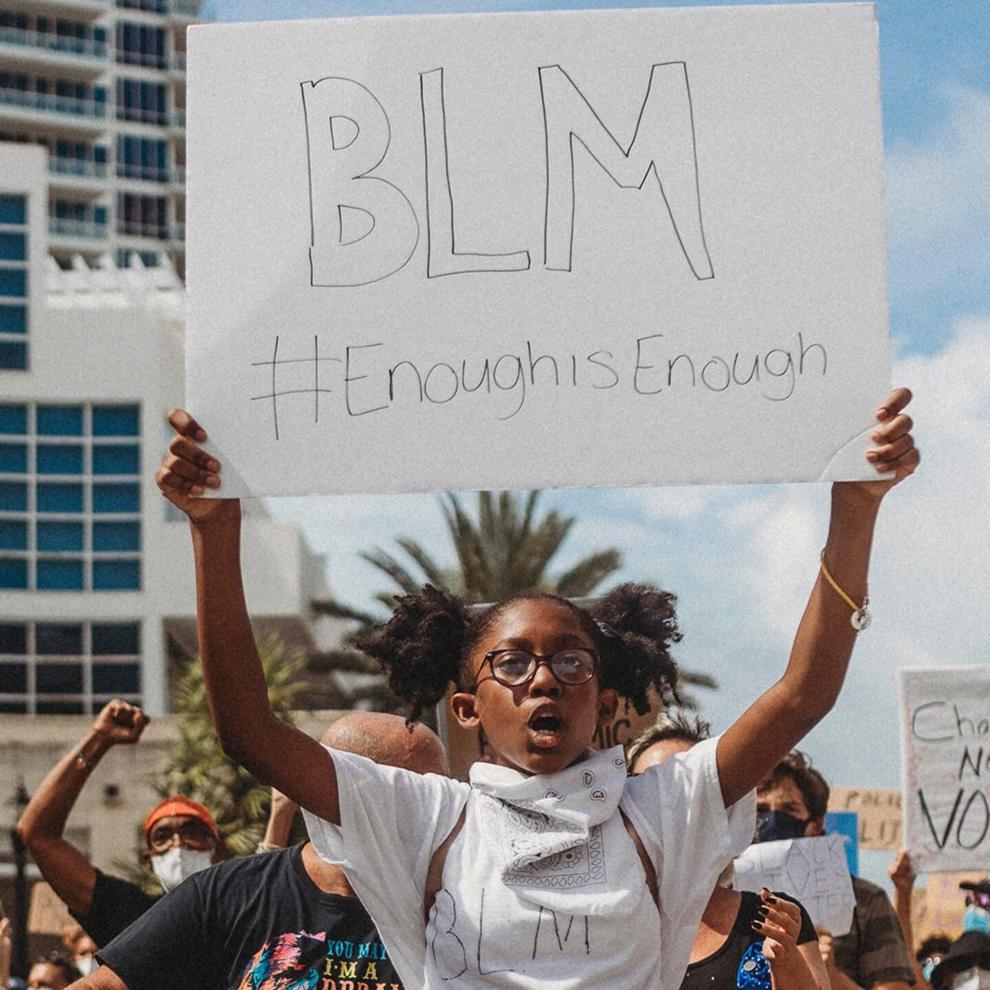 Green's activism was inspired by the viral video footage of the modern-day lynching where 46-year-old Floyd fell victim to police brutality, which pulled back the curtain to reveal a driving force of the nation since before it declared its independence in 1776 – racism.
Former police officer Derek Chauvin, now a convicted killer, was caught on camera burying his knee into Floyd's neck for more than nine minutes, and activists and community leaders vowed to not let Floyd's death be in vain.
Many are using the anniversary of his death to reflect on changes ignited by the demand for justice, and see it as an opportunity to build on a momentum that could lead to real progress for Black communities.
Floyd's legacy was felt most by an unprecedented push for police reform in legislation, one of them being the George Floyd Justice in Policing Act, currently awaiting a vote on the U.S Senate floor after missing the May 25 decision deadline set by President Joseph Biden.
"The reason why we're seeing a lot of lukewarm activity toward this reform is because many of the Republican lawmakers are not sympathetic to the issues around racial justice," said Melba Pearson, director of the Center for the Administration of Justice. "We've come to a point where the country is so polarized that we can't even decide on what happened in history."
The Florida Legislature encountered its own set of bills on police reform with the unanimous passage of HB 7051. Florida lawmakers agreed to allow the Criminal Justice Standards and Training Commission to establish standards for use of force and de-escalation tactics, mandate independent reviews of incidents resulting in deaths, and acknowledge officer's duty to intervene and render medical aid.
Pearson invited the change the legislation may bring, but doesn't believe it's enough.
"We saw a bill pass that fell woefully short of what is needed," she said. "Training without follow-up and [police] culture change will not result in the change that we need to see."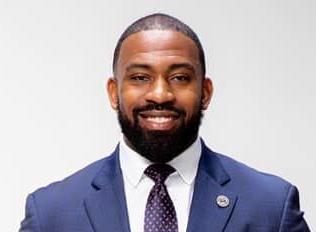 "Anytime an officer commits misconduct, we all have failed the public," said Rodney Jacobs, assistant director for City of Miami's Civilian Investigative Panel. "We weren't able to locate and catch a bad apple so [Chauvin's verdict] didn't give me any reassurances."
Like many others who felt crushed by Chauvin's action, Jacobs favors a preventive approach. Without subpoena power, the panel may not be able to do much.
"America has gotten to a place where we are counting on the courtroom for vindication," he said. "We have moved in some ways but the goal posts are always moving … and as society changes, we have to move in the direction that creates equitable change for all people."
Jacobs agrees with Pearson that a behavioral change is necessary. He said this issue should be approached from a public health lens by requesting psychological evaluations for officers and identifying those with red flags. He proposes public health professionals respond to calls where public safety is not the best response.
For attorney Kishasha Sharp, it takes everyone to reach a meaningful solution.
"Diversity is necessary in order for us to have justice because what it does is allow for a different perspective," said Sharp, explaining that Keith Ellison serving as a prosecutor in Floyd's case may have been the reason for the win, unlike in the past where officers have been acquitted. "It's incumbent that everyone gets involved in their capacity."
The power of protest
The overwhelming load of proposed legislation and promises of police reform came after a reported 2.6 million people participated in demonstrations across the country over the summer to demand an end to police brutality, and a call for the officers involved in Floyd's death to be brought to justice. National protests were met by global support for the Black Lives Matter movement in countries like Kenya, Jamaica, Canada, Spain, Australia and the United Kingdom.
BLM picked up record-breaking momentum as social media erupted with images and videos of protestors crowding streets, highways, parks and in front of government buildings. Demonstrations locally spread from Fort Lauderdale to Miracle Mile in Coral Gables.
"We're (Black people) always protesting injustice, the difference happens when other people pick up the mantle," said District 5 City Commissioner Jeffrey Watson. "Not because they're told about the injustice, but because they see it for themselves."
Watson believes it was the 10-minute-long footage recorded by bystander Darnella Frazier that provided irrefutable evidence that Black people are in a vicious fight against the racial injustice and systemic racism woven into the fabric of society.
He said it ignited a spark that drove a rush of white allies to buy Black-authored anti-racism literature to educate themselves on the failing system and ways to reverse years of damage in those communities.
Since Floyd's death, there has been a 12% increase in the number of Americans who saw police violence as a serious problem in the country, based on a poll conducted by AP-NORC Center for Public Affairs Research. The same poll showed that 60% of Americans believe that Black people were more likely than their white counterparts to be met by deadly force when stopped by police.
Data gathered by Mapping Police Violence puts that number at three times more likely.
The research collaborative found that more than 400 people have died at the hands of police this year, including during the month of May. The year Floyd was killed, more than 1,100 people died from encounters with police. That list includes 27-year-old Rayshard Brooks, 41-year-old Daniel Prude and 38-year-old Tony McDade.
"Unless we change the players, we don't change the law," said Watson. "The beauty of where we are now is that we get to do that, and therein lies my hope."
Watson hinted that along with utilizing voting power, the new City of Miami police chief was brought in to change the department's culture and make sure bad apples were being rooted out.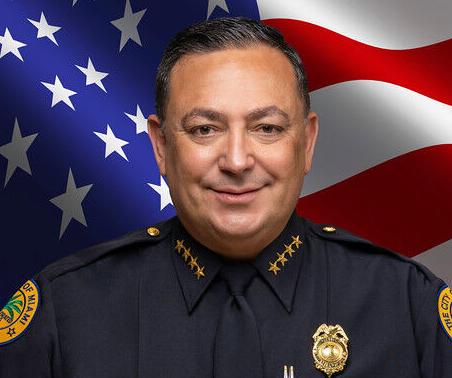 "There's a lot of things in motion and, sadly, I can't guarantee perfection," said Chief Art Acevedo. "But I can promise that I will do everything in my power."
The former Houston police chief is urging the Black community to not give up on the police, but instead work with them to make sure this does not happen anywhere else.
"Policing isn't always perfect but it has gotten better over the years," said Acevedo. "We will continue to do better but only because the community is holding us accountable by demanding more."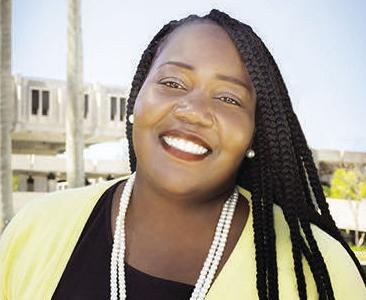 Daniella Pierre, president of the Miami-Dade Branch of the NAACP, is open to working with officers to make that happen.
"This is a new venture for us, we're taking a proactive approach by meeting with newly sworn-in police chiefs in North Miami Beach, Miami Beach, City of Miami and Opa-locka," she said. "We're taking this position so that any appearance of injustice, we have already established rapport."
A stakeholder meeting is being held Thursday.
Business & community
George Floyd's death also impacted the corporate world.
Several U.S. companies and CEOs expressed a moral obligation to fight racism, with billions of dollars going into building centers for racial equity and narrowing the racial wealth gap. Many of those same companies updated their mission to include a focus on condemning racial inequality and supporting Black lives.
Not only were people more receptive to creating equity in communities impacted by racism, but also determined to help them build wealth.
Florida saw the creation of the South Florida Black Prosperity Alliance, a tricounty effort to address all the issues that impact the Black community's ability to realize success. Those areas of concern include education, health, employment, youth outreach and justice. Prominent leaders in Miami-Dade, Broward and Palm Beach counties forged together to make it happen.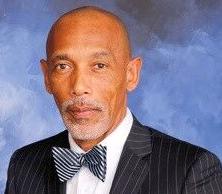 "Billions of dollars have been pledged to support the Black community but it is up to us to hold their feet to the fire," said Gordon "Eric" Knowles, president of the Miami-Dade Chamber of Commerce and a Prosperity Alliance co-founder. "It's one thing to talk about it, but it's another to be about it, as they say."
The alliance came at a time when COVID-19 was taking a devastating toll on vulnerable communities, hospitalizing thousands and killing several hundred people. Then came Floyd's death.
"It was a perfect storm, we knew that we had to address these inequities as they happened simultaneously," revealed Knowles. "It didn't just happen overnight. This is 400 years of systemic racism and it will take years to turn it around."
Still, he is optimistic.
Knowles and other leaders in charge of the effort are meeting with local elected officials to pass resolutions and legislation that address the underlying causes of each issue. Though Knowles expressed that not enough was being done to prevent future Black men and women from falling victim to police brutality, he expressed an interest in making sure police officers, companies and anyone supporting the exploitation of Black lives, are held accountable as the Alliance navigates the best way to build prosperity.
The effort was just one of several approaches taken in South Florida.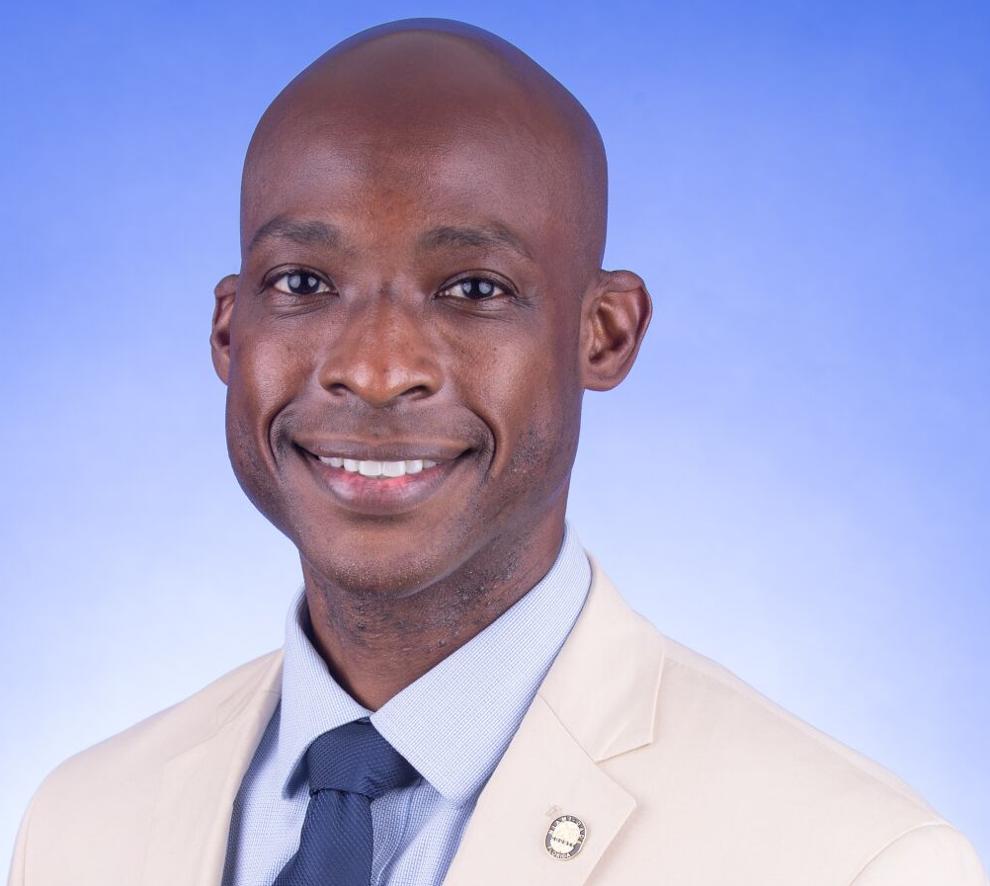 "I have no doubt that the creation of this office was influenced by the death of George Floyd," said Jason Smith, director of the Miami-Dade County Office of Equity and Inclusion. "I feel a deep sense of purpose and I'm fully committed to living up to the challenge to honor his legacy and many others who have died as a result of racial injustice."
Smith, who participated in the Million Man March in Washington, D.C., in 1995, a demonstration to promote Black American unity, said that he always felt an urgency to respond to community concerns. The Floyd incident called him to action.
His office will follow Mayor Daniella Levine Cava's "peace and prosperity plan" to create intervention programs for youth and a public safety toolkit, and $18.3 million in block grant funds will go into economic development and community revitalization.
Smith plans to work with the county attorney to create a case to roll back injunctions that would limit the creation of business programs for minority and women-owned businesses. Future partnerships with the Miami-Dade Economic Advocacy Trust, the county's Black Affairs Advisory Board and the Miami-Dade Independent Civilian Panel will focus on giving Black and brown communities a fair shot at success.
Miami Beach also formed its own Black Affairs Advisory Committee, meant to create representation for the Black residents in the area and amend its shameful racist past through equity.
"We're going through this because America was created from white supremacy. All we're saying is that we have to deal with that," said Glendon Hall, committee chair. "We're not anti-police, we're anti-police misconduct."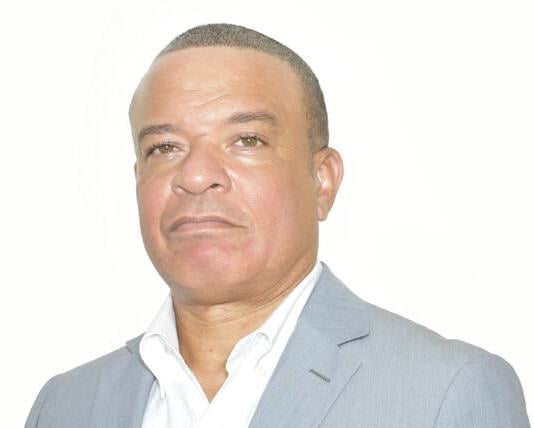 Young leaders rose to the occasion to speak out against injustice.
Even Hall's own daughter, Leondra, joined the call to action after being elected as the first Black youth commissioner for Miami Beach. She put together a program to educate school children on the contributions of minority groups, in the hope it will help foster acceptance for different races and cultures.
"Every time we take two steps forward, there will be forces that try to push us back," said Smith. "But if we remain true to the cause of justice and come together as a coalition, we will eventually win."
Political division
And sure enough, the uproar to rebuild a system based on injustice saw pushback that drastically changed the landscape of politics and voting rights.
Florida Gov. Ron DeSantis is being sued by Dream Defenders, a multiracial organization created to bring about social change in policing and the prison system. The group has consistently advocated for justice with demonstrations, although it did not respond to our request for an interview.
"HB-1 is an assault on Black people. It is in direct response to our movement," reads a social media post released by the group. "We've seen white supremacists point guns at protestors and run their cars through crowds ... DeSantis legalized these actions, giving vigilantes free rein to kill us."
HB 1 is an anti-rioting bill that creates more penalties for protestors blocking roadways and intersections, labels mob intimidation as a punishable crime, and penalizes local elected officials who support defunding the police. Protestors arrested will be denied bail until their first court appearance.
The recent Associated Press survey showed that 1 in 5 participants said BLM protests impacted their vote in the 2020 election cycle. A partial result of the record-setting turnout was the election of the first Black woman and Asian American vice president, Kamala Harris, and Georgia flipping blue.
Consequently, election results fostered a voting rights debate where both federal and state legislatures fought to pass bills that impact a Black person's ability to vote. GOP lawmakers pushed to eliminate drop boxes, revisit voting eligibility and time frame for voting while Democratic leaders called to end voter-suppression tactics and sniff out campaign finance corruption.
The political division only grew when the response to a violent riot that broke out at the nation's capital on Jan. 6 was met with far less force than BLM protests, where scenes of armed guards, tear-gassed crowds and injured demonstrators were far too vivid.
Though significant change sparked by Floyd's murder may only be felt in the years to come, here in Miami-Dade, leaders are determined to remain persistent to see it through.
"As a world community, we are finally ready to reckon with the ghosts of our collective past," said Smith. "And we're ready to confront it in a meaningful way."
Across the nation
In Floyd's home state, the Minnesota House of Representatives passed a $2.7 billion public safety bill to reduce police interaction by limiting the authority of peace officers to stop or detain drivers, enforcing a code of conduct that prohibits officers from supporting white supremacist groups and requiring the release of body camera footage of deadly force incidents within two days of their occurrence.
Last September, California passed a bill to ban chokeholds while Louisville, Ky. – the city where 26-year-old Breonna Taylor was killed by police in her home – banned "no-knock" warrants. Both came months after Gov. Tim Walz signed the Minnesota Police Accountability Act into law.
Chokeholds were then banned in Houston, Iowa, New York and in Florida's Broward County.
Los Angeles Mayor Eric Garcetti succumbed to public demands to "defund the police," agreeing to a $100 to $150 million budget cut to LAPD funding to be reallocated to Black and brown communities.
New York Mayor Bill de Blasio made a similar pledge, but many are still awaiting a promise that has not yet come to fruition. Though he proposed a $1 billion cut to his city's police department last year, he announced last month that $105 million will be spent on building a new NYPD precinct.