The latest Washington Post-Ipsos national poll shows former Vice President Joe Biden is the favored challenger for the Democratic presidential nomination among Black Americans.
The poll's results were released days before Biden picked up his 10th endorsement from Congressional Black Caucus member, Texas Rep. Colin Allred on Monday, Jan. 13.
Allred told the Associated Press that, "Biden best represents the Democratic mainstream." The representative warned that going too far left could doom the party in November.
"We've always done our best when we've nominated candidates who've attracted independents and disaffected Republicans," he said. "That's what President Obama did. That's what Bill Clinton did. When we've pursued the route of ideological purity it's tended not to work, particularly at the national level."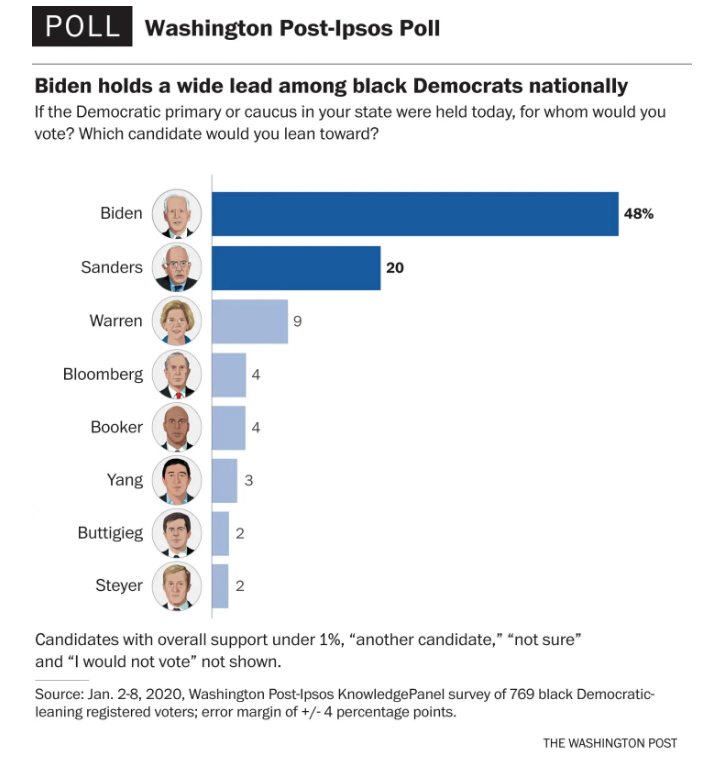 The Washington Post highlighted that, "despite questions about his age, his past positions on forced school busing and his relationships with Southern segregationist senators, the poll shows that 48 percent of Black Democrats favor him for the nomination — a 28-point advantage over Sanders."
Additional insights mark age as the dominant divide among Black Democratic voters.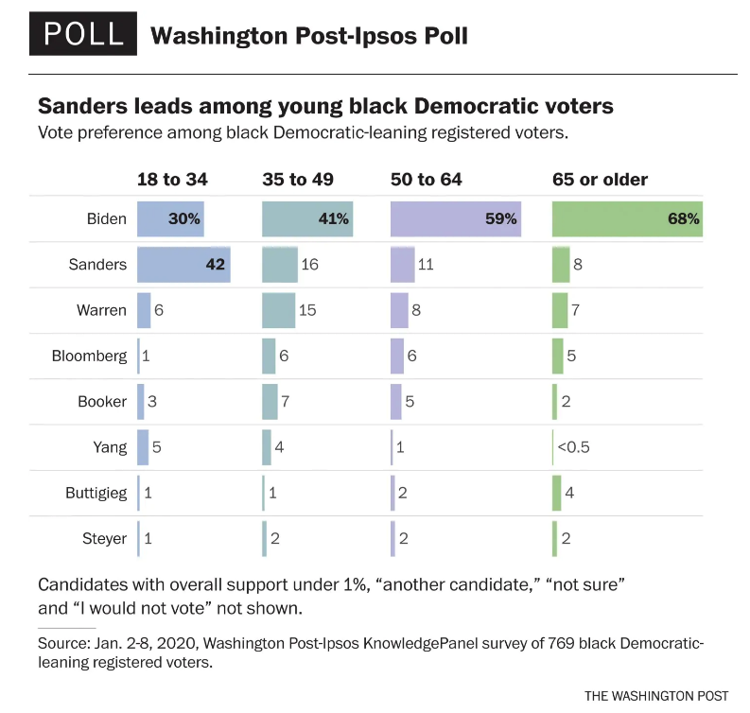 Biden trails Sen. Bernie Sanders by 42% to 30% among Black Democrats ages 18 to 34.
"Sanders' support falls to 16 percent among Black Democrats ages 35 to 49, far lower than Biden's 41 percent support in this group. Biden's support strengthens among older Democrats, rising to 68 percent among those 65 and older," The Post reported.
The survey was conducted Jan. 2 to Jan. 8 by The Post and the nonpartisan research firm Ipsos, among 1,088 non-Hispanic Black adults, including 900 registered voters, drawn from a large online survey panel recruited through random sampling of U.S. households.
The poll included candidate Sen. Cory Booker, who ranked 5th favored, receiving 4% before he announced dropping out of the presidential race Monday.