The school year is nearing its end and parents are seeking creative and educational outlets for their children, with some looking to summer camps for options.
The Children's Trust, a primary source of funding for many local nonprofits that serve children and youth, is giving the green light for its supported organizations to host in-person camp sessions this summer.
Typically, the Trust funds more than 150 programs at 202 sites. To account for social distancing, summer camp programming will expand across multiple sites.
Nonprofits supported by The Trust, referred to as "providers" by the governmental agency, are expected to offer camp services either fully in-person or through a hybrid model that incorporates live, on-site activities with remote options.
An orientation session was held virtually on Friday for providers to discuss summer programming logistics and receive guidance from Trust staff. Providers were asked to submit a plan of action by April 30, detailing ways summer camp will incorporate safety guidelines from the CDC. So far, 98% of programs have submitted their plans.
"All of our funded providers are expected to provide summer camp services," said Juliette Fabien, The Trust's director of programs. "Even in the middle of the pandemic [last year], we held summer camp [virtually] and served close to 10,000 children, and we're looking to double that number this year ... we want to address the COVID learning loss."
Fabien mentioned that having summer camp take place in person would be the first step in reversing the devastating educational impact of the pandemic on students, but to do so first requires implementing safety protocols.
An existing partnership between The Trust and two federally qualified vaccine distributors, Jessie Trice Community Health System and Community Health of South Florida, will encourage and allow summer camp staff to be vaccinated before sessions start.
Providers are required to distribute individual material packets to each child to avoid sharing objects and are encouraged to frequently perform random COVID-19 tests to contain any virus spread.
Summer camp programming, in addition to targeting learning loss, will also address the social-emotional impact of the pandemic on children. With camps such a popular summer pastime for children and youth, especially with their reputation for fun activities and meeting new friends, local nonprofits want to be conscious about providing a similar social aspect while keeping pandemic restrictions in mind.
Overtown Youth Center, a social services staple in its community, intends to offer camp programming to 150-200 area children this summer, although not on-site due to ongoing construction. Instead, its summer camp will be implemented at Miami-Dade public schools the organization is partnering with. Opportunities are available for older youth to join as paid staff. The traditional summer curriculum includes STEAM education, cooking, financial literacy, music, arts, sports and college readiness.
Camp Honey Shine also will go through M-DCPS for participants and sites.
Applications are open to the public, with first priority given to youth previously enrolled in the program. Any cost will be waived due to the pandemic.
Mask-wearing will be enforced during camp and children will not be allowed to gather in assembly style for any reason. Instructions and activities will take place inside assigned classrooms; the sports component will be fashioned in a more individualized way.
"The way you have to think about the logistics on the backhand and front hand [of summer camp] now looks different," said Ayari Aguayo, director of development of programs, and added that children will receive individualized breakfast and lunch packs in addition to health and wellness kits with hand sanitizers and masks. "Our staff is very aware and knows how to maneuver through this now that we've had a year. We are planning our camps almost as regularly planned."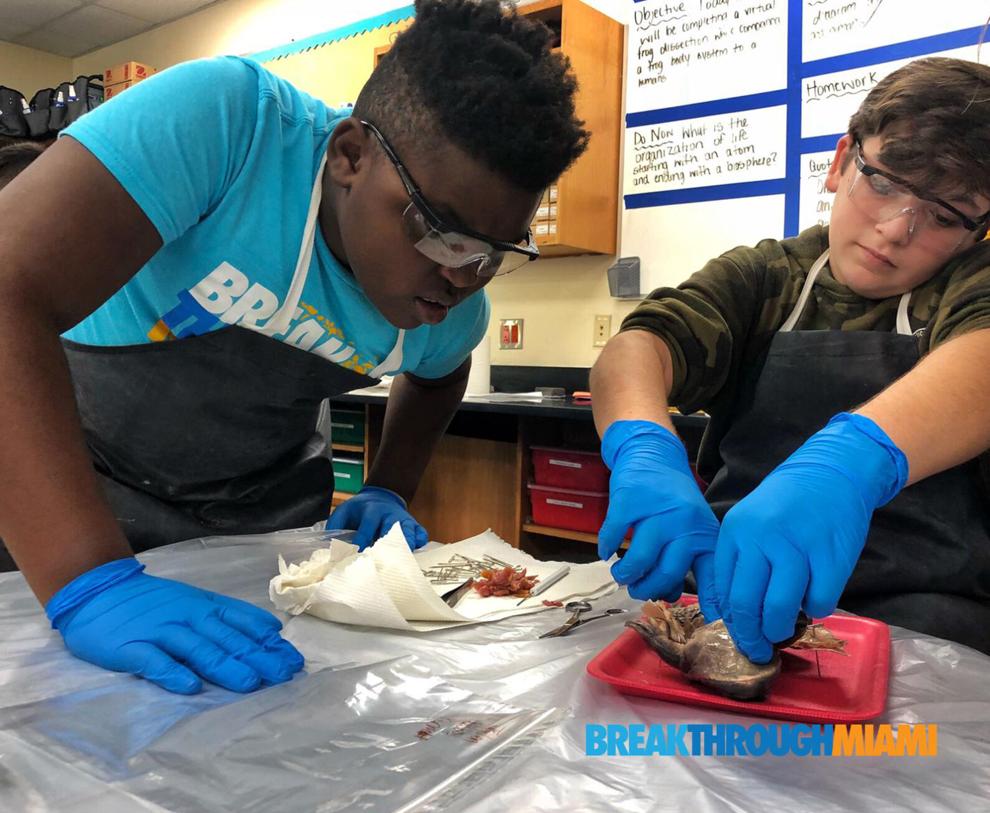 Breakthrough Miami, an academic enrichment program with specialized summer camp for children in grades 5-12, also will adjust its programs to host students in person while meeting CDC guidelines. Its summer institute typically serves 1,300 students across six host sites over the course of eight weeks.
The summer program is known for high-level hands-on activities where children enjoy interactive field trips, kayak, play sports and take elective classes taught by older students in the community.
"We think it's very important for some kids to not only be learning through Zoom, but after 14 months, it's critical for them to get those experiences in person," said CEO Lori-Ann Cox. "We know that there is less access to advising, and historical learning disadvantages. It will exacerbate the summer slide (and) it only makes Breakthrough Miami's work even more critical to advance the cycle of promise in our community."
Masks and filters will be provided to those on site, desks will be kept 6 feet apart and supplies limited to individual use. An emergency response team will be placed at each site.
Breakthrough Miami plans to follow a rotation model, where students from respective grades can attend programming in person three days a week, while the other set of students follows virtually. The following week, students who participated virtually the previous week can go to the sites in person for host sites unable to accommodate all participants.
The organization operates with a narrower teacher-student ratio than other educational settings, which Cox makes it is easier to adapt to social distancing practices.
Cox and her team are still actively recruiting, with 76 camper-scholars already accepted to the program. Their goal is to bring in 220 rising fifth graders, with 10-15 spots open for students in grades 7-9.
"While we are behind masks, the energy you see [here] is contagious ... it's building on the relationships we have and have yet to develop in the summer," said Cox. "What this past year has taught us is that connectedness goes beyond just standing next to someone ... that 'Breaklicious' spirit [in our environment] is infectious. Masks or no masks, sitting across each other or near, you will feel it –and we can't wait to have [our students] back this summer."