The now completed second phase of the $400 million "Liberty City Rising" redevelopment project was celebrated last week with much fanfare, nearly six years after it began.
The Phase 2 reimagining of the Liberty Square apartment complex is meant to be a saving grace for Black residents pushed out of densely populated Overtown.
Originally created in the 1930s under President Franklin D. Roosevelt's New Deal, the housing project was intended to provide Black residents a chance to thrive socially and economically – or at least provide the foundation to do so – through a close-knit community, affordable rent and access to public transportation.
The predominantly Black neighborhood later fell into ruin following the murder of Arthur McDuffie in 1979 by Miami-Dade police officers, and the ensuing race riots. Drugs, violence, poverty and heightened policing then crept in, further dissolving the community's reputation.
Now, Miami-Dade County officials are hoping Liberty City Rising lowers crime rates and improves quality of life among area residents.
Representatives from the U.S. Department of Housing and Urban Development (HUD) and Related Urban Development Group (RUDG) were present at the opening ceremony to explain their contributions to the project and its importance.
"Under the previous housing situation, there was not a lot of opportunity for residents. If a neighborhood lacks opportunities, it leads to elements of crime," said Albert Milo, RUDG president. "Instead of being fearful, [residents] can now be proud of a new development that provides services and job opportunities."
Miami-Dade State Attorney Katherine Fernandez Rundle mentioned that her support of the plan came after consistently witnessing a relationship between crime and poverty in the courtroom.
"As a young prosecutor, I noticed that a lot of defendants came from the same neighborhood. I've long recognized that there is a connection between substandard housing and crime. The largest slumlord is Miami-Dade County," she said.
Upon final completion, the redevelopment project will result in a revamped Liberty Square Community Center, a Youth Enrichment Center, job placement programs and training, criminal defense assistance and health care facilities, in addition to the redesigned apartment complexes.
Despite the many benefits the project claims to bring to the city, skepticism dampened enthusiasm from the start when demolition of the James E. Scott housing project displaced more than 1,100 residents, resulting in a lingering fear of being wronged by community officials.
Miami-Dade County Mayor Carlos Giménez explained that completing the project in multiple phases has helped avoid resident displacement, as well as prioritize them for the preleasing process beginning this month.
"In my nine and a half years as mayor, people often ask me 'What is my legacy, what am I most proud of?' Liberty Square is one of my proudest moments," he said.
The mixed-income development transformed a lot of 88 public housing units into 204 units across six buildings. Apartments will range from 1-4 bedrooms. Rent remains the same for Liberty residents despite the change in scenery.
"We have more than doubled housing options for residents in this community. I look forward to completing more developments that are already underway," added Giménez.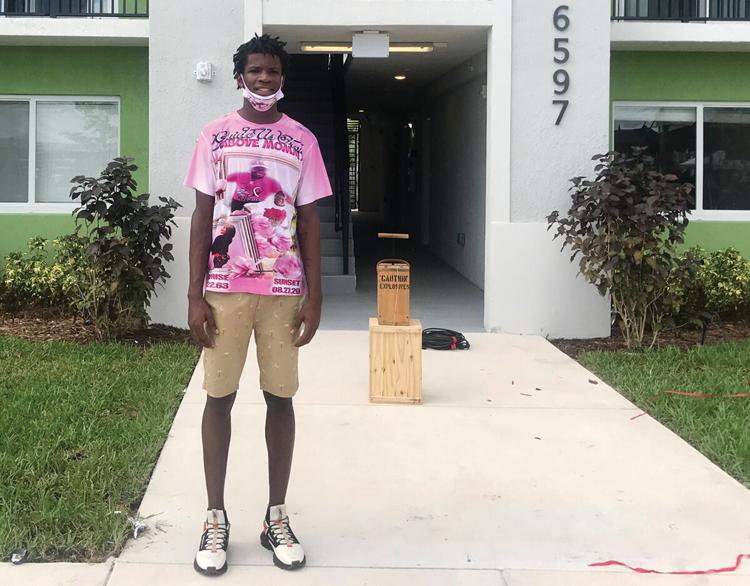 Justin Myers and his sister were one of the first residents to move into the new apartments on Thursday. His mother, who has since died, was at the top of the list of residents to move in once construction was completed. He expressed gratitude for the efficiency of the moving-in process after being assisted by the project's coordinator of resident services.
"Ever since my mother passed away, they've been helping me a lot. I'm honored to be one of the first people joining phase two of this community housing project," said Myers. He added that he feels background checks conducted on tenants prior to moving in may help diminish crime rates in the area.
"I am so proud of what we have accomplished," said Miami-Dade County Commission Chairwoman Audrey Edmonson, a key contributor of the project.
Long-term community support through scholarships, business opportunities and employment resources are added benefits. Myers' sister has been one of the lucky recipients of educational scholarships provided through these resources.
"This [redevelopment project] has the ability to affect a lot of lives across different generations," said Milo. "It can help the community thrive long term."